Home > Reviews > Germany > Pen & Sword Military PANZER I & II - The Birth of Hitler's Panzerwaffe by Anthony Tucker-Jones
PANZER I & II - The Birth of Hitler's Panzerwaffe
Pen & Sword Military
by Anthony Tucker-Jones

Reviewed by Al Bowie
Summary
Title:

Pen & Sword Military
Images of War series
PANZER I & II - The Birth of Hitler's Panzerwaffe
by Anthony Tucker-Jones

ISBN:

978-1-52670-163-3

Media and Contents:

Soft cover; 116 pages with B&W photos and historical text

Price:

GBP£12.00 plus shipping available online from Pen & Sword's website

Review Type:

First Read

Advantages:

A good photo history of the Panzer I and Panzer II

Disadvantages:

None noted.

Recommendation:

Recommended
FirstRead

The Images of War range of books is ever expanding covering weapons, campaigns and equipment. The latest in a long line of this series is a title devoted to the backbone of the Panzerwaffe in early WWII, the Panzer I and the Panzer II. Usually when a person thinks of Hitler's armoured forces they think of the Tiger and Panther and other glamorous heavy armour from the last few years of the war but the fact is that during Germany's success days of the in World War Two, the majority of the armour was made up of light tanks such as these.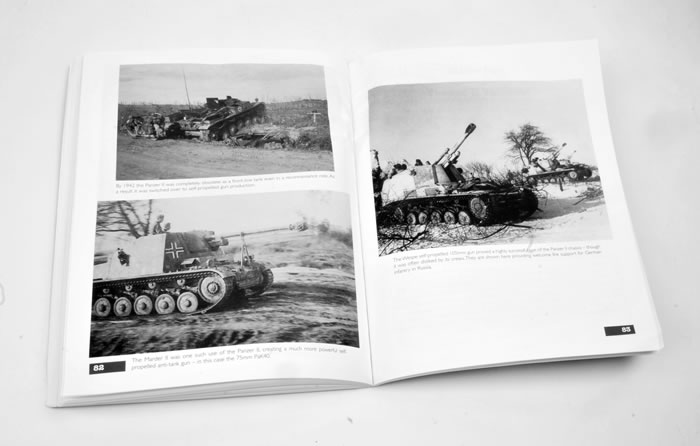 The Panzer I and II were first developed in secret by the Nazi regime and made up most of Hitler's AFV strength by the time he started to invade his neighbours. At the time they were inferior to the majority of AFV's employed by the Allied armies but when employed as part of the Blitzkreig battlefield philosophy they performed well enough.
This book documents the development, introduction and adaptations of these AFVs in pictures throughout the Second World War.
Both the Panzer I and II were developed into a variety of platforms including AA tanks, Panzerjagers mounting weapons up to the highly effective PAK 40 75mm and SP artillery including the highly successful Wespe armed with a 105mm howitzer. In that way these soldiered on throughout the entire war.
The book is interspersed with chapters detailing the major types, their development and their employment all backed by clear black and white photos of a good size.
The book has nine chapters covering the following:
Introduction – The birth of Blitzkreig

Panzer 1 Ausf A & B

Panzer 1 Ausf C & F

Panzer 1 Variants

Panzer II – Ausf a/1, a/2, a/3 and b

Panzer II Ausf c,A,B,and C (and people think British AFV Designations are complex)

Panzer II Ausf D,E and F

Panzer II Ausf G,J and L

Panzer II Variants

Blitzkreig – Into Combat
This book should appeal to the casual history buff, interested family members of veterans, armour enthusiasts and modellers alike. It gives a better than average background history and present an excellent array of photos to go with it.
Review sample supplied by Pen & Sword
---
---