Home > Reviews > Germany >
Ryefield Model Kit No. RM-5023 - German Staff Car Type 82E with Full Interior
German Staff Car Type 82E with Full Interior
Ryefield Model, 1/35 scale
Reviewed by Brett Green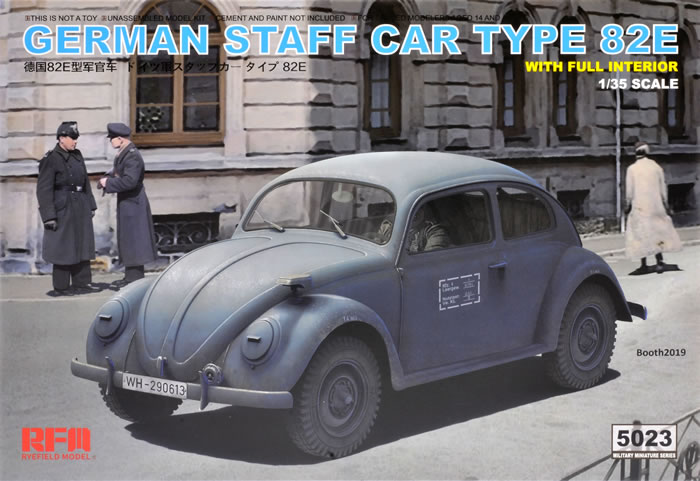 Summary
Stock Number and Description

Ryefield Model Kit No. RM-5023 - German Staff Car Type 82E with Full Interior

Scale:
1/35
Media and Contents:

89 parts in tan coloured plastic; 11 parts in clear; 3 x photo-etched parts; markings for three vehicles.

Price:
TBA
Review Type:
First Look
Advantages:

Excellent detail; high quality moulding; includes standard and balloon tyres.

Disadvantages:
Standard tyres are vinyl.
Recommendation:
Ryefield's 1/35 scale Volkswagen is a beautifully detailed kit, fully fitted out in the cab and the engine bay. I am really happy that we have the option of all-plastic balloon tyres straight from the box too. This is easily the best 1/35 scale Volkswagen available today.

B a c k g r o u n d
The Volkswagen Beetle—officially the Volkswagen Type 1, informally in German the Käfer (meaning "beetle"), in parts of the English-speaking world the Bug, and known by many other nicknames in other languages—is a two-door, rear-engine economy car, intended for five occupants (later, Beetles were restricted to four people in some countries), that was manufactured and marketed by German automaker Volkswagen (VW) from 1938 until 2003.
The need for a people's car (Volkswagen in German), its concept and its functional objectives were formulated by the leader of Nazi Germany, Adolf Hitler, who wanted a cheap, simple car to be mass-produced for his country's new road network (Reichsautobahn).
Members of the National Socialist party, with an additional dues surcharge, were promised the first production, but the war shifted production to military vehicles instead.
Lead engineer Ferdinand Porsche and his team took until 1938 to finalise the design. The influence on Porsche's design of other contemporary cars, such as the Tatra V570, and the work of Josef Ganz remains a subject of dispute. The result was the first Volkswagen, and one of the first rear-engined cars since the Brass Era.
On 26 May 1938, Hitler laid the cornerstone for the Volkswagen factory in Fallersleben. He gave a speech, in which he named the car Kraft-durch-Freude-Wagen ("Strength Through Joy Car", usually abbreviated to KdF-Wagen). The name refers to Kraft durch Freude ('Strength Through Joy'), the official leisure organization of Nazi Germany. The model village of Stadt des KdF-Wagens was created near Fallersleben in Lower Saxony in 1938 for the benefit of the workers at the newly built factory. Volkswagen had only just started small scale production, building about 210 Beetles, when civilian production was halted at the start of the war.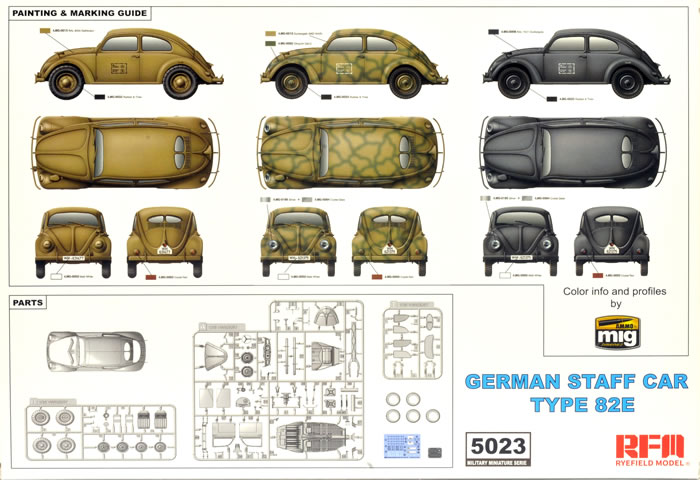 Except for two military prototype units, these KdF sedans were allocated to military officers as personal cars. Hitler was given the very first convertible Beetle built in 1938.
Both 704cc and 984cc air-cooled engines were fitted in these early units.
The first volume-produced versions of the car's running-gear and chassis were military vehicles, the Type 82 Kübelwagen (approximately 52,000 built) and the amphibious Type 128 and 166 Schwimmwagen (about 14,000 built).
A handful of KdF-Wagens were produced, primarily for the Nazi elite, from 1941 to 1944, as the Typ 60.
During World War II, the factory primarily built the Kübelwagen (Typ 82), the Schwimmwagen (Typ 166), and a handful of other light wheeled vehicles, all mechanically derived from the Typ 1, for the Wehrmacht. These included several hundred Kommandeurswagen (Typ 87), with a Typ 1 Beetle body mounted on the rugged chassis of the four-wheel drive Typ 86 Kübelwagen prototype, and fitted with portal axle and a Schwimmwagen drive train, with wider fenders., to accommodate oversize Kronprinz all-terrain tires (reminiscent of the later Baja Bugs).
Kommandeurswagen were produced up to 1944, when all production was halted because of heavy damage to the factory from Allied air raids. Much of the essential equipment had already been moved to underground bunkers for protection, which let production resume quickly after hostilities ended.
Due to gasoline shortages late in the war, a few "Holzbrenner" Beetles were built, powered by pyrolysis gas producers located under the front hood.
With 21,529,464 produced, the Beetle is the longest-running and most-manufactured car of a single platform ever made. *
---
F i r s t L o o k
Modllers have not been very well served with 1/35 scale Volkswagen kits. Until now, the only real option has been the CMK kit, originally released around 1998 and subsequently reissued by Revell and Italeri. This was a typical limited run kit of its era - somewhat simplified with a bit of careful cleanup required before assembly. The boot, bonnet and the doors were all moulded shut.
Now, more than 20 years later, Ryefield Models has released a brand new 1:35 scale Volkswagen. This is a major improvement over the old CMK offering and worthy to stand with the latest generation of kits.
Ryfield's 1/35 scale German Staff Car Type 82E (presumably the Volkswagen brand was not used due to trademark issues) comprises 89 parts in tan coloured plastic; 11 parts in clear; 3 x photo-etched parts; markings for three vehicles.
Production quality is world class with perfect moulding, narrow sprue attachments and clear raised parts numbering.
Detail is excellent and surface textures are beautifully done.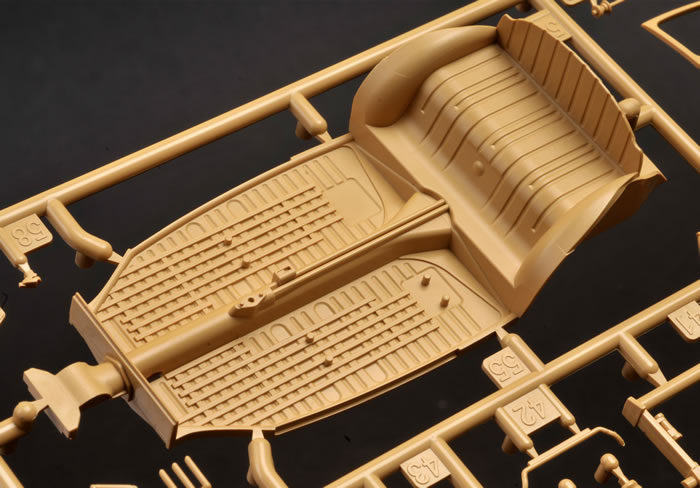 The upper body is moulded as a single part including the four fenders. The body is thoughtfully supplied inside a separate cardboard box but this did not prevent damage to the rear bumper mounts on my sample.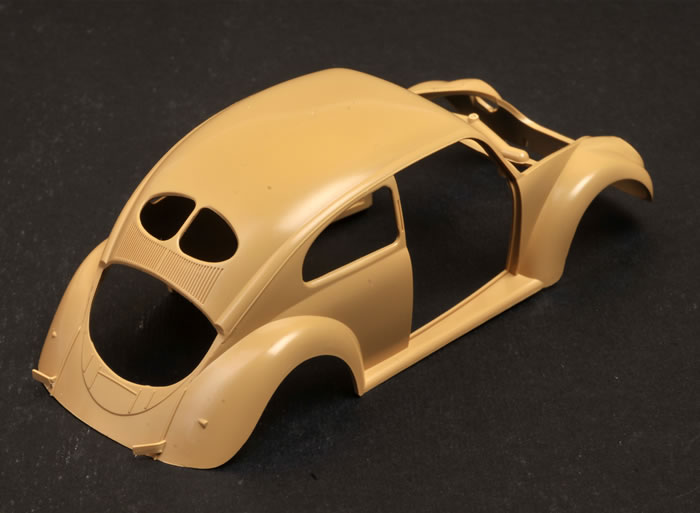 The boot, bonnet and doors are all separate parts and may be posed open of closed.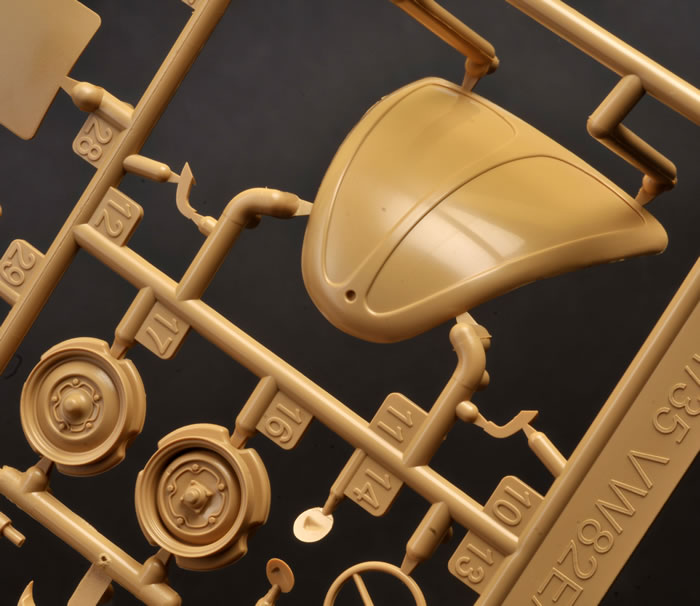 Under the rear hood, a ten-part engine is provided.
Structural elements inside the front bonnet space are moulded in place with a spare tyre and jerry can offered as optional stowage.
Separate hinge parts are provided for the open boot and bonnet options.
The cabin is thoroughly fitted out with nice upholstery moulded onto the three seats, instrument panel, acceleraor, clutch and brake pedals, hand brake, gear shift and another stick shift (not sure if it really should be there - transmisson range maybe?), rear vision mirror plus the steering wheel making up the well appointed interior. A single decal is supplied for the speedometer.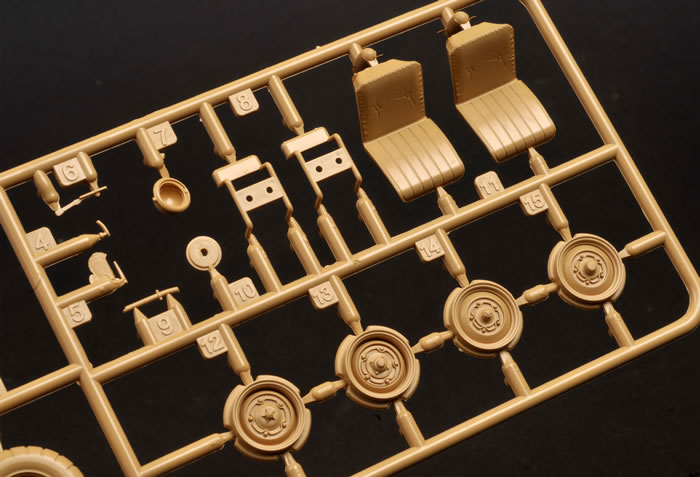 The clear windows are designed to be fitted from the inside. Windscreen wipers are separate parts.
Optional headlight blackout covers or clear lenses are included. The clear parts are all thin and fee from distortion.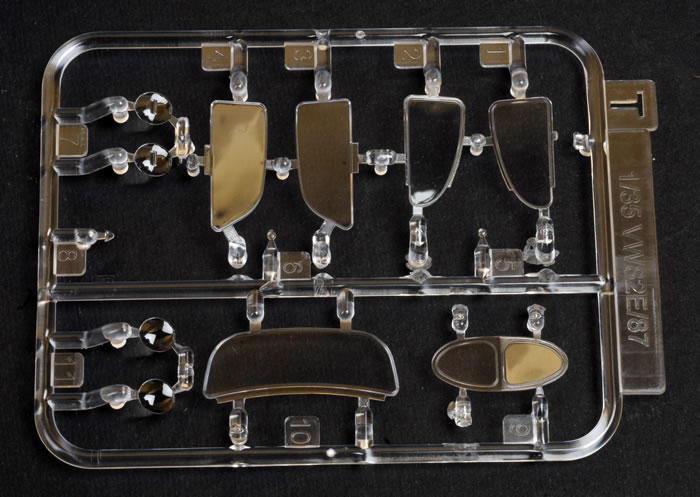 Drive train and steering elements are also supplied as separate parts. It looks as if the front wheels may only be posed straight ahead without some additional surgery..
Two styles of wheels are included - standard narrow road wheels and off-road balloon tyres.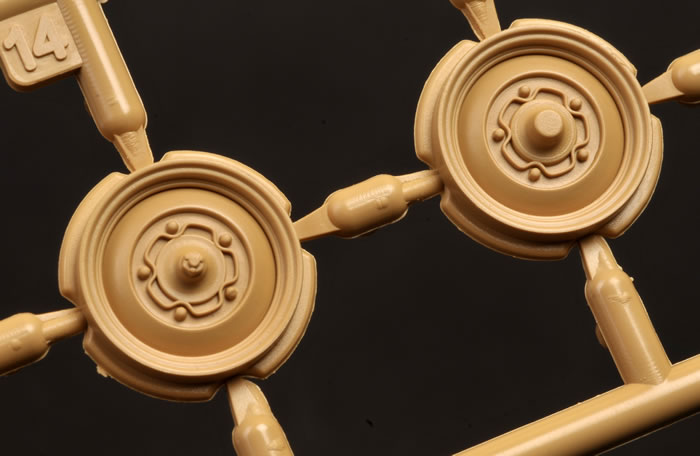 The road wheels feature beautifully details hubs and vinyl tyres.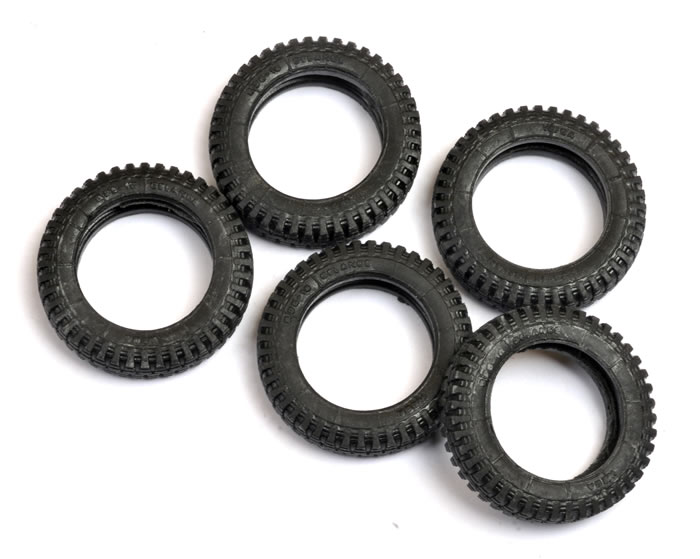 The balloon tyres are all-plastic (hooray!). Each of the balloon tyres is supplied as inner and outer halves.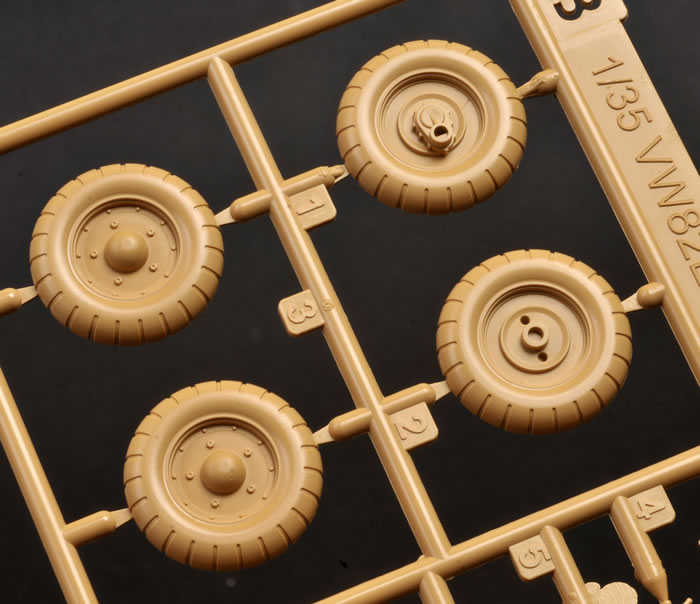 The number plates are photo-etched parts. There is also a photo-etched part with the famous VW logo but this does not seem to be called out on the instruction sheet.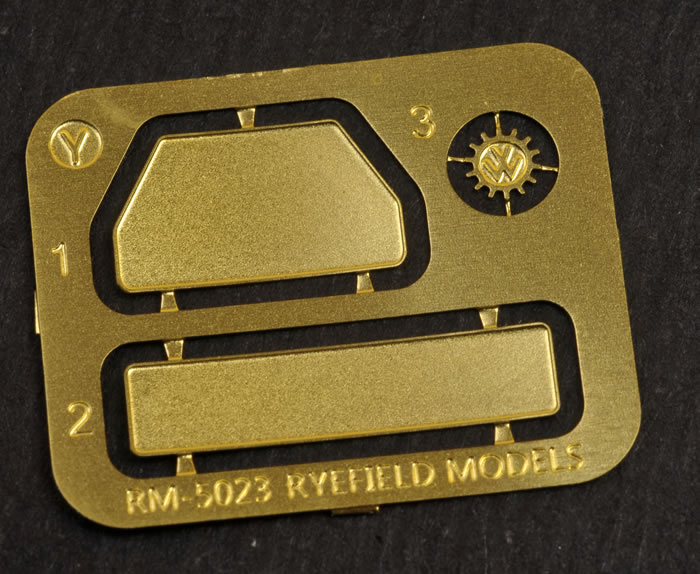 Instructions are supplied in an eight page booklet with clear black-and-white diagrams across 13 steps.
Three markings are suggested but any number of options are possible thanks to the blank licence plates and number jungle of decals. Data stencils are provided in black and in white depending on your Volkswagen's finish.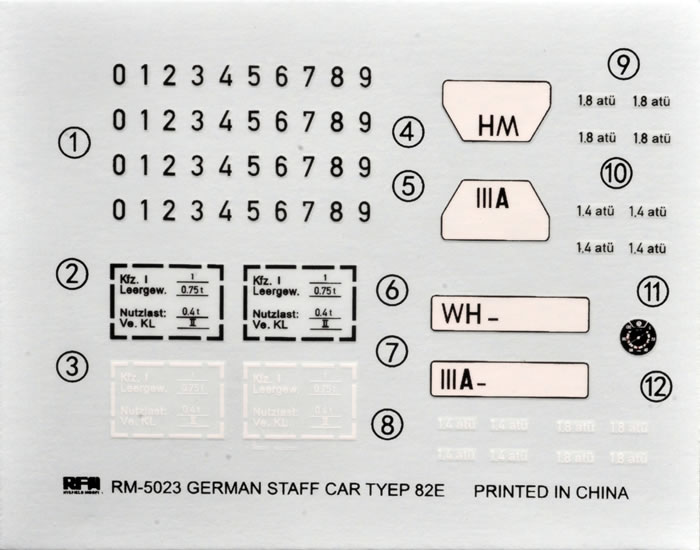 I don't have enough detailed knowledge of the subject to comment on accuracy but any Volkswagen experten are welcome to let us know how it stands in that regard on Missing-Lynx's Axis Forum.
---
C o n c l u s i o n
Ryefield's 1/35 scale Volkswagen is a beautifully detailed kit, fully fitted out in the cab and the engine bay. I am really happy that we have the option of all-plastic balloon tyres straight from the box too.
This is easily the best 1/35 scale Volkswagen available today.
* Historical background courtesy of Wikipedia.
Thanks to Ryefield Model for the sample www.ryefield-model.com
Text and Images by Brett Green
Page Created 23 June, 2019
Page Last Updated 24 June, 2019