Home > Reviews > German > Tamiya
1/35 Panzerkampfwagen II Ausf.A/B/C (Sd.Kfz.121) French Campaign (35292)
Panzerkampfwagen II Ausf.A/B/C
(Sd.Kfz.121) French Campaign
Tamiya 1/35 Scale
Reviewed by Brett Green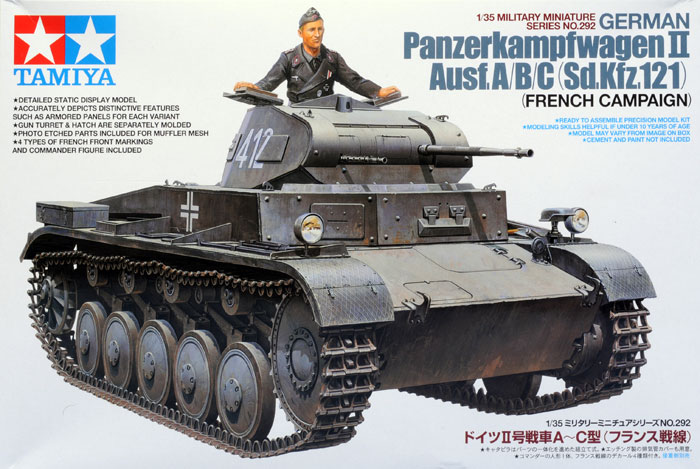 Summary
Stock Number and Description
Tamiya kit number 35292 - Panzerkampfwagen II Ausf.A/B/C (Sd.Kfz.121) French Campaign
Scale:
1/35
Media and Contents:
Approx. 230 parts in dark grey coloured plastic; photo-etched fret; polythene caps; markings for four vehicles, instructions.
Price:
3200 yen available online from Hobbylink Japan
Review Type:
First Look
Advantages:
Important subject; all-new tooling; high level of detail; link and length tracks; separate hatches; some interior turret detail; optional parts for different sub-variant; excellent quality moulding; fast and straightforward build; good decals;
Disadvantages:
Solid headlight lenses
Conclusion:
An impressive, well-fitting model that will be fast and easy to build but will still look great straight from the box.

FirstLook
The Panzer II was designed in 1934 as a temporary measure until the introduction of the more powerfully armed and better armoured Panzer III. By 1939, this light tank was largely outclassed by its contemporaries, but delays in delivery of the Panzer III and IV meant that it remained the mainstay of the Wehrmacht's armour spearhead during the Blitzkrieg campaigns in Poland, the Low Countries and France. It soldiered on through Russia and North Africa until 1943.
Tamiya's newest armour kit is the Panzer II Ausf.A/B/C. These variants were used in the early campaigns of the Second World War. Please note that this is an all-new kit with absolutely no parts in common with the old Tamiya Panzer II Ausf.F.
Tamiya's new 1/35 scale Panzer II Ausf.A/B/C comprises around 230 parts in dark grey coloured plastic; a photo-etched fret; polythene caps; markings for four vehicles and instructions.
As we have come to expect from Tamiya, moudling quality is superb. There are no ejector pin circles, sink marks or flash on any of the exterior surfaces. The only cleanup required will be the lightly raised seam line around each road wheel.
230 is a relatively small parts count in this day of uber-detailed mega kits, but authenticity is not compromised. Exterior detail is very good indeed, with separate on-vehicle equipment, boxed-in sponsons, separate suspension units and link-and-length tracks. I particularly like the smoke discharger rack, the jack and the tow hook.
All hatches are separate, and the Commander's hatch may be posed open.
Some basic detail is provided inside the turret. This includes the Commander's seat, the breech of the 20mm main armament, the co-axial machine gun and its mount.
A photo-etched fret is also supplied. The focus is the perforated exhaust heat shield. Two versions are offered.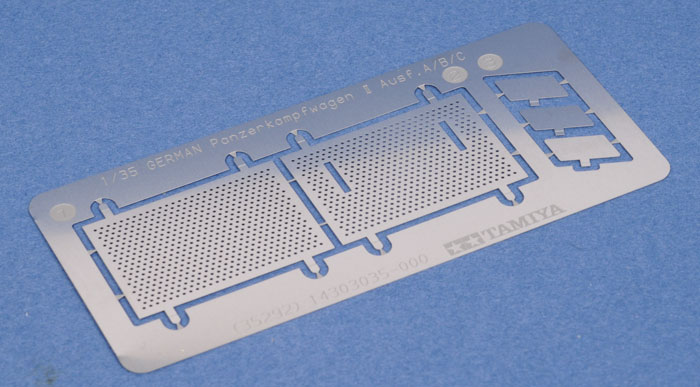 A Commander figure rounds out the package.
My only minor disappointment was the headlight lenses, which are solid grey plastic. These should ideally be replaced with clear lenses or M.V. reflective lenses.
I have already assembled the running gear, tracks and upper hull, and can confirm that fit and ease of construction live up to Tamiya's enviable reputation. The link and length tracks were a pleasure to install, with no gaps between the sections when completed. However, you will need to take some care to avoid damaging the sides of the track links when removing some of the track lengths.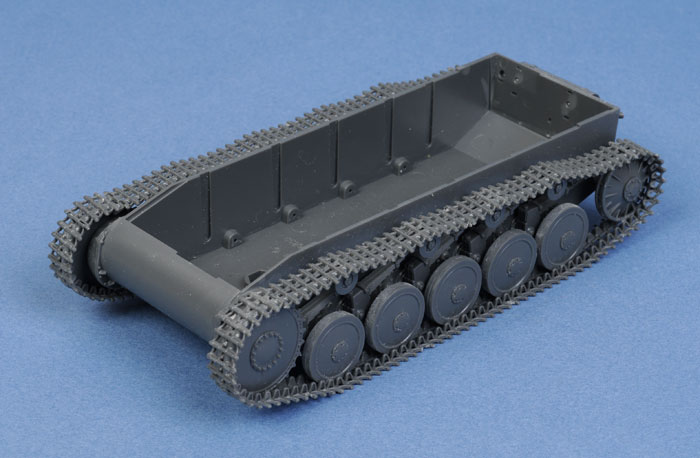 Instructions are clearly called out in 15 illustrated steps. The only point that I found slightly misleading was the location of the exhaust pipe (part E22) on the muffler (parts E21 and E22). At first I thought it was supposed to be inserted between the muffler halves, but it is actually secured in a slot on the outside of the muffler. Also, don't forget to open the locating holes in the upper hull and track guards as indicated in steps 5 and 6.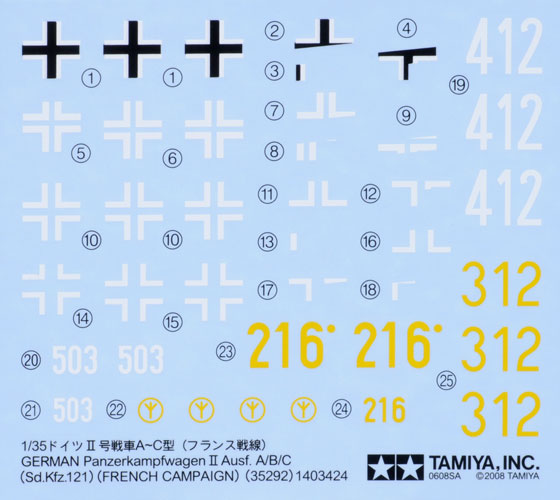 Markings are supplied for four vehicles that participated in the French campaign of 1940, and it is a case of "any colour you want as long as it is Panzer Grey". Some relief is provided by yellow markings on two of the options. If you would prefer a little more variety, Bison has already released a decal set with options for several vehicles in the Polish campaign featuring disruptive brown camouflage over Panzer Grey, and "toned down" national markings.
---

Conclusion
In these days of the 1,000+ part uber-kit, it is a relief to find a new 1/35 scale armour model that is well detailed but might still be built in a weekend.
Tamiya's new 1/35 scale Panzer II Ausf.A/B/C will be ideal for the new modeller, or one who feels a little jaded after a massive super detailing project. This new kit will also be an ideal basis for more detailing if the modeller desires.
This is, in my opinion, a tank for all seasons!
Thanks to Hobbylink Japan for the sample
Text and Images by Brett Green
Page Created 10 August, 2008
Page Last Updated 10 August, 2008