Home > Reviews > Germany >
Tamiya Kit No. 35340 - Jagdpanzer IV/70(V) Lang (Sd.Kfz.162/1). Kit No. 35340
Jagdpanzer IV/70(V) Lang (Sd.Kfz.162/1)
Tamiya 1/35 scale
Reviewed by Brett Green
Summary
Stock Number and Description

Tamiya Kit No. 35340 - Jagdpanzer IV/70(V) Lang (Sd.Kfz.162/1). Kit No. 35340

Scale:
1/35
Media and Contents:

252 plastic parts in tan coloured plastic; two lengths of polypropylene tracks; polythene caps; markings for three vehicles.

Price:
3800¥
Review Type:
First Look
Advantages:

Accurate shapes; fast and easy build; good level of detail; includes two crew figures.

Disadvantages:
Some would have preferred link and length tracks.
Recommendation:
Highly Recommended

B a c k g r o u n d
The Jagdpanzer IV /70(V) represented the ultimate development of the Panzer IV chassis. The original pre-war tank design had been up-armoured, up-armed and reshaped to ensure that it remained a serious threat to contemporary Allied vehicles right up until the last days of the Second World War.
Its low profile shape and the hard-hitting 75mm L/70 gun as used so successfully in the Panther tank would seem to be a perfect combination in a hit and run defensive war. However, this final version, burdened by excessive weight and being front-heavy, lacked manoeuvrability and speed.
The Jagdpanzer IV has already been kitted by four companies in 1:35 scale - Italeri, Nichimo Tamiya and later by Dragon in various versions. Monogram released a 1:32 scale kit during the 1960s and Nichimo had a crack in 1:30 scale as well. There have also been several smaller scale kits too, plus a 1:48 scale release by Bandai.
And so we come to the obvious question – do we really need another Jagdpanzer IV kit?
Well, considering Dragon's Jagdpanzer IV family dates back to the 1990s, it is probably high time that this sleek tank destroyer was treated to 21st Century moulding technology.
---
F i r s t L o o k
Tamiya's brand new 1:35 scale Jagdpanzer IV/70(V) has nothing at all in common with their 1976 Lang release. In fact, this model does not share any parts with the more recent Panzer IV Ausf. H and J kits. Even the lower hull, running gear and tracks are new.
This new kit comprises 252 parts in tan coloured plastic, two lengths of black polyethylene (tracks) and a bag of polythene caps.
Moulding quality is every bit as good as we have come to expect from Tamiya. Surface textures are subtle and effective, with nicely rendered weld beads and fine cast texture on the Saukopf mantlet.
The lower hull is provided as a tub – no flat-pack assembly here. Interestingly, the bottom of the hull features a rectangular opening that is blanked off with a hatch in this boxing, which clearly suggests a motorised version some time in the future.
Running gear is simple but crisply detailed.
These sprues seem specifically set up for the /70(V) version, with four sets of all-steel road wheels and 14 pairs of rubber-rimmed road wheels. All the wheels are made up from an inner half, an outer half, a separate hubcap and a polythene cap that will permit rotation after assembly - and also makes painting a breeze! The idler wheels and drive sprockets are secured with poly caps too, although the steel return rollers are glued in place.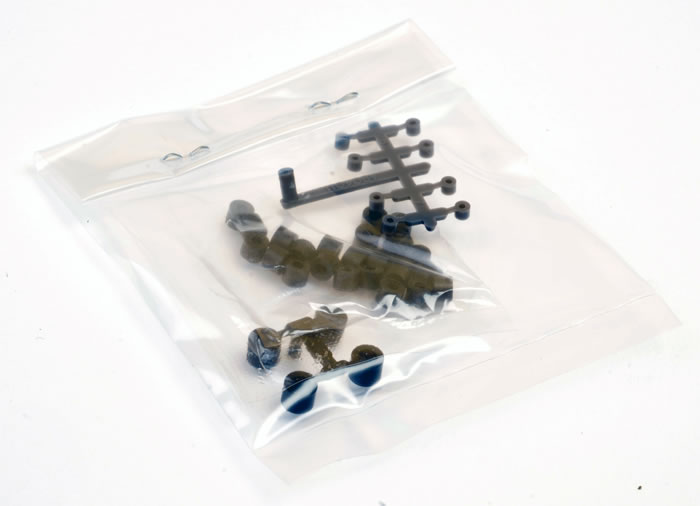 Tracks are supplied as two polyethylene lengths representing the final lightweight links almost always seen on the /70(V) version.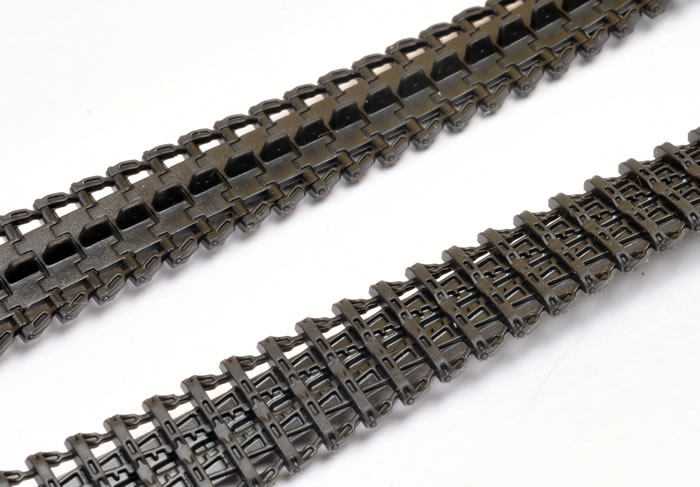 Personally, I would have preferred to see link and length tracks included in this kit. Tamiya do these so well, and link and length is an excellent compromise between ease of assembly and a realistic depiction of the track sag so often seen on German vehicles, including the Panzer IV family.
Having said that though, these are very nice full-length tracks featuring crisp detail on the inner and outer faces, as well as correctly "dented" guide horns. The polyethylene lengths may be glued with regular plastic cement too.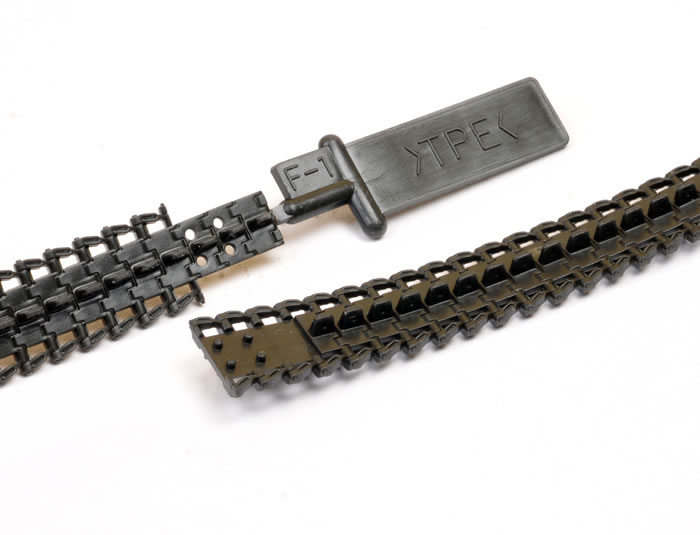 The upper hull and superstructure are moulded as a single part. Separate sponson covers are provided to blank off the superstructure from the running gear. The commander's and loader's hatches are both separate, with small and somewhat fiddly plastic hinges allowing them to be workable.
The upper and lower hull may be assembled without glue. The forward upper hull slots into a locating strip, after which the upper rear body is pressed onto two polythene caps trapped in the lower hull. This also strongly suggests a forthcoming motorised release.
The kit supplies a one-piece barrel with a separate hollow muzzle. The 75mm L/70 gun is fully workable in elevation and traverse. Cleverly, the gunner's sight and its curved cover both move when the gun traverses. This operates perfectly if you are careful with assembly and painting. The travel lock is movable too. The gun barrel almost snaps into place when it is stowed for travel.
Skirt hangers are included but the side skirts are not.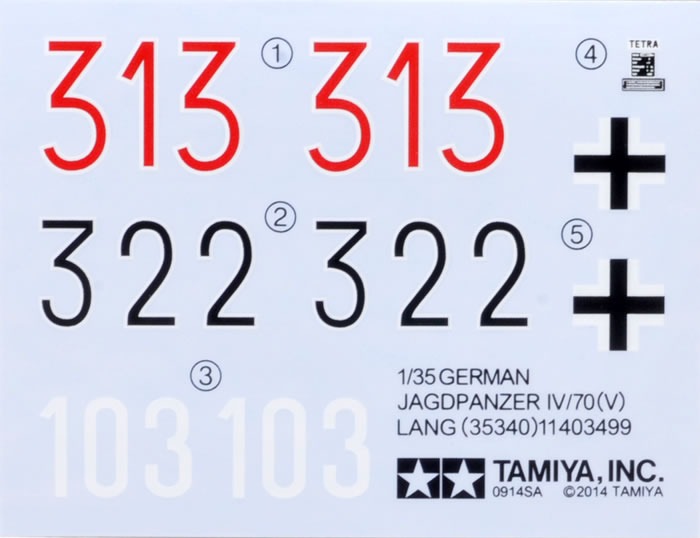 Markings are provided for three vehicles.
---
Tamiya Detail-Up Series 1:35 German Jagdpanzer IV /70(V) Lang Metal Gun Barrel Set
Tamiya has also released a metal barrel update set to coincide with the new Lang kit.
In addition to a very nice turned metal barrel, Tamiya has also included a sprue of 22 plastic parts plus some polythene caps and a metal rod to make up a well-detailed gun breech.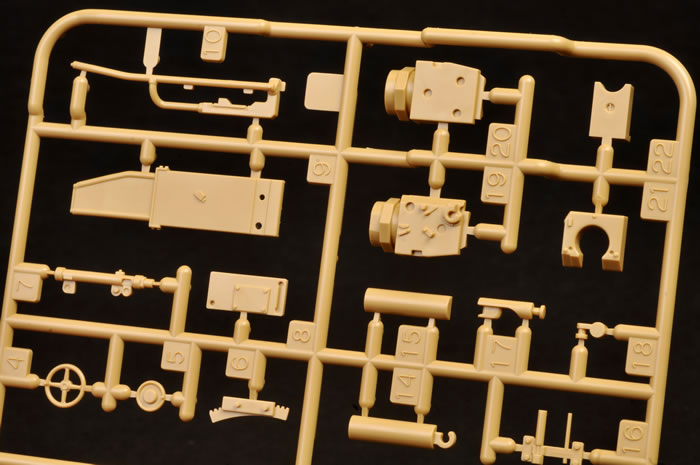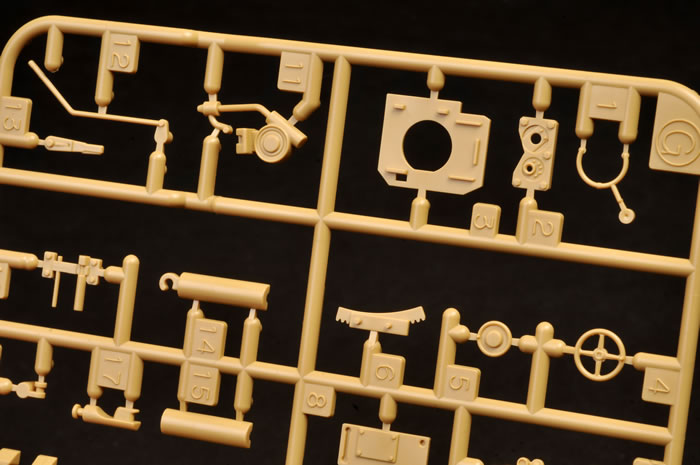 Detail is well done, although most will be hidden inside the sealed superstructure. I really like the elevation piston, which operates thanks to a poly cap and a chromed metal rod.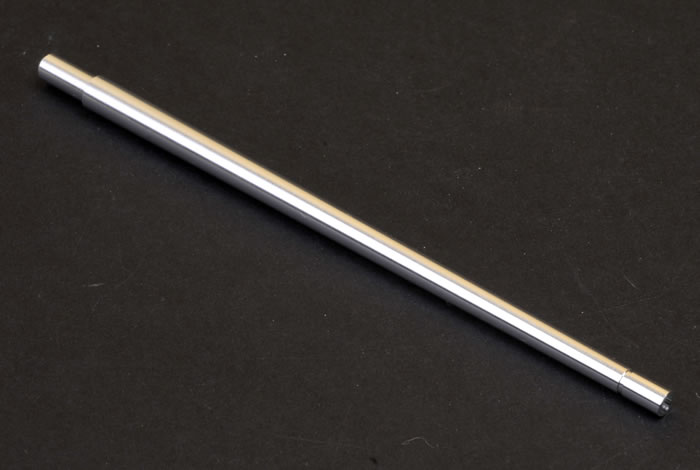 The instructions advise that the mounts for the two crew figures should not be fitted if the Detail-Up gun set is fitted, as they will obstruct the main gun breech. I ignored this advice though, and found that I could still carefully manoeuvre the breech around the crew mounts, albeit with some limitations.
---
C o n c l u s i o n
Tamiya's new 1:35 scale Jagdpanzer IV /70(V) is another instant classic - high level of detail, perfect fit, and a very fast build. In fact, for me, construction took place in a period of less than seven hours.
The Gun Barrel Detail-Up Set is a worthwhile addition too.
If you're not a fan of full-length flexible tracks, individual links are available from after market companies including Model Kasten and Friul Model.
I do hope that we'll see other versions of the Jagdpanzer IV from Tamiya in the future, or perhaps even scaled down to 1:48.
Highly Recommended.
Thanks to Tamiya Japan for the sample
Tamiya kits are distributed in the UK by The Hobby Company Limited for the sample.

Text and Images by Brett Green
Page Created 7 December, 2014
Page Last Updated 7 December, 2014