Home > Reviews > Germany >
Tamiya Kit No. 35353 - Sd.Kfz.166 Sturmpanzer IV Brummbär Späte Produktion
Sd.Kfz.166 Sturmpanzer IV Brummbär Späte Produktion
Tamiya 1/35 scale
Test Shot Reviewed by Brett Green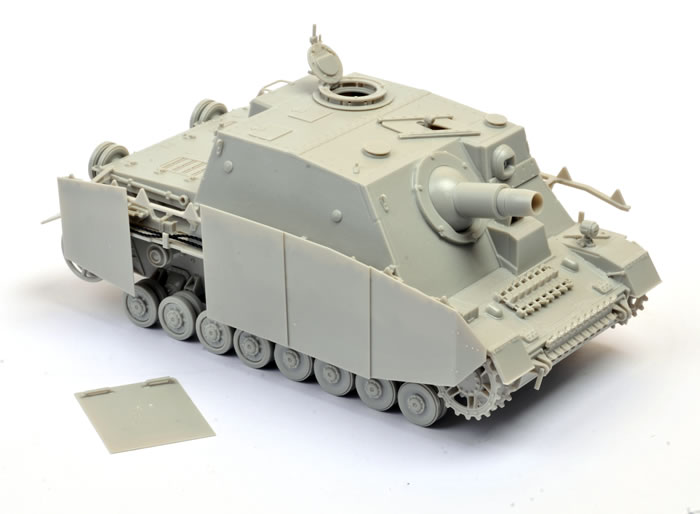 Summary
Stock Number and Description

Tamiya Kit No. 35353 - Sd.Kfz.166 Sturmpanzer IV Brummbär Späte Produktion

Scale:
1/35
Media and Contents:

325 plastic parts in light grey coloured plastic; two lengths of black polypropylene tracks; string; polythene caps; markings for two vehicles.

Price:
TBA
Review Type:
First Look
Advantages:

Accurate shapes; straightforward build; good level of detail; includes two crew figures; separate self-adhesive Zimmerit sheet will be available.

Disadvantages:
Recommendation:
Highly Recommended

F i r s t L o o k
Tamiya's brand new 1:35 scale 1:35 Sd.Kfz.166 Sturmpanzer IV Brummbär Späte Produktion has nothing at all in common with their 1976 early-production Brummbär release. The lower hull is sourced from the Panzer IV kits from the mid-1990s, and the running gear seems to be based on the sprues from the 2014 Jagdpanzer IV release, but all the other plastic parts are brand new.
I was fortunate to receive a pre-production set of test shot sprues.
My test shot comprises 325 parts in light grey coloured plastic, two lengths of black polyethylene (tracks), a length of black string and a bag of polythene caps. The production kit will most likely be presented in Tamiya's typical dark yellow plastic.
Moulding quality is every bit as good as we have come to expect from Tamiya. Surface textures are convincing and effective, with nicely rendered weld beads and subtle rolled steel texture on the superstructure.
The lower hull is provided as a tub – no flat-pack assembly here. Despite its vintage, the detail and moulding quality is well up to the standard of the brand-new parts in the box.
Running gear is simple but crisply detailed.
There are ten sets of all-steel road wheels and eight pairs of rubber-rimmed road wheels. All the wheels are made up from an inner half, an outer half, a separate hubcap and a polythene cap that will permit rotation after assembly - and will also make painting a breeze. The early-style steel idler wheels and drive sprockets are secured with poly caps too, although the steel return rollers are glued in place.
The instructions suggest two different road wheel arrangements, but most photos that I found suggested that on each side, four all-steel road wheels should be fitted to the front.
Tracks are supplied as two polyethylene lengths representing the final lightweight links almost always seen on late Brummbars.
Personally, I would have liked to have the option of link and length tracks in this kit. Tamiya do these so well, and link and length is an excellent compromise between ease of assembly and a realistic depiction of the track sag so often seen on German vehicles, including the Panzer IV family.
Having said that though, these are very nice full-length tracks featuring crisp detail on the inner and outer faces, as well as correctly "dented" guide horns. The polyethylene lengths may be glued with regular plastic cement too.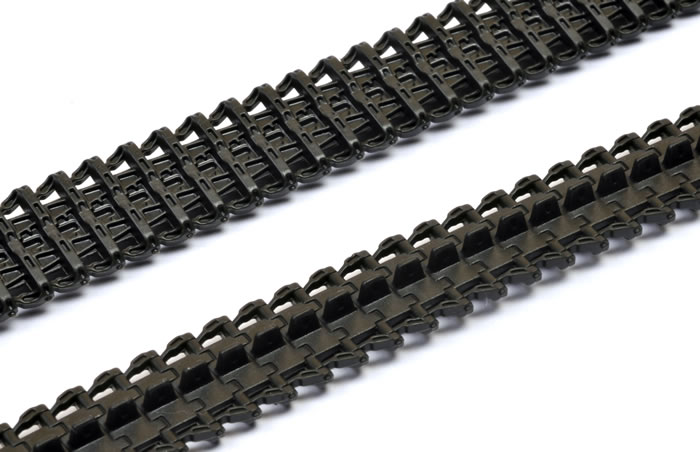 The superstructure is moulded as a main shell with separate roof and rear panels.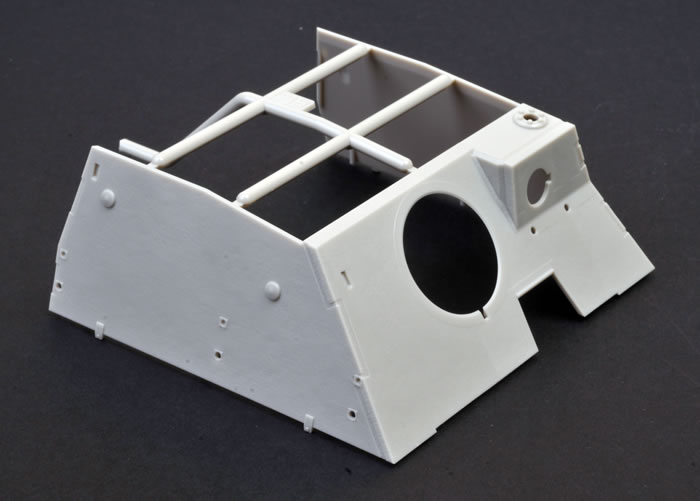 The upper hull is a single piece with an additional layer for the engine deck. The track guards run the length of the hull, effectively acting as sponson covers to blank off the superstructure from the running gear. The commander's hatch, plus the rear fighting compartment and two small upper turret hatches are all separate parts that may be glued in the closed or open position.
The 15 cm StuH 43 L/12 gun is built up in layers, with the one-piece main barrel sleeve sliding over the inner rifled barrel part. The gun is mounted via two polythene caps which allow depression and elevation. The mount itself clicks into a plastic base. This permits traverse. The gunner's sight is linked to the traverse mechanism so that it moves as the gun does - nice touch.
Armour hangers and side skirts are included. The plastic skirts are individual panels bevelled at the edges, resulting in in-scale appearance. Each skirt is labelled with the part number on the inner surface. The modeller may choose to install all or only some of the skirts. Wartime photos show that it was common for some of these skirts to be damaged or missing altogether.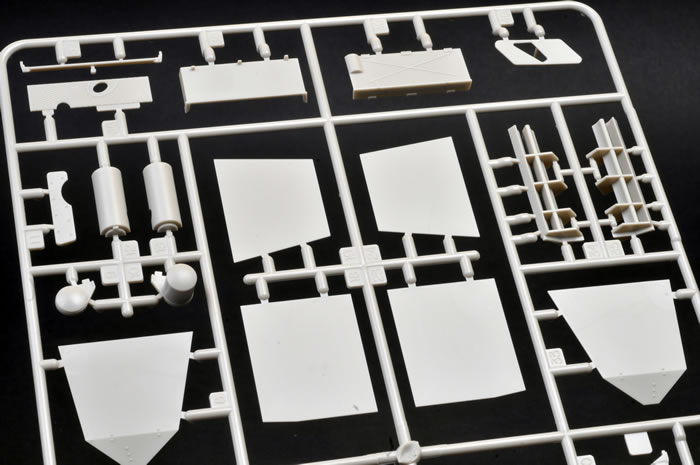 Spare tracks are supplied in injection moulded plastic, and string tow cables are also in the box.
Two figures are included – a Commander and an infantry soldier leaning on the rear superstructure. Both figures live up to Tamiya's recent high standard of figure moulding. They feature natural poses and realistic faces.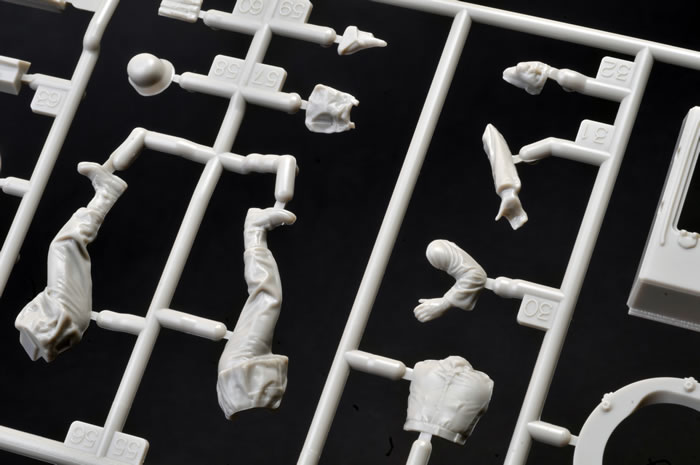 Markings are provided for two vehicles – one with Zimmerit coating and one without.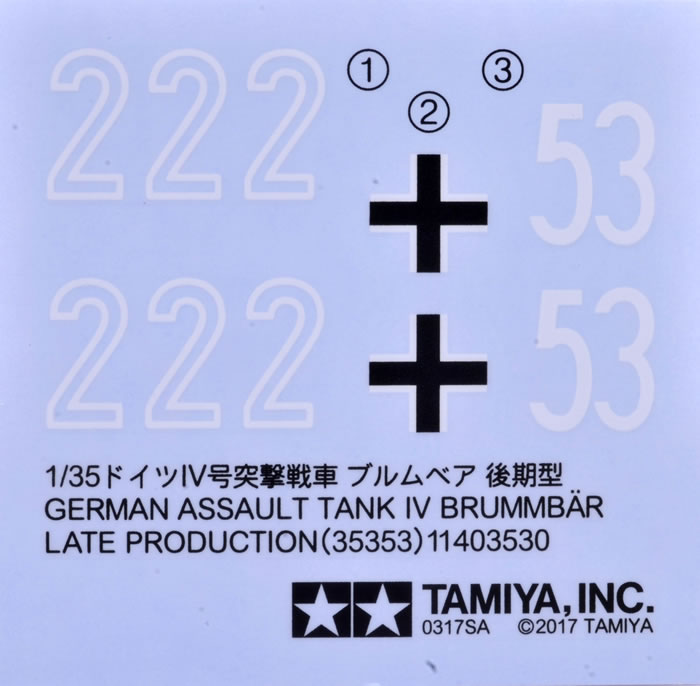 Tamiya has also announced a separately available self-adhesive Zimmerit coating set, but it was not yet available at the time of this review.
---
C o n c l u s i o n
Tamiya's second-generation 1:35 scale Brummbar is a terrific kit. It features subtle surface textures, a good level of detail straight from the box and I can tell you from personal experience that it is a fast, straightforward build.
Although it would have been nice to have a set of Tamiya's excellent link-and-length tracks, I don't mind the flexible lengths. They are well detailed and not all modellers like separate track links anyway, so with this philosophy they are not paying for unwanted features. For those who prefer individual links and/or workable tracks, there are a number of after-market sets available.
Highly Recommended.
Thanks to Tamiya Japan for the sample
Tamiya kits are distributed in the UK by The Hobby Company Limited for the sample.

Text and Images by Brett Green 17 June, 2017
Page Last Updated 17 June, 2017