Sd.Kfz. 124 Wespe Italian Front
Tamiya 1/35 scale
Reviewed by Brett Green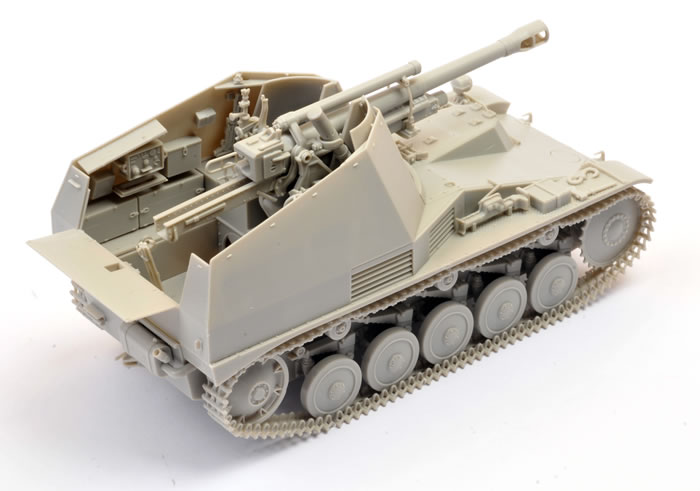 Summary
Stock Number and Description

Tamiya Kit No. 35358 - Sd.Kfz. 124 Wespe Italian Front

Scale:
1/35
Media and Contents:

267 grey plastic parts plastic; a length of string; four polythene caps; markings for a choice of two vehicles.

Price:
TBA
Review Type:
First Look
Advantages:

Good level of detail; crisp mouldings; includes link and length tracks; high quality figures.

Disadvantages:

A few ejector pin circles.

Recommendation:
Despite the 1996 origins of the main sprues, this upgraded Wespe features plenty of detail and stowage in the fighting compartment, and the addition of link and length tracks is very welcome. The four included figures will deliver an instant vignette too.

B a c k g r o u n d
The Sd. Kfz. 124 Wespe (German for "wasp"), also known as Leichte Feldhaubitze 18/2 auf Fahrgestell Panzerkampfwagen II (Sf.) ("Light field howitzer 18 on Panzer II chassis (self-propelled)"), is a German self-propelled gun developed and used during the Second World War. It was based on a modified Panzer II chassis.
During the Battle of France in 1940 it became apparent that the intermediate tank of the German forces, the Panzer II, was unsuitable as a main battle tank. Though mechanically sound, it was both under-gunned and under-armoured. The chassis, however, proved serviceable for providing mobility to the 10.5 cm field howitzer. Existing chassis were converted to self-propelled artillery vehicles, such as the Marder II conversion providing mobility to the PaK 40/7.5 cm anti-tank gun.
The design for the Wespe was produced by Alkett, based on the Panzer II Ausf. F chassis. Alkett had earlier worked with Alfred Becker to convert captured French armoured vehicles into self-propelled artillery carriers. Among other modifications the Panzer II's engine was moved forward and the chassis slightly lengthened to accommodate the rear-mounted 10.5 cm leFH 18 howitzer. The superstructure was lightly armored, with 10 mm armor plate (enough to stop small arms fire) left open at the top and rear. The vehicles were produced by FAMO's Ursus plant in Warsaw.
The Wespe was in production from February 1943 until June 1944, when Soviet forces approached the frontier. By that time, 676 had been produced. An additional 159 were modified to serve as mobile artillery ammunition carriers.
The Wespe first saw combat in 1943 on the Eastern Front. It proved very successful, and Hitler ordered all Panzer II chassis production be dedicated to the Wespe alone at the expense of other projects, including the Marder II self-propelled anti-tank gun.
The vehicles were allocated to the armoured artillery battalions (Panzerartillerie Abteilungen) of Panzer divisions along with heavier Hummel self-propelled artillery. The Wespe brought greater mobility to the artillery formations of the panzer divisions.
The Wespe proved reliable and highly manoeuvrable, but provided an easy target due to its relatively high profile and inadequate gun crew protection.*
---
F i r s t L o o k
It is hard to believe that Tamiya released their Wespe, Kit No. 35200, more than 20 years ago in 1996. By this time Tamiya had already heralded its hallmarks of good detail, clever engineering, simple parts breakdown and trouble-free construction with their landmark Tiger I, Tiger II, Panther, Panzer III and Panzer IV releases from the late 1980s and early 1990s, and the Wespe did not disappoint in any of these regards.
Indeed, the 1996 Wespe kit still stands up to critical scrutiny today.
Tamiya has now updated this kit with new link and length tracks, four excellent crew figures, several detail and stowage items and markings for two Italian Front vehicles.
I was lucky enough to receive a test shot of this forthcoming kit in pale grey plastic and packed in a plain white box.
Three brand new sprues have been added to the original kit. Tamiya's updated 1:35 scale Italian Front Wespe now comprises approximately 267 grey plastic parts plastic (this includes 44 parts on the figure sprue), a length of string, four polythene caps and markings for a choice of two vehicles. The grey sprues seen here will be replaced with Tamiya's typical dark yellow plastic for the commercial release.
The lower hull is provided as a single-part tub. Interior detail is then added to the rear section of the lower hull.
The upper hull is a single part, while the superstructure sides and rear are made up of individual panels.
The 105mm gun is beautifully detailed and looks great straight from the box. The gun features a poseable breech block and the ability to elevate and traverse.
Likewise, the spare ammo boxes, radio, stowage and weapons on the inner sides of the fighting compartment are suitably busy and very well detailed.
There are a number of ejector pin circles that will be visible on the inside of the side armour plates and the rear hatch, but these will be easy to scrape off and sand flat.
The running gear comprises swing arms, axles and leaf springs moulded in one piece each, to which are added simple two-piece road wheels.
The tracks are a highlight of the kit. They are made up from a combination of sections of two links, three links, a long flat bottom run, a subtly draped upper run plus two sagged front and rear lower sections. Detail on the outer surface is very well done.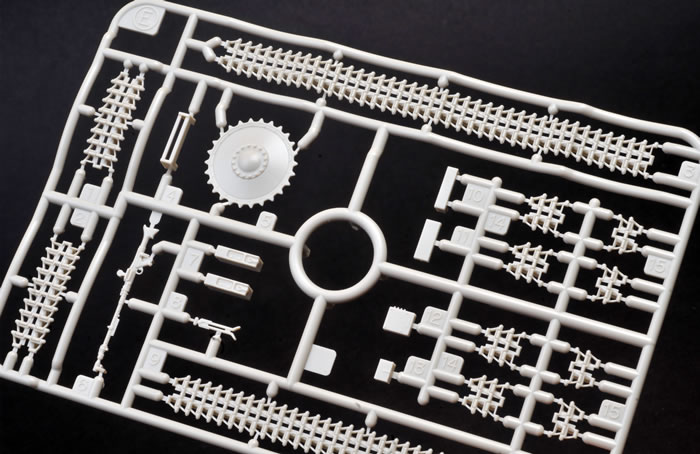 Smaller detail parts such as tools, tow cable guides and the gun barrel travel lock are well moulded. Some of the detail on the tools looks a little basic now and might be enhanced with photo-etched clamps or after-market replacements.
The plastic parts are rounded out with four brand new crew figures – a gunner, a loader and the Commander. In common with Tamiya's recent figure release, they are all well moulded and the facial detail is particularly nice.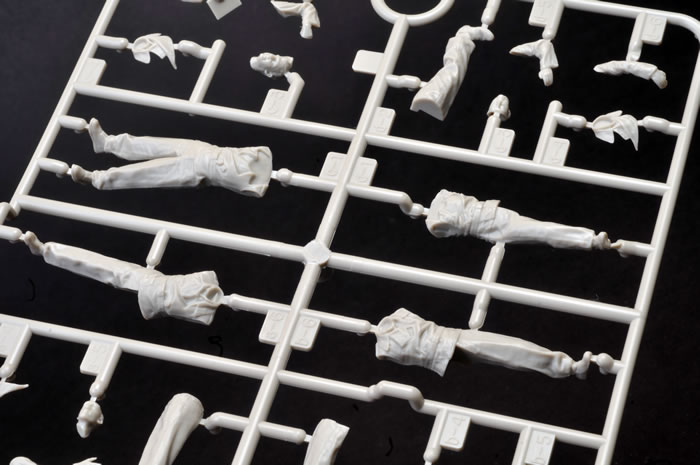 The figure sprues also include spare shells.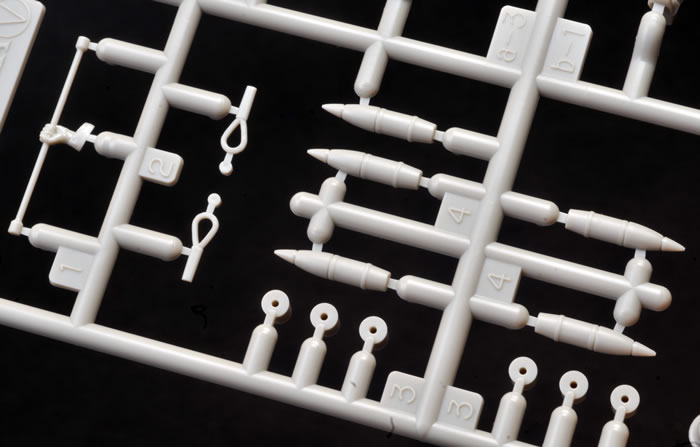 The only multimedia in the kit is a length of string for the tow cable.
Two simple marking options are provided for vehicles in service on the Italian front.
The instructions are well laid out over 18 steps with clear illustrations supplemented by brief text directions where required. The section dealing with the tracks is especially well done.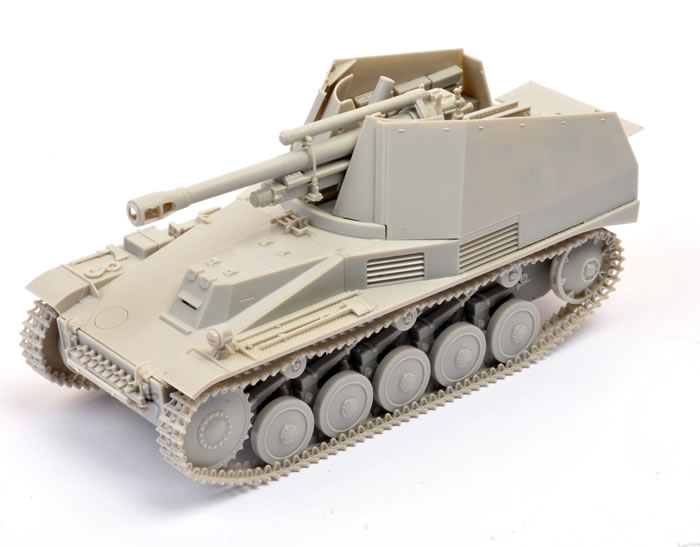 I have already built the kit straight from the box and I can report that there are no nasty surprises in construction. The tracks are particularly nice - fast to assemble too.
---
C o n c l u s i o n
Once again, Tamiya has delivered a well-detailed and easy to build model of an iconic vehicle.
Despite the 1996 origins of the main sprues, this upgraded Wespe features plenty of detail and stowage in the fighting compartment, and the addition of link and length tracks is very welcome. The four included figures will deliver an instant vignette too.
I'd love to see this upgrade approach applied to Tamiya's Panzer III and Panzer IV kits too.
Chalk another one up to Tamiya!
*Historical summary courtesy of Wikipedia.
Thanks to Tamiya Japan for the sample
Tamiya kits are distributed in the UK by The Hobby Company Limited for the sample.

Text and Images by Brett Green
Page Created 25 February, 2018
Page Last Updated 25 February, 2018