Panzer IV/70(A)
Tamiya 1/35 scale
Reviewed by Brett Green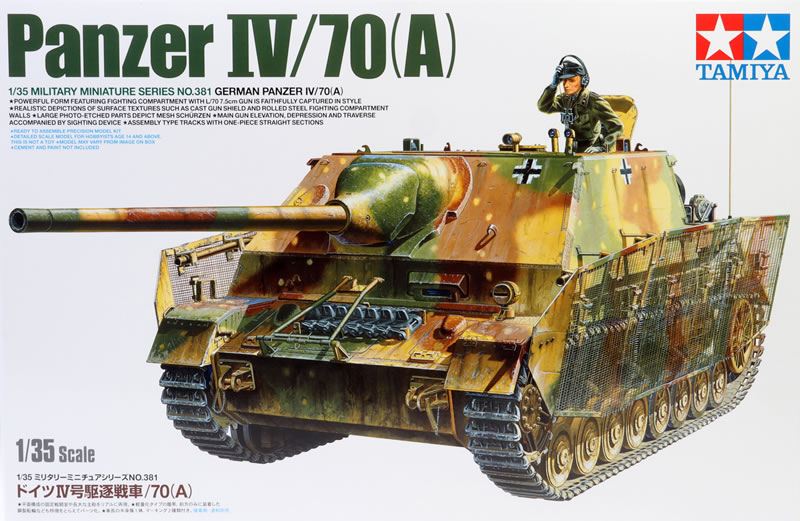 Summary
Stock Number and Description

Tamiya Kit No. 35381 - Panzer IV/70(A)

Scale:
1/35
Media and Contents:

414 (204 of these are on the link-and-length track sprues); plastic parts in tan coloured plastic; photo-etched Thoma skirts; polythene caps; markings for two vehicles.

Price:
4600¥
Review Type:
First Look
Advantages:

Accurate shapes; fast and easy build; good level of detail; includes Commander figure.

Disadvantages:
None noted.
Recommendation:
Tamiya's new 1:35 scale Panzer IV /70(A) is another instant classic - high level of detail, perfect fit, and a very fast build. In fact, for me, construction took place in a period of less than seven hours. The Gun Barrel Detail-Up Set is a worthwhile addition too. Highly Recommended.

B a c k g r o u n d
The Jagdpanzer IV, Sd.Kfz. 162, was a German tank destroyer based on the Panzer IV chassis and built in three main variants. As one of the casemate-style turretless Jagdpanzer (tank destroyer, literally "hunting tank") designs, it was developed against the wishes of Heinz Guderian, the inspector general of the Panzertruppen, as a replacement for the Sturmgeschütz III (StuG III).
Guderian objected against the needless, in his eyes, diversion of resources from Panzer IV tank production, as the StuG III was still more than adequate for its role.
Officially, only the L/48-armed vehicle was named Jagdpanzer IV. The L/70-armed vehicle was named Panzer IV/70.

In July 1944 Hitler ordered an interim solution to speed up Nibelungenwerke's transition from Panzer IV production to Panzer IV/70 production. "A" stands for Alkett, a manufacturer of the StuG III, that was ordered to redesign the Jagdpanzer IV superstructure to be mounted onto a standard Panzer IV chassis.
The Vomag design used a modified chassis permitting a very low silhouette. Mounting the superstructure onto the original Panzer IV chassis required additional vertical steel plates mounted onto the chassis to counter height differences. The resulting vehicle was about 40 cm taller and lacked the sharp edged nose of the Vomag variant.
Only 278 were built by Nibelungenwerke from August 1944 to March 1945.
Dragon released this variant in 1/35 scale during the 1990s, so it is time we had an updated kit of the Panzer IV/70(A).
---
F i r s t L o o k
Tamiya's brand new 1:35 scale Jagdpanzer IV/70(V) has nothing at all in common with their 1976 Lang release. In fact, this model does not share any parts with the more recent Panzer IV Ausf. H and J or even the 2014 Jagdpanzer IV/70 (V) kits. Even the lower hull and running gear are new.
This new kit comprises 414 parts in tan coloured plastic, a large photo-etched fret, decals for two marking options and a bag of polythene caps.
The parts count seems high for a fairly straightforward kit, but keep in mind that 204 of these are on the link-and-length track sprues.
Moulding quality is every bit as good as we have come to expect from Tamiya. Surface textures are subtle and effective, with nicely rendered weld beads and fine cast texture on the Saukopf mantlet.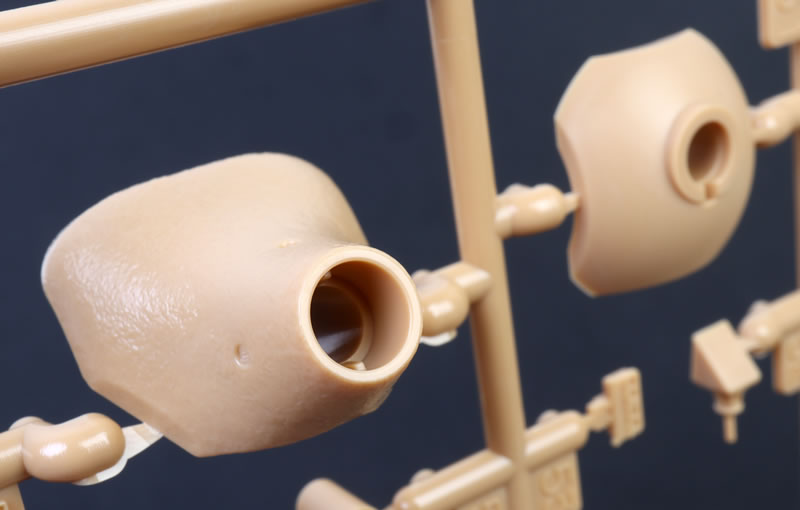 The lower hull is provided as a tub – no flat-pack assembly here.
Running gear is simple but crisply detailed.
These sprues seem specifically set up for the /70(A) version, with four sets of all-steel road wheels and 14 pairs of rubber-rimmed road wheels. All the wheels are made up from an inner half, an outer half, a separate hubcap and a polythene cap that will permit rotation after assembly - and also makes painting a breeze! The idler wheels and drive sprockets are secured with poly caps too, although the steel return rollers are glued in place.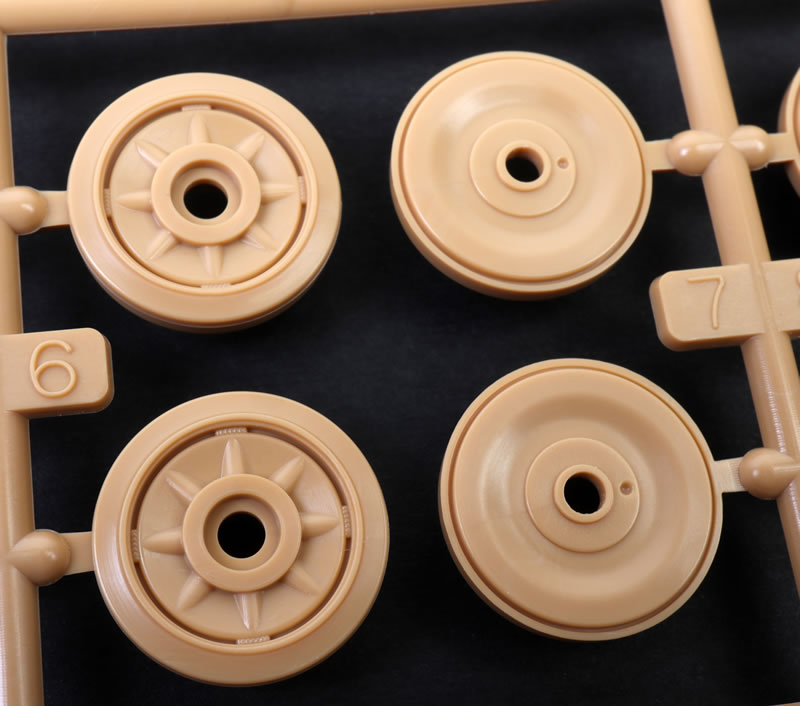 Tracks are supplied as link and length representing the final lightweight links almost always seen on the /70(A) version.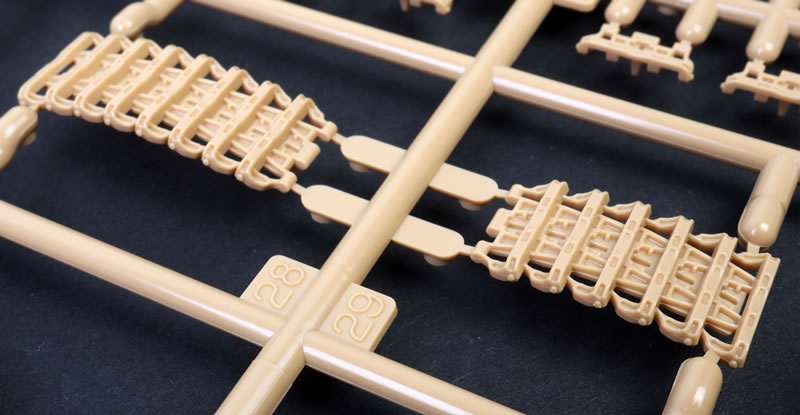 Tamiya's link and length tracks offer an excellent compromise between ease of assembly and a realistic depiction of the track sag so often seen on German vehicles, including the Panzer IV family.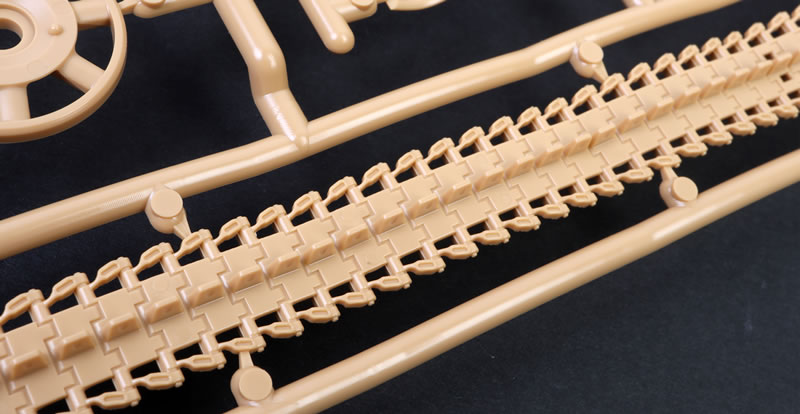 The upper hull and superstructure are moulded as separate parts. Sponson covers are moulded onto the upper hull base part, blanking off the superstructure from the running gear.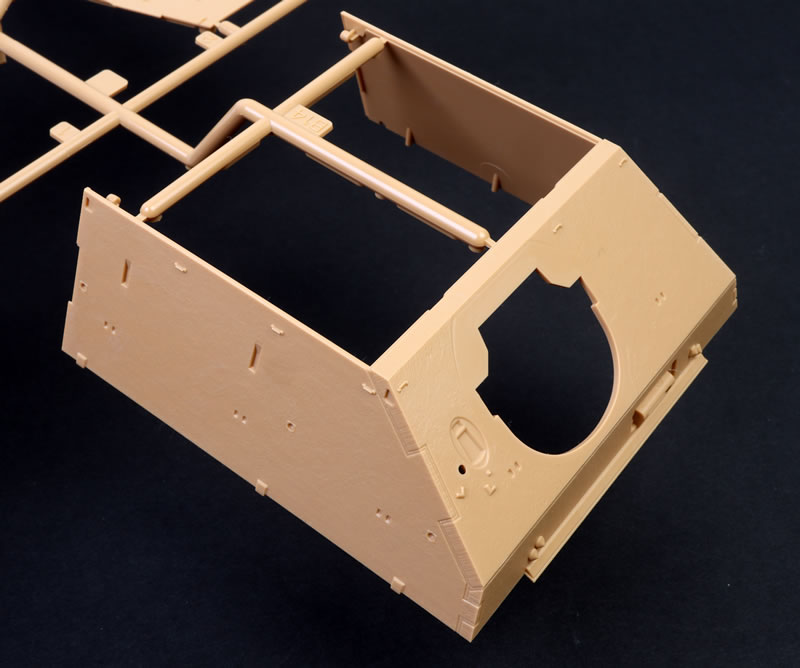 The commander's and loader's hatches are both separate, with small plastic hinges allowing them to be workable.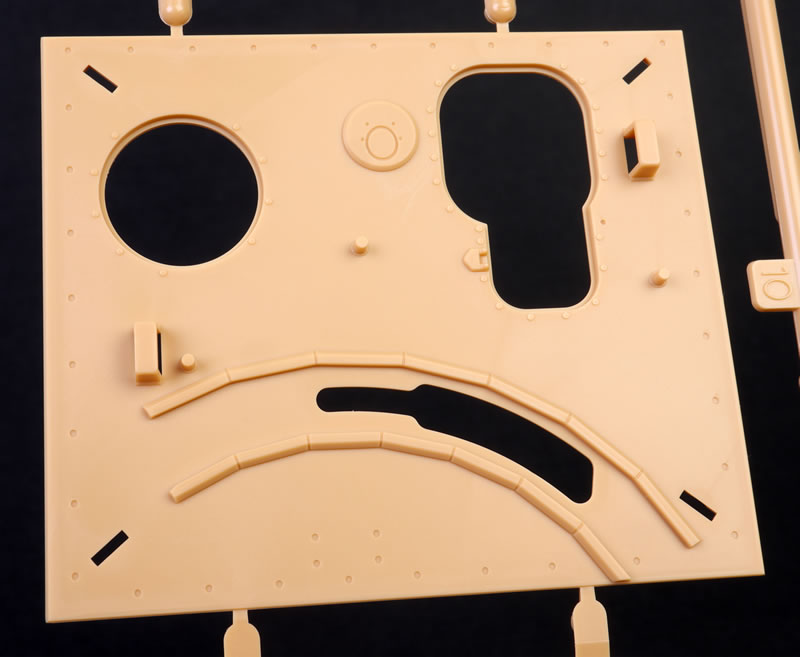 The kit supplies a one-piece plastic barrel with a separate hollow muzzle. The 75mm L/70 gun is fully workable in elevation and traverse. Cleverly, the gunner's sight and its curved cover both move when the gun traverses. This operates perfectly if you are careful with assembly and painting. The travel lock is movable too. The gun barrel almost snaps into place when it is stowed for travel.
Skirt hangers are included as are Thoma wire mesh skirts.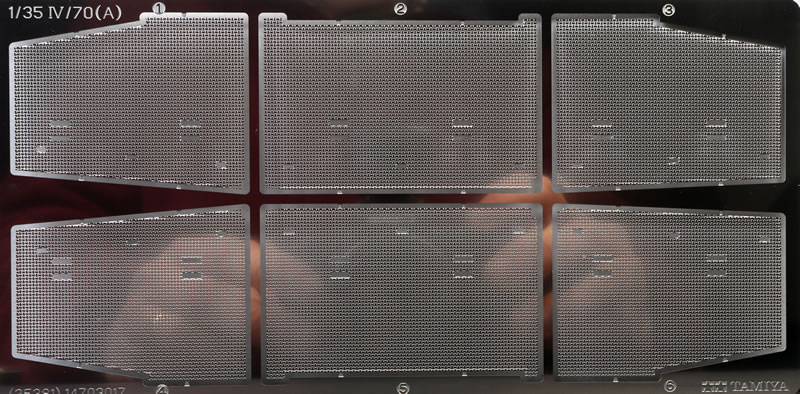 These are supplied in nicket plated photo-etch with plastic front and rear mounts.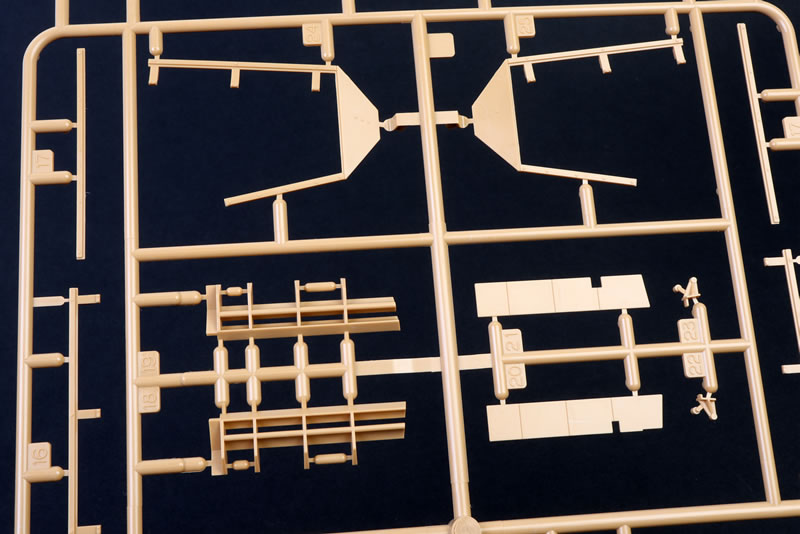 A single Commander figure is included. Detail amd pose are really nice.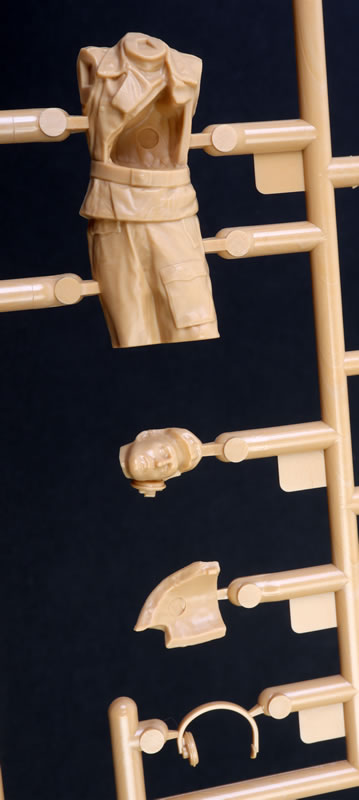 A small decal sheet provides simple markings for two vehicles.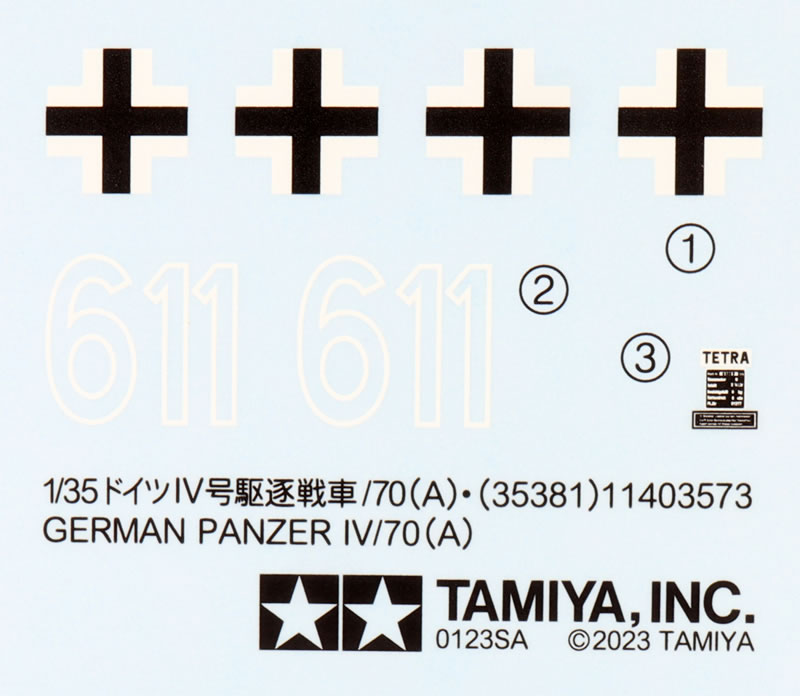 ---
Tamiya Detail-Up Series 1:35 German Jagdpanzer IV /70(V) Lang Metal Gun Barrel Set
Tamiya has has a metal barrel update set that was released for the /70(V) kit in 2014, but it applies equally to this Panzer IV/70(A) kit.
This is not included with the kit but is available for purchase separately.
In addition to a very nice turned metal barrel, Tamiya has also included a sprue of 22 plastic parts plus some polythene caps and a metal rod to deliver a well-detailed gun breech.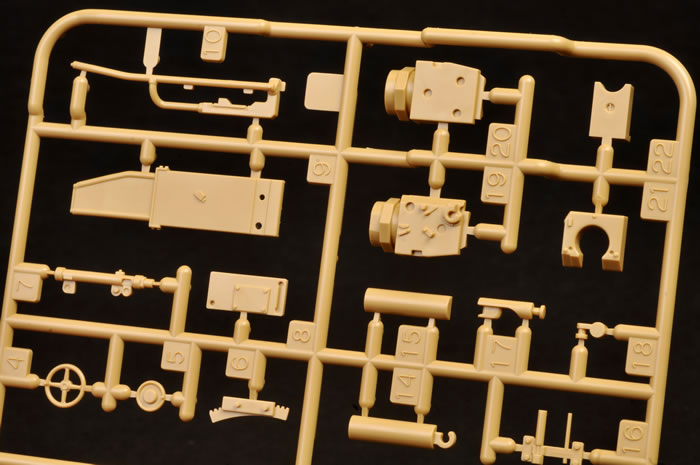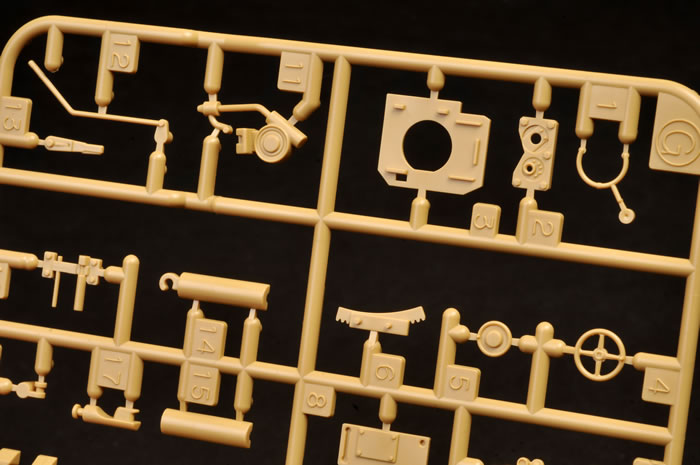 Detail is well done, although most will be hidden inside the sealed superstructure. I really like the elevation piston, which operates thanks to a poly cap and a chromed metal rod.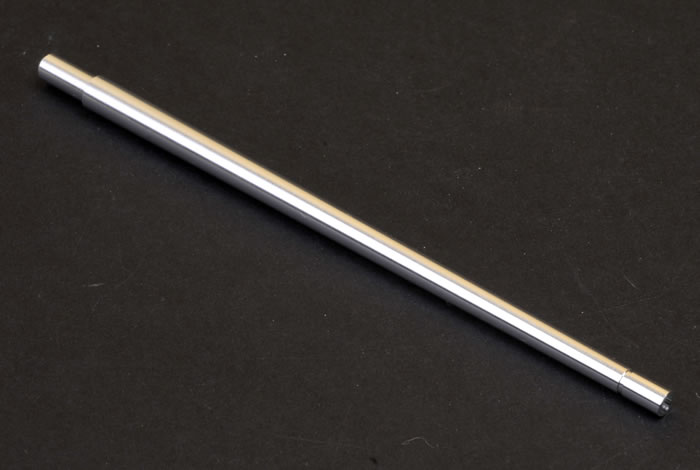 The instructions advise that the mounts for the crew figures should not be fitted if the Detail-Up gun set is fitted, as they will obstruct the main gun breech. I ignored this advice though, and found that I could still carefully manoeuvre the breech around the crew mounts, albeit with some limitations.
---
C o n c l u s i o n
Tamiya's new 1:35 scale Panzer IV /70(A) is another instant classic - high level of detail, perfect fit, and a very fast build. In fact, for me, construction took place in a period of less than seven hours.
The Gun Barrel Detail-Up Set is a worthwhile addition too.
Highly Recommended.
Thanks to Tamiya Japan for the sample
Tamiya kits are distributed in the UK by The Hobby Company Limited for the sample.

Text and Images by Brett Green
Page Created 19 May, 2023
Page Last Updated 19 May, 2023