Home > Reviews > Germany >
Tamiya (Italeri) 1/35 scale Kit No. 37018; German Heavy Armored Car Sd.Kfz. 234/2 Puma
German Heavy Armored Car Sd.Kfz. 234/2 Puma
Tamiya 1/35 scale
Reviewed by Cookie Sewell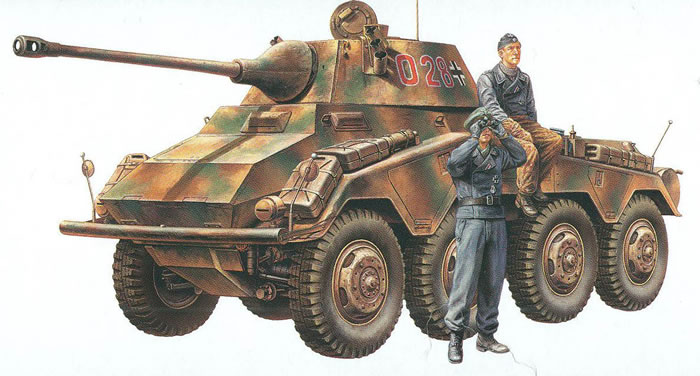 Summary
Stock Number and Description

Tamiya (Italeri) 1/35 scale Kit No. 37018; German Heavy Armored Car Sd.Kfz. 234/2 Puma

Scale:
1/35
Media and Contents:

322 parts (249 in light brown styrene, 13 in sand styrene, 60 etched brass)

Price:
USD$61.00
Review Type:
First Look
Advantages:

Upgrades to a reasonably good older kit; includes figures and etched brass.

Disadvantages:
Not as detailed as newer kits from DML

Recommendation:
Highly Recommended

for all German armored car fans

F i r s t L o o k

The Germans experimented heavily with armored reconnaissance cars prior to WWII, and they settled on light 4 x 4 cars and heavy 8 x 8 cars. They continued development of their prewar designs throughout the war, and the original Sd.Kfz. 231 heavy eight-wheeled armored car series was replaced by the Sd.Kfz. 234 series beginning in September 1943. Four different vehicles were produced in this series:
Sd.Kfz. 234/1 (Geraet 95) 200 built 2 cm cannon/7.92mm MG in open turret
(built Jun 44 - Jan 45)

Sd.Kfz. 234/2 (Geraet 93) 101 built 5 cm gun/7.92mm MG in closed turret (also called the Puma) (built Sep 43 - Sep 44)

Sd.Kfz. 234/3 (Geraet 94) 88 built 7.5 cm L/24 in open mount
(built Jun 44 - Dec 44)

Sd.Kfz. 234/4 (Geraet 96) 89 built 7.5 cm Pak 40 in open mount
(built Dec 44 - Mar 45)
The "Stroke 2" was the only one to receive an actual name and fit in with the service models of many other vehicles in the late war period – the tracked Luchs reconnaissance tank, the Panther medium tank, and the Tiger I and II heavy tanks. Fast (80 kph/48 mph), well armed with the Pak 38 5 cm derived gun, and had a long range (900 km/560 miles). Armor provided proof against small arms of 7.62mm caliber and shell fragments. Since its Tatra 103 engine was a 12-cylinder air-cooled diesel, it had a major advantage over other nations' armored cars.

The Puma has long been a popular subject, and this kit originally appeared as their Kit No. 202 back in the late 1970s. But with the advent of newer and more detailed DML kits – with nearly twice the parts and etched brass included – it became passe. Now Tamiya and Italeri are "tag teaming" kits they have turned their attention to the Puma and made some changes to the original kit.

Some of the parts have been remolded to make them more accurate and some of the sprues now reflect these changes. The entire mounting system for the 20 liter "Jerry" cans is now offered as styrene (the original kit) with etched brass strapping in a new fret from Italeri's supplier Fotomeccanica. Tamiya has added two new mold crew figures; this time the commander appears to have no neck (he is wearing a scarf!) but is at least 5'8" tall so better than the "dwarves" in the older Tamiya kits!

Italeri's directions have been replaced by the usually excellent Tamiya ones and start with the suspension, which as with many older kits comes with a number of mold seams to be removed. It retains the two-piece styrene wheels but with the use of a Flex-I-File the seams are not a problem for removal with this type of design. Good thing as there are nine of them with the spare.

None of the fender bins are accessible but there are liners included for them which is an improvement over the very early kits of these vehicles. Lower hull hatches are also sealed. There are the remnants of the interior from the other Sd.Kfz. 234 kits but no hull interior is provided.

The turret has some new mold bits like the 5 cm muzzle brake and also a relatively complete basic interior with 5 cm and MG 42 breech assemblies, seats and some other details. The gun barrel and muzzle brake are two-part molds and will also need attention from a Flex-I-File.

Finishing directions are provided for two vehicles:
1st SS Aufklaerungsbattalion, 1st SS Panzer Division, France Summer 1944 (tricolor - red 028) or

2nd Aufklaerungsbattalion, 2nd Panzer Division, Normandy 1944 (tricolor - red 1111).
A small set of targeted decals is provided but the SS runes are missing from the 1st SS unit.

Overall this is still a nice kit and can be built as an attractive model. It is an easier build than the DML one and also comes with the superb Tamiya directions.
---
Sprue Layout
A 134 Suspension, details
B 38 Hull, fenders, hull details
B 5 Viewers - replacement for original parts
C 35 Turret, turret interior
D 37 Jerry cans, small details, pioneer tools
Z 13 Two figures, detail parts
PE 60 Etched brass
Tamiya kits are distributed in the UK by The Hobby Company Limited for the sample.

Text and Images by Cookie Sewell
Page Created 3 August, 2015
Page Last Updated 2 August, 2015