Entwicklungsfahrzeug E-25
Trumpeter, 1/35 scale
Reviewed by Luke Pitt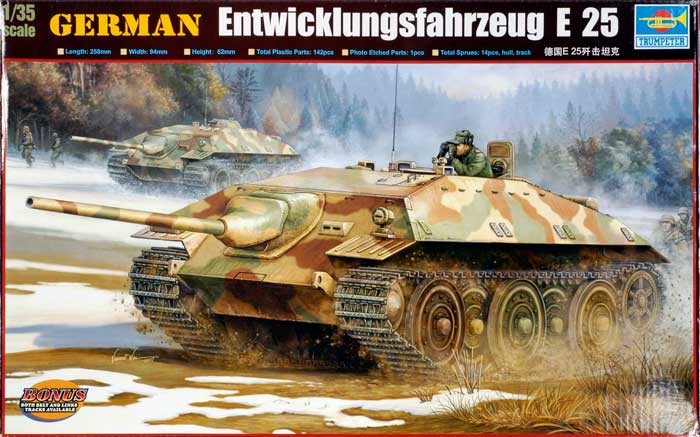 Summary
Stock Number and Description
Trumpeter kit 00383 - Entwicklungsfahrzeug E-25
Scale:
1/35
Media and Contents:
Plastic and photo etch parts; belt and individual track links
Price:
Review Type:
First Look
Advantages:
Nice, light rendering of the chosen project; simple parts break down; inexpensive compared to other kits available
Disadvantages:
paper project
Recommendation:
Recommended - go ahead and have fun building it
Background

The German E -25 tank designed toward the end of World War II and, depending who you read, was close to production or drawn on a paper napkin in the dying days of hostilities.
This design was intended to replace the Jagdpanzer IV Lang and other Panzer III/IV based tank destroyers. The design work was undertaken by the German test establishment section 6 under the direction of General H.E. Kniepkamp with German firms of Argus and Alder given the task to produce the concept in to a production reality.

Much of the kit design is based on the work of rough original wartime drawings and the interpretations of both Hilary Doyle and Bruce Crosby, who had an influence on the 1/35 scale resin examples released by both Accurate Armour and Cromwell.
A good interpretation of the tank's development may be found here: http://members.tripod.com/~fingolfen/eseries/e25.html
---

FirstLook

The first thing that strikes you about this kit is the outstanding box art by Vincent Wai. Vincent. He has really captured a "feel" of a tank in motion and this piece of art is one of his best. I defy anyone to tell me box art doesn't sell kits, this piece of art is motivational!
The kit is made up of some 161 plastic parts with a small simple photo etched fret, two full length vinyl tracks and a small decal sheet.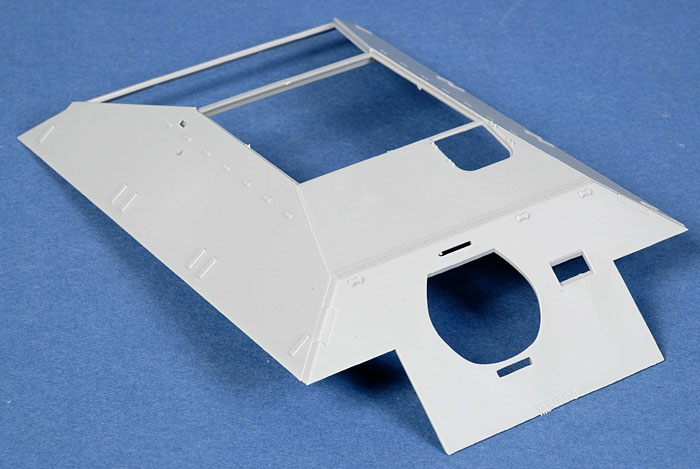 Click the thumbnails below to view larger images:
---
The plastic parts are very well done for the most part but lack the some of the finer details you might expect from other manufactures like Tamiya or Dragon.
The kit comprises a conventional plastic hull tub with the upper hull fitting on to it. The fit on both these parts is generally good with only small gaps in evidence.
The top and rear hull plates have alternative designs to choose from so you can fit either both of these again are a good fit with only a minimum of filling needed.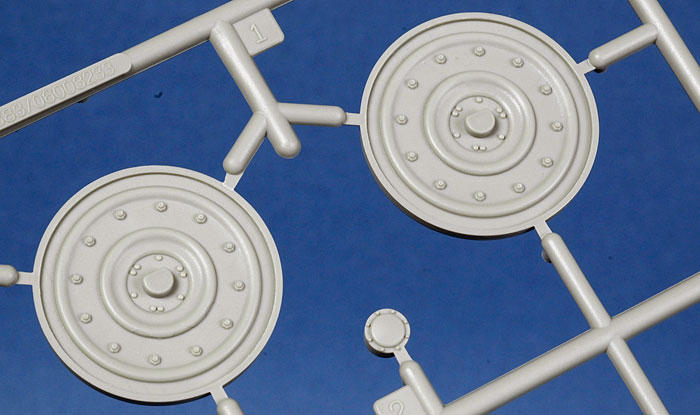 The tools provide are a little basic and would be best replaced with either Tamiya or Dragon items.
The kit provides the traditional vinyl tracks as well as plastic individual items. The individual tracks have knock out marks on each track which thankfully are raised (as opposed to sunken) so clean up will be somewhat time consuming but a lot easier than if they were sunken.

The decal sheet provides a range of numbers plus national markings, and are thin and very usable.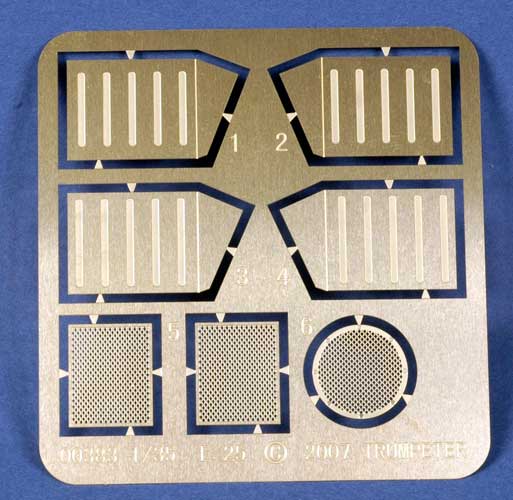 The etch sheet provided is a little basic and heavy but will add useful detail.
---

Conclusion

This is one of those kits that will be fun to build and is a good alternative to more "serious" building .
I found myself thinking of scenarios and modifications for this tank as soon as I received review sample. This soon lead to me clipping away at the parts and putting the kit together and smiling ….surely this is one of the reasons we buy kits… to have fun! .More often than not when choosing a kit these days I find myself thinking do have I enough reference? do I need photo etch? Is it accurate?
I like this kit as I don't need any of that! it has a low parts count (by modern 35th standards) and is simple to build. This leaves you more time for the fun part painting and finishing!
Go ahead and get this kit and have fun like I'm doing now.
Recommended.
Thanks to J.B. Wholesalers for the review sample.

---