Home > Reviews > German >
Voyager Model Update Sets PE35246 - WWII German Opel Blitz/Shallow cargo bay; PEA 160 - WWII German 200L Fuel drum covers; VBS0111 - WWII German Tiger 1 Barrel, Mid/Late; TE030 - Weld seams
Opel Blitz/Shallow cargo bay; German 200L Fuel drum covers; Tiger I Barrel, Mid/Late; Weld seams
Voyager Model, 1/35 scale

Reviewed by Andrew Judson
Stock Number and Description

Voyager Model Update Sets:
PE35246 - WWII German Opel Blitz/Shallow cargo bay
PEA 160 - WWII German 200L Fuel drum covers
VBS0111 - WWII German Tiger 1 Barrel, Mid/Late
TE030 - Weld seams

Scale:

1/35

Media and Contents:

Photo etch and multi-media parts

Price:

Available online and from specialist hobby stores worldwide

Review Type:

First Look

Advantages:

Price, quality, availability, ability to pick and choose what updates you require

Disadvantages:

Recommendation:

Highly Recommended

FirstLook
PE35246 - WWII German Opel Blitz/Shallow cargo bay

If you like detailing up your kits, then this is a set for you. It is pretty much a whole new rear end/cargo bay for the Opel and then some, including a new brass complete bonnet, and other detail up items for the cabin including a nice new grill badge for Opel Blitz.
So what's in the box? A lot, starting with three large sheets of etch and one small sheet; two sheets of styrene plastic for the decking which you will have to cut to size and scribe it to show the planking and also apply your own texture to give it a wood grain.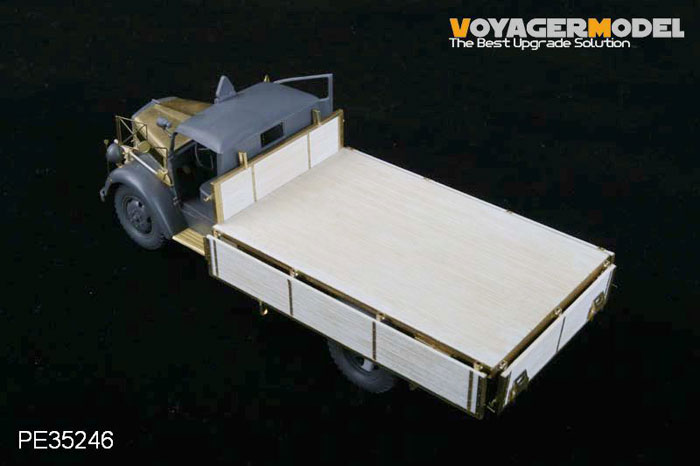 There are also six lengths of metal tubing in various sizes and two lengths of styrene rod, and lastly a small bag with two resin parts.
The instructions are busy but well drawn, but you will have to be patient with this one as there is a lot to do in this set.
Overall a nice set that is recommended for those who like a challenge or are sick for the etch!
---
PEA 160 - WWII German 200L Fuel drum covers

This is a great simple little set of fuel drum covers that have different markings for Heer, Wehrmacht or Kriegsmarine. They simply glue onto the end of the fuel drum once constructed and then if desired ding them up a little and paint.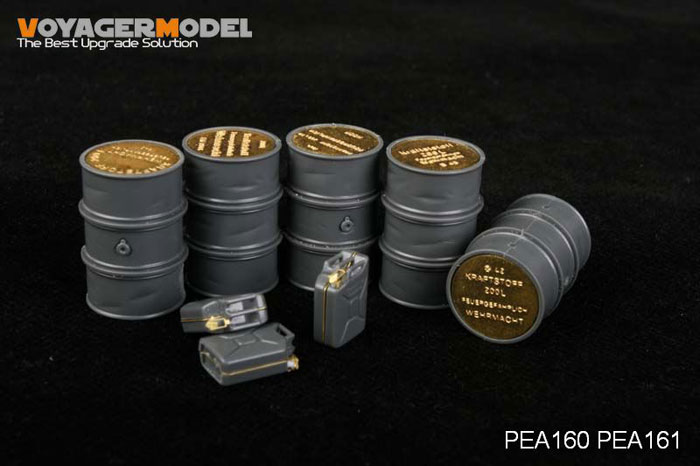 There are eight covers in total and will add that extra special touch for whatever application you are using them for.
---
VBS0111 - WWII German Tiger 1 Barrel,Mid/Late

For anyone building a Mid or Late variant of the Tiger tank from either Tamiya or Dragon, then this is a very nice add on. The set has eight metal parts and a very nice resin mantlet, and all goes together easily. The flash suppressor, is also a well rendered item and with careful painting you will be able to show of that superb detail. A very useful addition to any Tiger kit.
---
TE030 - Weld seams

If you want to add extra weld seams to your modelling project, but you do not like the mess of using putty or welding the plastic, then here is the set for you.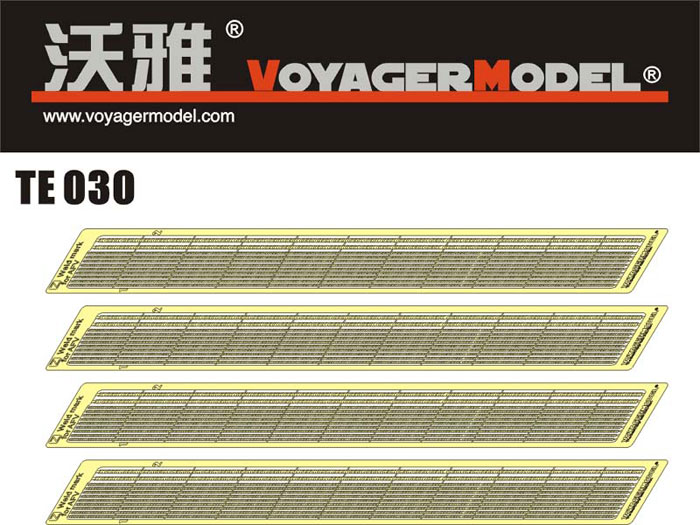 This set consists of four small sheets of photo etch, all the same with lengths of weld seams in two sizes.
To apply you simply measure up the length required, and then apply it with a slow setting super glue, so as to give yourself time to move the weld into it correct place before everything sets.
This is a great set to have on your workbench, easy to use and will add a nice effect to your kit.
Text by Andrew Judson
Images Copyright 2009 by Voyager Models
Page Created 18 January, 2009
Page Last Updated 18 January, 2009