M109A3/M185A3 Shop Van on M109A3
AFV Club, 1/35 scale
Reviewed by Cookie Sewell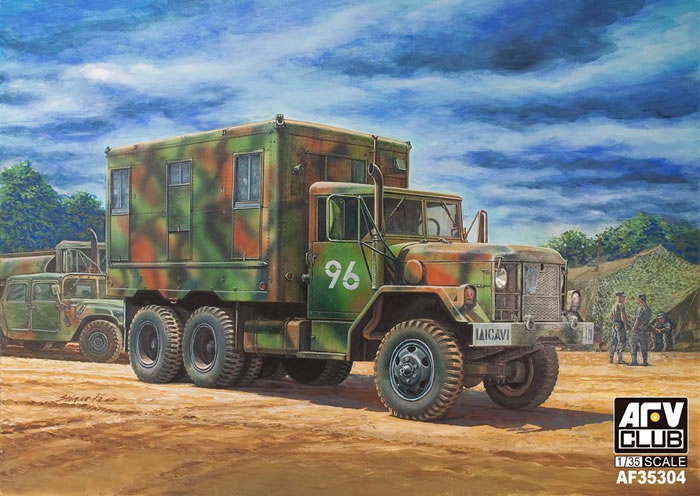 Summary
Stock Number and Description

AFV Club Kit No. 35304 - M109A3/M185A3 Shop Van on M109A3

Scale:

1/35

Media and Contents:
527 parts (446 in olive drab styrene, 41 etched brass, 27 clear styrene, 11 black vinyl tires, 1 length of copper chain, 1 length of black nylon string)
Price:

USD$69.95

Review Type:

First Look

Advantages:

First kit of this vehicle body option in this scale in styrene; complete basic interior for a generic vehicle; nice variety of options with the kit

Disadvantages:
Some ejection pin marks; could use a PU-619 generator trailer to complete it!
Recommendation:
Highly Recommended for all Cold War and modern era US Army and allied fans

F i r s t L o o k
During WWII the Germans, British, Soviets and Americans all decided they needed to field mobile repair bases to keep equipment up and running, especially electronics and mechanical systems such as engines and hydraulic devices. As a result, standard truck chassis were modified to take a box body shelter with windows, work benches, parts storage and other necessary items to support specific systems. Most of the US ones were an ST-5 or ST-6 body fitted to the reliable GMC CCKW 2 ½ ton 6 x 6 truck chassis.
After the war, a search went on for a replacement vehicle that suited the same purpose. The M44 chassis from Reo was the winner in the new 2 ½ ton 6 x 6 category, and right off the bat they built the M34 six wheel and M35 ten wheel versions of which the latter became the more popular variant. The new shop van variant was the M109; initially it was a "gasser" (gasoline engine) but as with the rest of the family evolved to the A1 (multifuel) and A2 (diesel variants. The A3 was a further upgraded version but visually identical to the early A2; the last variant, the M109A4, has a new hood and grille, headlights, fenders, engine, automatic transmission and large single tires.
The basic M109 series was set to provide two large workbench areas inside the shelter with a choice of 115 volt AC or 24 volt DC power for most items; for extended work and to power equipment such as drills, milling machines, and other devices, the vehicle was either hooked up to a generator set or commercial power if available in 115 volt 60 cycle AC. The most common generator set was a PU-619 consisting of two 10 kW 115 volt generators on a 1 ½ ton flatbed trailer with bows and tarp, racks for six 5 gallon fuel cans, and a power distribution box to work off either generator.
I had them with me in the field on REFORGER 74 and 75 with signal maintenance personnel for support of my equipment, but they were used for just about anything from small arms to engine rebuilding in other units. One in the 3rd Armored Division headquarters was rebuilt with a bed, closets, desk and sink for the use of Colonel John Abrams when he was chief of staff of the division and nicknamed the "Winnebago" by the troops!
The only plastic models of the M109 released to this date were from ROCO in HO scale, one in the early 1960s and a much better version in the 1990s. While AFV Club released a great model of the M35A2 several years ago, up until now you had to either scratchbuild the body or get a resin conversion kit to make an M109 of any sort.
This well done new kit uses their excellent M35A2 (M44A2 is the designator for just the chassis) and adds a new body and details consisting of some 168 new parts covering the body, interior, and tools and equipment. While generic they are nicely done and can lead to a excellent model or diorama based around the vehicle, but sadly there are no generator set kits offered yet to match it.
The kit offers a wealth of options such as positionable doors, window blackout slides, a boarding ladder, and a set of basic machine tools: stool, bench grinder, compressor, drill press, vise, closed and opened TK-105 tool boxes, and hand tools like a hacksaw and wrenches. This is a nice change from other kits that come empty or with nothing to put inside their spacious interiors.
Assembly starts with the very detailed chassis and driveline, which takes up the first five steps. The vinyl tires are not bad but only have a Goodyear logo on them and no size or other data, which given moldmakers' skills these days is a bit surprising.
The next steps cover the winch or no winch, with the optional parts called out. One thing not present in the kit is an engine; the transmission seems to have been designed to take one but there is only an oil sump molded as part of the front fenders (B45) instead. While all levers are present in the cab, there are no pedals provided. A complete set of decals and placards is provided on the detailed decal sheet for the dashboard.
The directions show that if the winch is selected the modeler must trim the lower screen for the grille (G1) to fit the correct part. The kit offers the modeler a choice between the normal canvas "soft" top or a fixed hardtop; as most vehicles had heaters in Germany, the latter cab roof was more common. The most complex action here is to roll the exhaust heat shield to fit on the vertical stack portion.
Steps 9-11 cover building the workbenches for the inside of the body. AFV Club offers two drawers in each bench as separate parts (I16-17, I21-22) so they may posed partially open. I seem to recall most of the benches were good old governmental battleship grey with dark grey or black linoleum work surfaces; the body interior and ceiling are duck egg green. Floors were usually covered with black rubber matting for both non-slip and insulation reasons. Breaker boxes on the rear wall are as called out.
Most of the time only the left hand door in the rear was opened; the right one was for removing the benches or moving bulky objects into the van.
Step 18 covers the tools and equipment for the vehicle as well as the dome lights; the big ones are the 115 volt ones (H4) and the small ones are the 24 volt ones (H3). In some vehicles these were "blackout" lights and a blue color rather than white lights. At least the model does lend itself to leaving the roof loose to show the interior.
The M09s usually did not have a rack on the back of the vehicle to stow their organic boarding ladder as did the M820 and M934 expandovan trucks. Most of the time it was just thrown into the back between the benches when moving.
There are six finishing options given: 518th Maintenance Battalion, 31st ADA Brigade, forest green overall (should be FS34079 but directions call for FS34151) bumper code MT 206;
1-1 CAV, 1st US Armored Division (MERDC winter verdant), 1Delta 1CAV1 F 20, white 96 on doors; 703rd Maintenance Battalion, 3rd US Infantry Division, REFORGER 76 (USAREUR pattern) 3-703 MT A34 in white, black stars and codes; Maintenance Company, Support Battalion, 64th ROK Armored Brigade (FS34079 green), registration 48-60633 with white wrench on bumper and panels on doors in Korean; Same unit, registration number 48-30032; 141st Support Battalion, 41st US Infantry Brigade (MERDC summer verdant) 41 EIB - 141 SPT HQ-183. A large decal sheet is provided for these option as well as color views.
Overall maintenance units need love too and this kit is a welcome change from combat vehicles. As they were used by just about all units of battalion size and larger, it should find a good home on a lot of dioramas or just as a focal point.
---
Sprue Layout
A 129 M44 series 2 ½ ton chassis
B 64 M44 series cab, mud flaps, details
C 58 M49A2 tanker body
F 9 Clear styrene
H 6x2 Wheels
H 18 M109A3 clear styrene
I 36x2 Benches, tool bins, parts bins, racks, tie-downs, 26 extra rivet/bolt heads
L 26 M109A3 Box body, doors, window shutters, details
N 2 M109A3 Box body sides
O 29 M109A3 access ladder, body details
Q 35 M109A3 interior details - tools, compressor, tool boxes
R 19 M109A3 hardtop, winch details, body details
– 11 Black vinyl tires
– 1 Length of copper chain
– 1 Length of black nylon string
– 2 35004 - M35A2 Truck etched brass
– 30 35304GC - etched brass
– 9 35304GB - etched brass
Thanks to Tony Chin of Merit for the review sample.
Text and Images by Cookie Sewell
Page Created 25 February, 2018
Page Last Updated 25 February, 2018