Panthers – Modelling the Takom Family
AMMO by Mig Jimenez

Reviewed by Sam Dwyer
Summary
Title:

Ammo by Mig Jimenez
Panthers – Modelling the Takom Family


ISBN:

978-84-17846-40-4

Media and Contents:

Soft cover, 208 pages featuring over 800 full-colour high-quality photos and 49 camouflage profiles.

Price:

Euro 25.00 plus shipping available online from AMMO by Mig's website

Review Type:

First Read

Advantages:

Detailed and comprehensive guide to building the entire Takom family of Panthers; lavishly illustrated; includes reference photos and colour profiles.

Disadvantages:

Recommendation:

I would recommend this new Ammo by Mig release to modellers of a wide range of skills, theres something in it for everyone, specially those into Panthers!

FirstRead
It is always a good day when there's a new book released on the Panther tank. I guess I should put a disclaimer first – it is my favourite tank. Is it okay to have a favourite tank? Well, the Panther is one that I never get tired of researching and building in kit form.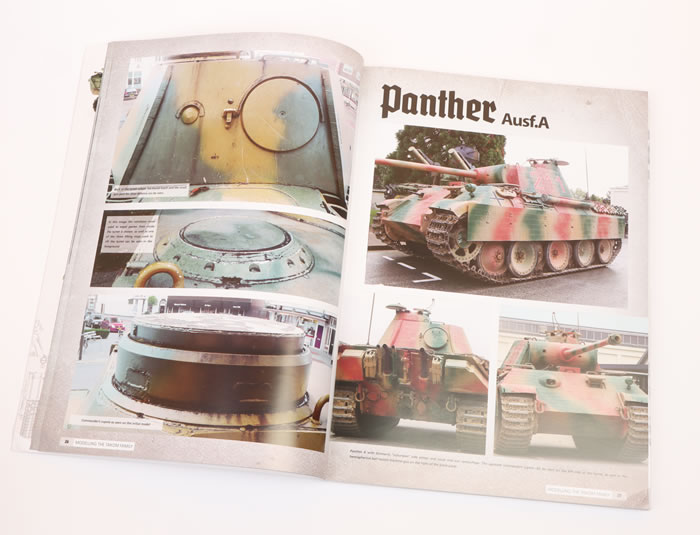 Ammo by Mig's new book comprises 207 glossy pages, filled with builds of the Takom family of Panther tanks. So far, Takom have released pretty much every variant of the Panther family, Panthers D, A and G, with and without zimmerit, Jagdpanthers G1 and G2, and a handful of Bergepanthers. I guess all that's left now is for Takom to release a Panther F (come on, you know you want to!).
The book kicks off with 30 or so pages of history on the Panther, then moves on to large half page images of surviving Panther tanks, these are a fantastic reference to those interested in chasing that last bit of detail out of your model. For this reviewer though, the most interesting and useful part of the book is the series of builds that follow, we get treated first to an amazing build and paint up of Takoms' Panther A interior by Sergiusz Peczek. This is detailed in a step by step manner, calling out processes and highlighting Ammo products he used (it is a book by Ammo after all!). This build really shows off the incredible work Takom and their research team have put into including a full interior in their Panther kits.
Each build chapter in Ammos' book spotlights a different Panther variant from Takom's catalog, and I think in doing this the book really lends itself to modellers of all skill levels. I have been building Panthers since Centurion was a rank, not a tank, and on every page I found a building or a weathering tip that I would be happy to include in my arsenal. I think also that there's a ton of great building, weathering and finishing tips included that this book would also appeal to someone fairly new to the hobby. I only sighted one hobby product that wasn't an Ammo by Mig product within the build chapters, but I think that stands to reason given Ammo by Mig is the publisher. The tips and techniques called out do lend themselves to other products, the modeller should keep this in mind!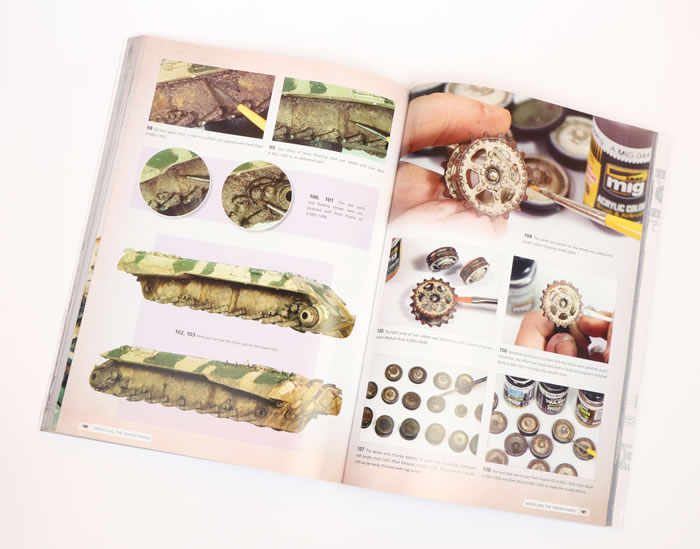 Its hard to single out a build included in this book as a favourite, the overall quality is really that good. For me though, Mario Eens' Jagdpanther G1 with a hard edge brush painted camouflage is simply outstanding.
Rounding out the book is a chapter on detail painting. Again this section is chock full of large clear images of the painting process and will be indispensable for modellers aiming to add that super realistic touch to their models.
The final chapter covers off a series of colour plates. I for one don't find colour plates particularly useful, as they're always someone else's interpretation of a (usually) black and white photo. Having said that the colour plates included cover a wide range of Panthers, units and theatres and are a great inclusion.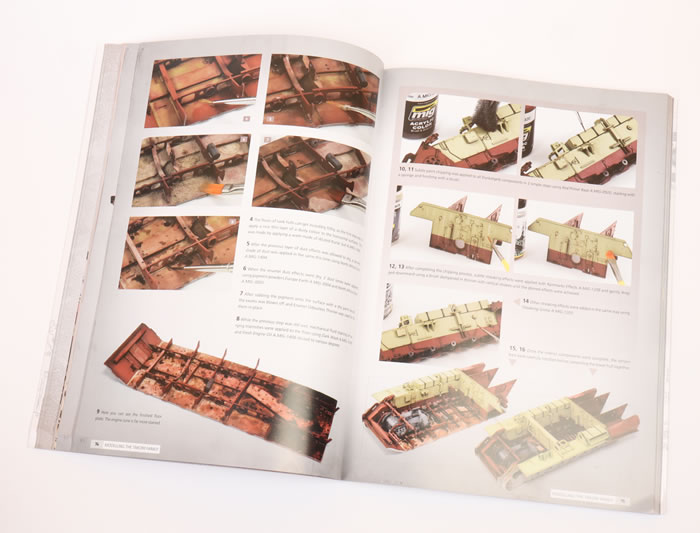 I would recommend this new Ammo by Mig release to modellers of a wide range of skills, theres something in it for everyone, specially those into Panthers! Now, come on Takom, how about a Panther Ausf. F?
Thanks to AMMO by Mig Jimenez for the sample
---
Text and Images by Sam Dwyer
Page Created 28 March, 2021
Page Last Updated 28 March, 2021