AMX30 Main Battle Tank Enthusiasts' Manual
Haynes Publishing

Reviewed by Peter Brown
Summary
Title:

AMX30 Main Battle Tank Enthusiasts' Manual
Haynes Publishing

ISBN:

978 1 78521 648 0

Media and Contents:

188 pages in A4 sized hardback format

Price:

£18.75 plus shipping available online from Haynes Publishing website

Review Type:

First Read

Advantages:

A detailed and comprehensive study of this series.

Disadvantages:

Recommendation:

"Highly recommended" does not do it justice! Maybe "Magnifique" ou "Je l'aime tres beaucoup"? Because it is magnificent and I like it a lot.

FirstRead
The FINABEL collaborative project of the mid-1950s was intended to produce a tank for several European NATO nations. In the end it resulted in the French AMX30 Main Battle Tank and Germany's Leopard. AMX30 was to serve the French Army for decades and sold reasonably well abroad.
It had several unusual features. Main armament was a smoothbore 105mm gun, unlike most other tank guns which rely on one or more forms of solid shot this used a High Explosive Anti Tank round, the Obus G, which was itself innovative. Secondary armament was a 20mm cannon effective against soft and lightly-armoured targets. While other vehicles have or have one or the other, the combination in service was unique to AMX30.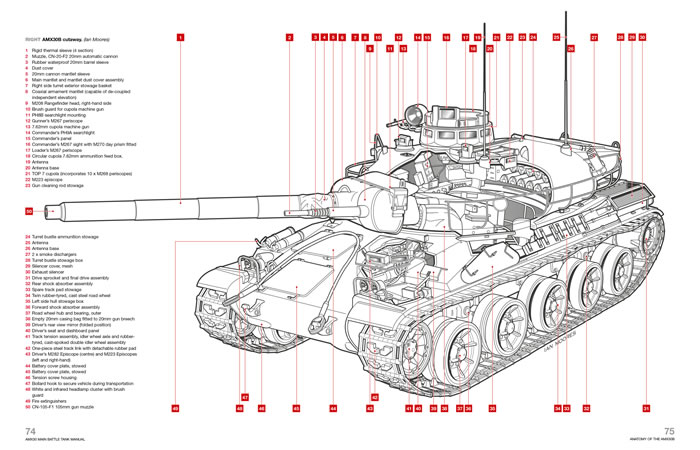 Otherwise the tank was conventional in design and layout. Turret and much of the hull were cast. Protection was less than its contemporaries as it was intended to be small, light, fast and manoeuvrable. It used a diesel engine and torsion bar suspension. As France's army was largely made up of conscripts, it was designed to be easy to operate. Over time it was upgraded and improved to produce the AMX30B and -B2 variants. The final upgrade in the 1990s had improved protection using reactive armour blocks and a new American engine. This AMXB2 Brennus was finally phased out in favour of the Leclerc from the early 1990s, although several are still used as opposing force vehicles for training.
As well as France, it was sold to Spain who built them under licence, Greece and several Middle Eastern and South American nations. The basic vehicle was also adapted for other roles. The turretless AMX30D armoured recovery version used a new front hull with crane and supporting earth anchor which can be used as a dozer blade. For the engineers, the EBG had its own design of front hull with dozer blade and earth auger. Pluton was a nuclear missile carrier using its own design of forward hull, as did the Roland and Shahine antiaircraft missile vehicles. In contrast, the Bitube 30mm DCA antiaircraft vehicle used a new turret on a more-or-less standard tank hull as did the AU F1 155mm self-propelled gun and the bridge layer. Mine-clearing vehicles use mainly unarmed gun tanks.
AMX30B2 were used by the French Army as part of Operation Daguet, its contribution to the First Gulf War of 1991. They destroyed a squadron of Iraqi T-59 tanks as well as several lighter AFVs. AMX30B of the Qatari forces and Saudi AMX30S also saw action. On the Iraqi side, their AU F1 SP guns were not operational and neutralised by coalition air forces.
Design, development, upgrades and service of all these vehicles are covered in this book. To say it is crammed with material is an understatement. Main text is clear and readable. It is well illustrated with photos on almost every page, those that do not have them are a double-page cutaway and the comprehensive data tables. As well as general and detail outside views there are shots of the interior, weapons and engine. Photos have extensive, informative captions.
As to the book itself, it is well produced using good quality paper in the same style as earlier ones in this growing series.
If I can find one fault with the book it is the subtitle. This is not simply "an insight" - it is a detailed and comprehensive study of this series.
"Highly recommended" does not do it justice! Maybe "Magnifique" ou "Je l'aime tres beaucoup"? Because it is magnificent and I like it a lot.
Thanks to Haynes UK for the sample www.haynes.com
---
Text and Images by Peter Brown
Page Created 19 April, 2020
Page Last Updated 19 April, 2020