Archer Fine Decals - Various
Reviewed by Cookie Sewell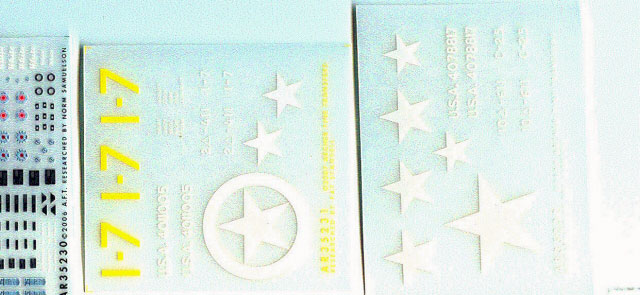 Summary
Stock Number, Scale, Description & Price
Archer Fine Transfers new releases
AR49017; US Ambulance Markings (1/48), price US$8.95
AR49018; Miscellaneous US Medic Markings (1/48), price US$6.95
AR35233; OIF Signage (1/35), price US$7.95
AR49019; U.S. 2 ½ Ton 6 x 6 Truck Generic Markings (1/48), price $4.95
AR35236; U.S. 2 ½ Ton 6 x 6 Truck Generic Markings (1/35), price US$7.50
AR49020; T-26 Pershing Tank Generic Markings (1/48), price US$6.95
AR35237; T-26 Pershing Tank Generic Markings (1/35), price US$5.50
AR35238; 80' ELCO Torpedo Boat (Sheet 1); price US$13.50
AR35239; 80' ELCO Torpedo Boat (Sheet 2); price US$15.95
Media and Contents:
Rub down decals
Review Type:
First Look
Advantages:
Still the best in dry transfers and on top of the new releases
Disadvantages:
Recommendation:
Highly Recommended for the appropriate armor fans
FirstLook

I am a bit remiss, as by accident I missed the packet of new releases sent to me by Archer Fine Transfers so this review will cover the two latest sets of releases by Archer.

The first two sets are for 1/48 US ambulances and medical support details.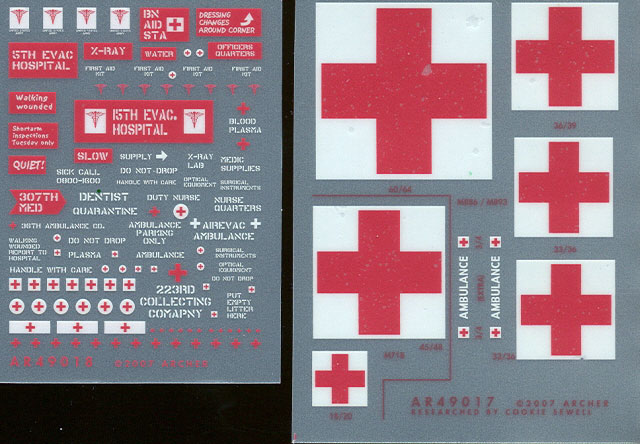 Set 49017 covers markings for a single ambulance, and is essentially a reduced size version of the original set produced for 1/35 scale some time ago. It is nicely done and covers the major red cross markings as well as the "ambulance" signs for front and rear of the vehicle. Set 49018 are very handy, as they are generic US medical signs and markings, such as armbands and helmet flashes, first aid kit markings, and both camp signs and container markings. While thus far I have to say I have not seen an ambulance kit in 1/48, the markings are also useful for 1/35 scale as many repainted vehicles used smaller and less conspicuous markings instead of regulation ones.

Set 35233 is a bit of a departure for Archer, as these are signs for current use in Iraq and are printed on single sided stick-on labels.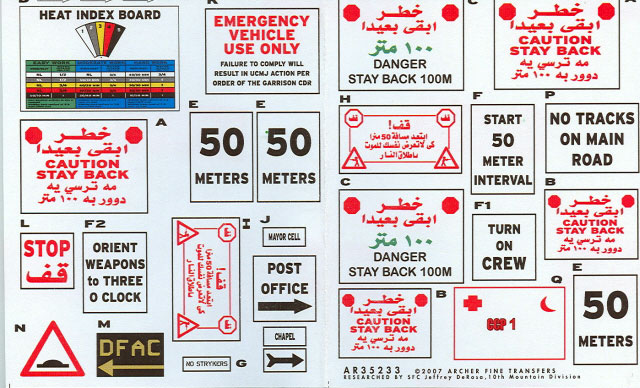 This is a good way to do these signs, as the modeler may transfer them to 0.010" sheet styrene for stiffness and still get a reasonably thin sign to simulate either plywood or foamboard. The markings, research provided by SFC Jeffrey DeRosa of the 10th Mountain Division, cover signs currently found near US bases in Iraq. They cover warning signs for Coalition vehicles (e.g. do not approach), a heat index board, control point warnings, warning signs for US troops (e.g. clear your weapons here), local authority indicators, and one which tells Strykers with bar armor arrays installed not to park in this lot (they take up too much room!)

Sets 49019 and 35236 are identical to each other with the exception of scale. They provide a number of basic markings such as starts, warning messages painted on the vehicle, size and weight (D-Day shipping data), and all basic stenciling; there are also bumper codes and serials for two specific vehicle, one from the 537th AAA Battalion and one from the 3886th Transportation Battalion (Red Ball Express.)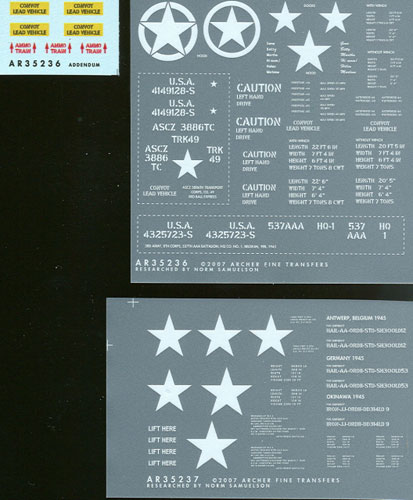 Both come with a small sheet of waterslide transfers as a supplement for ammo train and convoy lead vehicle placards. Research for these sets was provided by Norm Samuelson.

Sets 49020 and 35237 are also identical to each other with the exception of scale. Both sheets provide full generic markings for a T26E3 Pershing tank as supplied in WWII and cover the stars, basic and detail stenciling, as well as shipping codes for Antwerp ("Zebra Mission") and follow-up shipments to Germany as well as the tanks shipped to Okinawa. No bumper codes are included.

Sets 35238 and 35239 are a bit outside of my personal scope of interest, but many armor guys are sheepishly admitting they purchased the big Italeri PT boat. These two sheets offer markings for different boats. Set 35238 provides hull numbers with shadowing for two boats, PT-588 and PT-596, as well as a correct 3' x 5' 48-star ensign. A supplemental instruction sheet explains Woody Vondracek's method for making a flag, which having personally seen him demonstrate it, works well in creating a realistic flag for the mast. Set 35239 is similar but provides markings for PT-523 and PT-579, as well as a "star and bar" deck identification marking for the boat as well as the 3' x 5' ensign. While no paint or finishing suggestions are provided, other than paint scheme and boat equipment markings location is not hard to determine based on the original kit's markings. Research for these sets was supplied by Gregory Knowles.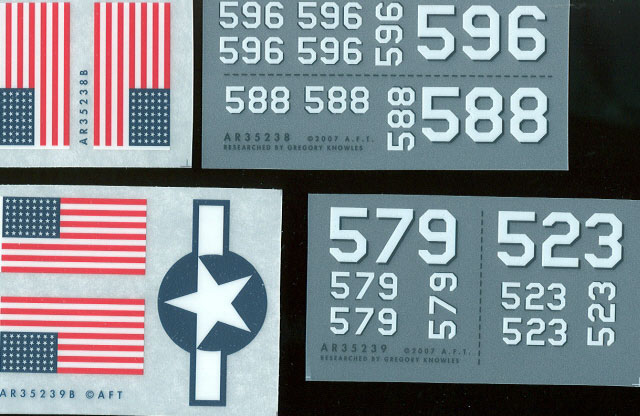 All in all, a nice selection of markings and ones which will find some appreciative audiences.

Thanks to Woody Vondracek for the review samples
---
Archer now has a secure website for ordering direct from them: http://www.archertransfers.com . You can also e-mail them at info@archertransfers.com
---
Text and Images by Cookie Sewell
Page Created 24 March, 2007
Page Last Updated 20 May, 2007