Archer Fine Decals - Various
Reviewed by Cookie Sewell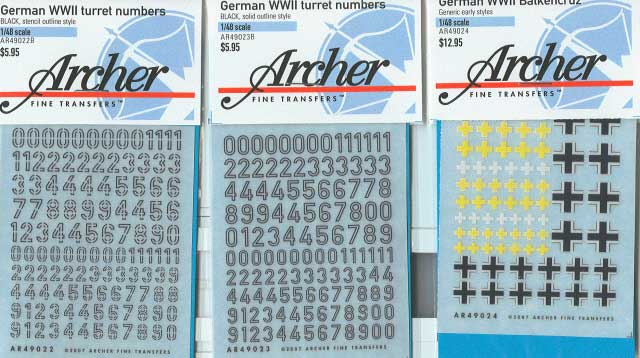 Summary
Stock Number, Scale, Description & Price
Archer Fine Transfers new releases
AR49021; Misc. U.S. AFV Stencils; $5.95
AR49022B; German WWII Turret Numbers (black outline); $5.95
AR49022W; German WWII Turret Numbers (white outline); $5.95
AR49023B; German WWII Turret Numbers (black solid); $5.95
AR49023W; German WWII Turret Numbers (white solid); $5.95
AR49024; German WWII Balkencruz (sic); $12.95
AR35241; Jeep Instruments and Placards; $5.95
AR35242; GMC 2 ½ Ton Truck Instruments and Placards; $5.95
AR35243; GMC DUKW Instruments, Placards and Misc Stenciling; $7.95
AR35244; BEF Matilda II Mk. I (Grenyna); $4.95
Media and Contents:
Rub down decals
Review Type:
First Look
Advantages:
Still the best in dry transfers and on top of the new releases
Disadvantages:
Recommendation:
Highly Recommended for all WWII armor and softskin fans
FirstLook

It was good to see Woody Vondracek at the AMPS 2007 show, and to note how many tables all of his products now cover (I think it was five, and that was in "stadium" type racks). A week after the show, these new sets showed up and are right up there with his usual great quality and excellent subject matter choices.

First is a 1/48 scale version of a sheet I helped Woody out on with research several years back, but it is now more relevant as there are some nice new 1/48 jeeps and a GMC CCKW from Tamiya to use them on. These cover items like "CAUTION LEFT HAND DRIVE", speed limits, and preparation and storage data.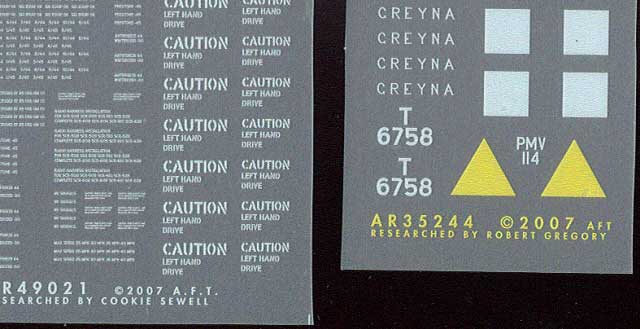 Next are four new sheets of German WWII turret numbers, with two sizes of number jungles on each sheet and about 60 large items and 64 small ones. The four sheets are identical other than colors and solid or stencil outline numbers.

The last 1/48 sheet is one of German "Balkenkreuzen" if one can forgive the spelling errors! The sheet covers the period of 1939 through at least 1942 and has eight large black and white crosses with outlines, 12 small ones, and three sizes of small white and yellow crosses for the early war armor.

The next three sets are nicely done (it takes a jeweler's loupe to tell!) dashboard placards and instrument faces for the three different vehicle types. The one for the DUKW is the most involved, and as such only covers a single vehicle with the basic placards and stenciling. If the Italeri kit uses the brass sets from Eduard, some other "tweaks" offered by aftermarket companies, and this placard set it should be an impressive model. The other sets cover at least three vehicles each (I think the CCKW has enough for six) but only minor stenciling.



The last sheet provides markings for a BEF Matilda and were researched by Robert Gregory with an assist from Peter Brown. They are for a vehicle named "Greyna" which appears to have been in a two-tone green camouflage scheme. While the Tamiya Matilda has recently been re-released for the umpteenth time, it is only a shame there is not a nice, new kit for these markings to compliment!

Once again, good choices and good products from Archer Fine Transfers!
Highly Recommended.
Thanks to Woody Vondracek for the review samples
---
Archer now has a secure website for ordering direct from them: http://www.archertransfers.com . You can also e-mail them at info@archertransfers.com
---
Text and Images by Cookie Sewell
Page Created 20 May, 2007
Page Last Updated 20 May, 2007