Blue Steel – T-55 Tanks in South Lebanon
Reviewed by Adam O'Brien
Summary
Title and Publisher:
Blue Steel – T-55 tanks in South Lebanon by Moustafa El-Assad
ISBN:
Not quoted
Media and Contents:
Soft cover, A4 format, 70 pages all colour, 206 photos
Price:
USD$25.00 plus $8.00 shipping available online from http://www.blue-steel.info
Review Type:
FirstRead
Advantages:
All colour, superb detail and weathering reference.
Disadvantages:
Mixed quality photography
Recommendation:
Recommended
FirstRead
If you are looking for inspirational photos that detail burnt-out or decrepit T-55s, this is the book for you. As the title suggests, this book showcases an eclectic mix of photographs of T-55's used in Southern Lebanon over the last decade.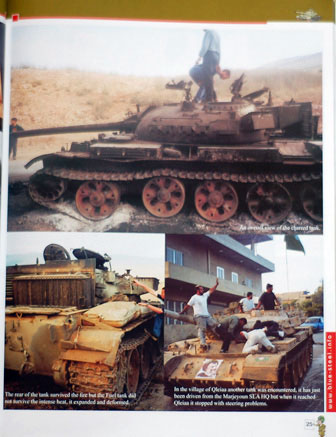 The book's setout is fairly simple. Starting with a detailed introduction that covers the use and modification of the SLA's T-55, from its origins to its final use at the collapse of the SLA in May 2000. After this, we have a page detailing the history of the author and his contributors. The main body of the book is the author's photo album of his (sometimes quite dangerous) travels around Southern Lebanon.
The collection of photos contained in the book are a goldmine of detail and colour for the modeller of Lebanese and (to a lesser extent) Israeli Tirans. The majority of the machines are either abandoned or destroyed, but that does not detract from the wealth of information that can be gained by careful examination. There is no real structure to the photographic content of the book, and there are no true walkarounds. Each photo has an informative caption, that highlights certain features that are of interest to the modeller. The quality of the pictures range from quite blurred and grainy to crystal clear.
Of particular interest, most of the photos contained in the book are original and have not been previously published. A myriad of different markings, colour schemes and field modifications are on show throughout. There are good shots of T-55 engine bays, turrent interiors and external stowage.
A surprising series of photos deal with the APC variants produced by the SLA. From a turretless T-55 APC with a small welded armour shield to a tank with its main barrel removed, and converted into an unarmed APC, we see the amount of experimentation and modification undertaken by the SLA throughout the book. I would have liked to have seen a few shots of Syrian or PLO machines, but none were in the book.

There are numerous (rather small) photos of Jorge Lopez' superb SLA Tiran model featured throughout, and a section at the end that details a T-55 APC conversion by (I assume) the author.
---

Conclusion
Although the photography ranges in quality, and most of the vehicles shown are in a state of disrepair after the colapse of the SLA, the book gives great insight into the tensions and AFV-littered landscape of Southern Lebanon. T-55 modellers will find it useful for detailing and weathering SLA Tirans.
Recommended.
Thanks to Moustafa El-Assad for the review copy.

Text and Images by Adam O'Brien
Page Created 25 January, 2007
Page Last Updated 25 January, 2007