Home > Reviews > Modern >
Bronco Kit No. CB35148 - US M19A1 Twin 40mm Gun Motor Carriage – Korean War
US M19A1 Twin 40mm Gun Motor Carriage – Korean War
Bronco, 1/35 scale
Reviewed by Al Bowie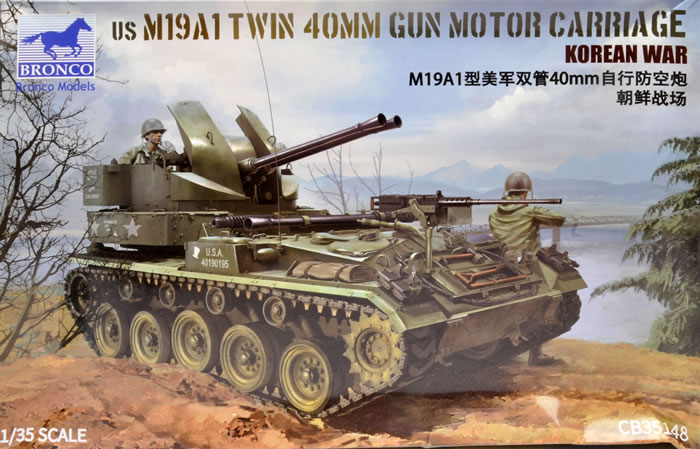 Stock Number and Description

Bronco Kit No. CB35148 - US M19A1 Twin 40mm Gun Motor Carriage – Korean War

Scale:

1/35

Media and Contents:

Approx. 1128 Tan Styrene parts including 528 for the tracks. 1 Thread and 1 PE sheet of 46 parts plus 1 Decal sheet.

Price:

TBA

Review Type:

First Look

Advantages:

First mainstream kit of the subject; excellent level of detail; convincing surface textures; interior of fighting compartments; individual link tracks

Disadvantages:

None noted.

Recommendation:

This is an awesomely detailed kit and will give museum quality model when completed but it is not for the beginner..

FirstLook
The lesson of logistical standardisation was one that was learnt early by the US in WWII and it resulted in later designs being adapted to a number of roles such as tank, APC/utility, SPG, AA GMC etc labelled as a "Combat Team".
The M24 Chaffee was developed as a family of vehicles with a Lt Tank, AA GMC, SP Howitzer, Recovery/repair etc. The M19 was the AA variant of the "Chaffee" Family and mounted a substantial armament of twin Bofors 40mm guns on a redesigned hull with the engine moved amidships and the open fighting compartment at the rear. It entered service just to late to see action in Apr 45 and production was cut at wars end at 285 vehicles. It first saw action in Korea in the AA and Infantry support role where its devesting firepower of twin quick firing 40mm guns were a huge asset and put to devastating effect.
The M24 family / combat team was replaced by a new family based on the M41 light tank and the M19 by the new M42 with its front mounted fighting compartment almost identical to the M19s. A few were given as military aid to Japan and the Netherlands with the remainder going to National Guard where in turn it was replaced by the M42 "Duster" of which approx. 3,700 were produced
To date, no company has produced a kit of this rarer vehicle that only really saw action in the Korean War despite a number of companies having kitted the M24 light tank and the later M42 Duster. Bronco was one such company to kit the M24 Chaffee offering a number of different boxings as an excellent well detailed kit. Bronco has also previously released almost all variants of the towed ground mount Bofors. Out of the blue in late 2018, Bronco announced a new kit of the M19A1 40mm GMC, which was released shortly after.
Having built the Bronco M24 and a few of their Bofors and other Artillery pieces I was keen to see what this kit was like and soon got the chance (Thanks Brett). The first thing that struck me was the size of the box for such a small vehicle but found it bursting at the seams!
Detail is typical for a Bronco kit, very complete but with a veritable plethora of small minute parts – beware when taken them off the sprue.
Construction starts with the lower hull with integral sides and the suspension which is a near perfect replica of the original right down to the individual torsion bars which in theory give you a working suspension, if a little fragile! The road wheel detail is excellent being made up of six parts; as are the multi-piece final drive and sprockets. The idlers have all the lightening holes opened and separate rims. The original M24 had all steel T72E1 tracks but later tanks had the T85E1 rubber chevron type more suited to Piece time soldiering. The kit offers the both T85E1 and T72 types with the T85 being workable. These are quite easy to assemble but take time.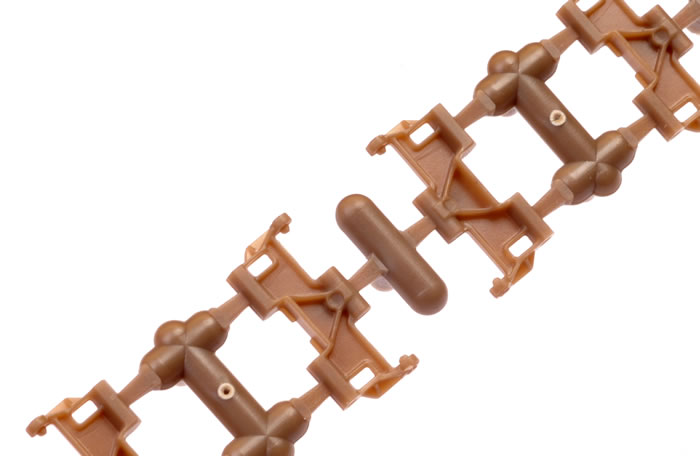 Hull detail is excellent with clear periscopes included for the hatches and photo-etched guards. A very nice M2 .50 cal is included with an AA mount ammo can on an extended pintle as frequently seen on Korean vehicles to give themselves ground protection. Spare 40 mm barrels are included along with the folded winter driver's windshield and a very nice pioneer tool rack and tools. All hull details match my photos of the real thing but some are very fiddly.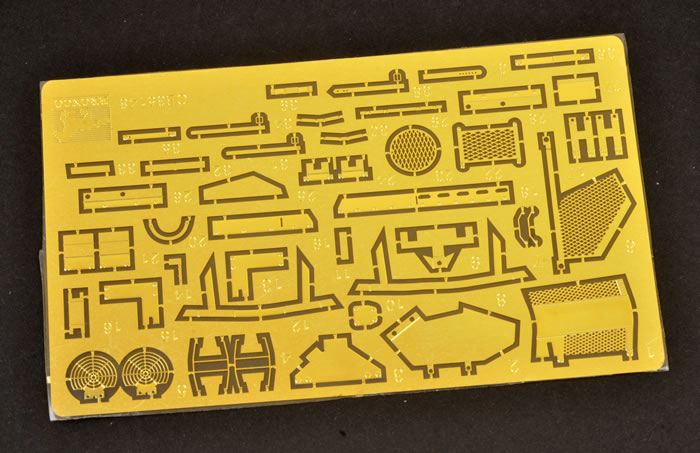 The guns are highly detailed and construction almost follows the exploded parts diagrams of the real thing! This results in a near perfect gun assembly in a well detailed turret/tub which has sublime perforations on the floor not normally seen in plastic. A lot of parts go into the Gun and tub assembly but the finished product is quite lifelike. The turret seems pretty complete to reference right down to the stacked radios in their rack which match period radios. The only thing I feel you could add is some of the cabling for the radios and electrics. If I have a criticism it is that the ammo bins that surround the turret wall are all moulded shut but two clips of 40mm are given for the guns. An optional assembly in the form of an auxiliary generator is included but it is believed these were fitted post Korea as a result of battle experience.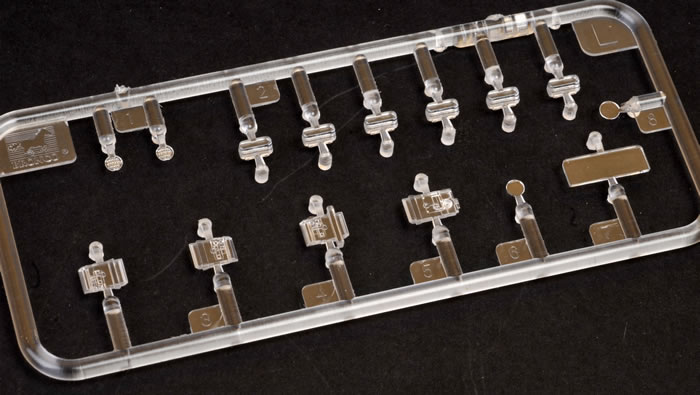 Markings are provided for three Olive Drab examples and a single Camouflaged example with little detail as to where/when.
15th Anti-Aircraft Artillery Bn 7 Inf Div Hungnam Korea 1951 named "Little Beaver and Dolores"

46th Anti-Aircraft Artillery Bn US Army Hanua Germany 1954 named Banhoff Betty"

15th Anti-Aircraft Artillery Bn 7 Inf Div Hungnam Korea 1951 mounted with a pintle 50 cal and named "Flak Wagon"

"Dragon Slayer" in a MERDC Winter Verdant Scheme with no unit insignia
This is an awesomely detailed kit and will give museum quality model when completed but it is not for the beginner unless they have a good mentor and lots of patience. Highly recommended to Cold War and Korean war armour fans.
Thanks to Bronco for the sample http://www.cn-bronco.com/en/index.php
Text by Al Bowie
Images by Brett Green
Page Created 3 February, 2019
Page Last Updated 3 February, 2019