Home > Reviews > Modern >
Bronco Kit No. CB35207 - British Army ATV Quad Bike and Trailer with Soldiers
British Army ATV Quad Bike and Trailer with Soldiers
Bronco, 1/35 scale
Reviewed by Al Bowie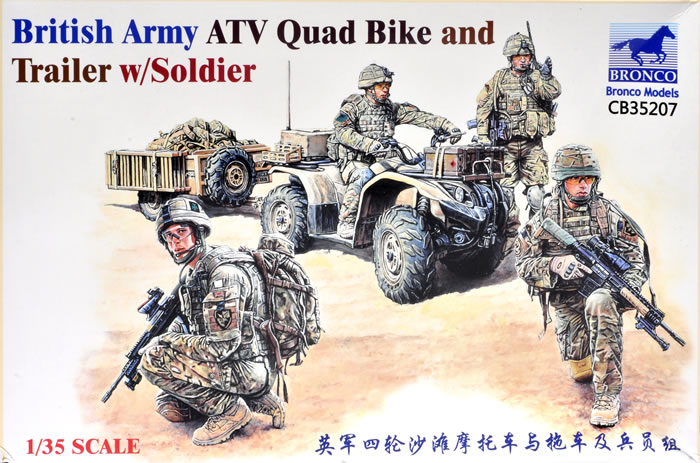 Stock Number and Description

Bronco Kit No. CB35207 - British Army ATV Quad Bike and Trailer with Soldiers

Scale:

1/35

Media and Contents:

Approx 177 Tan coloured parts on 7 sprues, 1 busy PE Fret, 1 Decal sheet. 7 Rubber tyres and 1 Clear Sprue of 3 Parts. .

Price:

TBA

Review Type:

First Look

Advantages:

Highly detailed offering the highly effective and valued British ATV Quad Bike as used in Afghanistan with four figures and a trailer.

Disadvantages:

None noted.

Recommendation:

This is a fantastic little kit and would suit vignettes or part of a larger diorama such as loading and unloading from a Chinook.

FirstLook
Airborne forces have always had a need for specialist lightweight vehicles and in WWII the British developed the military quad bike, which was just too late to see action.
In 1982 the Japanese introduced civilian utility and sports quad bikes to the market and they soon began to replace and supplement motorcycles in military use worldwide.
By 2015 the British army had over 1,500 on charge along with specialist lightweight trailers.
These first saw action during the Afghanistan conflict and proved to be highly versatile in the general load carrying role where their lightweight and terrain crossing ability made them invaluable.
A lightweight portable quad bike bridge was developed to make its mobility even better.

They are easily transported by even lighter helicopters and the platform has been used in a variety of roles such as drone control, SF transport and battlefield comms.
No mainstream kit has appeared of these valuable military utility vehicles to date despite their widespread issue amongst the world's Armies.
Bronco's new kit introduces a mainstream plastic kit of the ATV Quad along with a trailer, a pair of Quad Bike Bridges and four figures equipped in British military uniforms of the 2010 era as seen in Afghanistan.
The kit is presented in Bronco's familiar tan plastic in approximately 177 parts. The Quad bike itself is highly accurate and detailed comprising 57 parts including vinyl tyres.
The trailer including the folded Quad Bike Bridges (Ramps).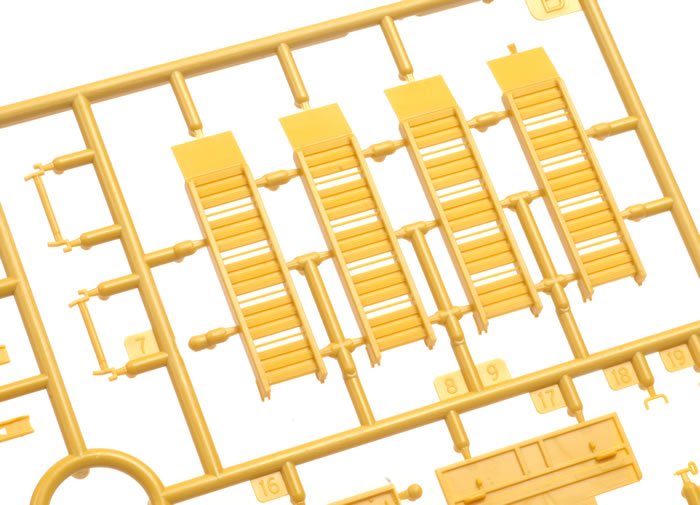 An optional stretcher configuration provides another 33 parts, again with vinyl tyres.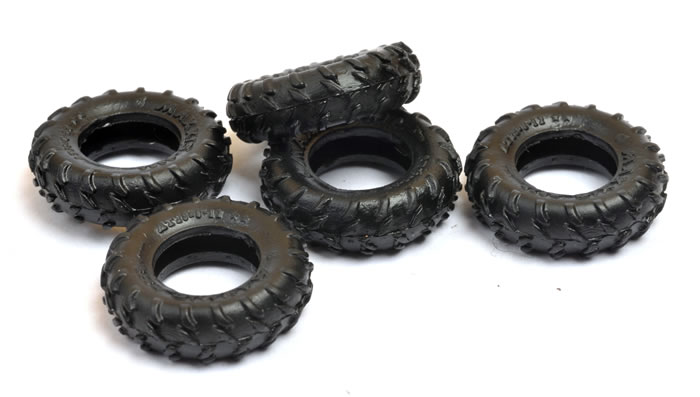 The figures are presented on four sprues and provide options in body armour and helmet types, all armed with standard British small arms circa 2010 in the form of L85A2 assault rifles, one fitted with a grenade launcher and an L192A1 sharpshooter rifle.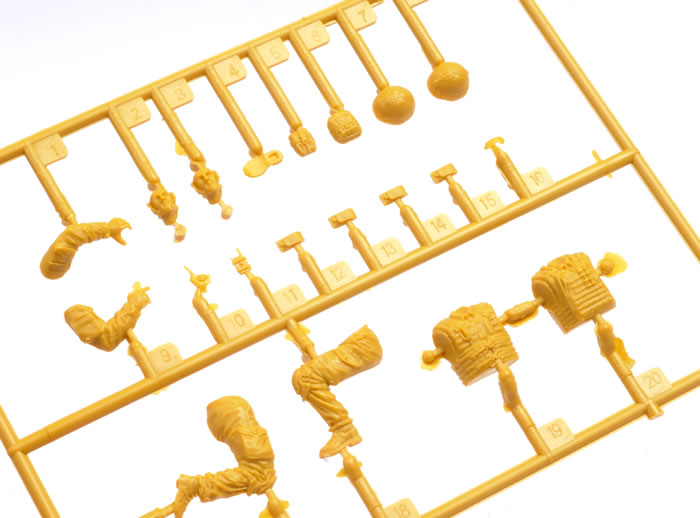 The figures are posed as a rider, a standing figure directing and two in kneeling defensive postures. Each figure comprises approximately 17-18 parts

Detail on the parts is very good and appear accurate to references although there was a slight amount of flash on the figure moulds. A photo-etched fret contains detail parts for the bike and trailer.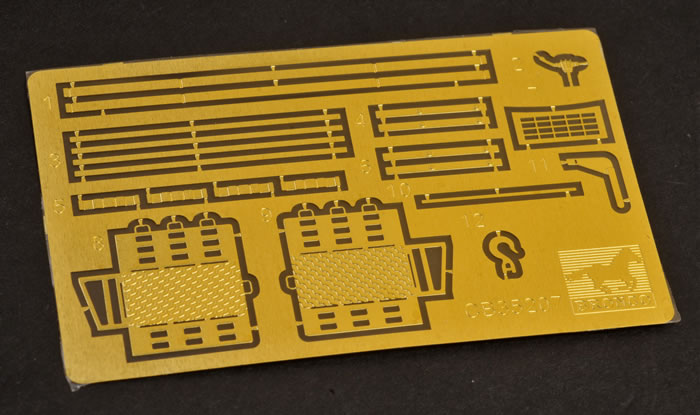 Decals are provided for the trailer and bike stencilling and for the uniform patches of the soldiers.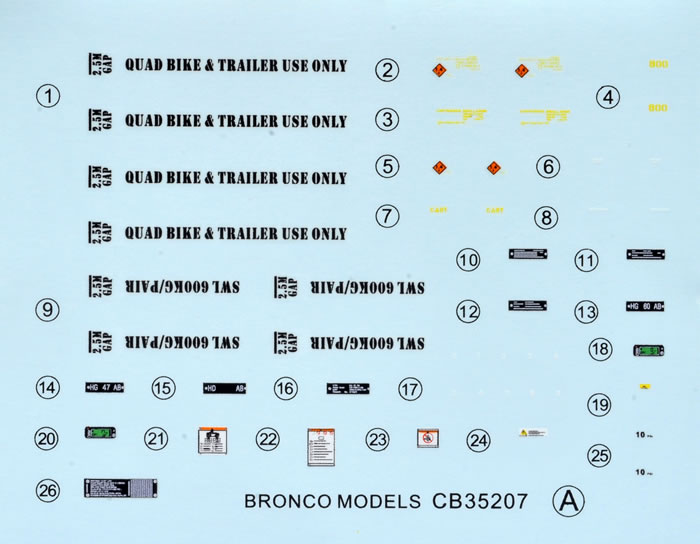 They appear to be quite complete.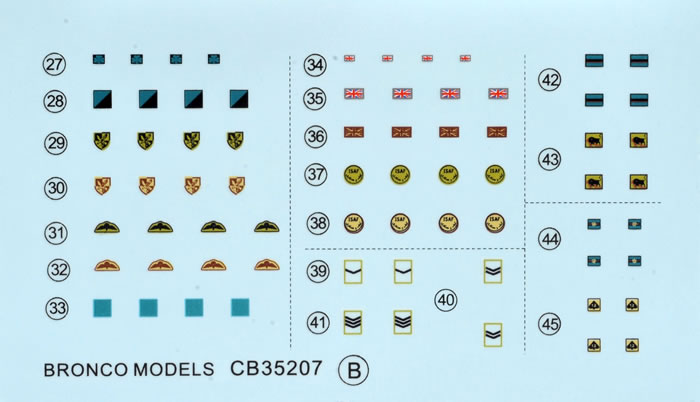 This is a fantastic little kit and would suit vignettes or part of a larger diorama such as loading and unloading from a Chinook! It is a very welcome release and I am sure it will appeal to modellers of many interests. Well done Bronco.
Thanks to Bronco for the sample http://www.cn-bronco.com/en/index.php
Text by Al Bowie
Images by Brett Green
Page Created 6 July, 2019
Page Last Updated 6 July, 2019