Modern Military Equipment Set
J's Work, 1/35 scale
by Cookie Sewell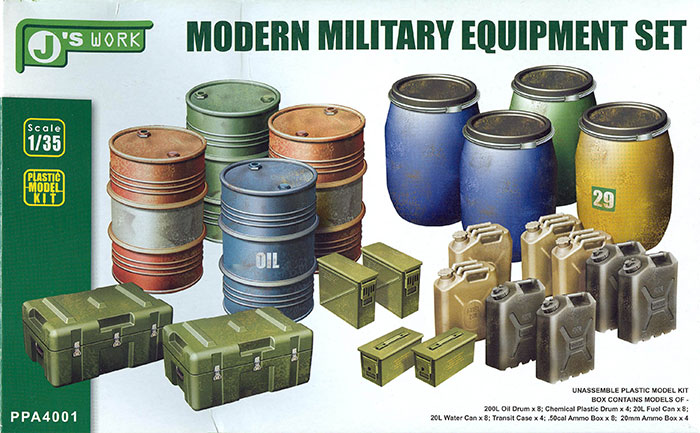 Summary
Stock Number and Description

J's Work 1/35 scale Kit No. PPA001; Modern Military Equipment Set

180 parts in grey stryene

Scale:
1/35
Price:

USD$17.95 available online from Lucky Model

Review Type:
First Look
Advantages:

Quick way to "bulk up" racks and cargo areas in modern vehicles, especially US ones

Disadvantages:

No decals for detailing the items

Recommendation:
Highly Recommended

for all modern military vehicle fans




FirstLook

Lately it seems more and more Chinese model companies are getting into Western markets, and this is the latest one I have come across. Sponsored by e-tailer Lucky Model, this nice new set provides a wealth of load-out items for modern armored and softskin vehicles.

First is a set of eight 200 liter (55 gallon) fuel drums. These are the version seen with extra reinforcing rings in the top and bottom thirds of the barrels. Each comes with a top with bung hole and vent hole, both with plugs in them.

Next is a set of four plastic barrels which are used for either liquid or dry chemicals by many countries.

Four heavy-duty carrying cases are provided, which appear much like instrument cases used for a number of items like surveyor's transits or other delicate items.

Eight each modern injected plastic water cans and metal fuel cans are provided; the water jugs have two plugs (pour and vent) and the fuel cans a twist-off cap.

Finally, the ever handy .50 caliber ammunition can and 20mm ammo box are included, as they always make handy items for stowing things (I used to use one for model paint). The 50s are in four parts and the 20s in six, but all have recognizable details on them.

All items are nicely molded, but J's Works does not provide any decals for detailing the items which is a bit of a shame.

Overall this is a nice set and sure to be useful for anyone modeling current vehicles.


---


Sprue Layout:

A 26x2 4 x 200 liter fuel drums, 2 x plastic barrels
B 64x2 4 x 20 liter fuel can; 4 x 20 liter water can; 4 x .50 cal ammo boxes; 2 x 20mm boxes
Text and Images by Cookie Sewell
Page Created 17 August, 2012
Page Last Updated 17 August, 2012