Home > Reviews > Modern >
Kinetic Kit No. K61007 - M-ATV Mine Resistant Protected All-Terrain Vehicle.
M-ATV Mine Resistant Protected All-Terrain Vehicle
Kinetic, 1/35 scale
Reviewed by Brett Green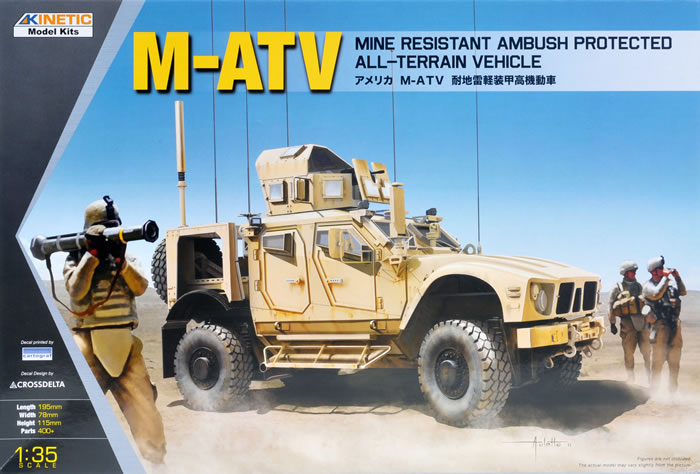 Summary
Stock Number and Description

Kinetic Kit No. K61007 - M-ATV Mine Resistant Protected All-Terrain Vehicle.

Scale:

1/35

Media and Contents:

524 parts in caramel coloured plastic; 24 parts in clear; 23 black vinyl parts; photo-etched fret with ten parts; markings for three vehicles.

Price:
USD$49.99 plus shipping available online from Lucky Model
Review Type:

First Look

Advantages:

Timely and relevant subject; includes photo-etched detail parts; useful options provided.

Disadvantages:

Tyres could be better; a few moulding imperfections will require filling/sanding

Recommendation:

A promising debut military vehicle from Kinetic.

Introduction
The M-ATV (Mine Resistant Protected All-Terrain Vehicle) is a new generation MRAP first developed in 2009 in response to the US Military's urgent request for a Humvee replacement.
Truck manufacturer Oshkosh was awarded the M-ATV contract.
It was designed to offer equal levels of protection as larger MRAPs, yet with the high level of mobility and ruggedness required to deal with the harsh terrain of Afghanistan.
The new M-ATV can protect its crew against Improvised Explosive Devices even under the worst battle conditions. The V-shaped lower hull is a major factor in this level of protection. It can deflect blast effects and prevent the vehicle from flipping over after the impact of mines or IED.
---
F i r s t L o o k
The M-ATV is also a very versatile vehicle. The roof-mounted turret can accommodate systems including the M240 7.62mm machine gun, a Mk.19 grenade launcher or a BGM-71 TOW Anti-Tank Guided Missile Launcher. As at September 2010, more than 8,000 M-ATVs have been manufactured.
Underneath the attractive box art, Kinetic's new 1:35 scale M-ATV comprises approximately 524 parts in caramel coloured plastic, 24 parts in clear, 23 black vinyl parts and a photo-etched fret with ten parts. Markings are provided for three vehicles.
Please note that this is an entirely different kit from the recently released Panda 1:35 scale M-ATV kit, with no parts in common.
Kinetic's plastic parts are presented in a caramel colour and are mainly free from moulding flaws, although there is one sink mark on the windscreen surround that should be filled. Some of the smaller parts have a little flash to clean up too.
The level of overall detail is good, with the first twelve steps of the instructions dealing with the suspension. The chassis is moulded as one piece. This will make assembly easier, which is sensible as much of the detail in this suspension and chassis area will be covered by the V-shaped lower hull.
The interior provides the main features – seats, transmission, boxes etc. Each seat is made up from six parts and may be posed with the cushion up or down. The instrument panel has raised moulded detail supplemented with six decals. These should look good on the finished dashboard.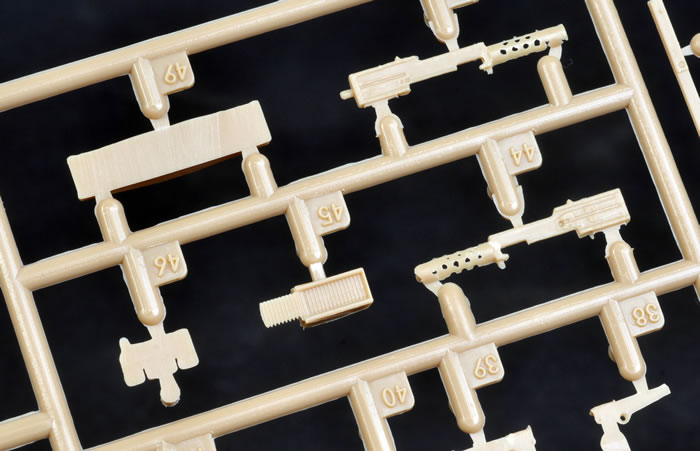 The cab is broken down into separate sides, front, rear and roof. The doors are moulded as inner and outer sections with deep detail on the each section. The armoured glass is represented by clear parts trapped between the door halves. The doors may be posed open or closed.
A lovely fine photo-etched mesh part is fitted behind the grille. Headlight lenses are clear parts.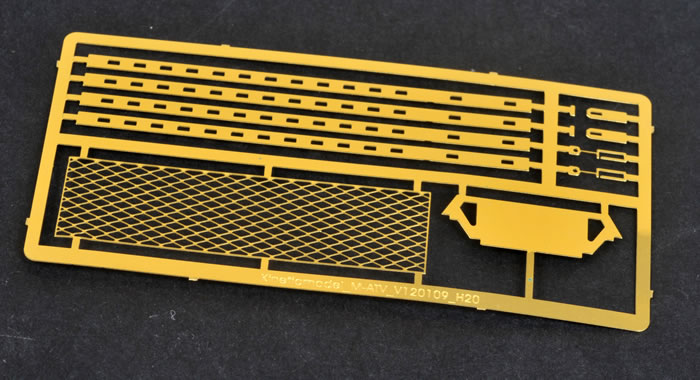 The turret is fitted with separate clear vision blocks and a well-detailed .50 cal machine gun.
A number of optional aerials and accessories are provided, including a Rhino device, jerry cans, water cans and toolboxes.
The five black vinyl tyres look a bit slab sided. If, like me, you're not a fan of vinyl tyres there are already after-market replacements available in resin.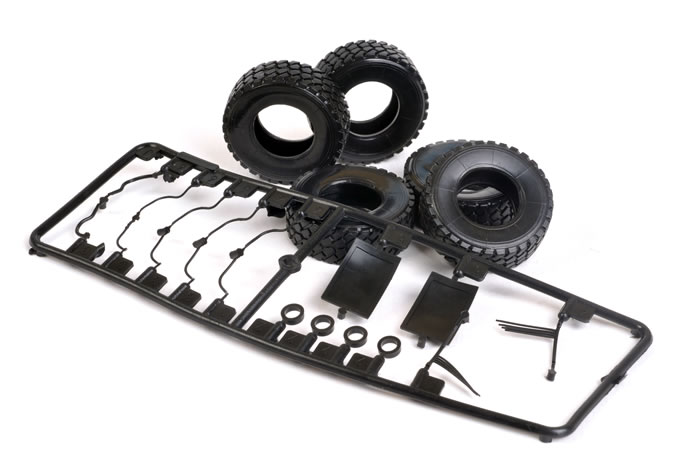 The small decal sheet is printed by Cartograf. As you would expect, registration and printing are perfect.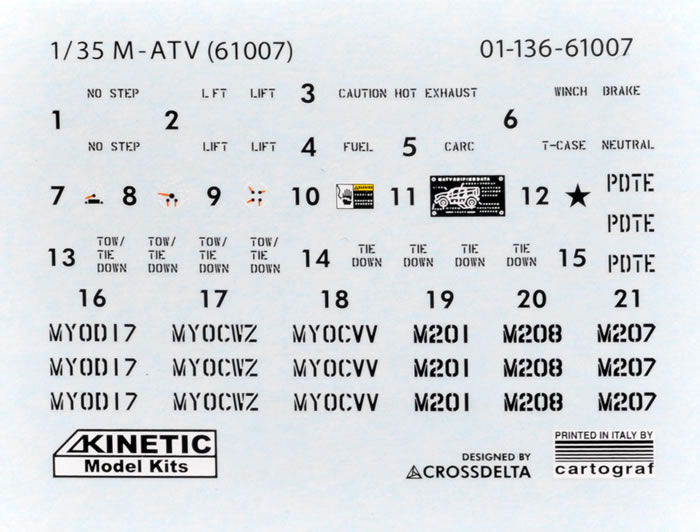 Markings for three vehicles are provided.
---
C o n c l u s i o n
Kinetic's 1:35 scale M-ATV looks to be a promising debut. We have seen steady improvements in Kinetic's aircraft releases over the last few years, and I look forward to seeing what they have for us next on the armour front.
Thanks to Lucky Model for the sample
Text and Images by Brett Green
Page Created 4 February, 2012
Page Last Updated 4 February, 2012