Landing Zone Lebanon - UNIFIL 2006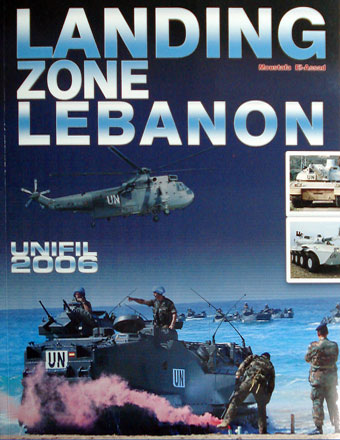 Reviewed by Adam O'Brien
Summary
Title and Publisher:
Landing Zone Lebanon – UNIFIL 2006
By Moustafa El-Assad
ISBN:
978-9953-0-0972-8
Media and Contents:
Soft cover, A4 format, 92 pages all colour, 340+ photos
Price:
USD$28.00 plus $8.00 shipping available online from http://www.blue-steel.info
Review Type:
FirstRead
Advantages:
Comprehensive look at UNIFIL vehicles
Disadvantages:
No single vehicle explored in detail
Recommendation:
Recommended
FirstRead
UNIFIL, the United Nations Interim Force in Lebanon was originally created by the UN Security Council in 1978 to assist the Lebanese government in restoring its authority in the area and confirm the Israeli withdrawal. Following the July 2006 crisis, the Council enhanced UNIFIL to broaden its mandate. It would accompany the Lebanese forces in their deployment in southern Lebanon and monitor the cessation of hostilities. It would also itself patrol the "blue line" between Israel and Lebanon.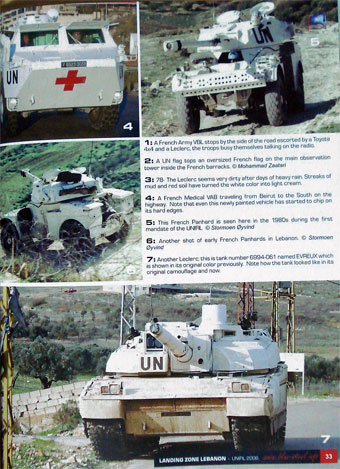 Moustafa El-Assad's third book in his Blue Steel series concentrates on the UNIFIL landings during the summer of 2006. The book's layout and structure follows the previous two releases and is basically the author's photo album of the event. There are no "chapters" as such. The breakdown is basically a small heading for each nation involved in the operation – simple but effective.
The photographic content is generally very good, with large, clear photos on show throughout. The book does have a documentary feel about it – photos taken "as it happened" which can be a two-edged sword. One the one hand, we get to see a good selection of modern AFV's "in action", with some, before and after the application of the UN white paint. On the other hand, there are no true walkarounds to be seen in the book, so modelling any one particular vehicle might require a little guess work.

I particularly liked the photos showing the white painted vehicles as they began to get dirty and weathered – great modelling reference. Excellent for modelling a UN vehicle, but also good reference for any base colour as the white in the photos highlight the weathering patterns very well.

Of particular interest to the modeller of modern figures, is the look at the various uniforms and weapon carrying styles of the different nations. Careful examination of the photos will reveal a lot about how to model the soldier of a specific nation accurately, they all have a different look and a different "stance".

The space allocated to the Israeli Defence Forces was, to my mind, a little small. I would have liked to have seen a few more pages devoted to the IDF. What is shown is tantalizing though, as the vehicles photographed (Nakpadon & Hummer) all have the latest modifications fitted – pure gold for the IDF modeller (myself being one!). I'll happliy forgive the author though, as this book is primarily a photo album of UNIFIL 2006, not the IDF.
---

Conclusion
Landing Zone Lebanon is an excellent publication if you are interested in, or want to model any of the white painted UN vehicles used by UNIFIL. It is good reference for type, variant, colour and markings. It also a good breakdown of "who used what" in the UNIFIL of 2006.
Recommended.

Thanks to Moustafa El-Assad for the review copy.

Text and Images by Adam O'Brien
Page Created 06 May, 2007
Page Last Updated 06 May, 2007