Leopard L7 and 2A5/2A6 Barrels
Leopard Workshop, 1/35 scale
Reviewed by Al Bowie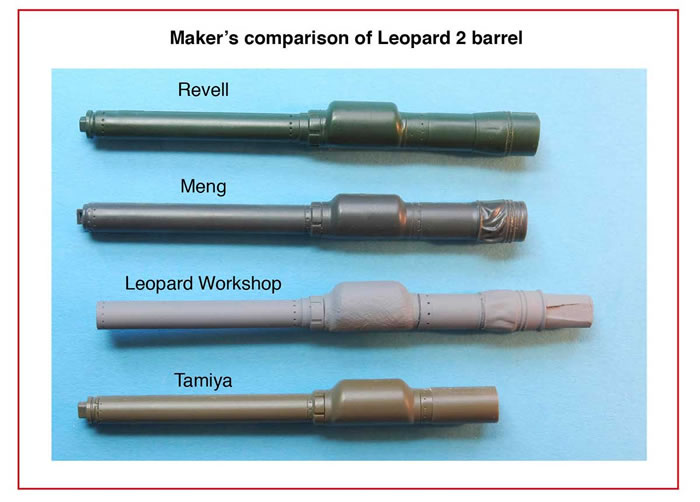 Summary
Stock Number and Description and Price
Scale:
1/35
Media and Contents:

See detail below

Review Type:
First Look
Advantages:

Seamless improvement over kit barrels; accurate; high level of detail.

Disadvantages:
Some care required when cleaning up L7 resin parts.
Recommendation:
Both Highly Recommended.

Leopard Workshop 1:35 Leopard L7 Barrel with Australian & Canadian Thermal Sleeve. Item No. LW019AC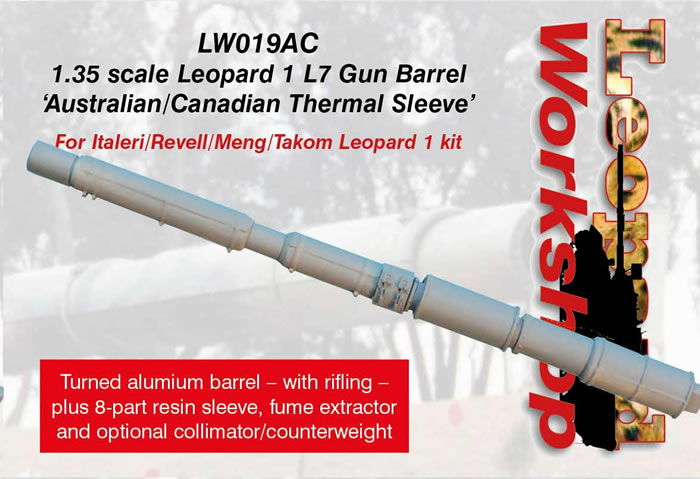 The Leopard 1 Tank has always been a popular modelling subject with a number of Kits in 1:35 scale from Nichimo, Tamiya and Italeri being available from the 1970s. Recently a state of the art kit of the Leopard 1 A3/4 from Meng appeared along with further C1 and Leopard 1 variants from Takom. These kits offer the modeller two-piece barrels that result in the usual seam removal problems and in the case of the Meng kit which has fine seams on each side of the barrel as well!
Leopard Workshop has released a range of accessories for modelling Leopards and this barrel is for the Canadian (C1& 2) or Australian (AS1) Leopard A3 variants. I was pleased to see that they faithfully represented the pipe clamps used in place of the usual clips on European Leopard 1s.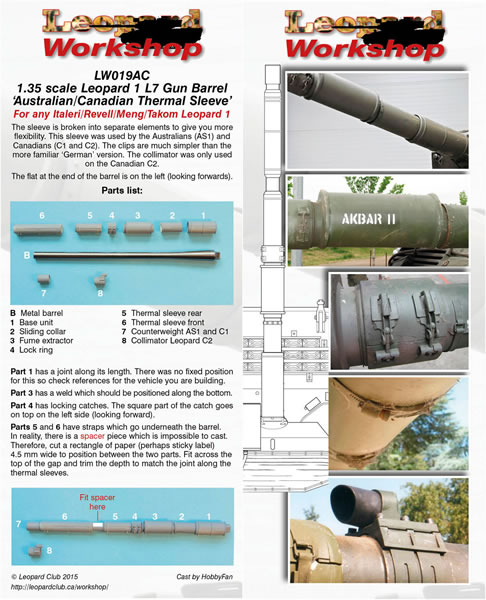 The kit is made up of a lovely one-piece turned aluminium barrel with a series of resin sleeves in eight parts that slide over the barrel to represent the thermal sleeve. If I have any complaint it is that the removal of pour plug on the larger pieces will require some care to avoid damaging the resin detail. An alternate end cap with barrel collimator is included for later Canadian versions.
A small colour printed instruction sheet with colour photos of actual barrels on the reverse is more than adequate for construction. This will certainly enhance any existing Leopard kit although is designed for the Meng and Takom kits. The pipe clamp retainers limit its use to Australian or Canadian vehicles.
---
Leopard Workshop 1:35 Leopard 2A5/2A6 Barrel. Item No. LW018T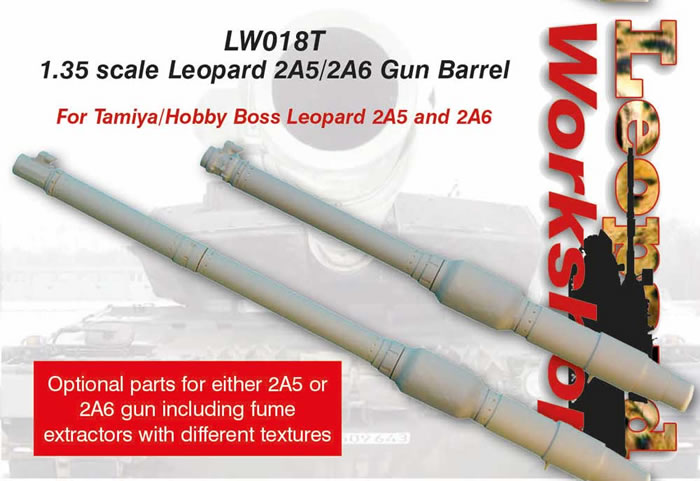 Like the Leopard 1, the later Leopard 2 has been well represented in plastic kits from Tamiya, Italeri, ESCI, Hobby Boss and Meng plus a few Asian knockoffs. These kits also offer split barrels with a complex thermal sleeve and fume extractor so will benefit from Leopard Workshops replacement barrel.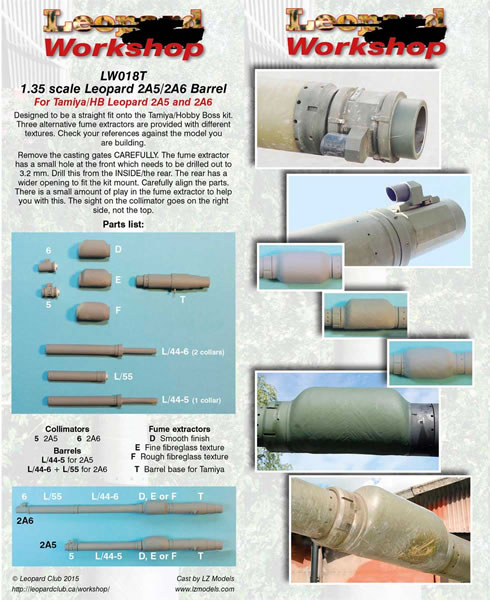 This is similar in construction to the L7 barrel excepting that the barrel is in two turned brass parts and 1 Resin part for the L/55 tube from the Leo 2A6 and two resin parts for the L/44 barrel of the Leo 2A5. Three different fume extractor types are included and two different Muzzle ends.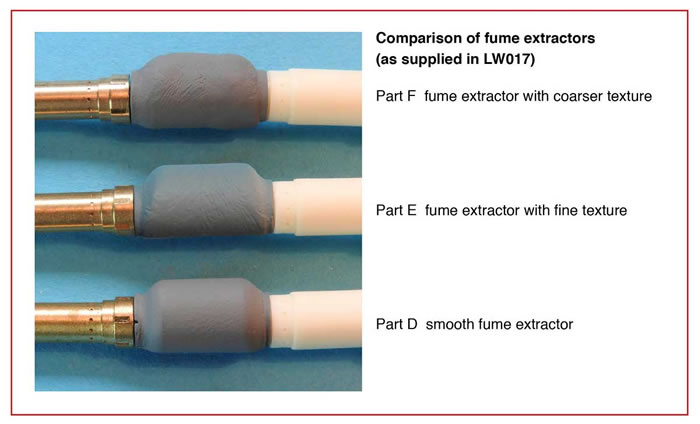 Much less clean-up will be required with these barrels due to their design and colour references photos are again included although you will need to carefully check references of the vehicle you wish to build for the correct parts to use.
Both sets are highly recommended.
Thanks to Leopard Workshop for the samples

Text by Al Bowie
Images by Leopard Workshop
Page Created 20 December, 2015
Page Last Updated 20 December, 2015