Home > Reviews > Modern >
Meng Kit No.SS-003 - Israel Heavy Armoured Personnel Carrier Achzarit (Early)
Israel Heavy Armoured Personnel Carrier Achzarit (Early)
Meng, 1/35 scale
Reviewed by Brett Green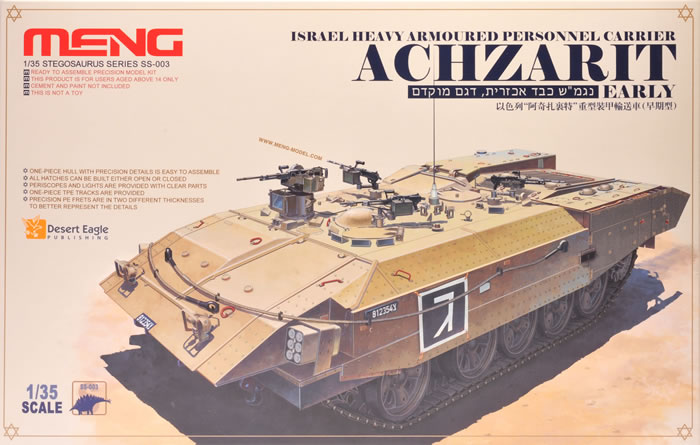 Summary
Stock Number and Description

Meng Kit No.SS-003 - Israel Heavy Armoured Personnel Carrier Achzarit (Early)

Scale:

1/35

Media and Contents:
209 plastic parts, 20 small polythene caps, one photo-etched fret, two full-length flexible vinyl tracks, a length of string and markings for three vehicles..
Price:
USD$33.99 plus shipping available online from Lucky Model and retailers worldwide
Review Type:

First Look

Advantages:

High level of detail; convincing surface textures; excellent moulding quality; useful options, first time this type is available as a 1/35 scale mainstream model kit.

Disadvantages:
Recommendation:
The Achzarit is a large, unusual and interesting vehicle. Many modellers will be very grateful that Meng Model has delivered this excellent kit. Detail is very good but the manageable number of parts and the simple construction breakdown means that this model will suit even novice modellers. Highly Recommended.

Background
The Achzarit (in Hebrew: "cruel", female inflection) is a heavily armoured armoured personnel carrier manufactured by the Israeli Defence Forces Corps of Ordnance.
The Achzarit is based on the Soviet T-54/T-55 tank, beginning with those captured from Arab armies during the Arab-Israeli wars. The IDF took the old T-55 tank and removed its turret and the chassis was modified for troop carriage by adding a troop compartment and a rear door. The original Soviet-made water-cooled diesel engine was replaced with a more compact and powerful diesel engine, and other internal systems were upgraded. Reactive armour was installed over the original armoured tank chassis. The APC was created in 1988.
The Achzarit Mk 1 has a 650-hp engine, while the Mk 2 has an 850-hp engine.

It is armed with three 7.62 mm machine guns, including one Rafael Overhead Weapons Station, a machine gun controlled from within the cabin, developed by Rafael Advanced Defence Systems As a lesson from the Second Intifada, a bulletproof glass turret was installed over one of the hatches to enable the commander to see outside without being exposed to small arms fire and shrapnel.
Several Achzarit in service have been upgraded with a 12.7mm Samson Remote Controlled Weapon Station in place of the standard 7.62mm Rafael Overhead Weapon Station.
Because of its heavy armour, the Achzarit is sometimes called a Heavy APC (HAPC). Achzarit APCs are in service with the IDF Golani Brigade, which operates near the Lebanese border and in the northern part of the West Bank and with part of the IDF Givati Brigade.
Achzarit APCs took part in Operation Rainbow in Rafah, after a comparatively lightly armoured M113 APC was destroyed by an RPG. Achzarit APCs were also involved in the Gaza war.*
---
F i r s t L o o k
This is the first mainstream plastic Achzarit kit available in 1/35 scale.
Moulded in pale tan coloured styrene, Meng's Achzarit comprises 209 plastic parts, 20 small polythene caps, one photo-etched fret, two full-length flexible vinyl tracks, a length of string and markings for three vehicles.
Moulding quality is excellent. I could not find any ejector pin circles or other imperfections on any areas that will be visible on the finished model, including the inside of hatches (a traditional danger area).
The upper hull is moulded as one large and impressive part. The surface detail is especially noteworthy – the raised rivets, bolts, filler hatches and other features look great.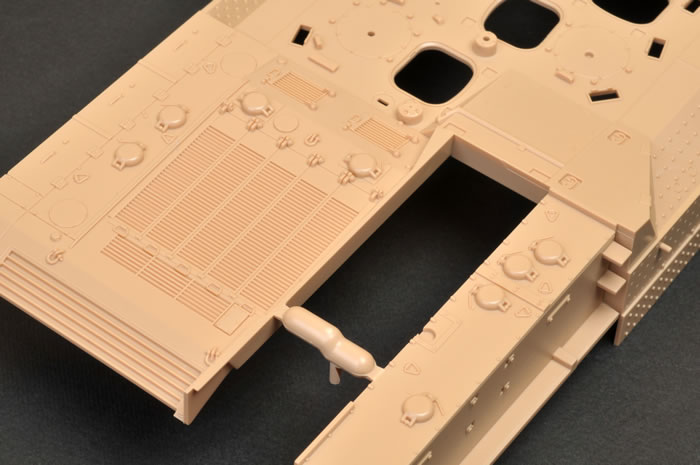 The lower hull is moulded as a single piece too.
Some interior bulkhead elements such as the entry tunnel and the definition of the crew compartment are included, so you'll be able to display the ramp open with the suggestion of something inside. We will undoubtedly see after-market upgrades for a full interior, or you could have a go at super-detailing this area from scratch if you're really keen.
The rear hull basket is another impressive example of single-piece moulding.
The suspension features separate swing arms, so the wheels may be posed on uneven terrain if the modeller wishes. The road wheels, idler wheels and drive sprockets are held in place with polythene caps.
The black vinyl tracks are well detailed, accurate, fast to install and they may be glued with regular plastic cement. Most of the top run is hidden on this vehicle, so I think the vinyl tracks will look fine here. However, some may prefer individual link tracks. Fortunately there are plenty of options available for replacements - Friulmodel and Modelkasten being the best - if you prefer an alternative to the kit's flexible vinyl tracks.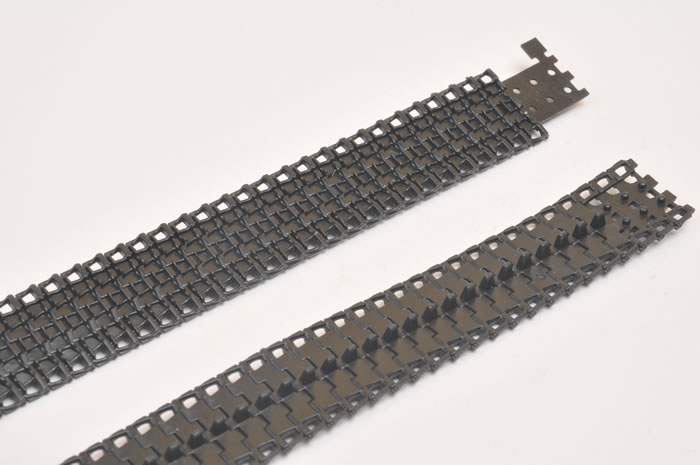 Options include moveable hatches and alternate position upper and lower rear entry ramp. The .50 cal and two .30 cal machine guns are well detailed, and there are a number of spares once the model is finished.
The photo-etched fret includes large covers for the rear hull side, featuring realistic perforations that will assure a see-through look on the finished model. Also on the photo-etched fret are number plates, a vent and even a template for painting the wheels.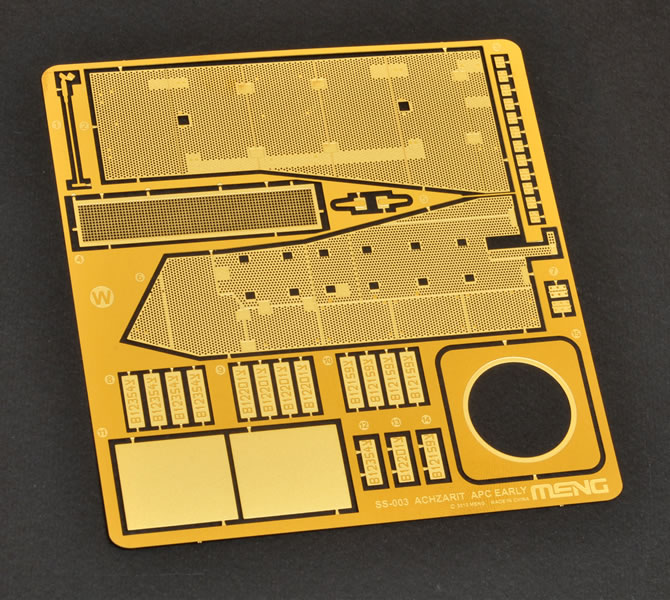 Clear parts are supplied for light lenses, scopes and covers for the sights.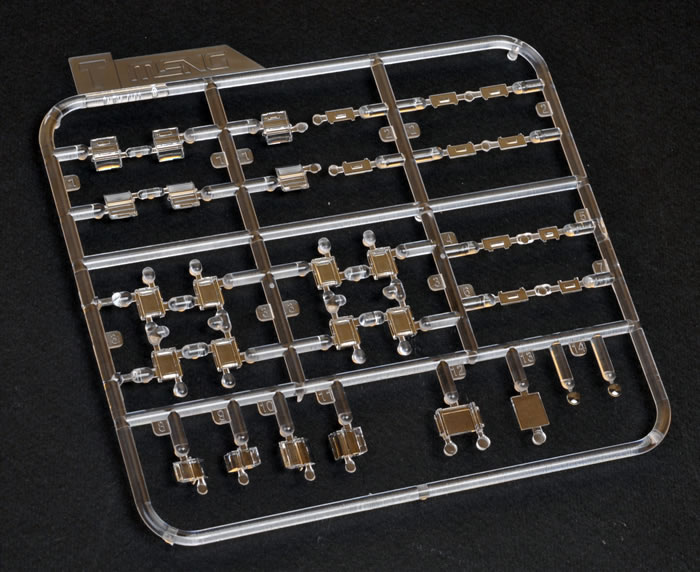 Markings are supplied for three vehicles on a simple black and white decal sheet.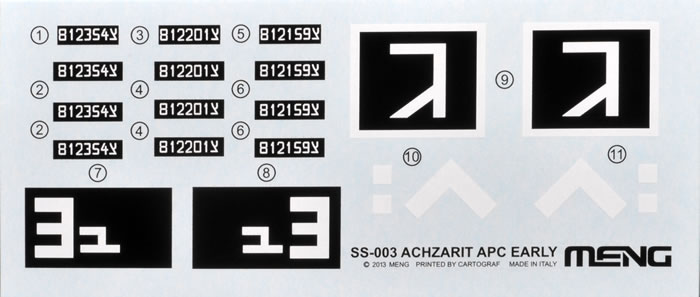 All the markings are in register and saturation of the white looks good.
---
C o n c l u s i o n
The Achzarit is a large, unusual and interesting vehicle. Many modellers will be very grateful that Meng Model has delivered this excellent kit.
I like the approach that Meng has taken here. The model is made up from a modest number of parts, so construction will be quite straightforward. There is nothing intimidating here – even a beginner modeller could tackle this kit and be confident of a good result.
Even so, detail is not compromised. Surface features are well represented and separate minutiae such as the machine guns and hatches look great. The model is greatly enhanced by the photo-etched side skirts too.
If you are a super-detailer, you already have access to a number of high quality individual link tracks (notably Modelkasten and Friulmodel), and you can add stowage and figures to your heart's content.
Highly Recommended.
* Historical summary from Wikipedia http://en.wikipedia.org/wiki/IDF_Achzarit
Thanks to Meng Models for the sample www.meng-model.com
Text and Images by Brett Green
Page Created 22 December, 2013
Page Last Updated 23 December, 2013