Home > Reviews > Modern > Meng 1/35 Kit No. SS-016 - Russian Air Defense Weapon System 96K6 PANTSIR-S1
Russian Air Defense Weapon System 96K6 PANTSIR-S1
Meng, 1/35 scale
Reviewed by Andrew Judson
Summary
Stock Number and Description

Meng Kit No. SS-016 - Russian Air Defense Weapon System 96K6 PANTSIR-S1.

Scale:

1/35

Media and Contents:

759 parts comprising 15 tan coloured sprue; one clear sprue; nine vinyl tyres; decals for six marking options.

Price:
TBA
Review Type:

First Look

Advantages:

High level of detail; convincing surface textures; excellent moulding quality; plenty to build; great subject matter

Disadvantages:

Vinyl tyres, not a fan, but these may be replaced by Meng's resin aftermarket tyres; pay attention to the instructions when choosing version you want to build.

Recommendation:

This is an impressive offering with a whole heap of kit in one box.

F i r s t L o o k
Meng has been bringing out some really nice models of some great modern subjects recently, and here is another, the Pantsir-S1.
This one is a whole lotta model in the box.
This weapon system is based on the KAMAZ-6050 8x8 cross country trucked with the Tunguska gun/missile air defence system, which includes two 2A38m 30mm AA guns and 12 57E6 series surface to air missiles.
The guns have a firing rate of 2500 RPM per gun, a range of 4 km and altitude of 3 km. The missiles have various versions with a range up to 20 km and altitude of 15 km, making this a very effective weapon system.
This vehicle has been deployed to some local conflicts and is also in use in Iraq and Syria.
Looking inside the box, one is greeted with a whole lot of plastic.
A total of 15 sprues of tan plastic and one in clear are included. There are also two decent sized photo-etch frets, mesh grills, and nine vinyl tyres, adding up to a total of 759 parts. There is also a small decal set for six options, a colour profile sheet with the six variants and lastly, a 44 page instruction book, which is easy to understand and well illustrated.
The plastic parts themselves are very clean, requiring minimal cleaning and preparation - a good indication of a kit that will go together well.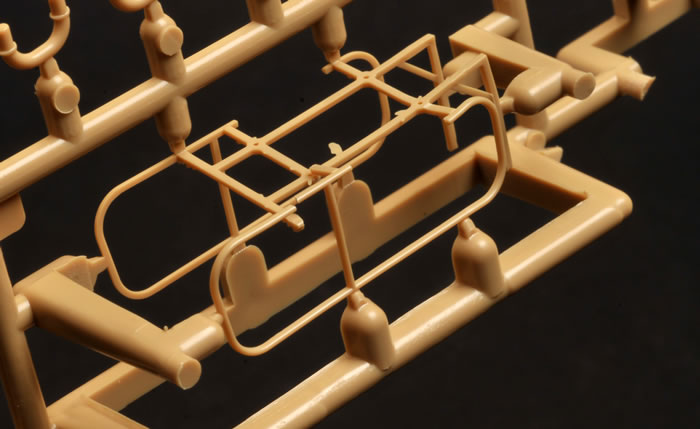 Going through the instructions further, the build begins with the chassis and running gear, which includes the motor, transmission and the whole drive line.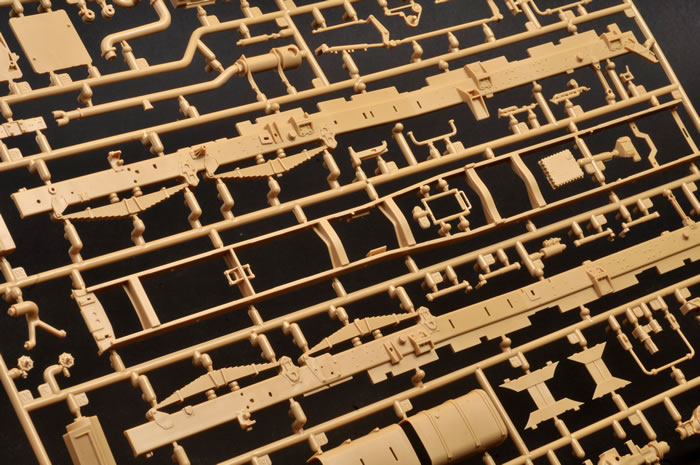 This part of the build goes over the first stages with a heap of work. Next it goes onto the vehicle cabin with a complete interior over two stages followed by mounting it onto the chassis and also placing on a large fan system.
The next two stages are building the crew compartment using some of the included photo-etch. This seems fairly straightforward. Then, over the next five stages we are building both the turret base and the power supply module, again all straightforward, just ensure good alignment of main structures.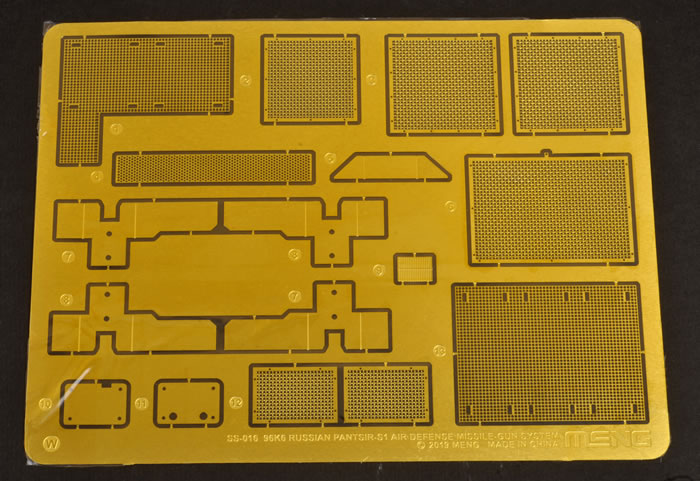 Clear parts are supplied for the cab windows and light lenses. These are thin and free from distortion.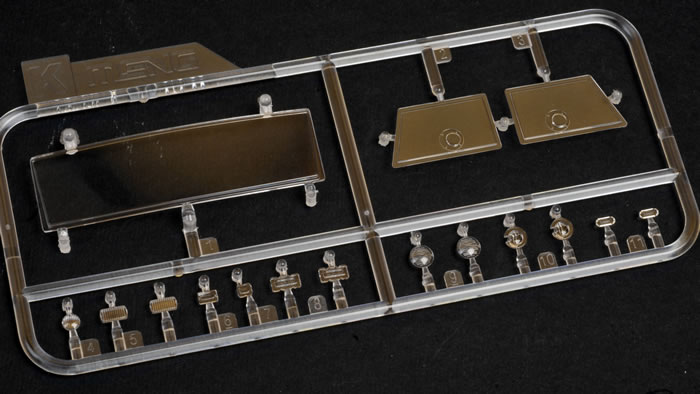 Vinyl tyres are provided in the kit, although resin options are available separately if you prefer.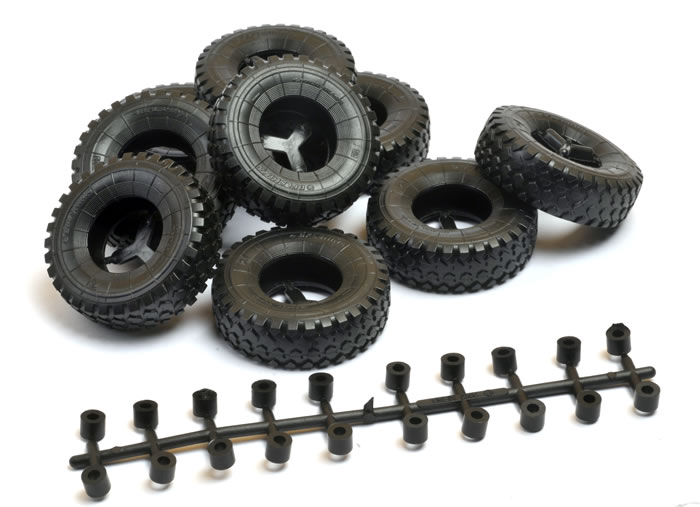 The following eleven stages cover the upper turret search radar, gun assembly, rocket launcher assembly and the photoelectric sensor assembly.
It is important to mention to take note of the instructions all throughout construction, and make sure you decide early on which variant you want to build. As mentioned there are six options, all with differences, but these are clearly marked as you build.
Now being on the home stretch there are just the loading platform assemblies to build and put in place.
With all this done, you can now fit the turret, and you have finished building. Now get out those paints and give it some life!
As for colour schemes, there are two plain green Russian vehicles, two in camouflage schemes, one winter and the other a tri-colour, also Russian.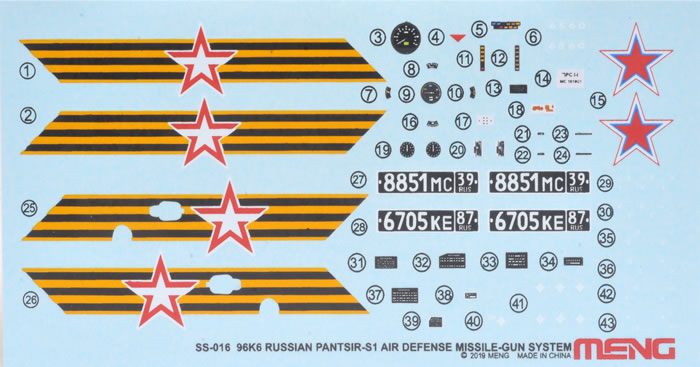 Next there is an Iraqi vehicle and lastly in plain Sand, one from Syria.
---
C o n c l u s i o n
Overall, I think this is one great kit, especially if modern Russian subjects are your thing. There's plenty to build, great options, and stunning detail. Meng has come up with a beauty yet again.
Thanks to Meng Models for the sample www.meng-model.com
Text by Andrew Judson
Images by Brett Green
Page Created 6 July, 2019
Page Last Updated 6 July, 2019