British FV510 Warrior TES(H) AIFV
Meng, 1/35 scale
Reviewed by Andrew Judson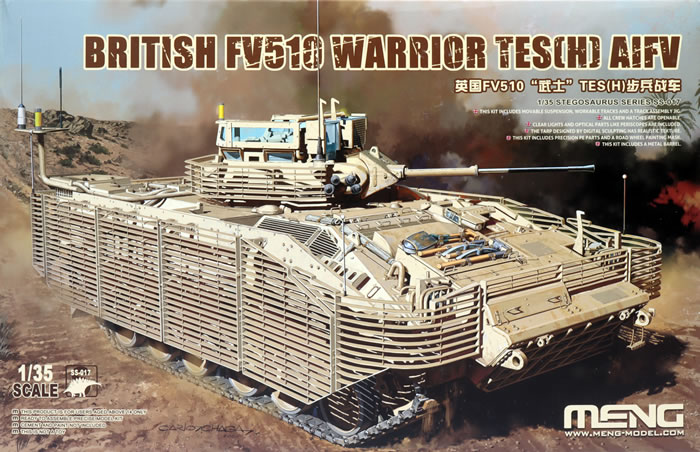 Summary
Stock Number and Description

Meng Kit No. SS-017 - British FV510 Warrior TES(H) AIFV.

Scale:

1/35

Media and Contents:

599 parts in grey plastic; one clear sprue; photo-etched fret; turned brass gun barrel; decals for one marking option.

Price:
TBA
Review Type:

First Look

Advantages:

High level of detail; convincing surface textures; excellent moulding quality; great subject matter.

Disadvantages:
Recommendation:

In summary, I would say this is a fantastic kit, and would highly recommend this to all.

F i r s t L o o k
When I heard that Meng was bringing out this kit, I was very excited as previously, as far as I'm aware, the only other kit of this variant was in 1:48 scale from Airfix. Still a nice kit, but not my preferred scale.
This kit represents the most current variant of the Warrior with many extras compared to the earlier version as used in the Gulf War.
This has the full wrap around bar armour that is used to protect against anti-armour weapons such as RPGs, extra armoured vision ports for the protection of the crew, aircon unit to protect the crew from heat and fatigue, night vision for the driver, rear camera system for better all-round awareness and is fitted with the 30mm L21A1 RARDEN cannon.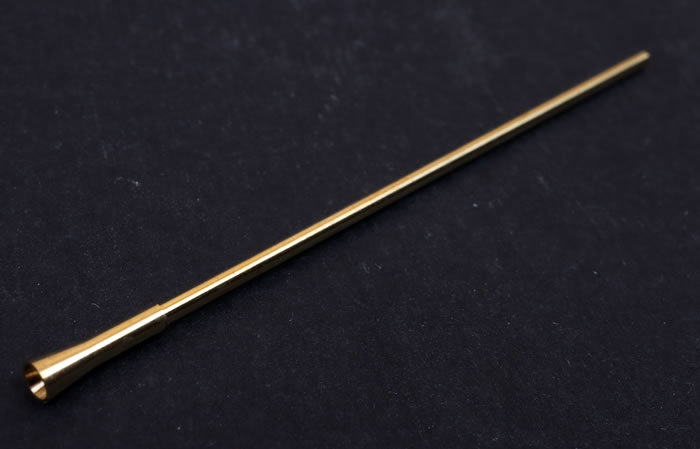 A big disadvantage was the increase in weight, although making it much safer for all those inside it.
In the box, I was surprised at what I was greeted with, being 5 sprues of grey plastic, the lower and upper hull parts, turret upper, a bag of individual track links, a nice brass barrel, a small photo-etched fret, a clear sprue including the track jig, a small decal sheet, 20 poly caps and the instruction sheet. Total parts in the box - 599.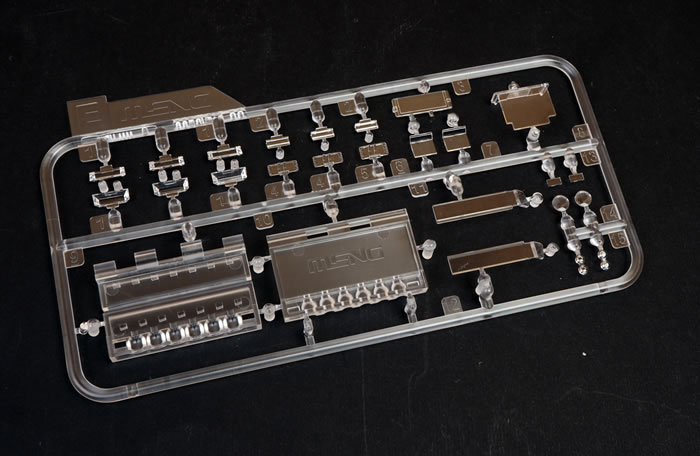 I was seriously expecting a lot more parts but on further inspection I could see that even though simple, this was going to build up into an excellent kit, proof that it doesn't need a million parts to be good. Building this is going to be quick!
The first 11 stages are building the lower hull, driveline. The suspension is torsion bar type and is workable, and of particular note are the impressive workable tracks which you click together on one side, place in a jig and then push in a bank of six pins, requiring no glue at all. Each side takes 79 links.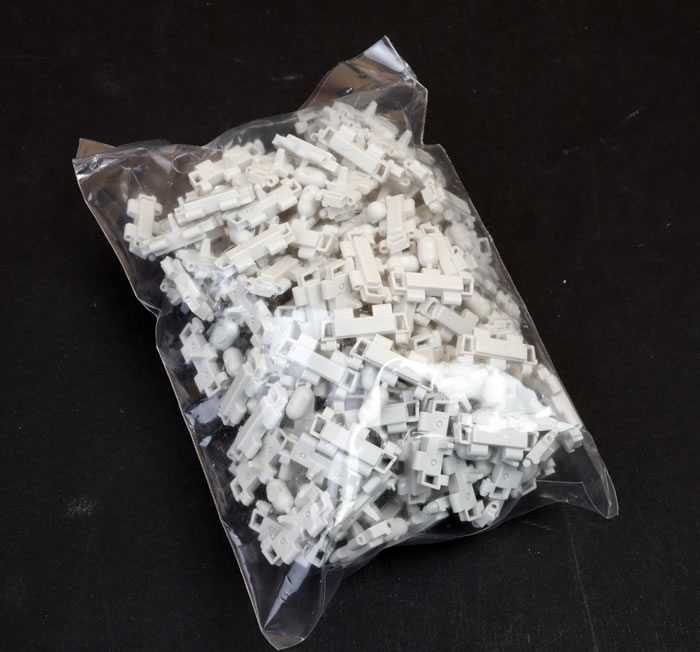 The next 17 levels are working on the upper hull, showing some brilliant detail and smart assembly. The photo-etched grilles sit perfectly in place needing very little super glue to fix in place, and details such as the tools and hatches are brilliant yet simple to assemble.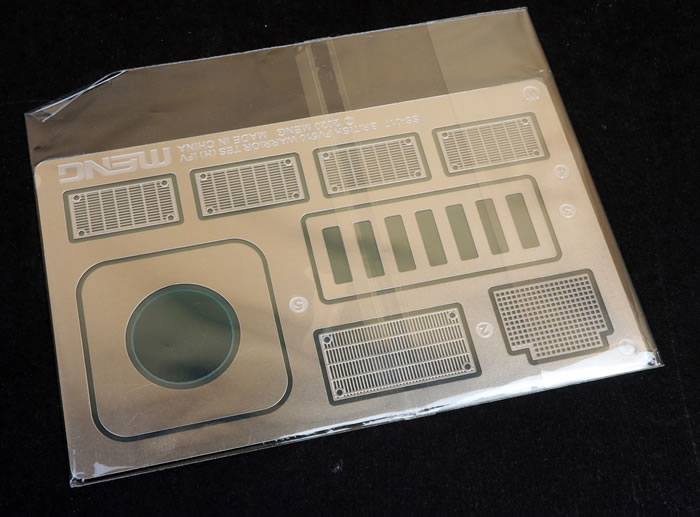 Looking at the bar armour, one immediately thinks it's time to fight with alignment, when it's the exact opposite. All being done in sub-assemblies and then placed on the kit, without issues.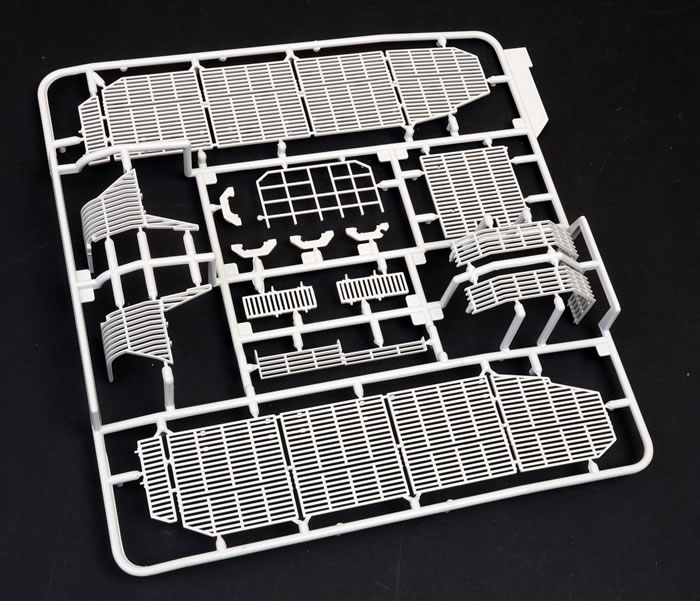 The last twelve stages are the turret assembly, which as per the rest, is again simple but very effective. I was particularly impressed with the brass gun barrel and as the rest, the bar armour fitting is very clever.
The instructions are clearly illustrated and broken down to make the build easy to understand throughout.
Paint options are limited to a single scheme. Dural East region, Helmand, Afghanistan 2011. Colour, British sand.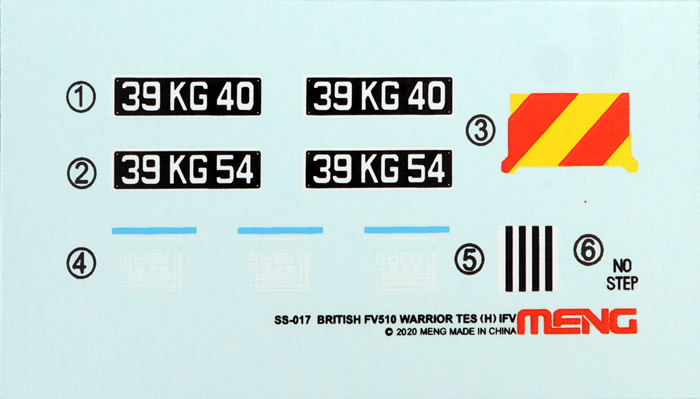 The paint guide shows reference to AK Paints, but honestly, looking at their Sand colour, I believe it's way too dark. Make sure you check your references to this. SMS, an Australian brand of lacquer based paints, does two colours a lot closer in my opinion, and they are very durable. However at the end of the day it is the builders choice.
---
C o n c l u s i o n
In summary, I would say this is a fantastic kit, and would highly recommend this to all.
I very much look forward to building one up with a crew, hopefully soon.
Thanks to Meng Models for the sample www.meng-model.com
Text by Andrew Judson
Images by Brett Green
Page Created 1 August, 2020
Page Last Updated 1 August, 2020