Merkava Mk.4M
Meng, 1/35 scale
Reviewed by Brett Green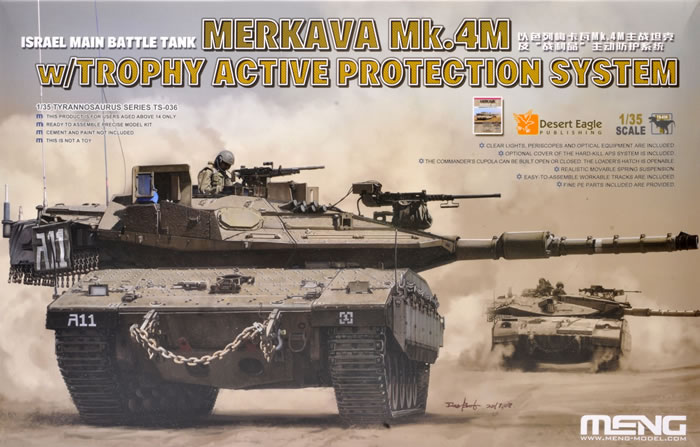 Summary
Stock Number and Description

Meng Kit No. TS-036 - Merkava Mk.4M

Scale:

1/35

Media and Contents:

950 parts, including individual track links; markings for two vehicles.

Price:
USD$42.99 plus shipping available online from Lucky Model
Review Type:

First Look

Advantages:

Very high level of detail; convincing surface textures; excellent mouding quality; useful options including alternative wheels; individual link tracks.

Disadvantages:
Recommendation:

The Merkava Mk.4M is a tough looking tank, and Meng Models has done a wonderful job representing its multi-faceted construction. This is an excellent model that will be warmly welcomed by fans of modern armour.

Introduction
The Mark 4 is the most recent variant of the Merkava tank that has been in development since 1999 and production since 2004. The upgrade's development was announced in an October 1999 edition of the Bamachaneh ("At the Camp") military publication. However, the Merkava Mark III remained in production until 2003. The first Merkava 4s were in production in limited numbers by the end of 2004.
The Merkava 4 has been designed for rapid repair and fast replacement of damaged armour, with modular armour that can be easily removed and replaced. It is also designed to be cost-effective in production and maintenance; its cost is lower than that of a number of other tanks used by Western armies. The engine can be replaced in field conditions within 30 minutes.
The tank has a high performance air conditioning system and can even be fitted with a toilet for long duration missions.
The Merkava Mark 4M Windbreaker is a Merkava Mark 4 equipped with the Trophy active protection system (APS), designated "Meil Ruach". The serial production of Mark 4M tanks started in 2009 and the first whole brigade of Mark 4Ms was declared operational in 2011. The Trophy APS successfully intercepted rocket-propelled grenades and anti-tank missiles, including 9M133 Kornets, fired by Hamas before and during Operation Protective Edge in 2014. Not a single Merkava tank was lost in combat operations in 2008 and 2014—despite the war in 2014 being a costly one for the Israeli Defense Forces. The system also notifies the tanks crew of the location that the projectile came from, allowing them to fire back quickly. It can transmit the coordinates to nearby ground and air units through the Tzayad battlefield management system. All friendly units in the theatre are instantly apprised of the enemy's position making escape and evasion difficult.*
---
F i r s t L o o k
Meng's new Merkava 4M kit comprises 950 parts, including individual track links. The main kit parts are moulded in a light tan coloured plastic, while the track links are presented in plastic.
Parts are crisply moulded with sharp raised detail. The lower hull is broken down into a "flat pack" of floor, sides, front and rear. The turret also reflects the multi-part construction of the real thing. Applique armour features recessed lines and lovely raised details including bolt heads, tie-downs and latches. Indeed, detail throughout the kit is excellent.
The road wheels are each made up from seven pieces, including polythene caps for ease of assembly. The suspension is designed for flat ground only, as the nicely detailed springs are presented in solid plastic.
Detail parts are built up on the hull and the turret.
Also impressive is the injection-moulded ball and chain armour hanging from the rear of the turret. Normally, ball and chain armour is presented in multimedia – often photo-etch or metal chains – resulting in complex and time-consuming assembly. Meng has entirely bypassed any complexity by providing simple panels of plastic balls and chains. They look very good too, and will be suitable for even less experienced modellers.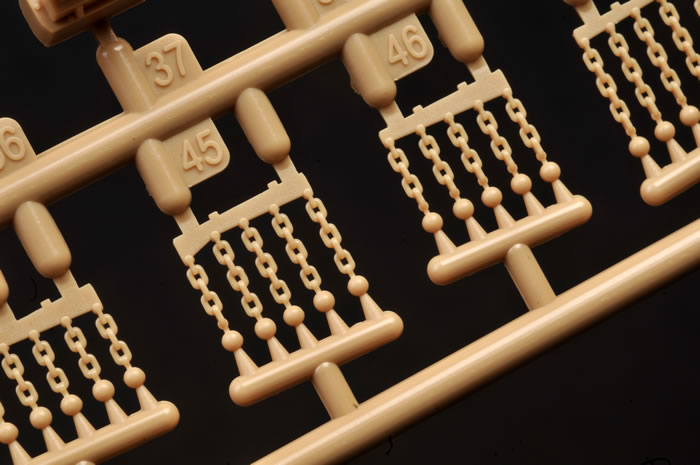 The M2 .50 cal and the loader's MAG machine gun are very well done. Hull and turret hatches are all separate but there is no interior detail.
Photo-etched details are provided on a single fret.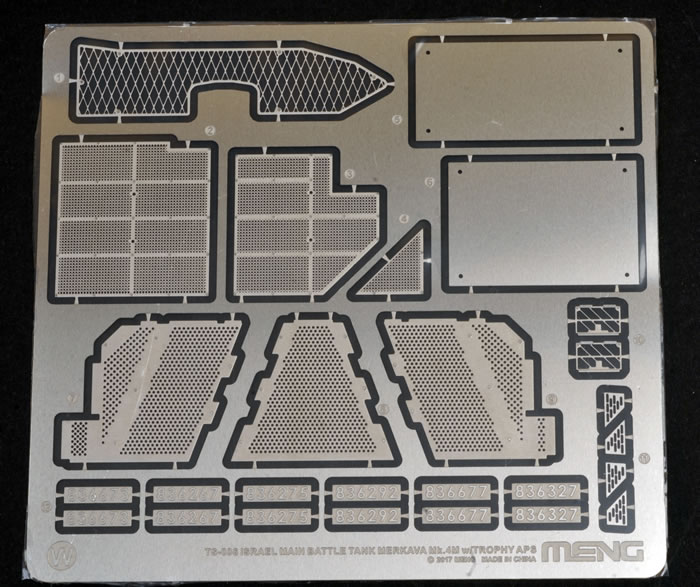 Vision blocks, episcopes and the panoramic sight lens are provided on a clear sprue.
The individual tracks links are supplied on black sprues for this kit.
Two marking options are offered.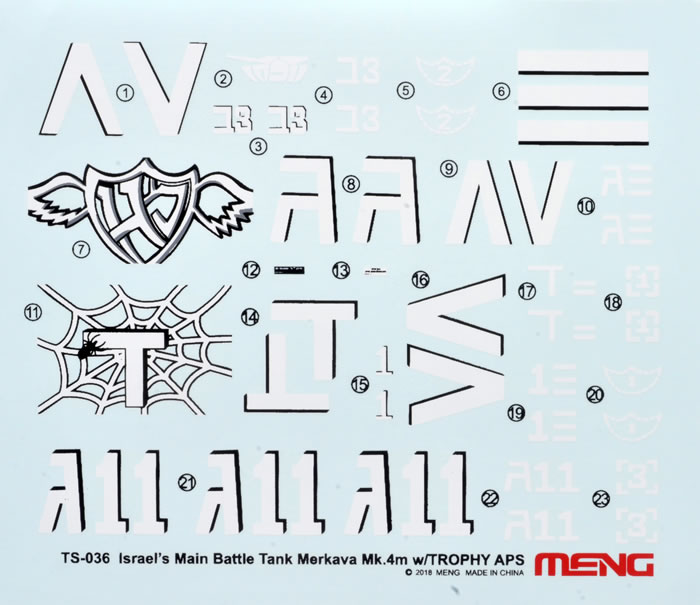 Instructions are presented in a 24-page booklet across 34 steps. Illustrations are clear, and although some of the assemblies are quite detailed, construction should not be too complicated.
---
C o n c l u s i o n
The Merkava Mk.4M is a tough looking tank, and Meng Models has done a wonderful job representing its multi-faceted construction. This is an excellent model that will be warmly welcomed by fans of modern armour.
Highly Recommended.
* Background adapted from Wikipedia
Thanks to Meng Models for the sample www.meng-model.com
Text and Images by Brett Green
Page Created 22 April, 2018
Page Last Updated 22 April, 2018