Home > Reviews > Modern >
Ryefield Model Kit No. RM-5004 - M1A1 TUSK / M1A2 SEP Abrams TUSK 1 / M1A2 SEP Abrams TUSK II
M1A1 TUSK / M1A2 SEP Abrams TUSK 1 / M1A2 SEP Abrams TUSK II
Ryefield Model, 1/35 scale
Reviewed by Brett Green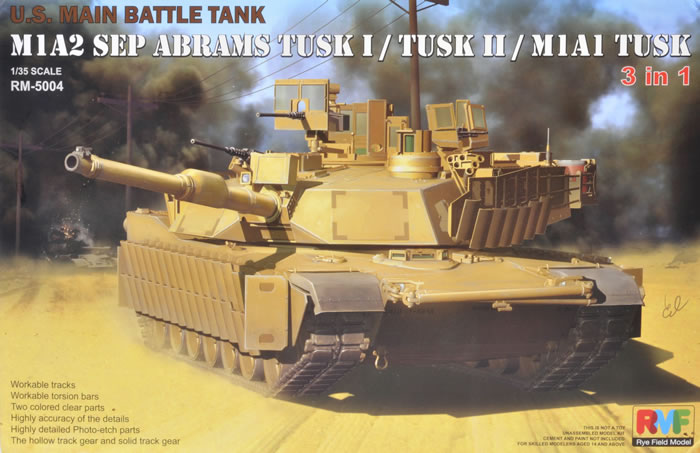 Summary
Stock Number and Description

Ryefield Model Kit No. RM-5004 - M1A1 TUSK / M1A2 SEP Abrams TUSK 1 / M1A2 SEP Abrams TUSK II

Scale:
1/35
Media and Contents:

597 parts in tan coloured plastic; 1,148 parts in dark grey plastic; 77 parts in clear; 77 parts in tinted green; 1 x photo-etched fret; markings for three vehicles.

Price:
TBA
Review Type:
First Look
Advantages:

Excellent detail; high quality moulding; first-class surface textures including non-slip surfaces; one of three distinct versions may be built; includes track assembly jigs; many useful options.

Disadvantages:
Intricate track assembly with six parts per link
Recommendation:
I am deeply impressed with the quality of Ryefield Model's 1:35 scale Abrams. It is beautifully detailed, offers three interesting and distinct versions and generally looks eminently buildable. I just wish they offered an option of simpler flexible tracks. Highly Recommended

B a c k g r o u n d
The M1 Abrams is an American third-generation main battle tank. Highly mobile, designed for modern armoured ground warfare, the M1 is well armed and heavily armoured. Notable features include the use of a powerful multi-fuel turbine engine, the adoption of sophisticated composite armour, and separate ammunition storage in a blow-out compartment for crew safety. Weighing nearly 68 short tons (almost 62 metric tons), it is one of the heaviest main battle tanks in service.
Three main versions of the M1 Abrams have been deployed, the M1, M1A1, and M1A2, incorporating improved armament, protection, and electronics. These improvements and other upgrades to in-service tanks have allowed this long-serving vehicle to remain in front-line service. In addition, development for the improved M1A3 version has been known since 2009.

Due to the vulnerability of tanks in urban combat, the Tank Urban Survival Kit (or TUSK) was issued to some M1 Abrams tanks. It added protection in the rear and side of the tank to improve fighting ability in urban environments.*
---
F i r s t L o o k
Ryefield's 1:35 scale Abrams hit the Editor's desk at the same time as their Tiger I
The approach is almost identical for both models, despite the diverse subject matter. Parts count comes in at a hefty 1,899 plastic pieces, plus a relatively modest photo-etched fret.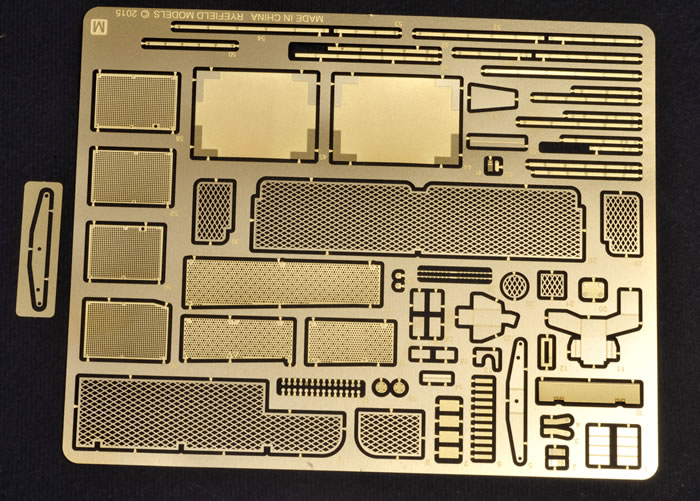 597 parts are in light tan coloured plastic, making up the majority of the vehicle. A clear sprue and a green tinted sprue each add another 77 parts for vision blocks, armoured glass and drink bottles.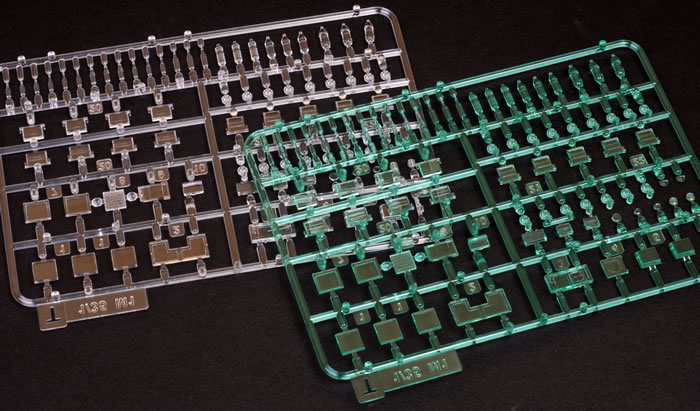 Surface textures are the best of all the Abrams kits currently available, with convincing and restrained non-slip texture on the top of the hull and the turret.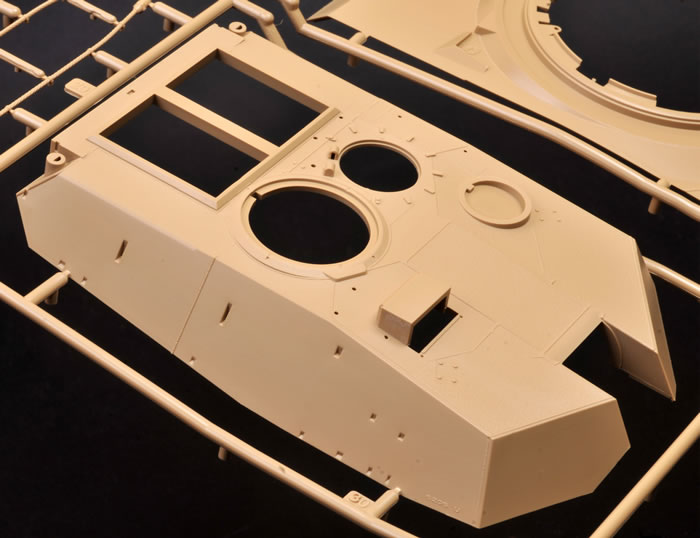 Similar to the Tiger, Ryfeild offers many optional parts to configure this model. In fact, all the parts are there to build any one of three quite distinct versions:
M1A1 TUSK

M1A2 SEP Abrams TUSK 1

M1A2 SEP Abrams TUSK II
This means that you'll have plenty of parts for the spares box.
Markings are supplied for one of each of the three variant options. Decals are well printed and in register.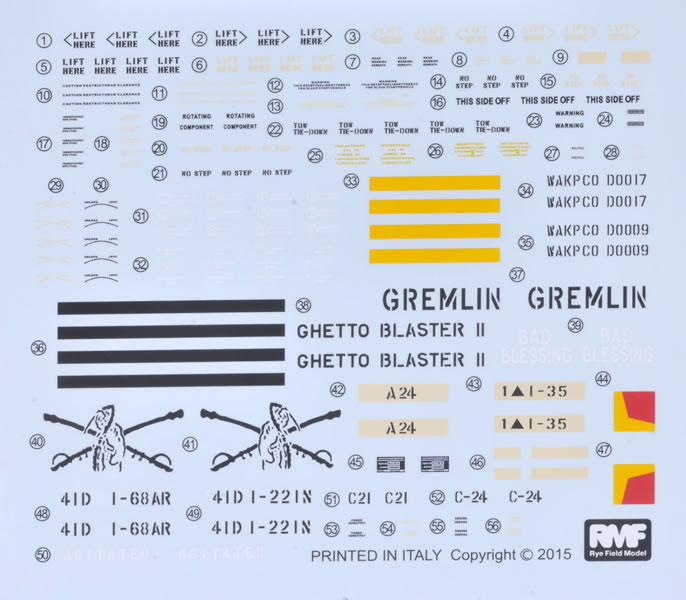 The instructions are laid out logically and the options are clearly indicated in different sections and with colour coding.
Baskets and railings are all presented in injection moulded plastic, and they look great.
The road wheels are attached to swing arms, which in turn attach to workable torsion bars. Once again, the road wheels are sensibly and simply moulded with the tyres as outer and inner wheels.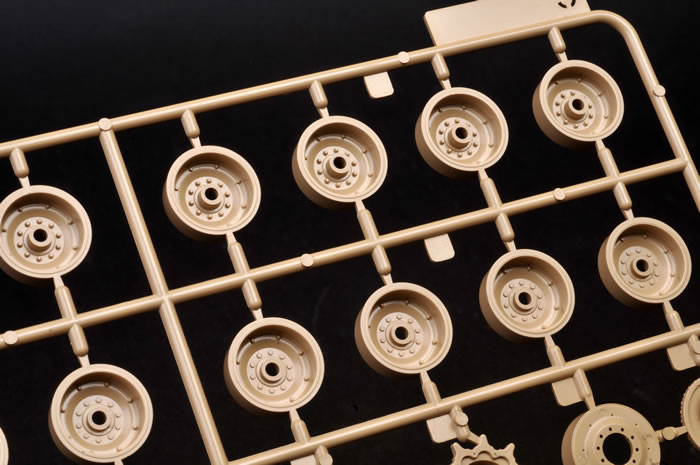 In fact, despite the large number of parts and high level of detail, most of the engineering decisions to do with parts breakdown seem to be quite modeller friendly.
Until we come to the tracks.
In total, Ryefield Model supplies 1,148 parts for the tracks.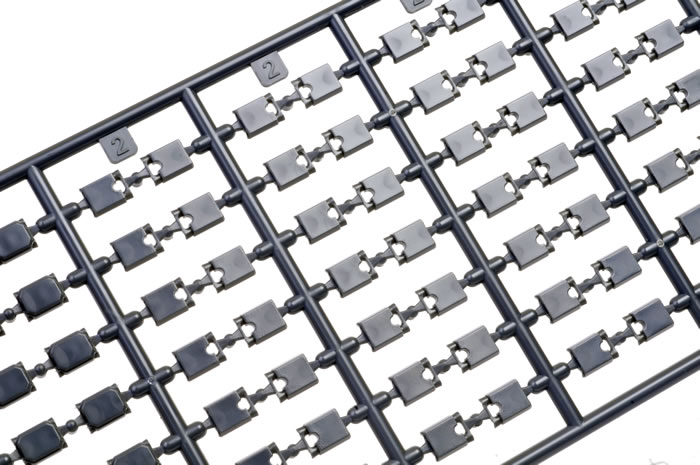 These are made up from four separate track pads per link (two outer and two inner) plus a joining part with the two track pins and end connectors, and a separate guide horn. Two optional guide horn styles are offered.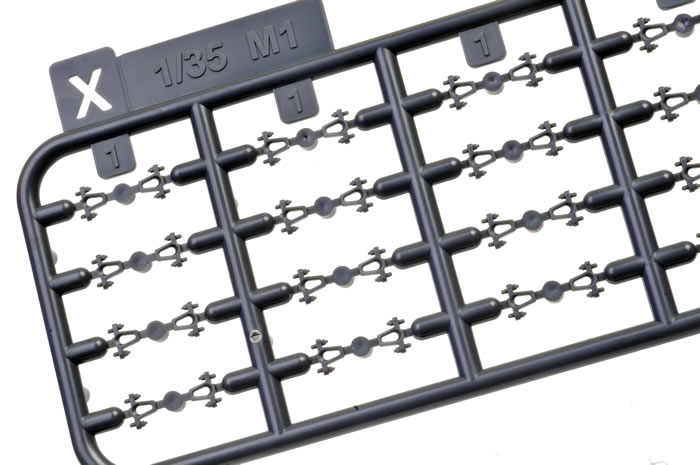 In fact, Ryefield seems to have provided a large number of extra parts but even so, I cannot imagine that assembling six parts per track link for two runs of 78 links in the supplied jig will be therapeutic.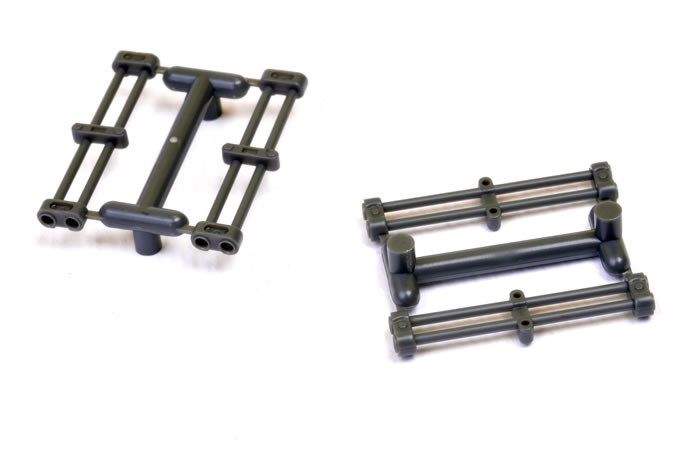 True, the tracks will be fully workable, but it is also worth noting that the Abrams' track is "live", and therefore does not sag at all along the top run. Unless you want to display your Abrams on uneven ground (or buzz it around the lounge room), the workable feature is not really relevant. The majority of the track run is hidden behind skirts and armour anyway.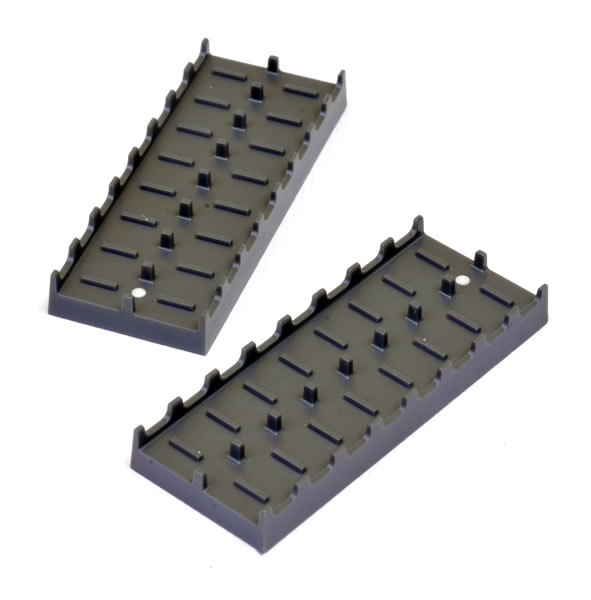 In my opinion, what this kit really needs is a set of Dragon or Tamiya style full-length flexible tracks as an option. By all means include the super detailed tracks, but I do hope that Ryefield considers offering the easier option for the average modeller (myself included) in future releases.
---
C o n c l u s i o n
Now that I have that out of my system, I can tell you that I am deeply impressed with the quality of Ryefield Model's 1:35 scale Abrams. It is beautifully detailed, offers three interesting and distinct versions and generally looks eminently buildable.
I look forward to seeing where Ryefield Model heads from now on!
Highly Recommended to experienced modellers
* Historical background courtesy of Wikipedia.
Thanks to Ryefield Model for the sample www.ryefield-model.com
Text and Images by Brett Green
Page Created 8 May, 2016
Page Last Updated 8 May, 2016