M1 Assault Breacher Vehicle
Ryefield Model, 1/35 scale
Reviewed by Andrew Judson
Summary
Stock Number and Description

Ryefield Model Kit No. RM-5011 -M1 Assault Breacher Vehicle

Scale:
1/35
Media and Contents:

1062 plastic parts plus tracks, one photo-etched fret, decal sheet

Price:
TBA
Review Type:
First Look
Advantages:

Excellent detail; high quality moulding; first-class surface textures including non-slip surfaces; fascinating subject

Disadvantages:
Recommendation:
Highly Recommended

F i r s t L o o k
When I heard that there was a kit of the M1 Assault Breacher in the pipeline, I must admit that I was very excited. When I heard it was coming from Rye Field, the blood really started pumping.
This beast of a machine is based on the M1 Abrams chassis and is equipped with a large mine plough and line charges, a rocket fired, attached to a line 350 feet long containing 5 pounds of C4 explosive per linear foot. On detonation, it clears a pathway approx. 8 meters wide by 100 meters long. The vehicle is also armed with a .50 cal machine gun for the crewman. It was first used in an active role in 2009 in Afghanistan in the Helmand province. Originally used only by the Marines, the US Army is now also using these in their ordinance as well.
So, looking in the box, you are greeted with a lot of plastic parts, a lot - 1062 plastic parts not including the link and length tracks, plus a fret of photo-etch with some nice small parts there as well.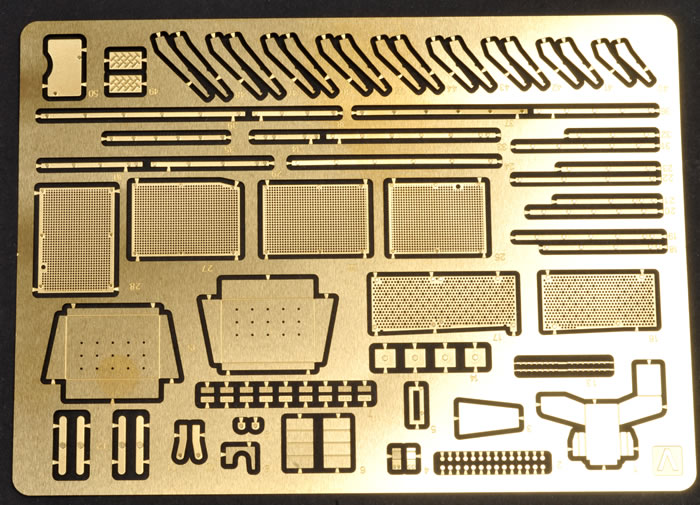 Phew! The plastic parts are all in a tan coloured Plastic, and very well moulded, with no flash or excess that I could see. Also included in the box are a decal sheet and a set of instructions. The instructions are well drawn and laid out, and include some nice colour profiles for three different schemes, Green with a Sand plough, overall Sand, and overall Green. I must say that any choice, once done, is going to look very impressive.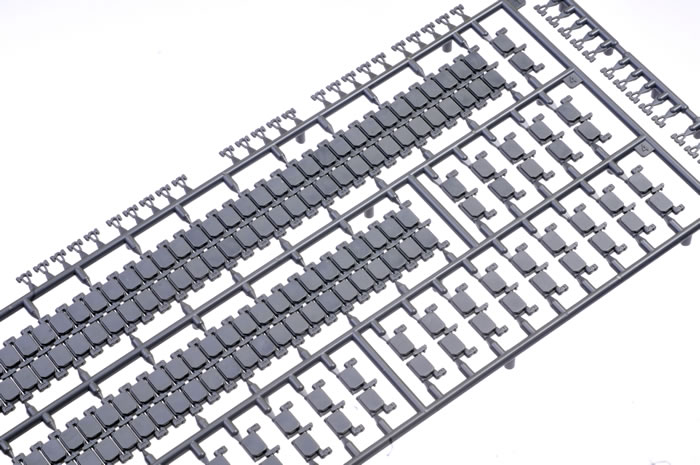 There are also some colour tech drawing of the plough at the end of the instructions. In total, there are 28 pages to cover during this build.
Looking at the build, it starts with the turret for eight pages, then onto the lower hull over seven pages, then the mine plough for four pages. I was impressed with the weapon system and how the charge bags are moulded into the launch system, though careful painting will be required if you have this opened for display purposes. It is also nice to see link and length tracks, which are very well detailed and should look very cool, weathered up.
There's a lot of work in this big beast of a kit, and I think as you build you'll need to take into consideration the painting, depending on the chosen scheme. Some may need to be done in stages with careful masking as you go. At least it's not in a camo scheme!

I would say this is for the experienced modeller looking at the part count and level of detail, though that's not intended to stop one from having a go.

I am very impressed with this kit, I believe it was a great choice for Rye Field, and it is great to see a new variation based on the M1 chassis.

Yes, I would highly recommend this kit, though beginners take caution to the fact, it is detailed and complex and will be a time-consuming build.

Thanks to Rye Field Models for the sample http://www.ryefield-model.com

Thanks to Ryefield Model for the sample www.ryefield-model.com




Text by Andrew Judson
Images by Brett Green
Page Created 4 June, 2017
Page Last Updated 4 June, 2017