Home > Reviews > Modern >
Showcase Models Australia Kit No. 35001 - Bushmaster Protected Mobility Vehicle
Bushmaster PMV
Showcase Models Australia
1/35 scale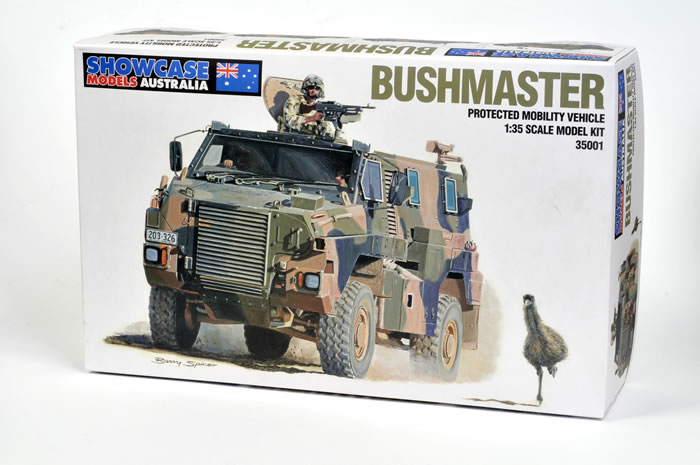 | | |
| --- | --- |
| Stock Number and Description | Showcase Models Australia Kit No. 35001 - Bushmaster Protected Mobility Vehicle. |
| Scale: | 1/35 |
| Media and Contents: | 344 parts in grey plastic; 24 parts in clear; photo-etched fret; decals for four vehicles. |
| Price: | AUD$59.99 plus shipping available online from Showcase Models Australia |
| Review Type: | First Look |
| Advantages: | High level of detail inside and out; first Bushmaster as an injection-moulded kit; thin, distortion-free clear parts; high quality decals. |
| Disadvantages: | |
| Recommendation: | An impressive debut offering of an imposing and interesting modern vehicle. |
FirstLook
Showcase Models Australia is a brand new company that has just released a 1:35 scale injection-moulded Bushmaster Protected Mobility Vehicle. The Editor takes a look in the box:
The Australian Army announced project Bushmaster in the early 1990s to select a wheeled armoured vehicle that could safely transport an Infantry section of nine soldiers in the harsh conditions of northern Australia. Australian Defence Industries (ADI), an Australian Government organisation, was chosen as the winner of the competition with their four-wheeled mine-protected vehicle design. With the privatisation of ADI in 2001, production of the vehicle passed to Thales.
The first overseas deployment of the Bushmaster was in 1999, when trial vehicles were sent to East Timor. The production Bushmaster saw its operational debut in Iraq in 2005. The vehicle continues to serve in Afghanistan today.
Six variants of the Bushmaster are currently in service with the Australian Army. They include the basic Troop Vehicle, a Command Vehicle, Direct Fire Support Vehicle, Assault Pioneer Vehicle, Mortar Vehicle and Ambulance.
This Australian design has now also been taken up by the British and Royal Danish Armies.
Showcase Models Australia is a new company and their debut release is a 1:35 scale Bushmaster Protected Mobility Vehicle.
Showcase Models' Bushmaster comprises 344 parts in medium grey plastic, 24 parts in clear, a good-sized photo-etched fret, four vinyl tyres and a decal sheet with four marking options.
Moulding is typical of the mainstream manufacturers – this is not a "limited run" offering, at least in terms of quality. The plastic parts are nicely done with crisply raised and recessed surface details as appropriate.
Upon opening the box, the eye is drawn to the large one-piece body moulding. This features convincing anti-skid texture on the top of the part.
The one-piece lower hull completes the box structure, but there are plenty of pieces for detailing the suspension, interior and exterior.
The wheels may be posed straight ahead or turned. It appears that they may be made workable too, but I won't be sure until I have actually started assembling the kit. The suspension and steering units are really quite involved and highly detailed.
The tyres are presented in a fairly hard black vinyl material. The raised seam line is quite faint and should be easy to remove. If you are not a fan of vinyl tyres, I am sure that after-market resin replacements will be on their way soon.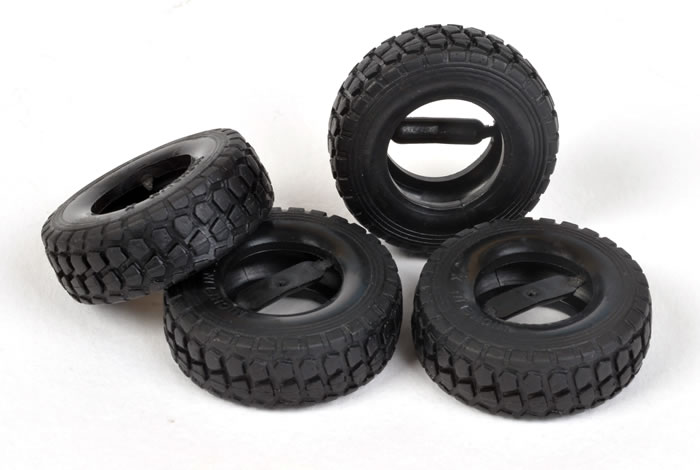 A complete interior is supplied. I particularly like the crew seats with their photo-etched harnesses and Auscam-decal cushions. They should look great when added to the shelves, steps and other features inside the crew area of the vehicle. Two choices of photo-etched dashboard panels are provided. Most of the crew hatches and doors are supplied separately, so they may be posed open to display much of this nice interior detail.
Exterior fittings are quite comprehensive too, including machine gun positions and a spare tyre with Auscam decals for its nicely textured cover.
Clear parts are thin and free from distortion. The frames are prominently moulded to the windows, making masking easier for the modeller.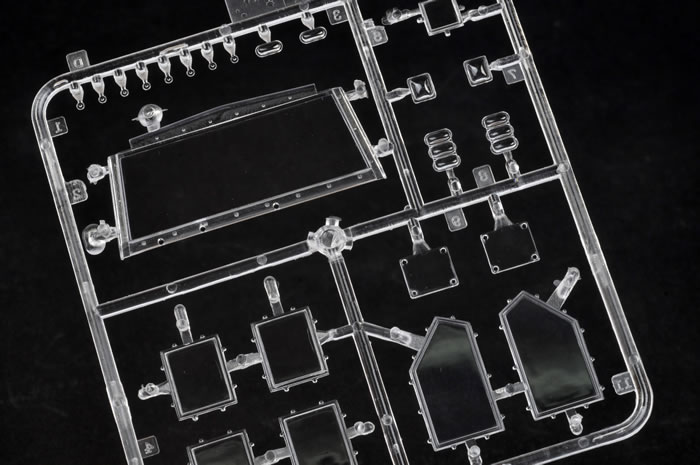 I like the approach to the number plates. These are supplied as photo-etched parts (one pair for each different licence number) plus a decal overlay. This will be a great representation of the real pressed metal ADF number plates.
Four marking options are supplied on the decal sheet, which is printed by Cartograf. The decals are in register, glossy and display a minimum of carrier film. They look excellent.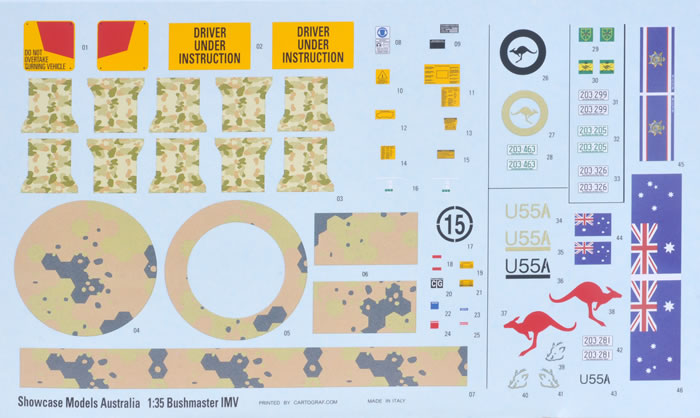 Just about my only complaint is that the sprues do not include the Emu racing alongside the vehicle on the box art!
Showcase Models Australia's 1:35 scale Bushmaster PMV is an impressive debut offering of an imposing and interesting modern vehicle. Whether you are planning to depict an Australian scene or in Afghanistan, it should be an impressive centrepiece.
Available online from Showcase Models Australia www.showcasemodelsaustralia.com.au
Text and Images Copyright 2011 by Brett Green
Page Created 28 November, 2011
Page Last Updated 28 November, 2011