FV432 Conversion Sets
Scorpion Miniature Models, 1/35 scale
Reviewed by Peter Brown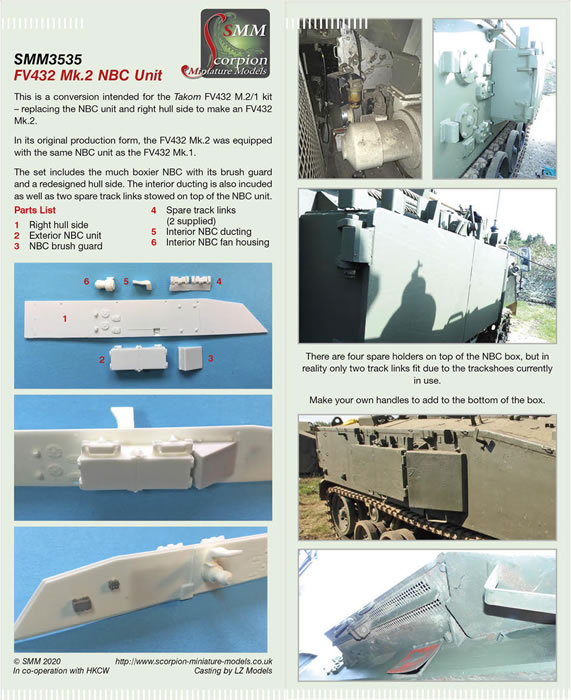 Summary
Stock Number and Description

Scorpion Miniature Models FV432 Conversion Sets

Scale:
1/35
Media and Contents:

See details for individual sets below.

Price:
Available online from Scorpion Miniature Models' website
Review Type:
First Look
Advantages:

Useful conversion and upgrade sets that will save a lot of time and effort.

Disadvantages:
Recommendation:
Anyone wanting to create a model of either a Mk 1 in original or later forms or an early Mk 2 will find these sets very useful.

F i r s t L o o k
The British Army has operated FV432 series AFVs since the 1960s with updated versions set to remain in service for several years yet. Its use began with the Mk 1 in 1963. This had a Rolls-Royce B81 petrol engine, some 600 were built with the Mk 2 with the Rolls-Royce K60 diesel coming along two years later. Mk 1 were operated alongside them until the last were withdrawn around 1994.
Some time ago Takom released their plastic kit no. 2066 "British FV432 Mk 2/1 APC with Interior Detail" which was well received. Anyone wanting the earlier Mark has had a lot of work to do - until now.
SMM has produced three sets which between them will save a lot of time and effort.
Each comes in a small clip-top plastic bag. Quality of moulding and detail is first-class, basic clean up is needed but that will not take long. Instructions are in the form of photos of the parts themselves for identification and fitted to the model which are clear and easy to follow. The sets are:
SMM3532 FV432 Mk 1 Exterior Set. This gives new resin parts for the hull sides and exterior NBC pack, rear door, external fuel tanks, engine compartment covers and exhaust silencer plus various small details. These simply replace the relevant kit parts. Some holes need to be filled and others drilled out which should be well within the capabilities of most modellers with basic kit building experience. Colour and markings details are not provided, early examples would have been the glossy Deep Bronze Green shade before that was changed to matt green and black.

SMM3533 FV432 Mk 1 Interior Set. This replaces the kit parts with new resin ones for the driver's and crew compartments BUT NOT the engine. The bulkhead between these two areas plus the older Larkspur radio sets are included.

SMM3534 FV432 Mk 1/Mk 2 Floatation Set. One feature of smaller British AFVs in the 1960s was the inclusion of floatation equipment to allow them to cross rivers or other water obstacles. These consisted of waterproof screens which were raised to increase the vehicle's buoyancy and in some cases small propellors powered by the track sprockets. They were used on the FV432 Mk 1 and early Mk 2. Before long these were removed from all. This set gives resin parts for a vehicle with the screens down, parts include the screen with its cover and the large box over the hull front to increase buoyancy as well as the side skirts also seen on many vehicles.
There is also:
SMM3535 FV432 Mk 2 NBC Unit. One feature from the Mk 1 version carried over to early Mk 2 vehicles was the same NBC equipment. Conversion parts consist of a complete left-hand hull side part including the relevant interior parts and the unit itself. This can be combined with SMM3534 to depict a vehicle with the system in place.
---
C o n c l u s i o n
Anyone wanting to create a model of either a Mk 1 in original or later forms or an early Mk 2 will find these sets very useful.
Details of prices and purchasing are on the SMM website www.scorpion-miniature-models.co.uk
Recommended.
Many Thanks to Mike Shackleton for sending these sets for review and supplying the images.

Text by Peter Brown
Page Created 10 May, 2020
Page Last Updated 11 May, 2020