Home > Reviews > Modern >

Star Decals Item Nos.: 35-C 1373 - Turkey in WWII 35-C 1292 - UNEF Peacekeepers in the Middle East Part 2
Turkey in WWII
UNEF Peacekeepers in the Middle East Part 2
Star Decals, 1/72 & 1/35 scales
Reviewed by Peter Brown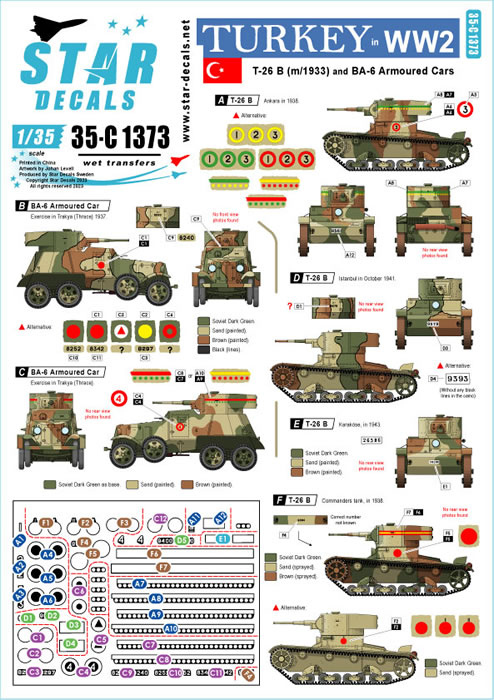 Summary
Title:

Star Decals Item Nos.:

35-C 1373 - Turkey in WWII

35-C 1292 - UNEF Peacekeepers in the Middle East Part 2

Media and Contents:

Waterslide decal sheet and instructions.

Price:

Will be available online from Star Decals and model retailers worldwide.

Review Type:

First Read

Advantages:

Interesting subjects; high quality printing; covers a nice range of era and vehicles.

Disadvantages:

Recommendation:

A welcome addition to Star Decals' range.

FirstRead
Turkey in WWII
Available in 1:35 and 1:72 scales
Item No. 35-C 1373
Although Turkey did not fight during WWII, it did have armoured vehicles. Star Decals' sets has markings for several Russian T-26B tanks and BA-6 armoured cars in two popular scales.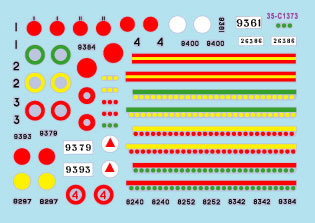 For the T-26B there are four (or five depending on how you read things). Four are in green/brown/sand schemes with an "alternative" for a plain sand tank. Markings include simple tactical signs in three colour plus numbers and a series of coloured bands and dots or red-yellow-red stripes around the turrets.
Two BA-6 in similar colours and markings complete the set.
Vehicle registration numbers are included where known.
Something out of the ordinary for those looking for that.
UK prices are £6.99 for 35-C1374 and £6.50 for 72-A1128 at www.hannants.co.uk or they can be bought direct from www.star-decals.net
Peter Brown
Recommended
---

Peacekeepers in the Middle East # 2
Available in 1:35 and 1:72 scales
Item No. 35-C 1292
In the late 1950s the United Nations Emergency Force operated in Suez, Sinai and Gaza. Star Decals sets 35-C1292 and 72-A1062 gives markings for several of their vehicles.
These include M3A1 Scout Cars and M8 Armoured Cars from Yugoslavia in early Olive Drab and later all-white schemes. All have white-light blue-white markings outlined in blue on the white vehicles plus the UN globe and olive branch markings. Serial numbers and UN-style registration numbers are included as appropriate.
Finally comes a Swedish-manned M37 truck in white with bands, complete with registration numbers.
UK prices are £8.99 for 35-C1374 or £6.99 for 72-A1062 at www.hannants.co.uk or you can buy direct from www.star-decals.net
Peter Brown
Recommended
Something out of the ordinary with alternatives for several vehicles. Full details including prices and availability can be found at www.star-decals.net
Many thanks to Johan Lexell for the sample
---
Text and Images by Peter Brown 5 February, 2023
Page Last Updated 5 February, 2023