Home > Reviews >Britain>

Star Decals Item Nos.: 35-C1386 - Sherman T-34 Calliope 1945; 35-C1375 - Sherman "Crab" Flail Tanks, France 1944; 35-C1375 Sherman Vs, 79th Armoured Division
Shermans in 1/35 scale
Star Decals, 1/35 scale
Reviewed by Peter Brown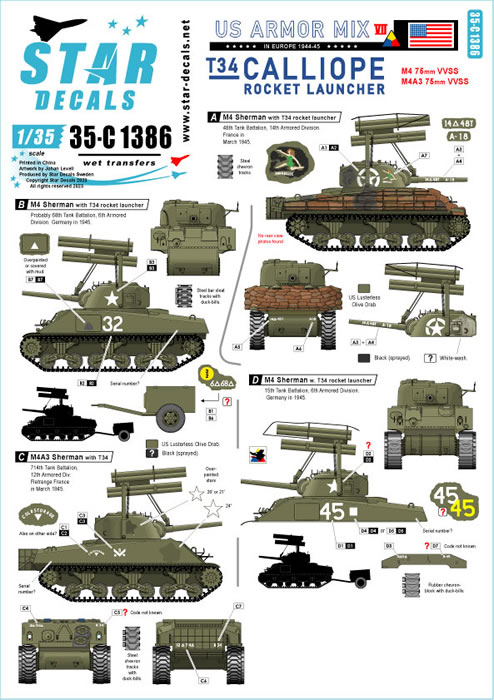 Summary
Title:

Star Decals Item Nos.:

35-C1386 - Sherman T-34 Calliope 1945

35-C1375 - Sherman "Crab" Flail Tanks, France 1944

35-C1375 Sherman Vs, 79th Armoured Division

Media and Contents:

Waterslide decal sheet and instructions.

Price:

Available online from Star Decals and model retailers worldwide.

Review Type:

First Read

Advantages:

Interesting subjects; high quality printing; covers a nice range of Shermans.

Disadvantages:

Recommendation:

A welcome addition to Star Decals' Sherman range.

FirstRead
Star Decals have released three sets for Shermans, one for US Army and two for British tanks.
Set 35-C1386 gives markings for four M4's fitted with the T-34 Calliope rocket launcher system in 1945. One from 48th Tank Battalion in 14th Armored Division in France with extra sandbag protection on the hull has a cartoon figure to match its name ANNABELLE as well as basic unit markings and white stars.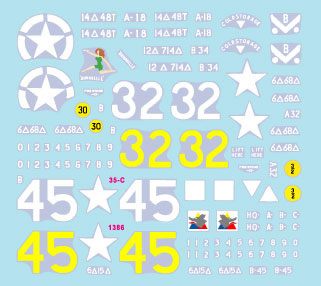 Call sign 32 from 68th Tank Battalion in 6th Armored Division has only the large number on its hull and white stars. COLD STORAGE from 714th Tank Battalion in 12th Armored Division has its name and a chevron device on the hull, unit markings and overpainted white stars. Call sign 45 from 15th Tank Battalion, 6th Armored Division in Germany has number, stars, a white square and little else although a "Wolf's Head" on the Armored Force coloured triangle is also included.
Alternative white and yellow call sign numbers are given. UK price is GBP9.99 from Hannants. Plastic kits of these tanks are or at least have been available, Star's website includes an image of the Lan Model conversion set.
---
Set 35-C1375 covers "Crab" flail tanks based on Sherman V M4A4 in France in 1944.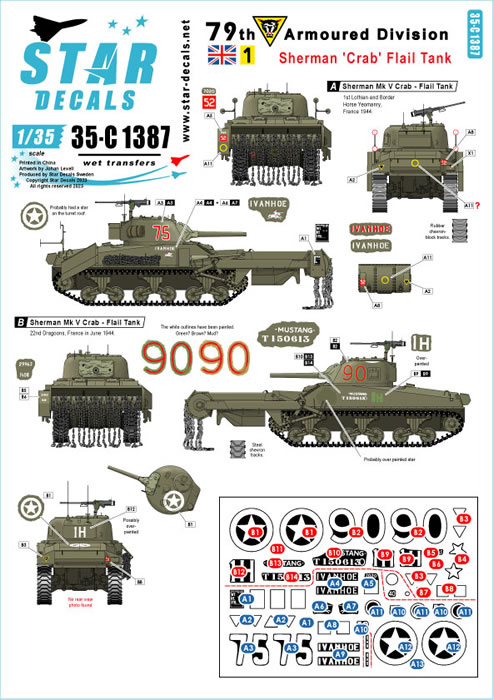 For 1st Lothian and Border Horse Yeomanry is IVANHOE with call sign 75 while for 22nd Dragoons is call sign 90 MUSTANG. Names, serial number where known plus full unit markings are included.
UK price is GBP7.70 from Hannants. Modelling these vehicles will mean adding an aftermarket update set, Star's website mentions the Lan Model conversion set.
---
Set 35-C1375 offers four standard Sherman V from 79th Armoured Division.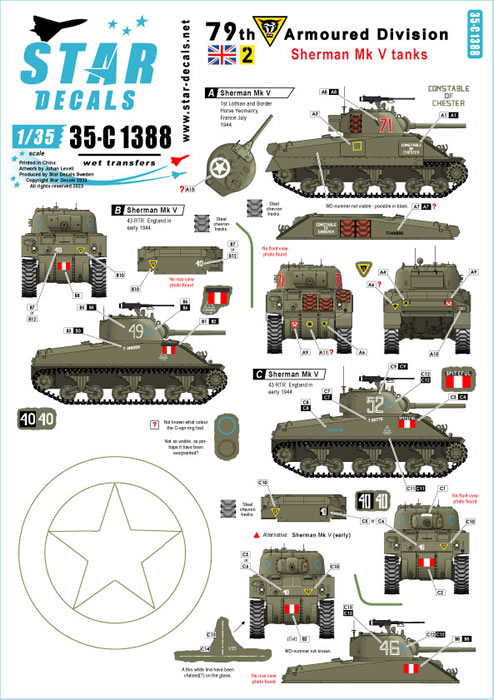 Three are from C Squadron 43 RTR in the markings of Division HQ in England while being used in various trials before D Day. Call sign 46 whose serial is not known and tank T148009 call sign 49 have no name, while T211770 call sign 52 was named SPITEFUL. These have the red-white-red recognition markings adding a splash of colour plus the unit and original shipping markings. CONSTABLE OF CHESTER call sign 71 is from B Squadron, 1st Lothian and Border Horse Yeomanry in France and markings visible in photos are given including the serial in black.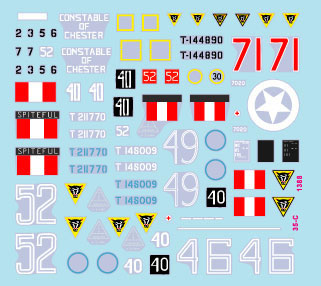 UK price is GBP9.99 from Hannants.
These can be bought from Hannants www.hannants.co.uk or direct from www.star-decals.net
Something out of the ordinary with alternatives for several vehicles. Full details including prices and availability may be found at www.star-decals.net
Many thanks to Johan Lexell for the sample
---
Text and Images by Peter Brown 9 July, 2023
Page Last Updated 9 July, 2023