Middle East 1950s Egypt Tanks and AFVs
Start Decals, 1/35 scale

Reviewed by Peter Brown
Summary

FirstRead
There have many and varied types of weapons used by armed forces in the Middle East. Some will not be aware that Egypt had Sherman tanks and other armour taken over from British wartime stocks alongside Soviet tanks. A list of Egyptian AFVs captured in the 1956 campaign included over 50 Shermans, 40 Archer self-propelled 17pdr guns plus 14 Valentine tanks without guns and 27 T-34 tanks.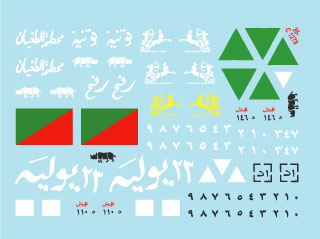 This new set provides decals to mark up several of their tanks from the 1950s. One is a Sherman V M4A4 in sand and green as used in the "23rd July Revolution" in 1952 with a unit marking of an ancient war chariot on the hull side. Two variations of Sherman III M4A2 in plain green from later that year with the same marking but different names on the turrets and two more similar tanks with a rhino on a red and green background with options for names. A bonus set of numerals is included for Shermans in the early 1950s.
Also on the sheet are an unarmed Archer used as an artillery tractor in 1956 with its number plate and tactical marking along with a T-34-85 with a green diamond and number plate.
Star Decals are available from several suppliers, check with them or see their website star-decals.net for stockists and prices. They regularly release new sets and reprint older ones so it is worth checking on them.
Many thanks to Johan Lexell for the sample
---
Text and Images by Peter Brown
Page Created 16 August, 2020
Page Last Updated 16 August, 2020