Lebanese Tanks and AFVs Part 9 - Sherman & Firefly in Lebanon
Start Decals, 1/35 scale
Reviewed by Peter Brown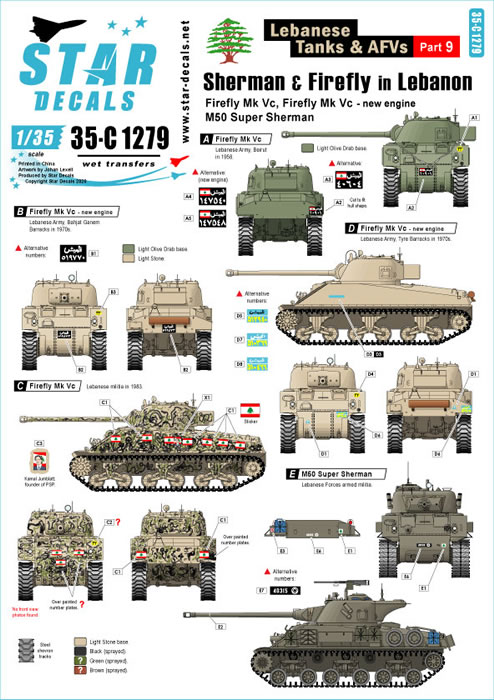 Summary

FirstRead
The Sherman Firefly was used for several years in the Lebanon as were other Sherman variants, This set allows modellers to depict five of them at different times. Originally they were used as converted, so the first option covers an M4A4-based VC in plain Light Olive Drab in the late 1950s with a choice of number plates.
Later the original engines were removed and replaced with what appear to be a GM Diesel unit as used on the M4A2 and retrofitted to many French tanks. These had the exhaust silencers on the rear hull.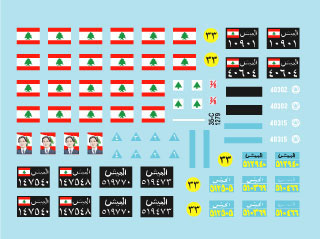 These can be modelled in either Olive Drab or plain Sand in the 1970s with number plates in three different styles. In 1983 some were taken over by one of the Militias. These had areas of black, green and brown sprayed onto them as well as being adorned with small flags and portraits of the founder of the PSP. Final option is an Israeli-modified M50 with new engine and HVSS suspension in a plain scheme with minimal markings.
Any or all could provide a different finish for either a Firefly or M50 using a range of kits.
Star Decals are available from several suppliers, check with them or see their website star-decals.net for stockists and prices. They regularly release new sets and reprint older ones so it is worth checking on them.
Many thanks to Johan Lexell for the sample
---
Text and Images by Peter Brown
Page Created 16 August, 2020
Page Last Updated 14 September, 2020