Home > Reviews > Modern >
Tamiya Kit No. 35361 - Japan Ground Self Defense Force Type 16 Maneuver Combat Vehicle
JGSDF Type 16 Maneuver Combat Vehicle
Tamiya 1/35 scale
Reviewed by Brett Green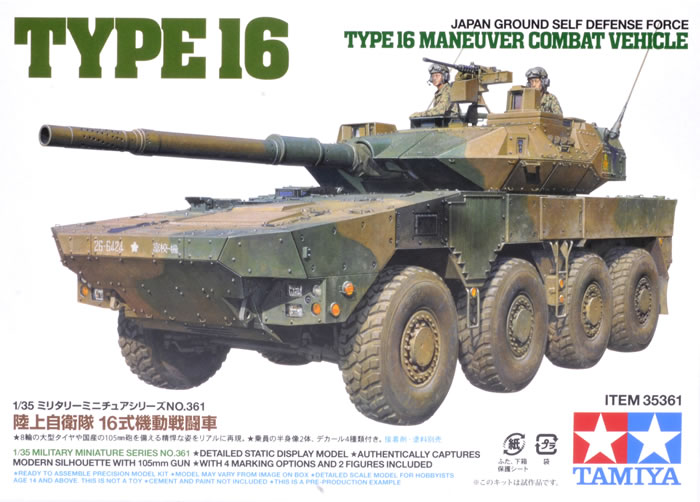 Summary
Stock Number and Description

Tamiya Kit No. 35361 - Japan Ground Self Defense Force Type 16 Maneuver Combat Vehicle

Scale:
1/35
Media and Contents:

239 plastic parts in olive coloured plastic;eight vinyl tyres; 20 clear plastic parts; 18 large and 10 small polythene caps; markings for four vehicles.

Price:
TBA
Review Type:
First Look
Advantages:

Unique subject; superb surface textures; high level of detail; includes two crew figures.

Disadvantages:
None noted.
Recommendation:
Tamiya's Type 16 is a state-of-the-art kit. It won't be a half-day build, but I am certain that it will deliver the typical Tamiya building experience - perfect fit and a smile on the modeller's face from start to finish.

Introduction
The Technical Research & Development Institute of Japan's Ministry of Defense has developed several prototype vehicles since 2008. They unveiled their fourth of what were initially called "mobile combat vehicle" prototypes on 9 October 2013. JGSDF service acceptance tests were scheduled to begin in 2014 or 2015, with initial operational deployment by the JGSDF planned for 2016. 99 MCVs were originally planned to be introduced by the end of FY 2018. The name of the vehicle was changed to Maneuver Combat Vehicle during the second half of 2011.
The MCV was part of a new armored vehicle strategy that prioritized light air-transportable firepower. Originally the number of main battle tanks was to be reduced from 760 to 390, with most remaining tanks to be concentrated on the main Japanese islands of Hokkaido and Kyushu.
Some 200–300 MCVs were to be procured and these would be airlifted to islands when and where they were needed. The idea was that the smaller, lighter, and faster MCV could be redeployed quicker than tanks to better defend the outlying islands. This represented a shift in Japanese armored vehicle structure from one designed to repel a Soviet invasion from the north to a more mobile force aimed at possibly defending against a Chinese invasion of the southern island chain.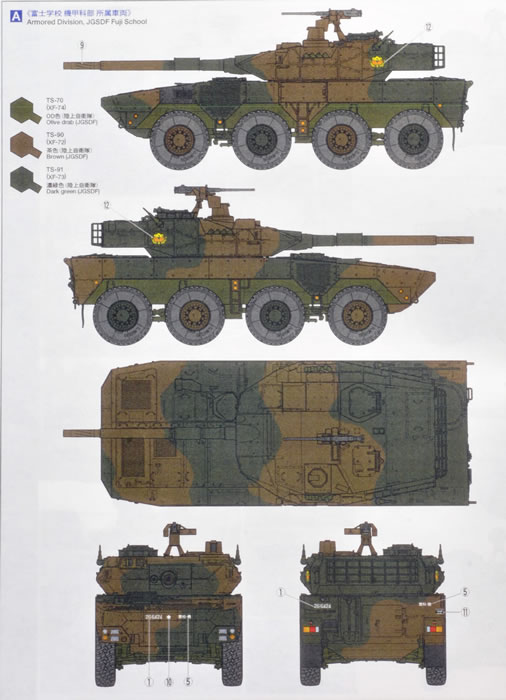 The MCV was intended to help re-equip existing divisions and brigades reorganised into mobile (rapid reaction) divisions/brigades, as well as equip new dedicated rapid reaction regiments alongside (eventually) the Light-weight Combat Vehicle System (LCV) which was also designed with defense of the outer islands in mind.
The Type 16 maneuver combat vehicle (MCV) equips designated combat units. Due to its light weight and small size, it is designed for easy deployment (by aircraft if needed) allowing rapid movement on narrow roads and in built-up areas in response to various contingencies.
Despite its small size and light armor, it has been designed to attack much larger armored fighting vehicles as well as personnel, using its large caliber gun.
The main gun is manually loaded as a cost-saving measure. In 2009 resistance testing of the shielding against HEAT rounds was conducted using the Carl Gustav M2; and against regular kinetic ammunition the frontal shield was developed to resist shots from 20 mm to 30 mm autocannons while the side armor was deemed sufficient to resist 12.7 mm heavy machine gun fire.
---
Specifications
Weight

26 tonnes

Length

8.45 m (27 ft 9 in)

Width

2.98 m (9 ft 9 in)

Height

2.87 m (9 ft 5 in)

Crew

4
105 mm gun (developed byJapan Steel Works)
12.7 mm NATO M2 Browning machine gun, coaxial Sumitomo Type 74 7.62 mm NATO medium machine gun

Engine

4-cylinder water-cooled
turbocharged diesel engine
570 hp

Power/weight

21.9 hp/tonne

Suspension

Wheeled 8 x 8
400 km (250 mi)

Speed

100 km/h (62 mph)
---
F i r s t L o o k
Tamiya has been quick off the mark with their brand-new kit of this brand-new vehicle. Their 1:35 scale Type 16 Maneuver Combat Vehicle comprises 239 parts in olive coloured plastic, 20 parts in clear, eight vinyl tyres, 18 large and ten small polythene caps, plus markings for four vehicles.
The sleek lines of this modern vehicle are very obvious from looking at the main hull and turret parts.
The surface textures on this kit are simply superb. The hull and turret are covered with anti-skid patches, hatches, hinges and tie-downs, all beautifully done.
Tamiya has not skimped with the suspension detail on this vehicle. 13 of the first 15 steps are devoted to the suspension, steering and underbody. It appears that the front and rear wheels will be poseable if not actually moveable, but I will confirm this impression when I build the model. Detail under the vehicle is excellent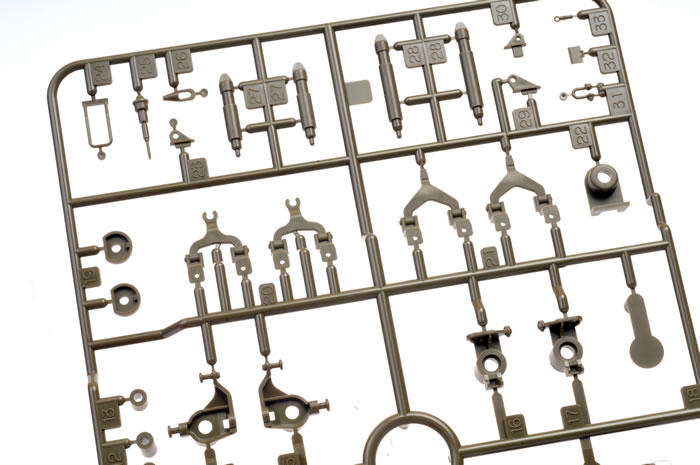 I am not usually a fan of vinyl tyres but Tamiya has done a superb job here. There is not a hint of any seam lines along the centreline or faces of the tyres, and tread detail is crisp and free from any imperfections. The tyre faces also feature fine raised lettering and lines - lovely!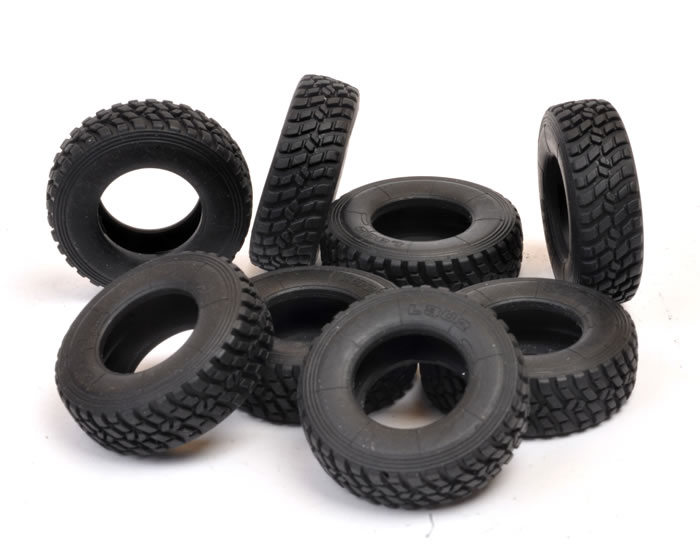 The wheels all fitted via poly caps, allowing the parts to be moveable after assembly. The driver's and turret hatches are hinged and therefore also moveable. The gun barrel is supplied in six pieces – two main halves split lengthwise, a separate cap for the end, two halves for the fume extractor and two halves for the recoil cover.
Clear parts are supplied for the turret vision blocks and various light lenses. Continuing the theme from their recent US tank crew figures, clear visors are included for the crew figures too.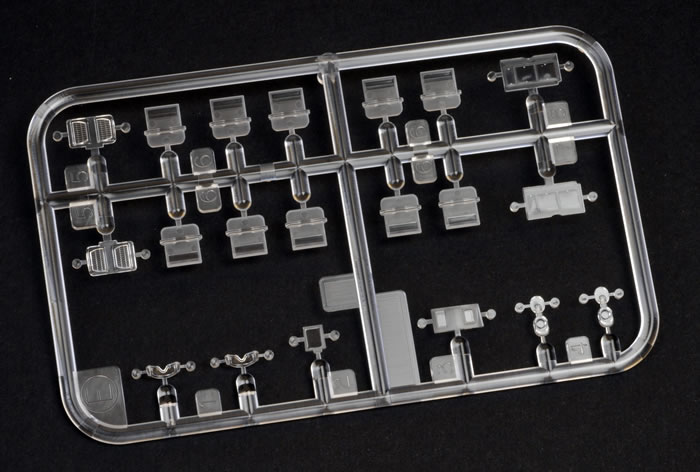 Speaking of figures, Tamiya offers two crew for the turret hatches. These are well up to Tamiya's recent high figure standards in terms of sculpting and detail.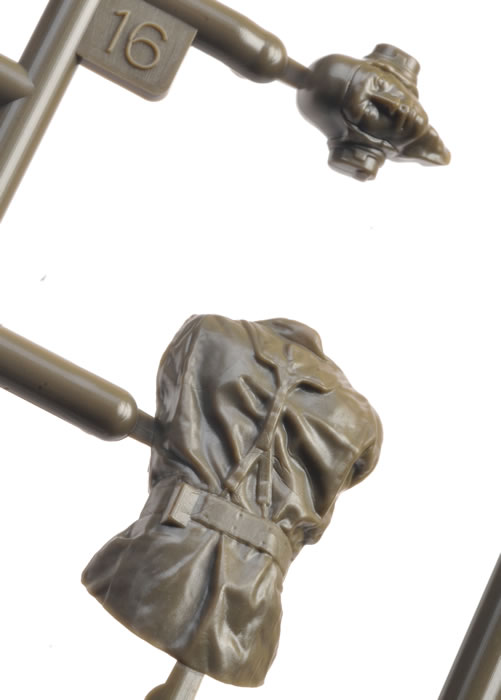 Markings are supplied for four vehicles in any colour you want as long as it is JGSDF Green and Brown.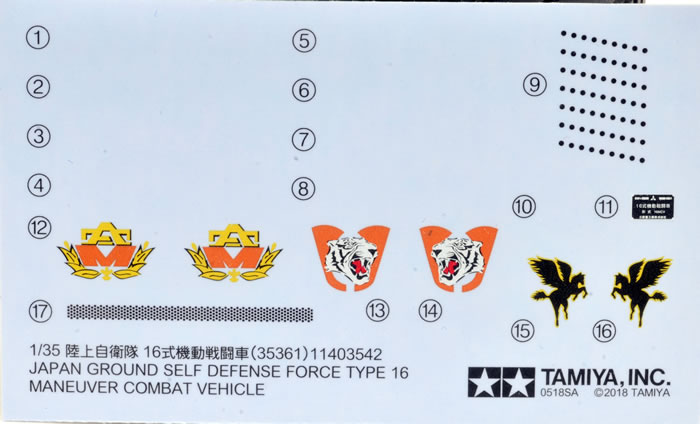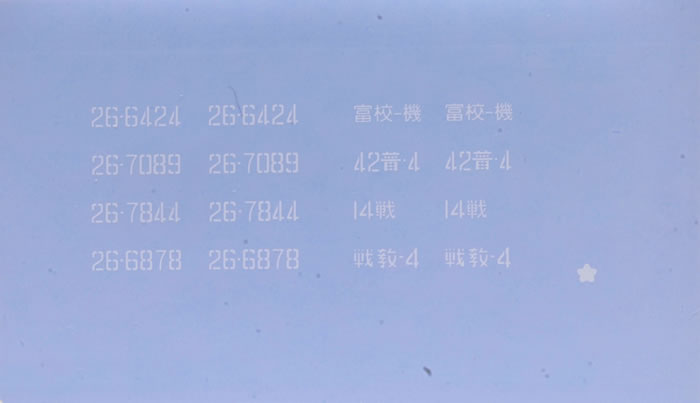 They are nicely in register and should snuggle down nicely under a coat of setting solution.
---
C o n c l u s i o n
Tamiya has a knack of getting me hooked on subjects for which I had no particular previous pecadillo. This is a very cool looking vehicle - sleek and menacing - and Tamiya has delivered a highly detailed replica in 1/35 scale.
Tamiya's Type 16 is a state-of-the-art kit. It won't be a half-day build, but I am certain that it will deliver the typical Tamiya building experience - perfect fit and a smile on the modeller's face from start to finish.
Historical text adapted from Wikipedia
Thanks to Tamiya for the sample.
Tamiya products are distributed in the UK by The Hobby Company Limited
Text and Images by Brett Green
Page Created 27 May, 2018
Page Last Updated 28 May, 2018