AMMO by Mig Jimenez
Weathering and Painting Product Roundup
August 2021
Reviewed by Brett Green


Summary
| | |
| --- | --- |
| Stock Number, Description & Price | AMMO by Mig Jiminez (see details below) |
| Review Type: | First Look |
| Advantages: | Versatile and useful finishing products. |
| Disadvantages: | |
| Recommendation: | A wide selection of painting and finishing products. |

F i r s t L o o k
AMMO by MIG Jimenez has released a batch of new painting, weathering and finishing products. Let's take a look in detail:
AMMO by MIG Jimenez
DAK (Africa Korps) Uniforms
Item No. A.MIG-7038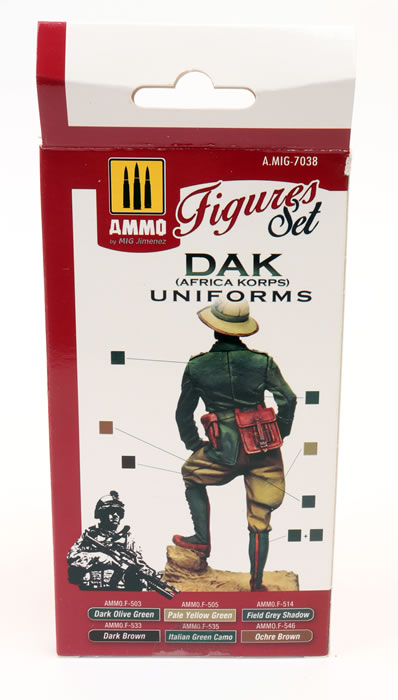 Here's a very useful set for anyone who paints Africa Korps figures.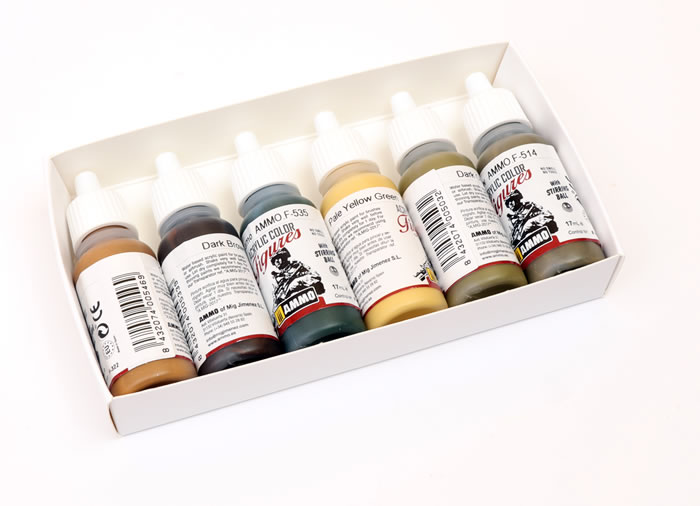 Six acrylic paints are included:
AMMO F-503 – Dark Olive Green
AMMO F-505 – Pale Yellow Green
AMMO F-514 – Field Grey Shadow
AMMO F-533 – Dark Brown (webbing)
AMMO F-535 – Italian Green Camo
AMMO F-546 – Ochre Brown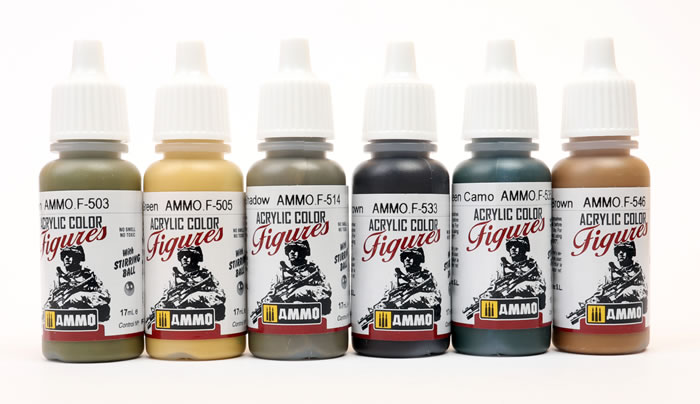 These will be suitable for infantry, artillery and tank crews.
The paints are packaged in a box on a white cardboard. Colour panting instructions are included on the back of the box.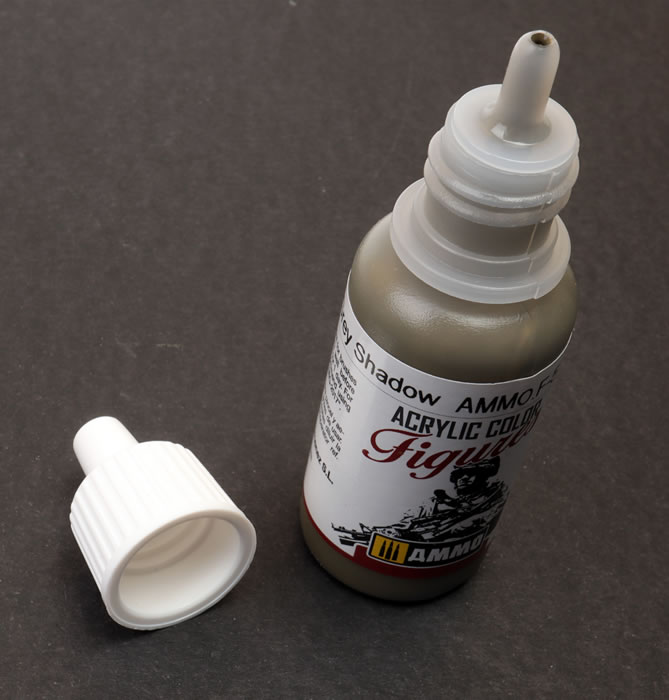 All of these new painting and weathering products from AMMO by MIG Jimenez
will be useful to armour and figure modellers.
All Recommended
---
AMMO by Mig Jimenez
Oilbrushers
Item No. A.MIG-1800 – Fresh Engine Oil
Item No. A.MIG-1801 – Fuel Stains
Item No. A.MIG-1802 – Wet Effects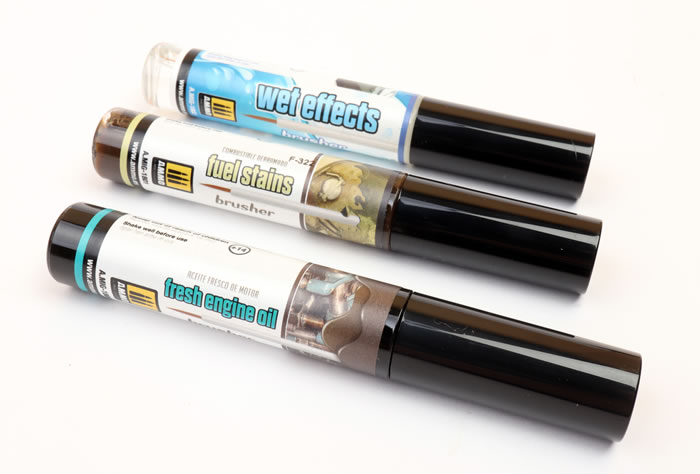 AMMO has released three new Oilbrusher sets to join their growing range. These have an integrated brush inside the lid that may be used to apply many different types of effects directly to very specific areas.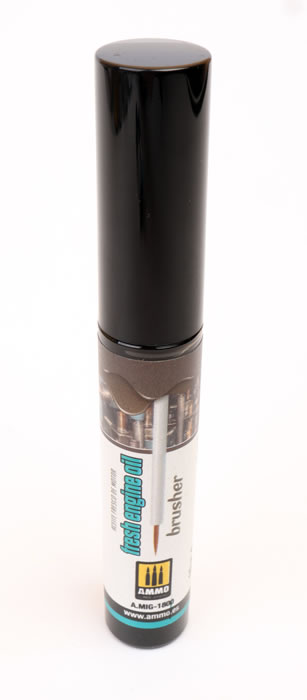 The three new Oilbrusher sets are:
Oilbrusher A.MIG-1800 – Fresh Engine Oil
Oilbrusher A.MIG-1801 – Fuel Stains
Oilbrusher A.MIG-1802 – Wet Effects
These oil-based effects are simply applied with the included fine brush. I noticed that my brushes were bent into a hook shape at the very end where they must have been pressed against the bottom of the plastic bottle. I will simply cut off the tip of the brush before I use these Oilbrushers.
The Oil and Fuel Stains Oilbrushers are a great way to easily add grime to your engines and mechanical parts.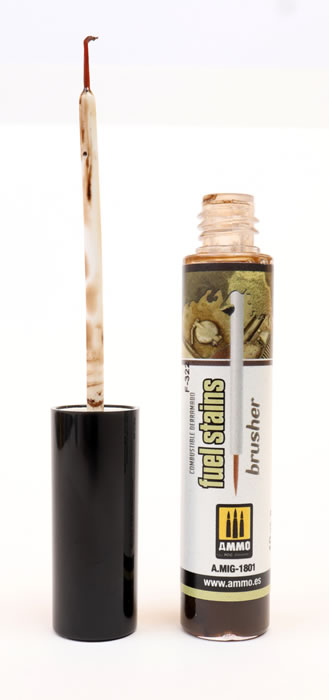 The Wet Effects Oilbrusher is an interesting way to add damp areas or small puddles to vehicles or groundwork.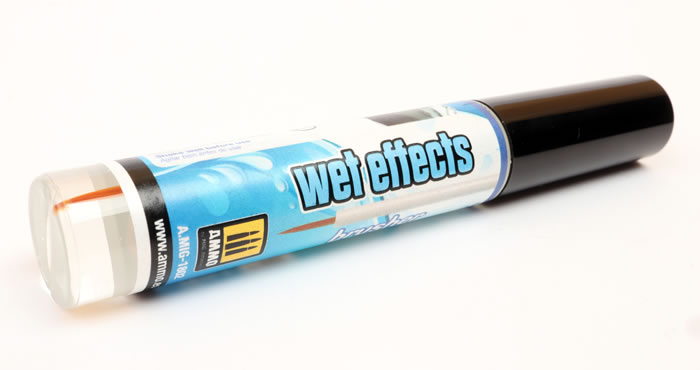 These are an easy way to apply specific effects as finishing touches on your military, aircraft or civil models.
All Recommended
---
AMMO by Mig Jimenez
A.MIG-2076 - Plasticator Thin
A.MIG-2077 - Plasticator Thick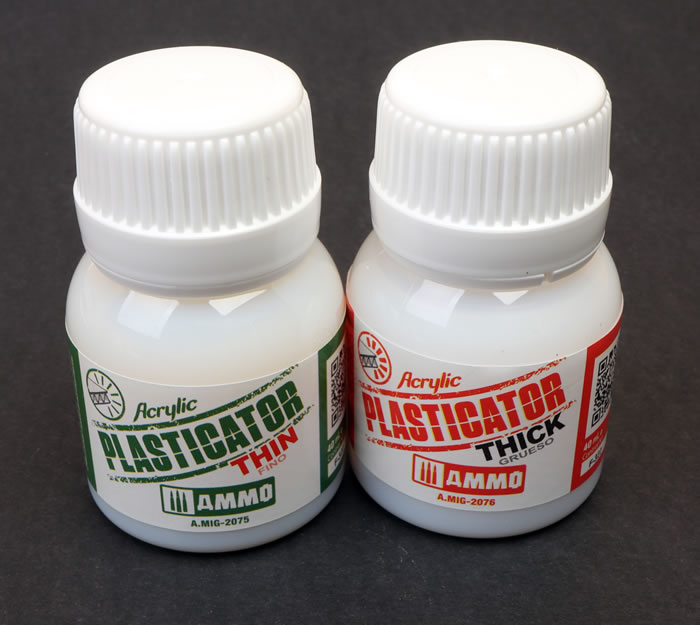 AMMO has a new range called Plasticator. This looks like a really useful product for scratch builders and diorama makers who need to seal porous materials for later painting.
Here is what AMMO has to say about this new product:
"Plasticator will save both time and the amount of paint required to cover absorbent surfaces.
With Plasticator products you can give any surface the texture of plastic, allowing you to paint on materials that prevent proper paint adhesion such as plaster, cardboard pieces, balsa & other woods, and laser cut paper kits.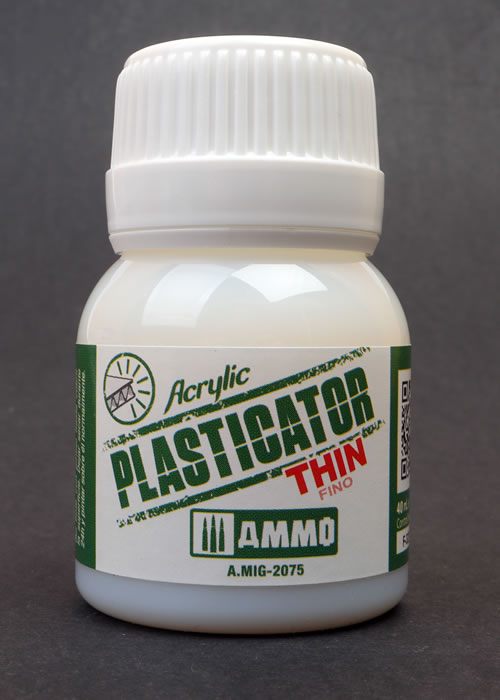 This product seals paper parts, very porous materials such as plaster, and all types of wooden surfaces which also have porous surfaces that would otherwise absorb your paints and require large amounts just to cover the surface.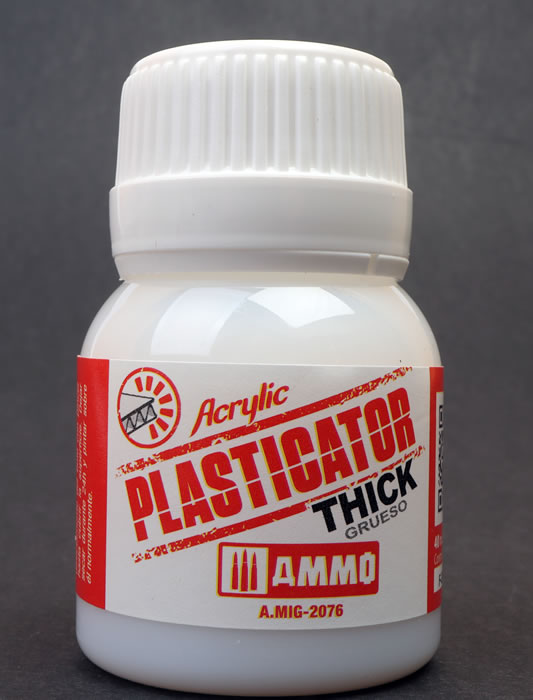 Plasticator is available in two different densities:
Plasticator Thin A.MIG-2075 and Plasticator Thick A.MIG-2076. Both are non-toxic and water soluble for easy clean up."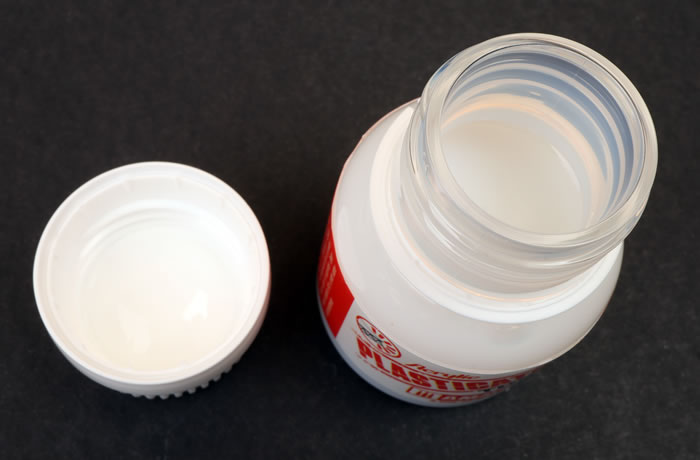 I'll be interested to try these out on a future project.
Recommended
---
Ammo by Mig Jimenez
Paints
Caunter British Camo
Item No. A-Mig 7181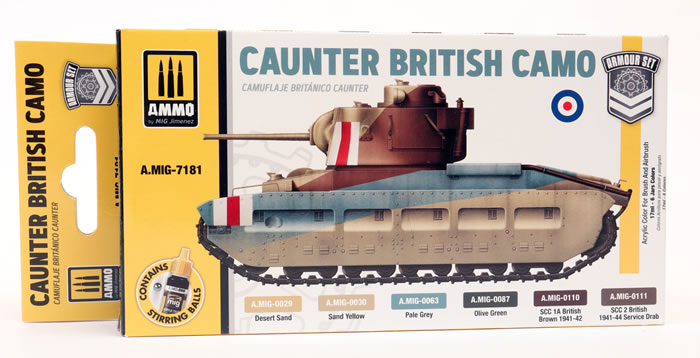 AMMO's latest addition to their vehicle paint range is a set of six colours meant to represent the British desert Caunter Scheme.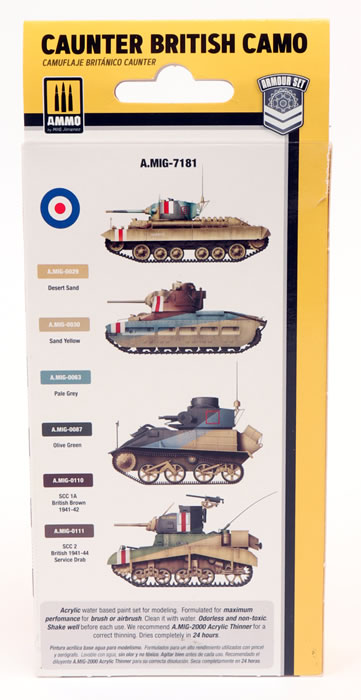 The paints are acrylic. The bottles are squeezable plastic. They are capped with a screw-top plastic lid.

The six plastic bottles are packed securely inside a cardboard box with a convenient sliding tray.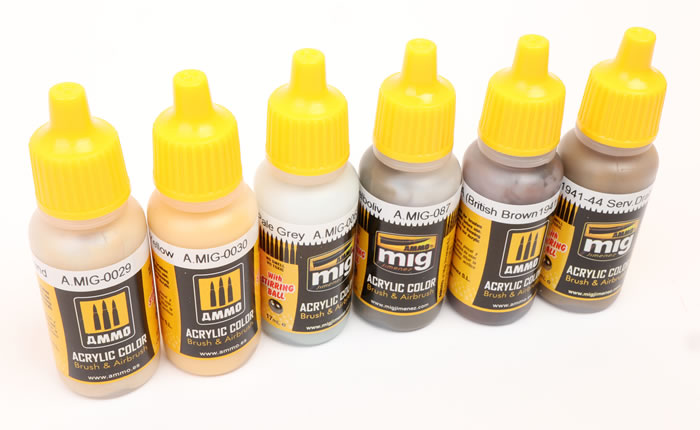 The colours in this set are as follows:
A.MIG-0029 - Desert Sand
A.MIG-0030 - Sand Yellow
A.MIG-0063 – Pale Grey
A.MIG-0087 – Olive Green
A.MIG-0110 – SCC 1A Brown 1941-42
A.MIG-0111 – SCC 2 British 1941-44 Service Drab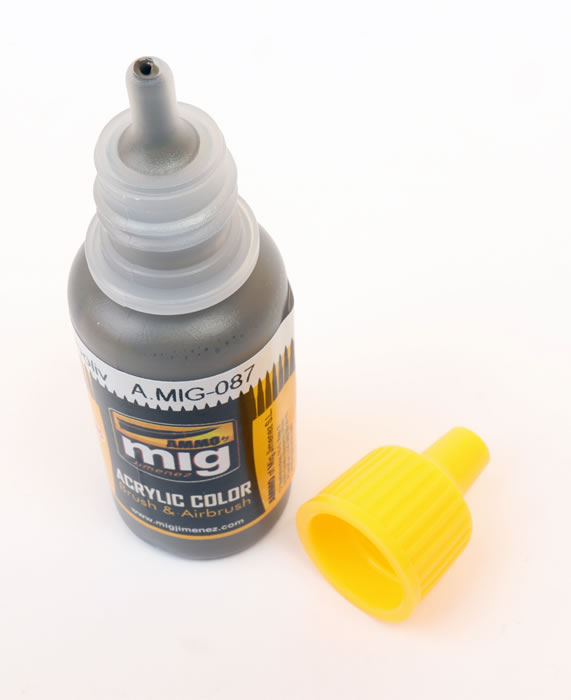 I haven't been able to figure out how some of these match up against British SCC specification colours used in the Caunter scheme (for instance, I would have expected something equivalent to Silver Grey and Slate) , but I will be interested to hear our experts' opinions on the Missing-Lynx British Forum.

Thanks to AMMO by Mig Jimenez for the samples https://www.migjimenez.com/en/


---