Acrylic Washes & WWII US Paratrooper Uniform Paint Set
AMMO by Mig Jimenez
Reviewed by Brett Green


Summary
| | |
| --- | --- |
| Stock Number, Description & Price | AMMO by Mig Jimenez - Acrylic Washes & WWII US Paratrooper Uniform Paint Set (see details below) |
| Review Type: | First Look |
| Advantages: | Versatile and useful finishing and painting products. |
| Disadvantages: | |
| Recommendation: | All Recommended |

F i r s t L o o k
AMMO by MIG Jimenez has released a batch of new painting and finishing products. Let's take a look in detail:

Acrylic Filters - Various Colours
Filters have been around for quite a while now. They were originally used as a method of subtle colour variation on military models, but it is also becoming more common to see filters used on aircraft too.
Filters have traditionally been enamel based, which means that they are not popular with some modellers due to their smelly and slow drying characteristics.
AMMO by Mig Jimenez has now launched a large new range of acrylic washes that will address these issues.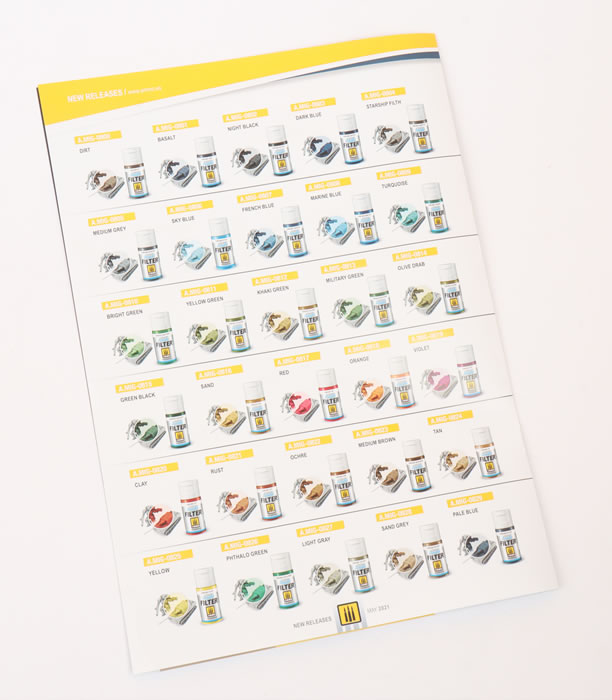 To quote AMMO by Mig Jimenez's website:
"AMMO's new acrylic filters are designed to be applied directly to the model. This new range allows you to add colour variation to your miniatures, harmonize various camouflage colours, or distinguish areas with a different tone. The acrylic filter can be easily applied with a brush, which avoids the need for complicated masking. Moisten the brush with the product and apply it without flooding the surface. Thanks to the innovative formulation, the Acrylic Filters can be retouched or eliminated simply and easily with water during the extended dry time, each filter will dry completely in 24 hours. These versatile filters can also be applied by airbrush for an endless number of effects. Thanks to the wide range of 30 colours available, you won´t need to make complex mixtures, adjust for the proper thinning ratio, or adjust the tone to the intended shade. Each colour can be mixed with one another, or tinted with other AMMO acrylics. The acrylic filters can be diluted and cleaned with water, Acrylic Thinner A.MIG-2000 or Cleaner A.MIG-2001."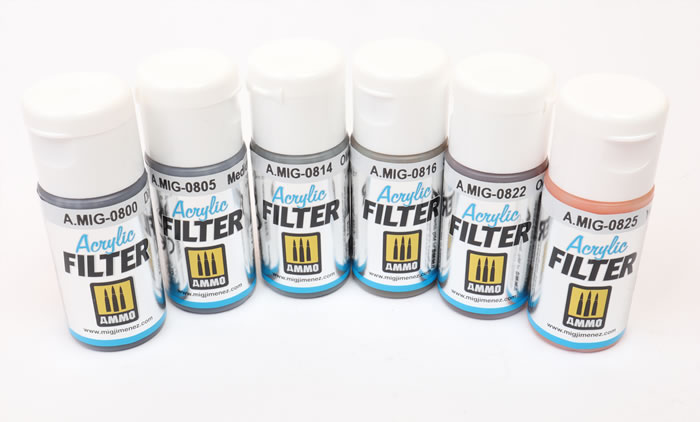 Six sample Acrylic Filters from the large range have been sent for review:
A.MIG-0800 – Dirt
A.MIG-0805 – Medium Grey
A.MIG-0814 – Olive Drab
A.MIG-0816 - Sand
A.MIG-0822 - Ochre
A.MIG-0825 - Yellow
Each colour is contained in a plastic bottle with a flip-top lid.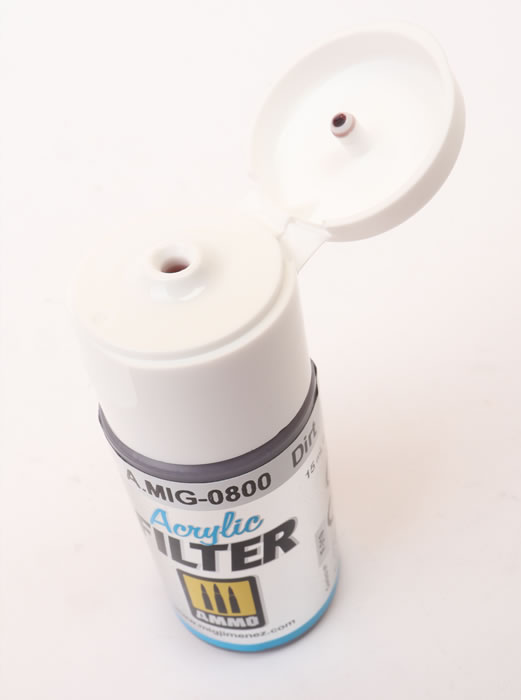 I will try these out on my next military vehicle modelling project and report on my experiences.
---

WWII US Paratrooper Uniform Paint Set
Item No. A.MIG-7039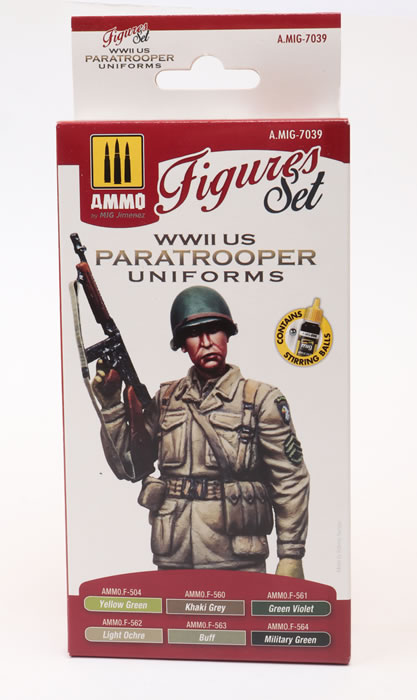 Here's a very useful set for anyone who paints US WWII-era figures. They are labelled s WWII US Paratrooper Uniform but they will also be appropriate for WWII US Infantry uniforms.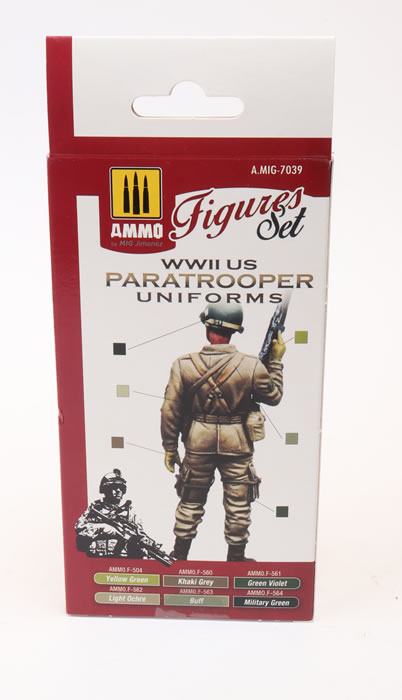 Six acrylic paints are included:
AMMO F-504 – Yellow Green
AMMO F-560 - Khaki Grey
AMMO F-561 – Green Violet
AMMO F-562 – Light Ochre
AMMO F-563 - Buff
AMMO F-564 – Military Green
They are packed in a cardboard box. The paints themselves are contained in a familiar shaped squeezable plastic bottle with screw cap. They have a metal rattle ball inside to make sure the paint will be thoroughly mixed after shaking the bottle.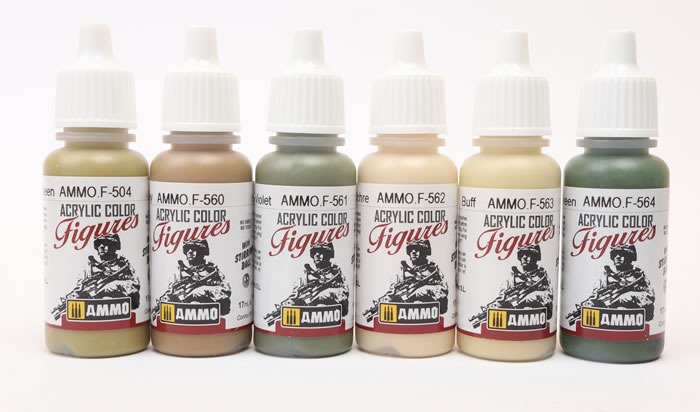 This new uniform painting set from AMMO by MIG Jimenez will be useful to armour and figure modellers.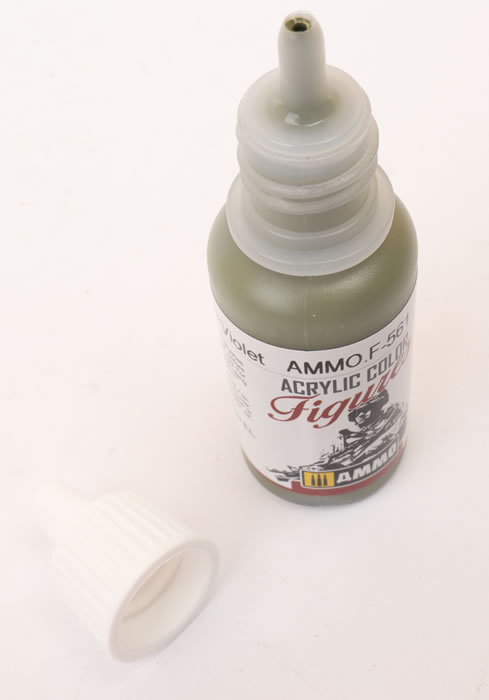 Recommended.
Thanks to AMMO by Mig Jimenez for the samples https://www.migjimenez.com/en/


---