AMMO by Mig Jiminez Paints and Glues
Republic of China
Republic of Korea
Panzer Figures Set
Black Super Glue
Super Glue Activator
Reviewed by Andrew Judson


Summary
| | |
| --- | --- |
| Stock Number, Description & Price | AMMO by Mig Jiminez Paints and Glues. See details below |
| Review Type: | First Look |
| Advantages: | Versatile and useful finishing products. |
| Disadvantages: | |
| Recommendation: | All Recommended |

Paints
AMMO by Mig Jimenez
Smart Set 20, 21
Republic of China Army, A.MIG7172
Republic of Korea Army. A.MIG7173
Ammo by Mig has been producing paint sets for armoured projects for quite some time now and here are two more sets recently released.
The first set is for Republic of China Army Armoured projects in the basic three toned camouflaged, with Brown Soil, Forrest Green and Flat Black.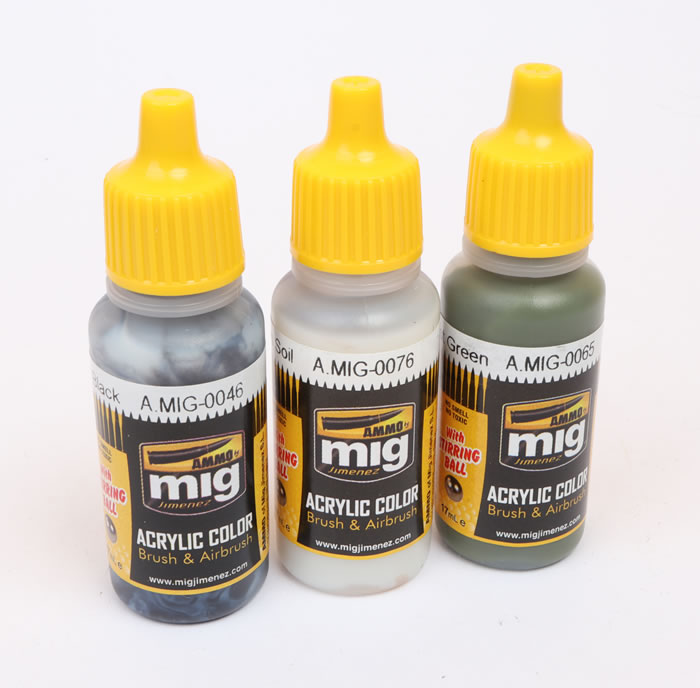 As with all sets, they are an acrylic based paint in a 17 ml plastic bottle, and have a metal stirring ball inside.
Anyone doing current projects such as the CM-11 Brave Tiger will find this a welcome set to add to your collection.
The second set is for Republic of Korea Army, also armoured projects and has 4 17ml plastic bottles with metal shaker balls.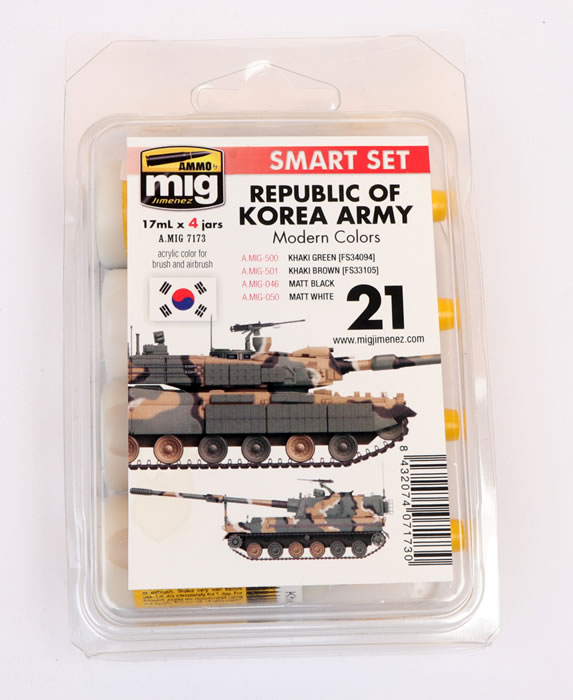 Colours are:
Khaki Green
Khaki Brown
Matt Black
Matt White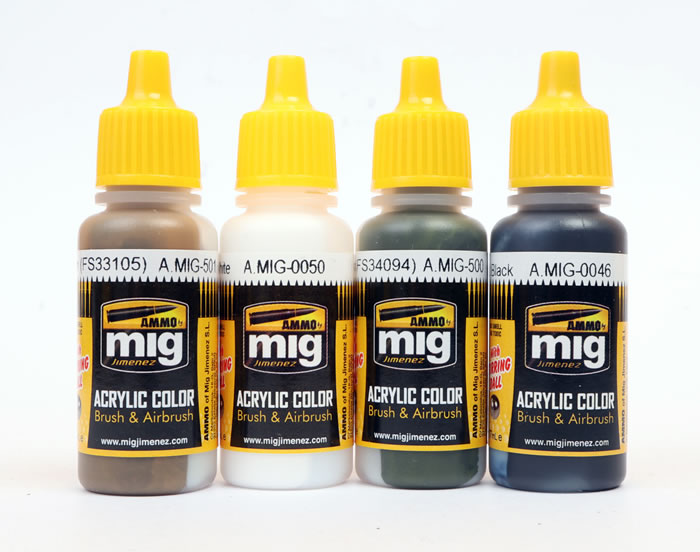 These colours are for current vehicles serving in the republics ordinance. Another welcome set.
---
Paints
AMMO by Mig Jimenez
Figures Set
Panzer Crew WWII
A.Mig-7024
Here we are presented with a specific set of paints, purely to work on German WW2 Panzer crews.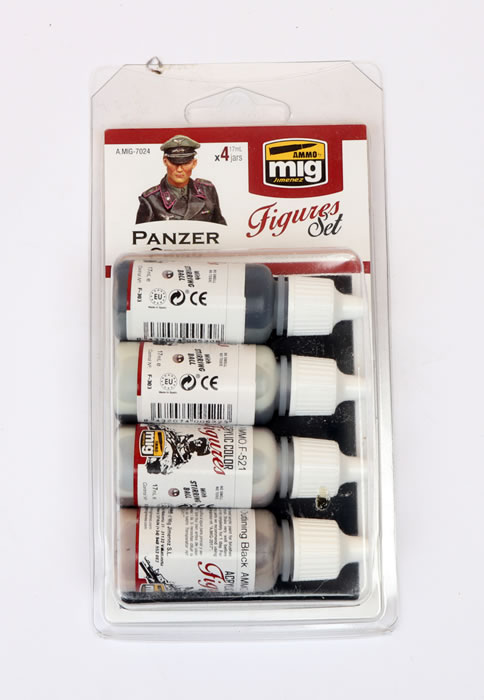 Aside the plastic packaging there are four plastic bottles, 17ml, with steel paint shakers inside.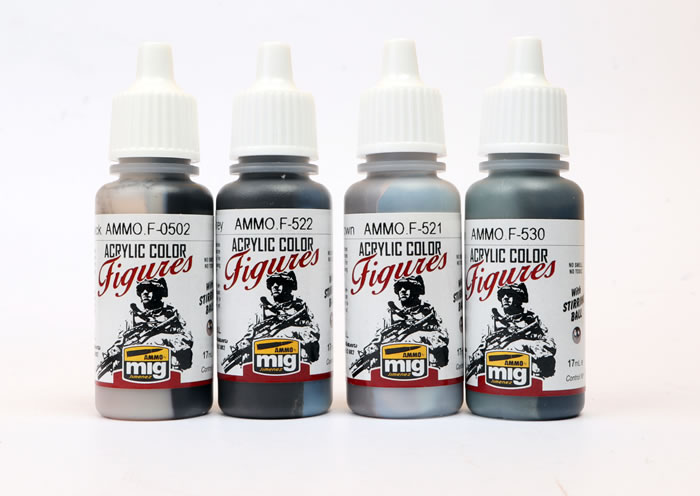 The colours included are:
Outlining Black
Grey light Brown
Slate Grey
Bluish Grey
They are an acrylic based paint.
There is a chart on back of packaging showing how to use these colours to produce a nice looking Panzer crewman as an end result.
I am sure these colours could also be used in many other applications, and will be a handy set of colours to have.
It's great to see Mig really pushing forward with the release of many products.
---
Glue
AMMO by Mig Jimenez
A.Mig8034
Black Cyanoacrylate
Slow Dry
Activator
20ml
Mig has now started producing glue. Here we have a black cyanoacrylate - super glue - in a plastic 21gm bottle that is thick, slow drying, 10-15 seconds, and can glue resin, plastic, photo-etch and some metals. It can be sanded and carved, and also used as a gap filler.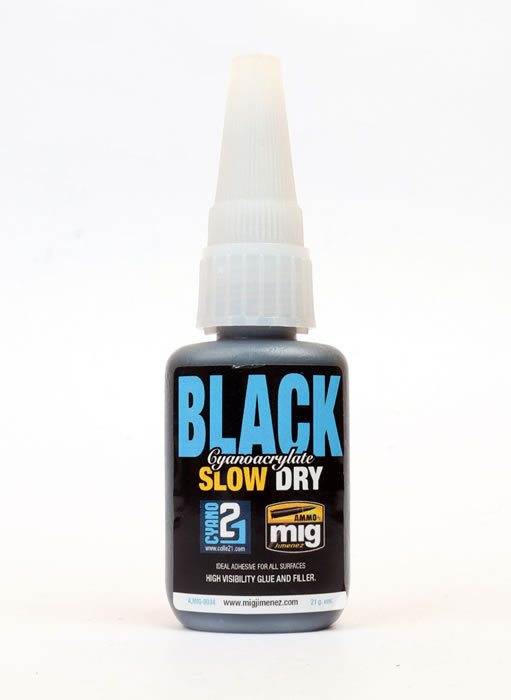 The purpose of the glue being black is so one can clearly see where they have applied it, and if need be, sanded back.
Though a great idea, I think in some applications it would not be so suitable, such as clear parts ect.
Definitely worth having on the bench.
There is also an Activator available under the Mig brand that comes in a small 20ml bottle with both a brush applicator and a spray pump.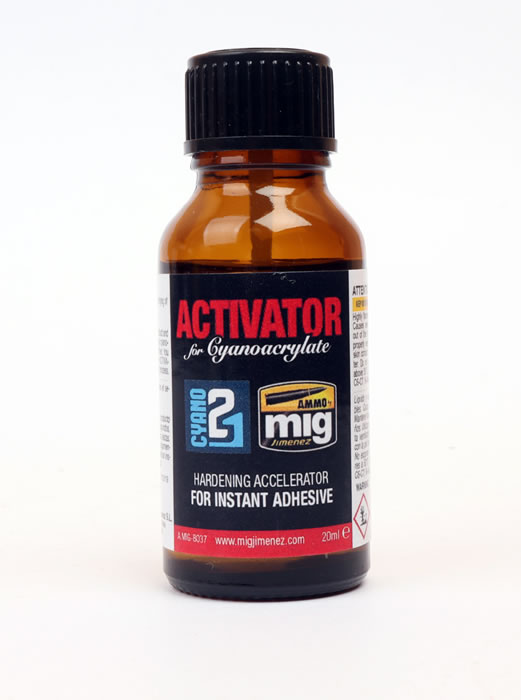 You apply the glue to parts, stick together and spray, instantly activating the glue.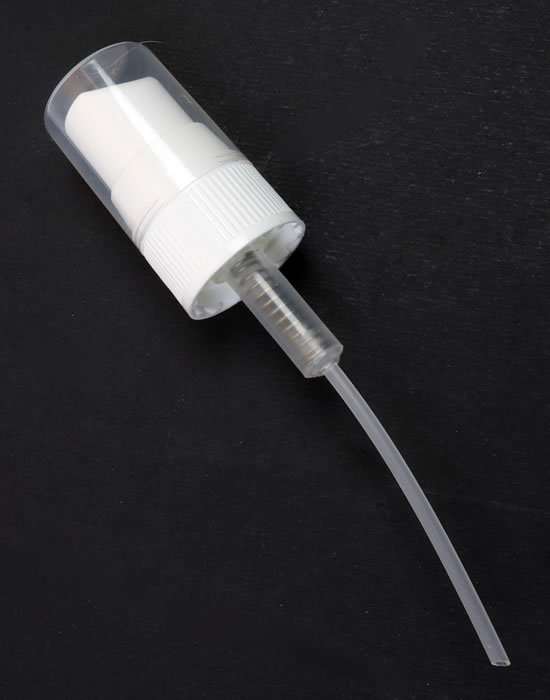 All Recommended
Thanks to AMMO by Mig Jimenez for the samples https://www.migjimenez.com/en/


---