Title:

Master Scale Modelling
by Jose Brito
Published by Vallejo
ISBN: 978-84-09-20559-2
Price tag: €TBA (plus shipping)


Media and Contents:

Soft cover; 552 pages with colour photos

Review Type:

First Read

Advantages:

High quality presentation; expert author; lots of large colour photos.

Disadvantages:

Recommendation:

This is a huge a systematic book, thoroughly very informative with the materials and techniques used! Perfect and on top of that, and tons and tons of inspiration.

FirstRead
This book is a long and hard work by the author.
José Brito is a fantastic person and great modeler, in a category that, for me, is one of the complete and beautiful of modelling – Dioramas.
When I got the package (a very early example posted directly by the author to me), I was quite surprised. It weighs a ton!
When I opened, I saw the beautiful cover and the size of it… it is HUGE!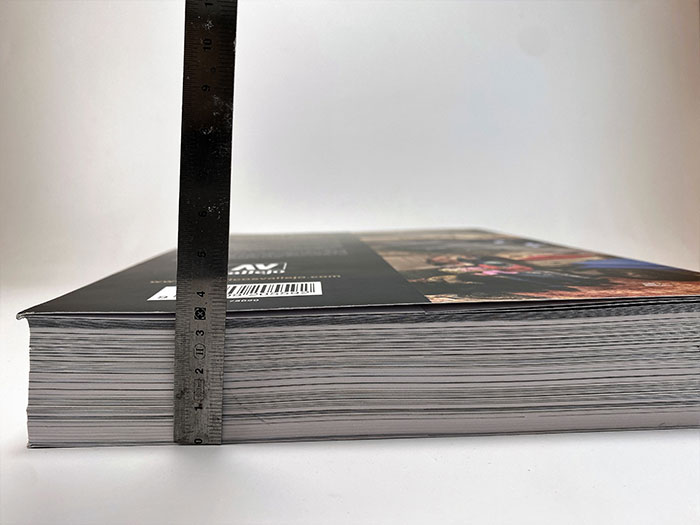 The soft cover is very well designed and very attractive with a sentence that is what this book is all about:
"The Ultimate guide for painting and weathering with Vallejo water based acrylics".
Most of us, modeler, as used to work with lacquers/enamel/oils to paint, and specially weathering models, but this book wants to give to all modelers (expert/intermediate or novice) a new look to water based products and what you can do with them.
For that, this book has 552 pages, in very good impressed color and high quality satin paper.
Opening the book and checking the INDEX, you can see that this book is in fact the ultimate guide of modelling. Everything is here, especially for diorama modeler and AFV modeler… But the aircraft modeler is not put aside as you got a 1:32 HK B-25H full build article, besides all the techniques and ideas that be use on aircraft modelling and aircraft dioramas.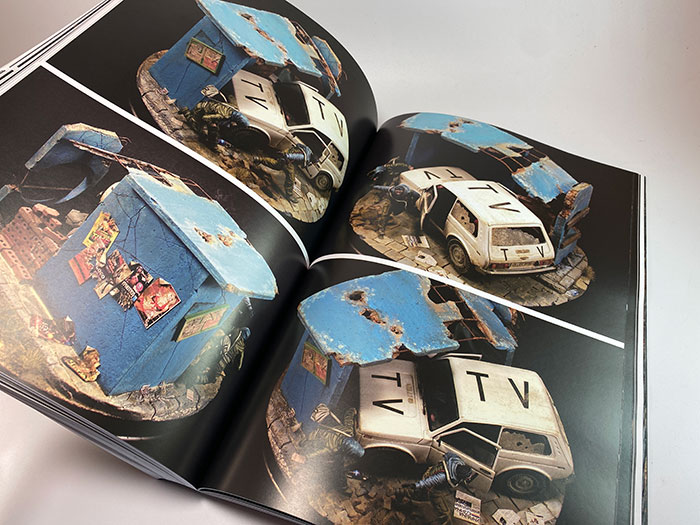 As general items and basic guide (even thought, with good tips), you got:
Tools (every tools is here and with explanation and picture for the tool and how to use it – The author shows in simple step-by-step pics how to use the tools and simultaneity he shows for what they are for 20 pages. It´s quite a learning curve this chapter even for a long-term modeler, like myself having already 30 years in modelling world).

Vallejo Materials

Modelling Materials (here, there are the following sub-sections):

Aftermarkets;

Balsa foam

Bases

Cork

Glues

Isolation foam

Lead foil and aluminum

Metal profiles

Plastic profiles

Rocks

Vegetation

Wires

Wood

Kits (type of kits)

Workplace

Planning and composition

The base and its development

Research
Then you enter the works parts.
An here the author show steps by steps of all the techniques used, in all modelling stages, showing it in work in progress.
"In detailing the kit chapter", there´s several used tips that can be used in those models used (CMP C15A, Sexton II or Panzer IV/70A) or any others.
A fantastic conversion is use on the "extreme kit transformation"… see for yourself.
In painting area, you got a chapter of Zenith light technique and next "Decals how to".
Then it is a diorama paradise with chapters of all kind for all tastes:
Planning with "How to organize a scene to tell a story"

Working with Balsa foam and isolation foam (to design your own buildings)

Water (riverbank; beach, war ship in rough sea, extreme rough sea…);

Terrain:

Summer base;

Autumn base

Winter base;

Urban decay (pavement and urban infrastructures, urban decay base)

Decayed Road

Desert base

How to make a small size diorama (WWI)

How to make a large size diorama (WWI)
In addition, this is not all, as you got several fantastic works (all dioramas) where the author shows the techniques and all kind of terrain and vehicles:
Syrian Chaos (with a complex destroyed building

Toyota Syrian;

Europe 1946 – the war is over;

Lanchester – World war I

Sherman Tank (in the Pacific – Cape Gloucester 1944);

Heavy Mortar (WWI)

Donbass War
Enough?
Well the author did not think so…
So a fantastic 1:32 HK B-25H is made with all step-by-step. Utterly fantastic.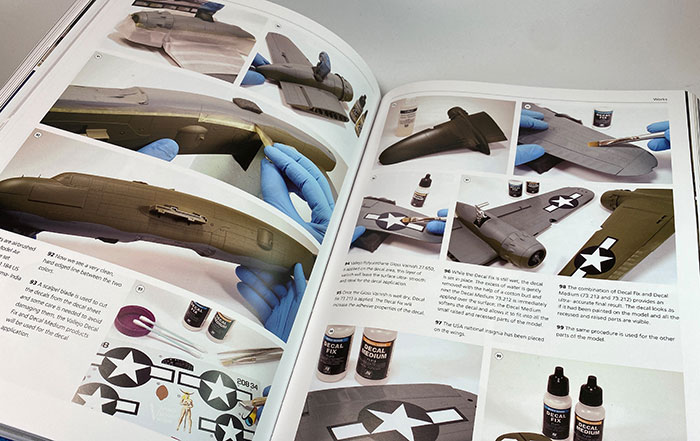 However, it is not over, as the author pass also to figures with base with metal and blood and four large-scale figures made step-by step from RP Models.
All other dioramas, step-by-step of the 1:35 figure is given.
At this time, it`s over… well not yet, as there also chapters of sfi-ci with "detailing a sci-fi" and "Sci-fi scene"
Moreover, it end in the best way:
An extended gallery with lots of lots of work from the author.
All the works showed in this book are from José Brito and no one else (there`s only on model not made by him but all the base and diorama/vignette scene was).
---
C o n c l u s i o n
I have had the pleasure to be José Brito friend, over 15 years now and because of that, I`m one of the lucky person that saw almost (probably all) models/diorama that are in this book…
Well, my first impression when you look at it was, WOW!!! And I didn't open yet.
This is to José Brito: I´m proud of you, my friend.
The book of 552 has high-grade paper and satin finish with top quality pictures with great contrast color.
It is really quite hard to review and comment a perfect work.... For me, it is art!
In sum, this book is quite outstanding. The text is quite simply, very comprehensive and an easy reading. The print quality is outstanding (great job Vallejo).
This is a huge a systematic book, thoroughly very informative with the materials and techniques used! Perfect and on top of that, and tons and tons of inspiration!
José Brito is one of the best in the world in dioramas (and he shows here that is probably the most complete modeler in the world… he just can do anything with high quality.
The modelling world have waited far too long for a José Brito diorama book and the wait has paid off.
The modelling world got an all-new master scale modelling ultimate book!
---
Very special thanks to my friend José Brito, for the fantastic BOOK! For more information, check Acrylics Vallejo site here.
If you found this review helpful and decide to purchase this product, please tell them you read about it at Missing-Lynx!
Disclaimer: all photos were taken in order to preserve and prevent all copyright.
Text and Images by Francisco Guedes
Page Created 15 November, 2020
Page Last Updated 15 November, 2020