Soviet Machineguns and Equipment
MiniArt, 1/35 scale
Reviewed by Cookie Sewell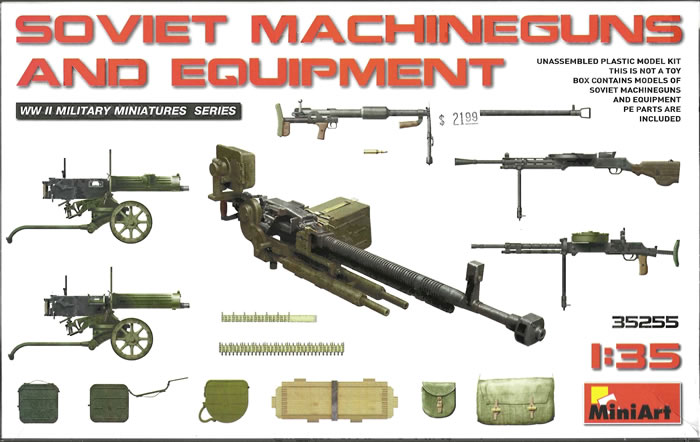 Summary
Stock Number and Description

Miniart 1/35 Scale Kit No. 35255; Soviet Machineguns and Equipment

Scale:
1/35
Media and Contents:

169 parts (154 in grey styrene, 15 etched brass)

Price:

US retail price US$21.99

Review Type:
First Look
Advantages:

Nice, clean upgrade parts for some older kits.

Disadvantages:

None noted unless you need multiple DShK or DT guns

Recommendation:
Highly Recommended

for anyone with an older kit of a Soviet tank wanting newer weapons

FirstLook
In recent years "boutique" kits of machine guns for armored vehicles have appeared and are quite useful for replacing some of the moldings in older kits. This nice set from Miniarm provides a number of weapons and accessories to include"
- One 7.62mm Maxim Model 1910/30
- One 7.62mm Maxim Model 1940
- One 7.62mm Degtaryev DP Infantry Machine Gun
- One 7.62mmm Degtaryev DT Tank Machine Gun
- One 12.7mm DShK heavy machine gun
- One 14.5mm PRTD-41 antitank rifle
- Four 7.62mm ammo crates
- Four DP-27 ammo boxes
- One cartridge bag
- One canvas DP-27 pouch
All of the guns are petitely molded and have slide molded open muzzles. Each one comes with its respective ammunition bin or drum and the PTRD comes with three separate rounds.
The 7.62mm Maxims have interchangeable jackets for the 1910/30 (no blowoff valve/filler port) and the 1940 (blowoff valve/filler port). They each have neatly done wheeled carriages and small accessories.
The DP and DT come with shared components such as bipods and a small and large drum; the large drum is a 63 round one normally found in tanks.
The DShK is the later model with the twin plate muzzle brake (the "tulip" is the early model) and comes with both a WWII mount and if you look carefully the postwar mount as well on the unused parts. It has one ammo can for 12.7mm ammo with it.
The PTRD-41 comes with an ammo satchel and detail components to include sights and the bolt assembly.
The ammo bags and magazines come with a choice of plain or embossed covers. Separate belts are included for the Maxim guns.
Overall this is a nicely done set albeit not cheap, but it does provide six weapons and their accessories in one package.

---

Sprue Layout:
A 11x4 Amm pouches, crates
Cb 30x2 Maxim guns, barrels, accessories
Cd 10 PTRD-41 antitank rifle, rounds, accesories
Db 10 DP and DT machine guns, accessories
Hj 2 12.7mm ammo can
J 20 DShK machine gun and accessories
Ja 8 DShK mount components
PE 15 Etched brass
---