Soviet Armoured Cars 1936-45
Osprey Publishing
by Jamie Prenatt

Reviewed by Peter Brown
Summary
FirstRead
Viewed from today, it seems ironic that a bastion of US industry, the Ford Motor Company was the foundation of Soviet armoured car manufacture.
Ford cars and trucks were the basis of machine gun armed light four wheeled armoured cars and the heavier cannon equipped six-wheelers, initially using imported chassis, then as home produced near copies; one factory later became the GAZ plant. Light armoured cars included the BA-27, D-8, D-12, FAI, BA-20 and the mass produced BA-64.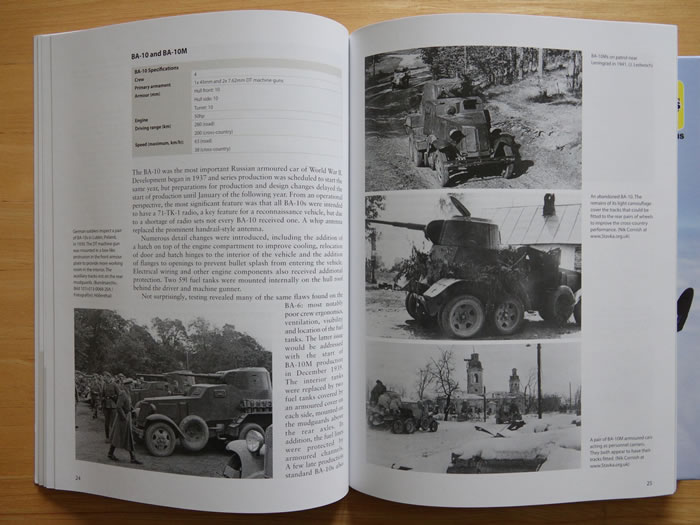 The six-wheeler production vehicles BA-3, BA-6, BA-10 shared a similar hull shape but differed in turret style, hatches and fuel storage; all carried removable overall tracks for the rear wheels for use in snow and mud. The Izhorskiy factory built a few distinctively hulled BA-11 six-wheelers on ZiS chassis.
Railway versions of the main types had interchangeable road and rail wheels. Some prototype or low production armoured cars included amphibious cars, command cars, APCs, ambulances, light half-tracks and heavier armament types.
Soviet armoured cars saw action in the Spanish Civil War, in the frontier battles at Khalkin Gol, Poland and the Finnish Winter War and other WWII campaigns.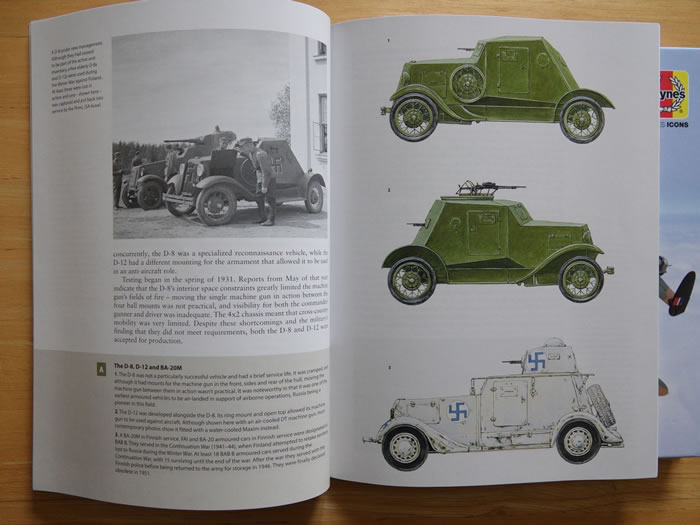 A standard for an English language account of Soviet armoured cars is the out of print Kinnear book, but this Osprey title has much of the essential information plus more on operational use.
This will be a useful book if visiting Moscow museums.
Recommended.
Available online from Osprey Publishing and specialty book shops worldwide www.ospreypublishing.com
---
---