Home > Reviews >Russia > Osprey Publishing. Retribution - The Soviet Reconquest of Central Ukraine 1943 by Prit Buttar
Retribution

The Soviet Reconquest of Central Ukraine 1943
Osprey Publishing
by Prit Buttar

Reviewed by Peter Brown
Summary
Title:

Osprey Publishing
Retribution - The Soviet Reconquest of Central Ukraine 1943
by Prit Buttar

ISBN:

978 1 4728 3535 2.

Media and Contents:

Paperback 480pp

Price:

GBP£16.99 plus shipping available online from Osprey Publishing's website. Digital Edition available for £21.00.

Review Type:

First Read

Advantages:

This is an all-round day by day account vividly illustrated by the experience of participants, from dilemmas and disputes of senior commanders, to soldiers at the front under the terror of bombardment, and tank crews facing massed tank attacks. .

Disadvantages:

Recommendation:

Recommended
FirstRead
"The whole river was alive with people and vehicles, and every crew tried to save their tank.....bombs rained down mercilessly". This was the Dnepr as the Soviet Army forced a crossing.
Rivers were both obstacles and defence lines in the Ukraine battles: the Donets, Mius, and the race to the Dnepr where the Red Army sought to trap the retreating Wehrmacht behind the river.
After the Kursk tank battles failed to deliver the impetus for further German advance, Zhukov's swift counterattack caught Manstein, Army Group South commander, off balance. Four months of relentless hammer blow assaults led by Soviet tank armies followed.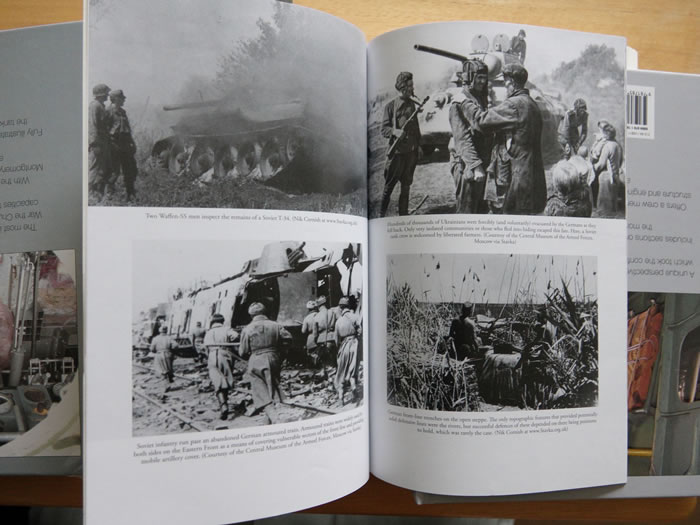 The Red Army had learnt from past mistakes and German grand encirclements were in the past; relocated factories in Siberia were producing increasing quantities of T-34s and aircraft, outstripping the output of new Panthers, the Tigers and StuGs. Repeatedly redeploying battlegroups to defend the shrinking lines, the Wehrmacht fought a slow withdrawal, though by concentrating forces it would still mount large tank counterattacks.
Occupation atrocities – massacres, deportations, expropriation, and scorched earth practices incited a determination for retaliation against the Nazi invaders; Kiev was recaptured before year end.
This is an all-round day by day account vividly illustrated by the experience of participants, from dilemmas and disputes of senior commanders, to soldiers at the front under the terror of bombardment, and tank crews facing massed tank attacks.
Recommended
Available online from Osprey Publishing and specialty book shops worldwide www.ospreypublishing.com
---
---