Home > Reviews > Russia > Tamiya 1:35 Russian

Heavy Tank KV-1 Model 1941 Early Production

. Kit No. 353

72
Russian Heavy Tank KV-1 Model 1941 Early Production
Reviewed by Brett Green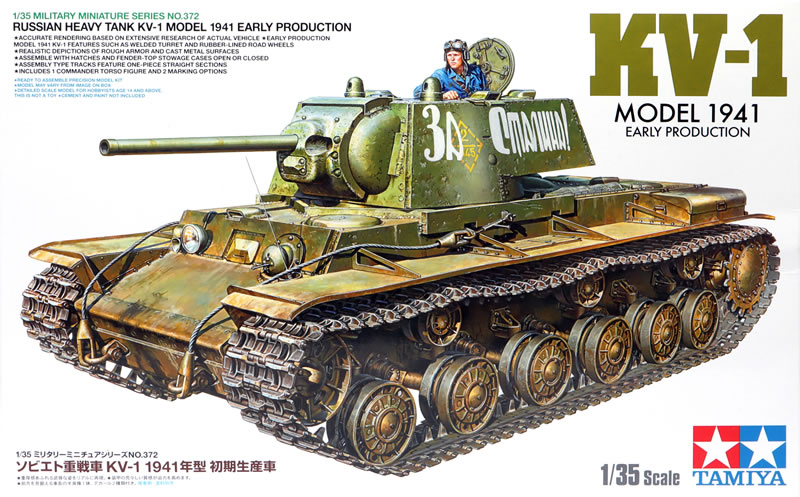 Summary
Stock Number and Description

Tamiya Kit No. 35372 - Russian Heavy Tank KV-1 Model 1941 Early Production.

Scale:
1/35
Media and Contents:

299 parts in dark green plastic; two parts in clear; eight polythene caps; 1 length of string; markings for two vehicles.

Price:

4300 Yen

Review Type:
First Look
Advantages:

High level of detail; beautiful surface twxtures; perfect fit; link and length tracks; includes Commander figure.

Disadvantages:

Some ejector pin circles.

Recommendation:

Once again, Tamiya has delivered a well-detailed and easy to build model of an iconic vehicle. This new model has nothing at all in common with the 1972 release. It features plenty of detail and the surface textures, especially the rolled steel effect and torch cuts, are stunning. This is a worthy and faithful replica of an important WWII Soviet tank.

Background
The Kliment Voroshilov (KV) tanks, a series of Soviet heavy tanks named after the Soviet defence commissar and politician Kliment Voroshilov, operated with the Red Army during World War II. The KV tanks were known for their heavy armour protection during the early stages of the war, especially during the first year of the German invasion of the Soviet Union. In certain situations, even a single KV-1 or KV-2 supported by infantry could halt large German formations. The German Wehrmacht at that time rarely deployed its tanks against KVs, as their own armament was too poor to deal with the "Russischer Koloss" – "Russian Colossus".
The KV tanks were practically immune to the 3.7 cm KwK 36 and howitzer-like, short-barreled 7.5 cm KwK 37 guns mounted, respectively, on the early Panzer III and Panzer IV tanks fielded by the invading German forces. Until the Germans developed more effective guns, the KV-1 was invulnerable to almost any German weapon except the 8.8 cm Flak gun.
Prior to the start of Operation Barbarossa in June 1941, about 500 of the over 22,000 tanks then in Soviet service were of the KV-1 type. As the war progressed, it became evident that there was little sense in producing the expensive KV tanks, as the T-34 medium tank performed better (or at least equally well) in all practical respects. In fact the only advantage the KV had over the T-34/76 was its larger and roomier three-man turret. Later in the war, the KV series became a base for the development of the IS (Iosif Stalin) series of tanks and self-propelled guns.*
---
FirstLook
Tamiya released their first 1:35 scale KV-1 kit in 1972. It was a typical kit of its day with motorisation options and full length vinyl tracks.
In 2005, Trumpeter launched their Kliment Voroshilov family with a KV-2, quickly followed by around ten variants of the KV-1/2/85 family, both mainstream and rare. These were some of Trumpeter's best ever kits.
Tamiya's brand new 1:35 scale KV-1 owes nothing at all to the 1972 release. All parts are new. It comprises 299 parts in dark green plastic, two parts in clear, a length of string, eight polythene caps and markings for a choice of two vehicles.
You even get a 1:20 scale paper model of the KV-1 in 1:35 scale (don't worry - it took me a little while to get my head around the concept too!).
Surface textures ae very impressive. I especially liked the pitted and irregular rolled armour plate effect on the turret parts, the cast texture on the mantlet and the crisp torch cuts on the edges of armour plates.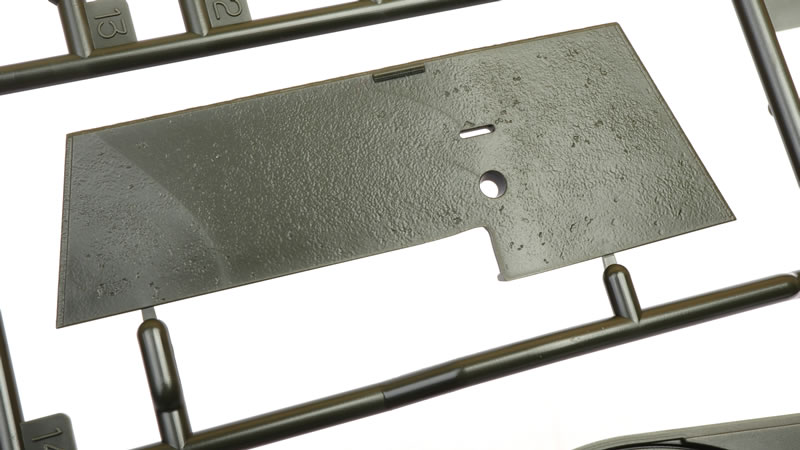 Moulding marks or ejector pin circles are mostly located where they cannot be seen on the finished model. The main exception is three recessed circles on the inside of the hatches, which will be visible if they are posed open.
The lower hull is broken down into the two sides, floor, middle bulkhead and curved rear plate. .
The hull top features separate driver's and engine hatches that may be posed open if you wish. The forward hull is also made up of individual plates.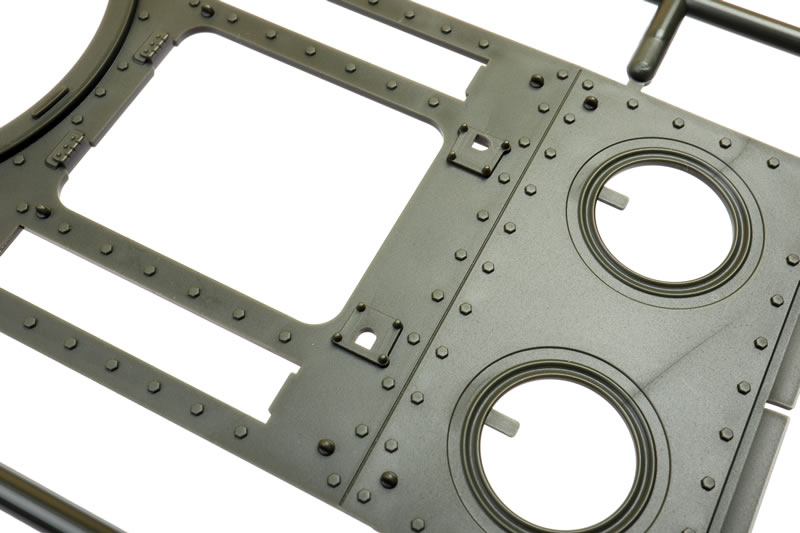 The engine deck mesh is moulded from solid plastic but looks pretty good. I think they will be quite convincing after painting and weathering.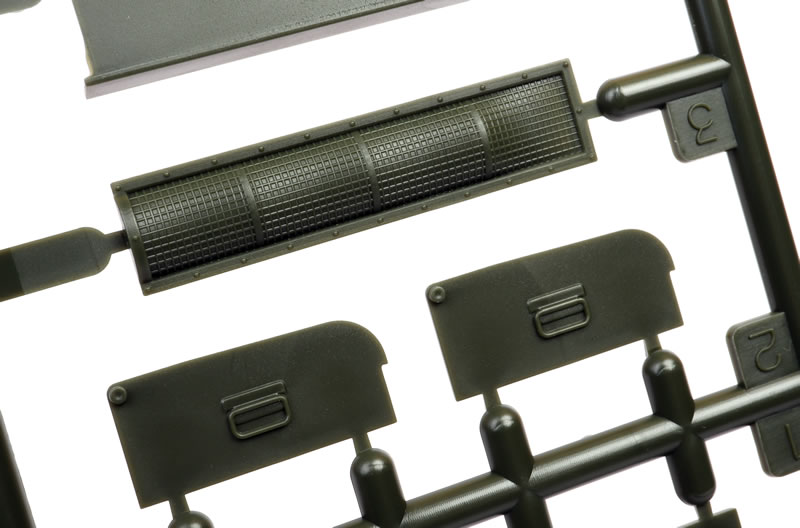 Construction now moves on to the running gear, which offers separate bump stoppers, swing arms and well detailed three-piece road wheels. The drive sprockets and idler wheels are secured using polythene caps, which will make fine-tuning the link and length tracks easier.
The link and length tracks are made up from a long top track run with sag moulded in place, a long flat bottom run, two short five-link runs to bridge the gaps between the bottom run and the drive sprocket and idler wheel, and 14 individual links on each side to wrap around the sprocket and idler. There are some faint ejector pin circles but they are on the inner surface and will be very difficult to pick out.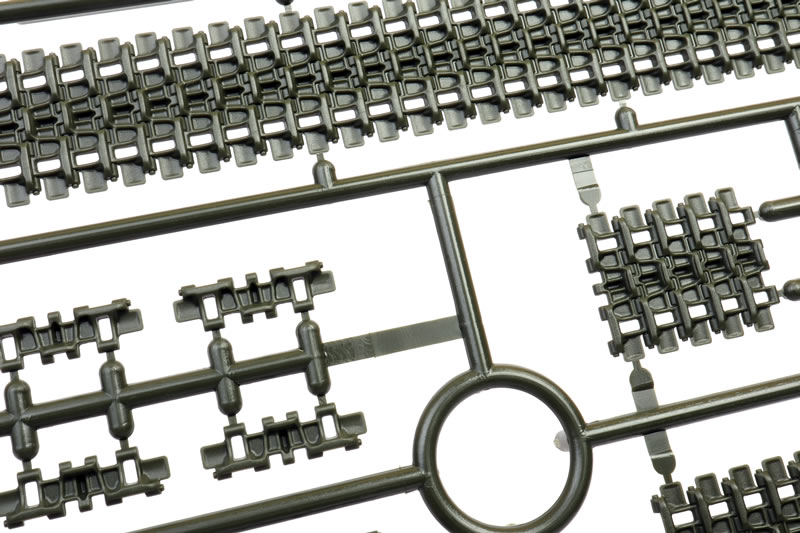 The stowage boxes are five pieces each and the lids may be posed open or closed.
The turret race features fine teeth and the mating circle on the bottom of the turret is made up from six separate pieces. You'll need to double check that these parts are properly seated or the turret won't rotate as intended.
The turret itself is broken down into separate sides, front, rear, base and roof. The rear turret machine gun is moveable after assembly (as is the hull machine gun), and the 76mm gun may elevate and depress thanks to the use of polythene caps. There is no breech or other interior detail.
The turret hatch may be posed open and a very nice seven-piece Commander torso figure is included. Clear goggles are provided for the Commander
A clear part is also provided for the headlight lens.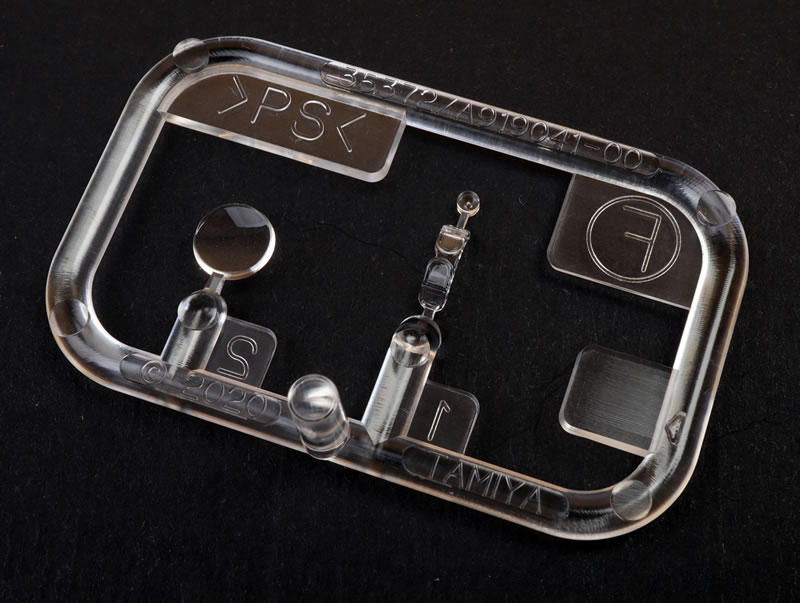 The only multimedia in the kit is a length of string for the tow cable.
Two simple marking options are provided for vehicles in overall 4BO.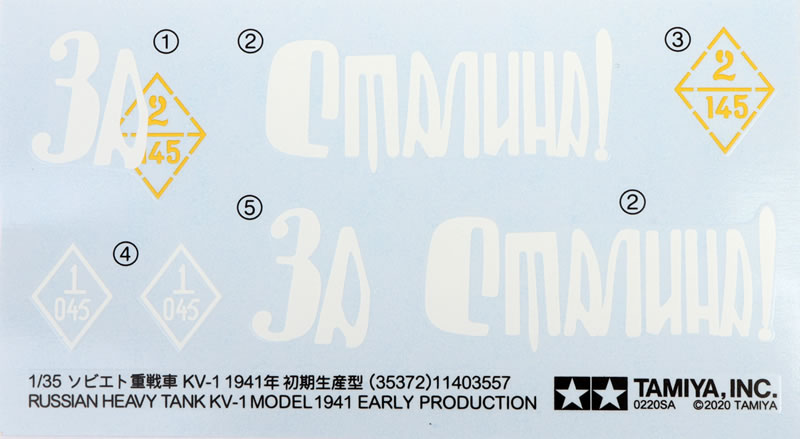 The instructions are well laid out over 37 steps with clear illustrations supplemented by text directions where required. The section dealing with the tracks is especially well done.
---
Conclusion
Once again, Tamiya has delivered a well-detailed and easy to build model of an iconic vehicle. This new model has nothing at all in common with their 1972 release.
It features plenty of detail and the surface textures, especially the cast effect and torch cuts, are stunning.
This is a worthy and faithful replica of an important WWII Soviet tank.
---
Addendum - Trumpeter vs. Tamiya
So is this kit better than the very respectable Trumpeter KV-1 kits?
The short answer is yes.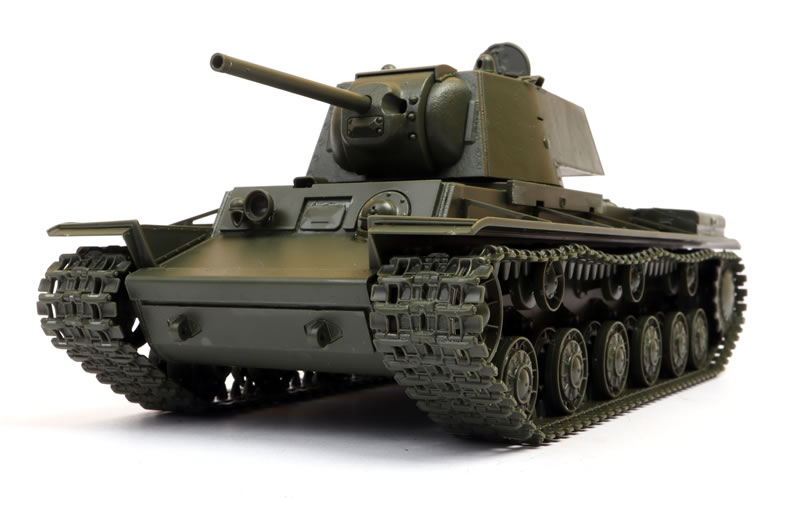 The Trumpeter kit is still very good but I have compared the sprues of my Trumpeter KV-1 Model 1942 with the new kit and Tamiya is ahead in a couple of respects.
Tamiya's surface textures are clearly superior. Trumpeter's main plastic parts are generally featureless except for some fine weld beads.
Detail on some of Tamiya's parts is better, notably the road wheels, the turret race and engine deck mesh although I prefer the interior of Trumpeter's one-piece hatches - no ejector pin marks on these either.
As far as options go, Trumpeter gives you the choice of full-length flexible vinyl tracks or injection moulded link-and-length tracks while Tamiya offers the little cardboard cut-out identification model and a very nice Commander figure.
In summary then, just looking in the box I think Tamiya nudges ahead of the Trumpeter kit. Of course, if you want to build any variant other than the Model 1941 Early Production, Trumpeter is still your only option.
This also does not take into account the joyful Tamiya building experience.
I have already completed basic construction of Tamiya's new KV-1 in a period of less than two days.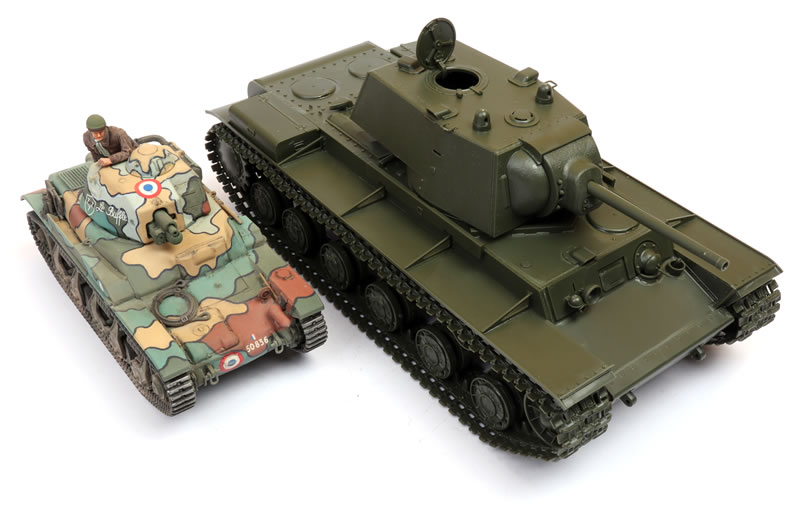 Fit was perfect and the build was trouble free. It's a big beast too, as may be seen by a side-by-side comparison with Tamiya's new 1:35 R35.
* Historical summary courtesy of Wikipedia.
Thanks to Tamiya for the sample
Tamiya kits are distributed in the UK by The Hobby Company Limited


---