T-62 Soviet Main Battle Tank
Zvezda, 1/35 scale
Reviewed by Cookie Sewell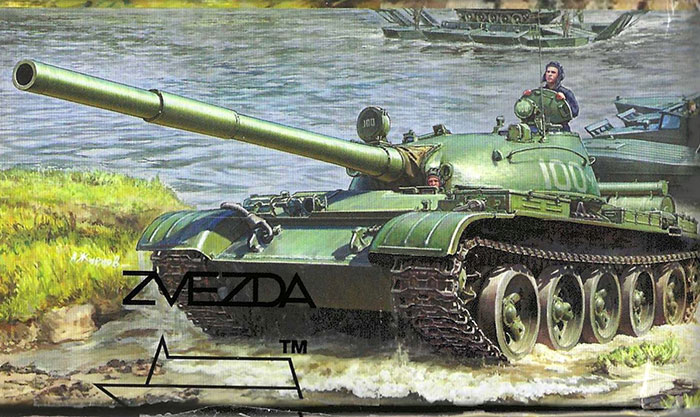 Summary
Stock Number and Description

Zvezda Kit No. 3622; T-62 Soviet Main Battle Tank

Contents:

349 parts (333 in grey styrene, 16 in clear styrene)

Scale:
1/35
Review Type:
First Look
Advantages:

Best kit of a T-62 of any model in this scale; nicely thought out parts breakdown and use of link-and-length tracks makes assembly easier than some.

Disadvantages:

Missing fuel lines; some extremely tiny and thin parts may be problematic.

Recommendation:
Highly Recommended

for all postwar Soviet armor fans and fans of third world armies.

FirstLook

By now most Soviet armor fans know the story of the T-62 and how it came to be. In the late 1950s the Soviets were working on replacements for the T-54/55 series of tanks with their 100mm D-10T series guns and wanted more punch to deal with new NATO tanks. Their initial choice was the 100mm D-54TS high power gun but it had too many major drawbacks, including rounds which were close for 1.3 meter or four feet long. This made them nearly impossible to maneuver inside the turret.

The two prototype tanks with this gun, Object 140 from Nizhniy Tagil and Object 430 from Kharkov, both failed their tests. But in the meantime, when the British debuted the new 105mm L7 gun, a demand went out for a bigger and more powerful weapon. By boring out the D-54TS they found they could achieve a 115mm smoothbore gun, and by using APFSDS projectiles they could defeat any known armor at that time.

Kharkov worked on its Object 432, which used a version of this gun that used separate loading ammo and a mechanical loader; Nizhniy Tagil used a normal version of the gun but designed a new turret to fit on a stretched T-55 chassis. While Kharkov's tank suffered massive teething troubles, the Nizhniy tank flew through testing with only minor problems. But as powerful ministers wanted the Object 432 tank to be the new standard Soviet medium tank, the Red Army did not as wanted a functional vehicle right now.

In a sort of compromise, the Nizhniy vehicle was adopted as the T-62 medium tank but was instead considered to be a "tank destroyer". It was relatively popular in service and three models were built: Model 1962 with the original T-55 engine deck; Model 1967 with a new engine deck more suitable for underwater river crossings; and Model 1972, which added back the 12.7mm AAMG removed in the first series of tanks.

More than 19,000 T-62s of all types were built by the Soviets and others were built under partial license in North Korea as the "Chon'-ma" series of tanks. They began to be sold abroad in 1969 after consideration of problems in the Middle East and fought with the Egyptians and Syrians in the Yom Kippur war. Today they are serving with more than 30 different countries.

Kit-wise the first kit of the T-62, a Model 1972, came out from Tamiya in 1977 and in some circles was the "Kit of the Year" for being first. But upon closer examination and as plans and more photos appeared in the West, it turned out to be very poorly done and missing a lot of details and shapes, worst of all being the turret shape and the hull profile.

In 2009 Trumpeter released its first T-62 kit, which was a Model 1962; they later followed it with kits of a Model 1972 and a "Model 1984" (T-62M upgrade with appliqué armor). At first it appeared they corrected all of the flaws of the Tamiya kit, but unfortunately added new ones of their own. Worst were a skewed loader's hatch on the Model 1962 and a totally wrong stern profile to the hull. Strike Two.

Now in 2021 Zvezda released a new kit of the Model 1962, and as of right now it is by far the best and most accurate kit of the vehicle extant. Apparently based on a thorough examination of an example at the Vadim Zadorozhniy Vehicle Museum in Krasnogorsk, it corrects all of the previous flaws of the other kits. The turret has the correct profile and orientation of the loader's hatch, and the hull now sports the proper -4 degree drop and the 86 degree fit of the rear hull plate to it (forming a 90 degree angle where they joint, not 90 degrees to the ground). It also provides the proper two-secton OPVT fording snorkel which is carried on top of the rear auxiliary fuel tanks. Options include open or closed searchlights for the tank and the commander, and also open or closed fording hatches for the radiator air exit over the fan at the right rear of the hull.

Well-known Russian expert "Gur Khan" (Aleksey Kholpotov) reviewed the kit and was not as kind as one would have thought he would be, but then again keep in mind that he a) has access to the factory and also their blueprint s and b) looks at the model from an engineering standpoint, not a model producing and building one.

Zvezda has once again produced a state-of-the-art kit and actually did it in 200 less parts than Trumpeter, also without any etched brass or wire. The hull is broken down into six parts; belly pan, sides, foredeck and glacis, engine deck, and stern plate. Molding is crisp and while Gur Khan noted some missing details on the suspension mounts, most modelers will build the kit with its wheels in place so missing details there are not visible.

The turret replicates the bulge of the original at the front by having an insert section that fits in the front for mounting the main gun. This was one of the bigger failings of the Tamiya kit and one that put after market producers like Chesapeake Model Designs, who for many years had the best and most accurate T-62 turrets.

Construction of the kit starts with the turret (!). The barrel is two-piece styrene with an add on bolt ring for the front of the bore evacuator, but with a Flex-I-File that should not be a major problem for most modelers. It comes with a few options such as either the open or covered machine gun barrel and sight port on the front of the turret. Hatches may be open or closed but there is no interior in the turret.

The kit also provides the "brezent" canvas covering tarp in its stowed position at the rear of the turret; this is another option.

The fenders come with separate braces and four-piece fuel tanks but as noted you will need to come up with your own fuel lines from soft wire.

The engine deck replicates the T-55 style with open radiator air intake and framework for the sealing tarp around the deck on this version.

The suspension consists of three-piece road wheel arms and two-piece road wheel sets with suspension arms for the 1st and 5th road wheel arms. Larger wheel bearings are provided for those road wheel sets as well. The tracks come with sag molded into the top runs (three pieces – D1, D2 and D11) with single link wraps for the drivers and idlers. As noted these are OMSh type with engagement holes for the driver teeth.

The remaining details are petite and nicely done. The unditching log (part F68) is smooth and will need "roughing up" to look like wood. Auxiliary fuel tanks are four parts so some filing and matching will be needed for best appearance. Tow cables come premolded but thus far my experience with these is they fit fine if you follow the kit directions.

As for finishing directions, you are literally pretty much on your own! Color views are shown of one tank from the 4th "Katemirets" Guards Tank Division in 1972-74. Protective Green is the base color(they recommend Tamiya XF61 for that ). A large number jungle for the tank and a smaller one for the auxiliary fuel tanks (apparently "midnight requisitioning" existed in the Soviet Red Army too) is provided. For general purpose use, the "Cliff's Notes" version of markings for a Soviet tank division is three digit numbers; 1, 3 and 5 are for the tank regiments in a tank division, and 8 is usually for the battalion attached to the motorized rifle regiment. Tanks usually run 10 to a company with 0 being the commander and 1, 4, and 7 the platoon leaders (e.g. 110, 111, 112, 140, 141, 142, 371, 372, 373, 580, 587, 588, 589 as examples). There are a wide variety of aftermarket sheets with specific markings and unit insignia available as well as those for foreign users.

Also included is a broadside sheet in English and Russian for the Vadim Zadorozhniy Vehicle Museum in Krasnogorsk. I have seen a number of photos from this museum and he does have an excellent collection.
---
Conclusion
They say that third time is the charm and so far this looks to be the lucky winner. Parts breakdown indicates that Zvezda plans to follow it with Model 1967, Model 1972 and probably at least one T-62M version as well.

Note: This kit is so as I know not yet available in the US (and the current political shenanigans probably are not speeding up shipping of larger shipments). I got this one from all_modelist in Tver'. Russia, but their prices have gone up considerably since I ordered it. It cost me $33 plus $10 for shipping but as of today the price of the kit is US$55.55 plus postage.
---

Sprue Layout:
A 11 Hull sides, fenders, stern plate, engine deck details
A 13 Belly pan, front roof and glacis, engine deck, details
B 48 Turret and main gun
C 16 Clear styrene
D 45 Drivers, link and length OMSh tracks
E 61 x 2 Road wheels, idlers, road wheel arms, fuel tanks
F 94 Hull and fender details, unditching log, suspension details
---
---