FV-622 Stalwart Mk.2
Ace, 1/72 scale
Reviewed by Graham Carter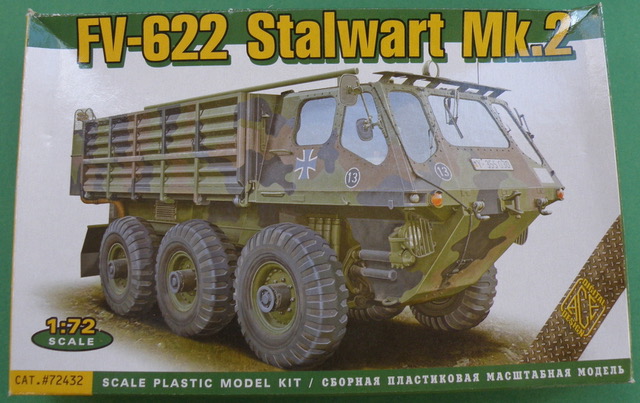 Summary
Stock Number and Description

Ace Kit No. ACE 072432 - FV-622 Stalwart Mk.2

Scale:
1/72
Media and Contents:
161 parts in pale grey plastic, six fully detailed black vinyl tyres, a small PE sheet, a transparent sheet marked with the windows to cut out, a decal sheet and a double sided folded A3 instruction guide.
Price:

£14.67 EU price (£12.22 Export Price) plus shipping available online from Hannants

and hobby retailers worldwide.

Review Type:
First Look
Advantages:

A superbly detailed kit, clear instructions and plenty of scope for building different versions if you have the patience with the chassis construction. Good resource material available through the ACE website.

Disadvantages:

Possibly over-engineered chassis detail that will require lots of patience to keep it all level - I built mine over a couple of days. Lack of interior painting guide.

Recommendation:

This will be a great addition to the small scale vehicle fleet, terrific detail and it will look great in a diorama or vignette. Complete package with sensible use of different media.

Background
ACE hails from the Ukraine and has an enormous catalogue of some 150 different kits which are available in short runs so get them while you can! About 90 are currently available. A great feature of their website is the resource file attached to each kit - simply click on the kit image and up pops a set of images, drawings etc that can be used to help build a more accurate model. Great idea I say!
---
FirstLook

This kit is one of five iterations of the familiar six-wheeled chassis available from ACE representing different uses. This is the GS version but there are also kits of the FV623 crane equipped limber, the Saracen armoured car, Saladin AFV and Salamander fire control vehicle.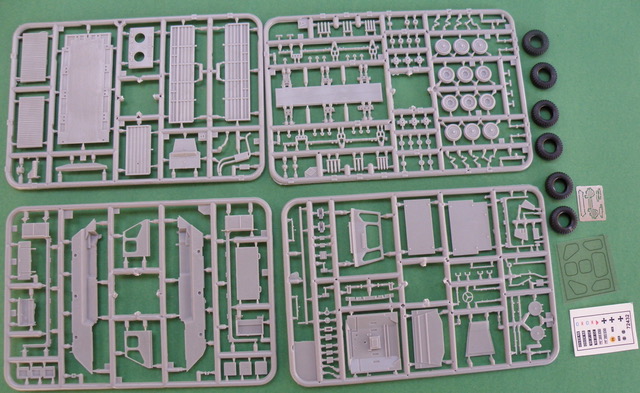 The standard lidded ACE box comes with nice illustration on the lid and is packed with parts inside - 161 in pale grey on four sprues, six fully detailed black 'rubber' tyres, a small PE sheet, a transparent sheet marked with the windows to cut out, a decal sheet and a double sided folded A3 instruction guide; quite a package!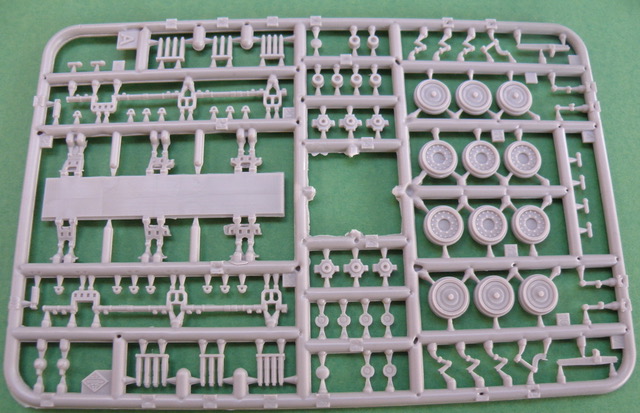 Being 'short run' there is a modicum of seams and flash to remove around most parts - trim and test fit frequently! Sprue gates are generally fine, being less than a millimetre and usually, but not always being in convenient places - steering wheels and gear levers being one exception. Some small parts will need particular care, such as the tie-down shackles and headlights, and I would suggest cutting them off inside a plastic bag or wearing a jeweller's apron to deprive the carpet monster of a feed.
Building the main body comes first, followed by an extremely detailed and in places, fiddly, suspension/steering/transmission construction stage. Some 81 parts go into this area, including six 5-part wheels! Having built the Salamander version I can only suggest you take your time and only remove and clean up the parts as needed. Mass part removal will only lead to havoc! No spares are offered. Here is the suspension sprue!!
pastedGraphic_2.png

and the instructions for it!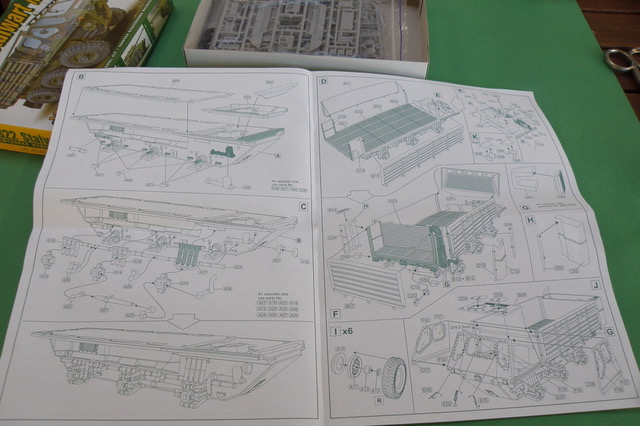 On to the nicely detailed 'office' which contains all the major items we would expect, but there are no colour notes - all green?
The body ( 'hull'?, after all it is amphibious) is also well detailed, consisting of some 20 parts that make up the corrugated surfaces really well. Dry-fitting as you go along will ensure good fit and a tidy finish. The build ends with the addition of external accessories such as light, hatches and mirrors and a neat PE grill to cover the lights. Windows are cut out from the sheet provided and added.
The 'rubber' tyres are a work of art and do not have a prominent seam to clean up, and they will enhance the finished model no end. As well, the instructions clearly state to paint the wheel rims to avoid the dreaded melt-down effect as the two types of plastic interact. I would recommend coating the outer wheel rims with thin CA and then painting them to make doubly sure. Mind you, getting al six wheels to sit on the ground will challenge all of us. Here is the window sheet and the fine PE grill and windscreen wipers.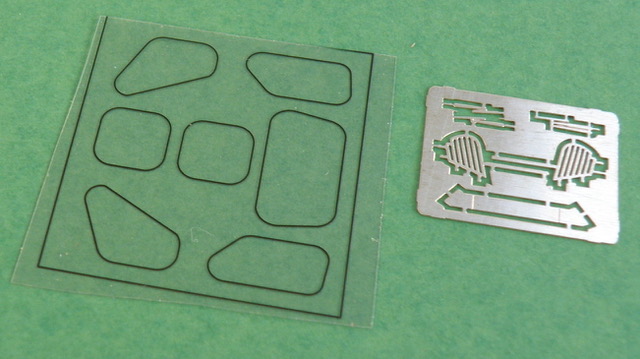 Decals and schemes are given for three vehicles:
overall bronze-green example from 33 Sqn, RCT ( Roll Corps of Transport) in Germany 1968,
overall sand preserved example in 2006, and
an ex-British Army one in private hands painted in Bundeswehr 3-tone scheme, 2012.
---
Conclusion
Ace's 1/72 scale Alvis FV622 Stalwart is a cracking replica will reward the patient modeller. Counting all the bits in the box, there are more than 180 parts crammed into a vehicle measuring 80 x 30 x 40mm - great fun!
Purchased by the reviewer.
Text and Images by Graham Carter
Page Created 20 September, 2020
Page Last Updated 28 September, 2020