Humber Scout Cars
Dan Taylor Modelworks, 1/72 scale
Reviewed by Peter Brown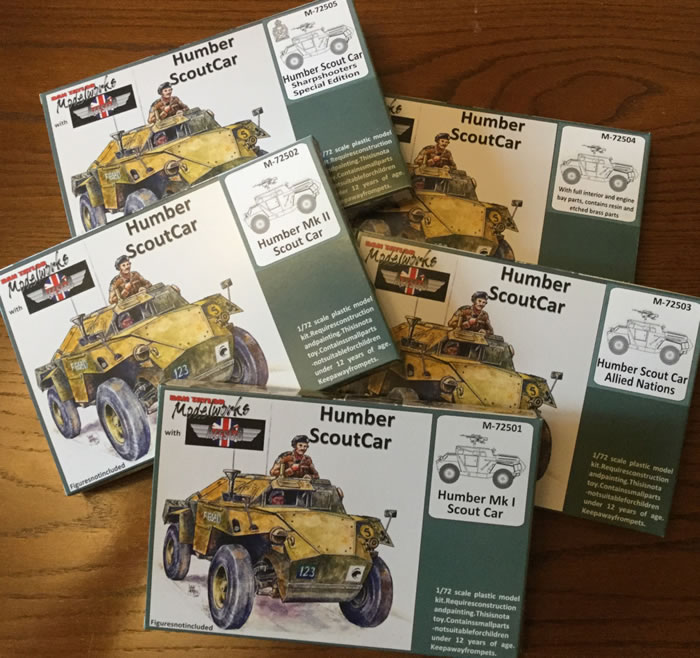 Summary
Stock Number and Description

Dan Taylor Modelworks Kit Nos. M-72501, M-72502, M-72503, M-72505 - Humber Scout Cars

Scale:
1/72
Media and Contents:
Each kit comprises two sprues of grey plastic and decals; no obvious flash or mould release problems; good design.
Price:
Review Type:
First Look
Advantages:

New kits of British AFVs are always welcome.

Disadvantages:

None noted

Recommendation:

Highly Recommended.

Background
Better known for resin structural items including Mulberry Harbour parts as well as conversion sets, figures and decals, this all-new plastic kit is a new venture from Dan.
Many people are confused by British "armoured cars" as during World War Two there were three classes of wheeled AFVs. The Car, Armoured was a light tank on wheels (one type was actually called a Wheeled Tank) with a turret mounting a big gun. A Car, Scout was intended to roam ahead of the main force looking for the enemy or performing liaison duties under fire, as it was not supposed to fight it only needed a machine gun to protect itself. There was also the Car, Light Reconnaissance often based on an existing car chassis with thin armour and little armament, usually used as a runabout where some protection was needed and not classed as a true armoured vehicle. Various designs of all three types were produced by different companies, just to make it even more confusing Humber produced vehicles in all three classes.
Their Scout Car was developed to supplement Daimler's well-known Dingo as production could not keep up with demand. It was a rear-engined, four wheel drive design with fully enclosed body and a mounting on the roof for a machine gun. Production began in 1943, they saw extensive use in Italy and NW Europe in armoured and other units. There were minor detail variations in production but most of the changes were mechanical. Mk II differed in engine and gearbox details, although the last ones were to have increased protection underneath and no roof to compensate for the added weight. In all, around 1700 Mk I and 2600 Mk II were built. They served with many British, Commonwealth, Czech and Polish units during the war years as well as remaining in British use during the 1950s and also in Belgium, Denmark, France, Italy, the Netherlands and Norway.
---
FirstLook

The kit parts come neatly moulded on two sprues of dark grey plastic with no obvious flash or mould release problems. Design is a good compromise between detail and ease of building, for example the four-part PLM Bren and mounting will be enough for most modellers without making it from 20 parts including etched brass. One item that struck me was the 2-gallon can racks on the rear mudguards, three parts make up cans and racks giving a convincing replica of the original in this scale. Roof hatches are separate so could be posed open if wanted although no interior or crew are included. Alternative parts allow modelling both Marks. Kit instructions do not make this clear, part A14 is for a Mk I and A13 for a II Vehicle tools and a spare wheel are provided, there is a single jerrican and a No 4 rifle as extras.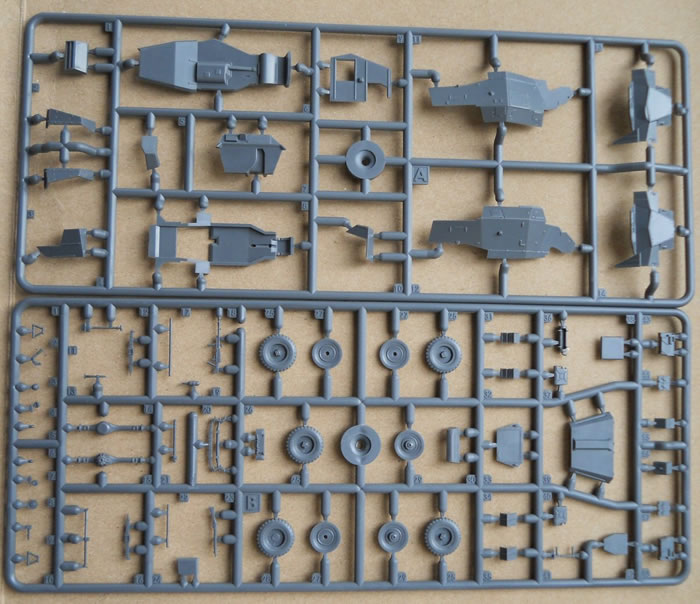 If I could find one small area in the instructions which could be better it is the colour and markings section. Vehicles were usually SCC2 Brown or the later SCC15 "Olive Drab". These are shown as grey shades which are hard to tell apart. Dan has acknowledged that and can send PDF versions in colour if you email him via his website. But he should get extra marks for not claiming they should be "Overall Dark Green" as some manufacturers do for any WW2 British AFV.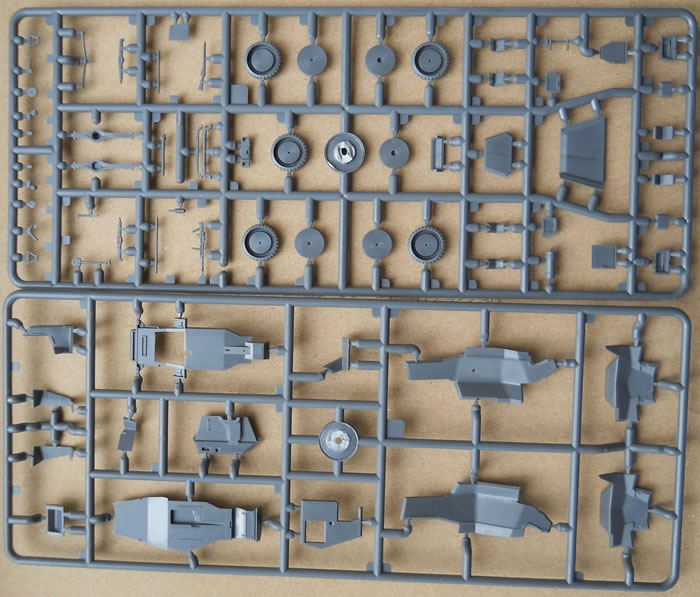 So far four versions of the kit have been released with different decal sheets:
M-72501 covers Headquarters, 29th Armoured Brigade, 11th Armoured Division; 7th Royal Tank Regiment, 31st Armoured Brigade
M-72502 has markings for 59th Heavy Regiment, Royal Artillery 1945; Czechoslovakian Armoured Brigade 1944; Belgian 1 Regt te Paard 1946
M-72503 has options for 1ste Regiment Jagers te Paard/1er Régiment de Chasseurs à Cheval in 1951; 5e Regiment de Cuirassiers, French Army in Indochina 1950; 19th New Zealand Armoured Regiment Italy 1944
M-72505 is a Special Edition with three vehicles used by the County of London Yeomanry or Sharpshooters: 4 CLY's commanding officer at Villers-Bocage, June 1944; 3/4 CLY's commanding officer, France, 1944 ; A Squadron 3/4 CLY 1944/45
A fifth "Profi Pack" version M-72504 is in preparation. This will come with resin parts for the crew compartment, an etched brass fret offering hatches and doors plus other details as well as its own decal options.
In addition separate accessory sets will be available later including an engine bay, tyre/wheel options with different tread patterns, crew figures and external stowage. So watch the website.
---
Conclusion
New kits of British AFVs are always welcome, doubly so if they are as well designed and moulded as this and even more if they are wheeled. With widespread use the scope for finishing a model in many different units is great. A few specialists decal sheets already cover these cars - including some from Dan Taylor Modelworks! - but as markings were usually much the same as those on tanks or other vehicles they could be made up from generic sheets or found in the spares box.
Many thanks to Dan for producing this model and also for sending me an example to review.
Available from www.dantaylormodelworks.com
Text and Images by Peter Brown
Page Created 16 June, 2019
Page Last Updated 10 December, 2019