Home > Reviews > Small Scale > Dragon Models Limited 1/72 scale Armor Pro Series Kit No. 7370; Sd.Kfz. 181 Tiger I Initial Production s.Pz.Abt. 502 Leningrad 1942
Sd.Kfz. 181 Tiger I Initial Production s.Pz.Abt. 502 Leningrad 1942
Reviewed by Cookie Sewell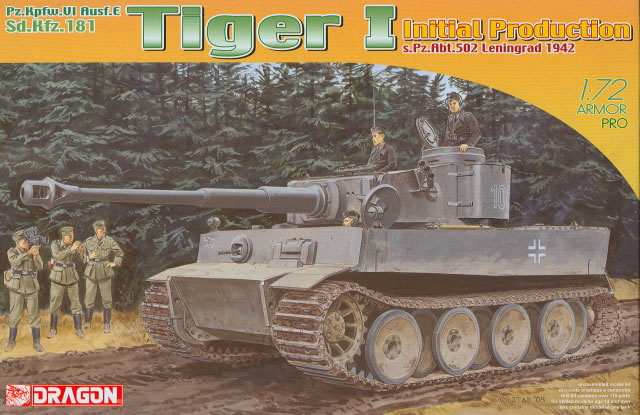 Summary
Stock Number and Description

Dragon Models Limited 1/72 scale Armor Pro Series Kit No. 7370; Sd.Kfz. 181 Tiger I Initial Production s.Pz.Abt. 502 Leningrad 1942

Scale:
1/72
Media and Contents:

146 parts(129 in grey plastic, 14 etched brass, 2 DS plastic tracks, 1 twisted steel wire)

Price:
retail price estimated at US $19.95
Review Type:
First Look
Advantages:

Apparently mostly new molds; specific details provided for early production Tiger I such as twin stowage bins

Disadvantages:

33% price increase over previous releases is hard to understand

Recommendation:
Highly Recommended

for all German and Tiger fans

FirstLook
When the Tiger I made its combat debut in the winter of 1942 near Leningrad, it was – to be polite – not ready for prime time. The first Soviet capture of a Tiger was of one of these vehicles which had broken down, and after a vicious fight for the vehicle the Soviets finally captured it from tenacious German defenders. According to the Soviets the tank cost the Germans the Tiger, five Pzkw. III tanks, and about 200 infantry and engineers (who were trying to blow up the crippled Tiger in place as the Soviets noted it was packed with engineer explosives). The Soviets also had to yoke five T-60 light tanks together like draft animals to tow this beast off the battlefield. (14 years ago I asked Tom Jentz – who was always eager to report the fact of how few Tigers were "lost" in combat – how many other tanks and troops were lost ensuring that the Tigers were not captured. He couldn't answer the question.)

Having run through the basic panoply of Tigers in 1/72 scale – Porsche, Initial, Mid, and Late production, with and without zimmerit, and Gruppe Fehrman – DML has now started over with remolded kits. This new version has more details, such as partial turret interior with commander and gunner seats and a breech for the big 88mm gun, as well as radiator bays inside the engine compartment.

They have also borrowed the interconnected wheel sets from their popular Sd.Kfz. 251 series of halftracks and the new model has the back roads of road wheel connected by arcs that do not show once the entire four-layer set of road wheels is assembled (inner, center inside, center outside, and outer). Thus the entire 32 wheel set of road wheels per side now only requires seven parts – three linked sets and four single road wheels. The wheels are detailed on both sides even though the insides will be impossible to see.

The turret is properly asymmetric and consists of a one-piece shell with separate roof and front. As it is the early model it comes with two stowage bins, two pistol ports, and a "dustbin" cupola with an interior set of periscopes. It also has a fording air cleaner and etched brass parts for the intake grilles and radiator guides. The model also offers a choice between tall and short exhaust tubes for the rear of the hull.

The tracks are now DS plastic which will be welcome over the original black vinyl tracks.

The model comes with but one finishing option - bort number white 100 and panzer grey overall paint. A tiny sheet of Cartograf decals is provided.

Overall this is a nice upgrade but as it now costs one-third more than the earlier versions I am not sure how many modelers really want a more detailed small scale Tiger.

Thanks to Freddie Leung for the review sample.

Cookie Sewell

Sprue layout:



---

Sprue Breakdown
A 35 Tiger I upper hull and details, early turret bins
B 31 Tiger I turret and hatches
D 42 Tiger I turret and hull interior parts, idlers
E 20 Tiger I Early (rubber tire) road wheels and drivers
X 1 Lower hull
Y 1 twisted steel wire
Z 2 DS plastic track runs
MA 14 Etched brass

Thanks to Freddie Leung of DML for the review sample.

Text by Cookie Sewell
Page Created 28 March, 2009
Page Last Updated 28 March, 2009