Home > Reviews > Small Scale >
Dragon Kit No. 7370 - Tiger I Initial Production S.Pz. Abt. 502, Leningrad 1942
Tiger I Initial Production S.Pz. Abt. 502, Leningrad 1942
Dragon Armor Pro 1/72 Scale
Reviewed by Lynn Ritger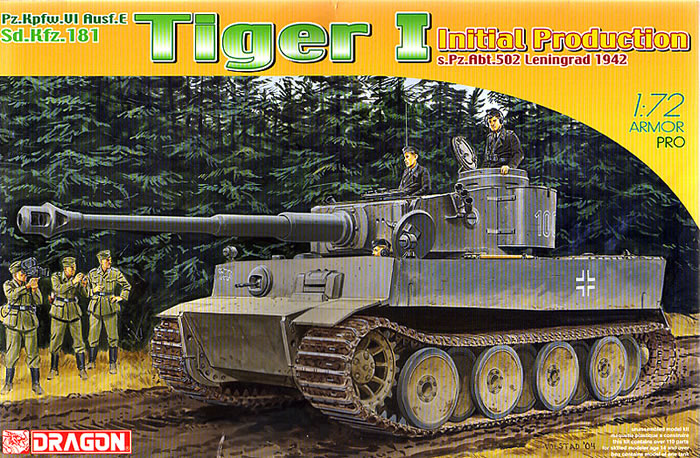 Summary
Stock Number and Description
Dragon Kit No. 7370 - Tiger I Initial Production S.Pz. Abt. 502, Leningrad 1942
Scale:
1/72
Media and Contents:
Grey plastic; full length flexible tracks; photo-etched fret; markings for one vehicle
Price:
Review Type:
First Look
Advantages:
Captures all the unique differences of this version; beautifully detailed; even small details are moulded in scale thickness
Disadvantages:
Recommendation:
An absolute gem of a kit with a spectacular amount of detail crammed into a tiny package.

FirstLook
I realize it might have become a cliché, but Messerschmitts are not the only modeling subjects that hold my interest. There are things like Mustangs, Thunderbolts, Spitfires, PZLs, Porsches, Ferraris, and Tigers on my shelves.
Wait, what? Tiger? As in the tank?
Yep. For some reason, I have always liked the Tiger. It's a brute of a tank with an awesome reputation and tons of interesting camouflage and configuration options. I realize there are many "real" armor enthusiasts out there who loathe the Tiger because of it's popularity- they'd rather scratchbuild an Sd.Kfz. 666a Donnerscheifler or some other equally obscure armor piece, but I don't really care. I like Tigers, and I have several of them in my collection, including a few of the ancient Hasegawa 1/72 kits. The one thing I didn't have was a very early Tiger, and I expected to do some significant work to that old Hasegawa chestnut to make one... not something I was looking forward to.
Enter the Dragon- more specifically, Dragon Models. Their most recent release in their 1/72 Tiger series is the initial production version, which was rushed from the Henschel production line to the Leningrad front in August 1942. Four tanks were initially issued to the 1. Kompanie of Schwere Panzer Abteilung 502, and these Tigers were immediately pressed into service as soon as they arrived in late August. These early production units had a number of significant detail differences from later Tigers, including the following:
no side skirts


two rounded stowage bins on either side of the turret instead of the central bin in the rear

double headlights

"handed" tracks on the first 20 machines

a different pattern drive sprocket

different arrangement of tow cables and tool stowage

no turret escape hatch

unique mantlet for 88mm cannon

no Feifel air filtration system mounted

amphibious equipment to allow fording rivers up to 15 feet deep (assuming the river bottom would support the massive tank)
To their everlasting credit, Dragon has captured all of these unique differences in their most recent Tiger I kit release in 1/72 scale.
The level of detail in this tiny kit is breathtaking, and they have really gone the extra mile to ensure you, the modeler, can produce the most accurate model possible. The only marking option in the kit is Tiger 100, the command vehicle for 1./S.Pz.Abt. 502 in August/September 1942, but this is certainly a worthy choice. The vehicle saw service through the winter of 1942-43 and was eventually captured and put on display at Gorky Park. In photos taken of the captive Tiger, there is a horseshoe affixed to the front left corner of the tank as a good luck totem by its German crew, and Dragon has gone so far as to include this horseshoe as a tiny photoetched piece.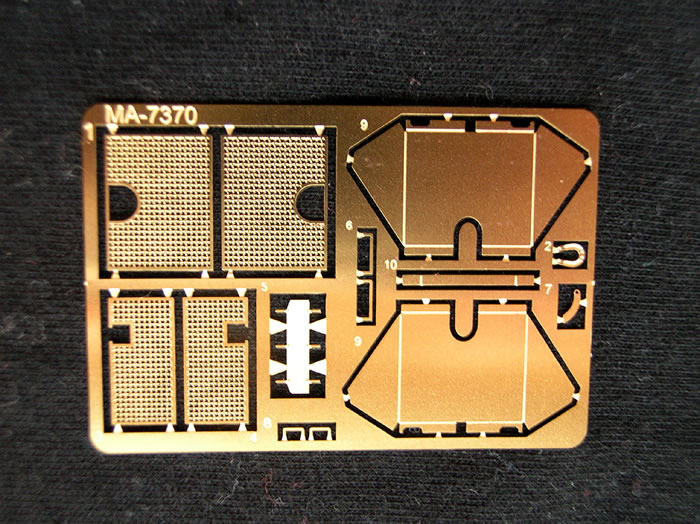 Dragon has been making much of it's "slide mold" technology, and the benefits of this are on full display here - both the drive and idler sprockets are molded in scale thickness with appropriate openings, and the barrel of the 88mm cannon is not just hollow, but has an exquisite muzzle brake molded on. Dragon also provides the breech and internal mechanism for the 88mm, and all hatches have detail on both sides so they can be posed open.
Another nice touch are the spacers between the inner road wheels which simplify both alignment and spacing, as well as reducing the possibility that I might lose one of those little things to the Carpet Monster.
---
Conclusion:
This is an absolute gem of a kit with a spectacular amount of detail crammed into a tiny package. Well done Dragon!
Highly Recommended
References:
http://www.alanhamby.com/tiger.html

http://www.tiger1.info

"The Tiger Tanks", Bryan Perrett. Osprey Publications, 1981
Sample purchased by reviewer
Text and Images by Lynn Ritger
Page Created 15 March, 2009
Page Last Updated 15 March, 2009