Triumph 3WH Motorcycles
FC Model Trend, 1/72 scale
Reviewed by Graham Carter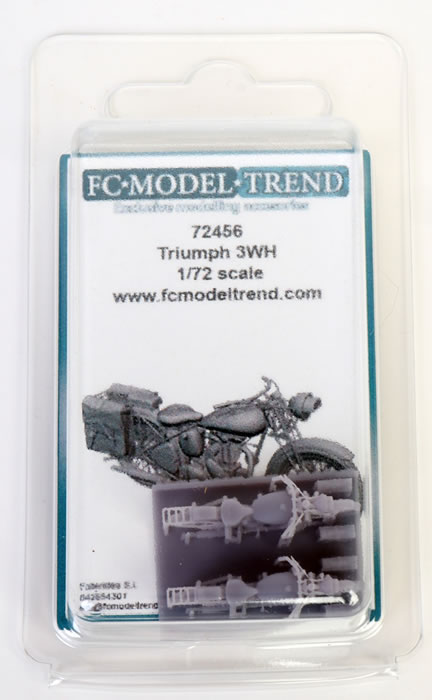 Summary

I n t r o d u c t i o n
The Triumph 3WH is a motorcycle that has only been produced in model form by Italeri in their 1/9 scale series and what a cracker that is, as it is still available.
At the start of the WWII a lot of vehicles were ordered urgently for the British Army. Motorcycles, mainly used by Dispatch Riders for communication between different units, were converted from civilian bikes with small changes like a paint job and the addition of frames for the canvas bags. Triumph produced the model 3HW, based on the civilian "Tiger 80", with an overhead valve engine and parallel forks.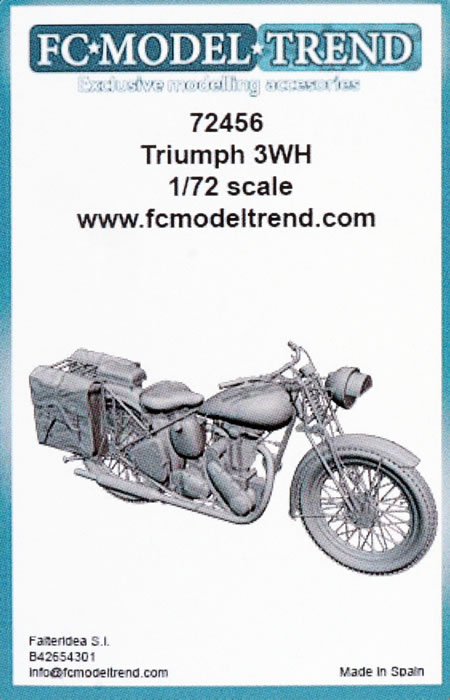 This model served on all fronts where the British Armed Forces fought, such as Africa, Europe and Asia.
After the war these motorcycles were delivered to many other nations, such as Italy and Greece, where the Triumphs served for a long time thanks to their reliability and robustness.
(Information from the HobbyLand website.)
---
F i r s t L o o k
FC.Model.Trend is a Spanish company specialising in 3D resin printed accessories for modellers in the popular scales and I must say I am even more gob-smacked by the quality of these motorcycles than I was with the 37mm AT guns reviewed earlier. These motorcycles plus panniers, two of which make up the package, come in a clear plastic box with a card backing. No colour or construction information is provided but they were probably uniform glossy dark green or possibly Desert Sand if used in the Mediterranean theatre. The panniers were leather or canvas colour so that is up to you. The company also produces models of the Russian M-72 with and without sidecars and Norton WD16.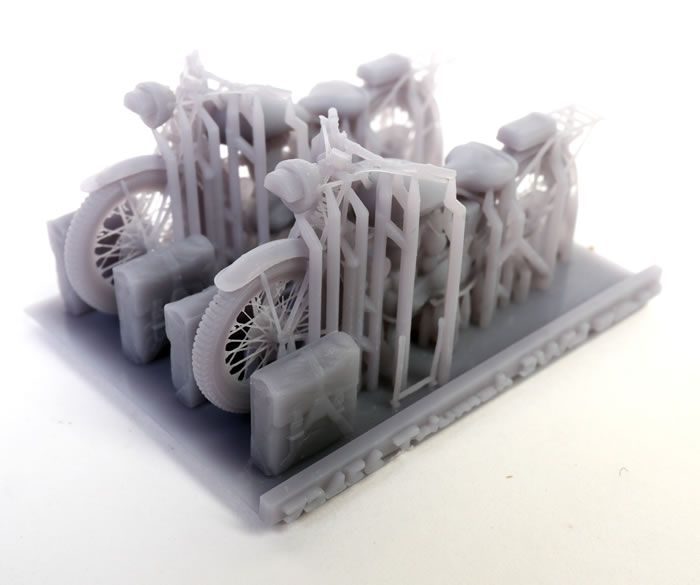 As shown, the two motor cycles and four panniers are printed beside each other to save space and are surrounded by the usual cobweb of supporting struts which will need to be carefully removed with very sharp side-cutters or a blade. The detail is astounding and the equipment used to print them must be top-notch as I could discern no ridging. The finesse is extraordinary - the rear carriers and the spokes are just superb.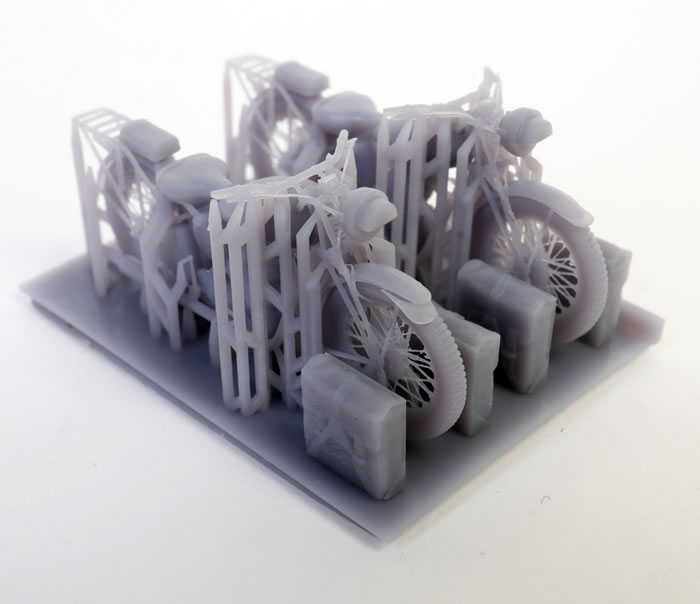 I was so impressed that I extracted one of them from its cobweb of struts and the images are here. The resin is slightly flexible and rather like the poly material that those small fighting figures are moulded in by AIrfix, Revell and Italeri. It took about thirty minutes of careful cutting with appropriate tools and using my fingers to provide some pressure behind so as not to break any of the tiny sections of pipe and, yes, gear and brake cables as well as the spokes. Looking at these images and being aware of just how small they are, I have noticed that there is still a bit of clean-up to go. I have not attached the panniers and have no idea how I am going to paint the item to look realistic!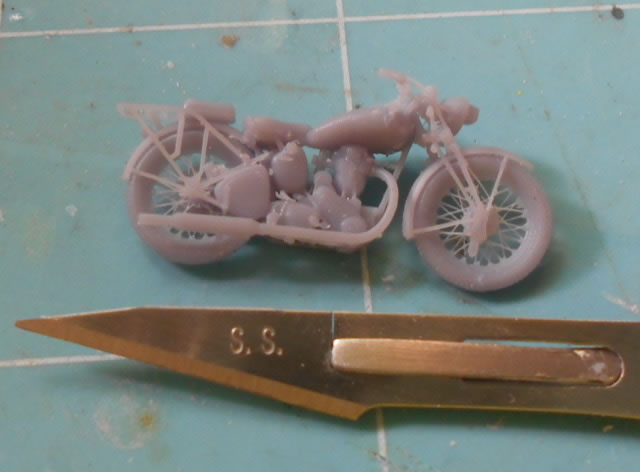 These motorcycles, along with a myriad of others are also available in 1/48 and 1/35 scales. Pop onto their web-site and be prepared to be amazed!! I can imagine that it would also be possible to paint them up as civilian ones as well, although the 'Triumph' badge on the tank might be stretching it!! And the headlight would need replacing.
I highly recommend this set to modellers in any of the provided scales, but do take extreme care extracting the items from their webs.
Thanks to FC Model Trend for the samples


---