Diamond T 972 Dumptruck - Softcab
IBG Models, 1/72 scale
Reviewed by Graham Carter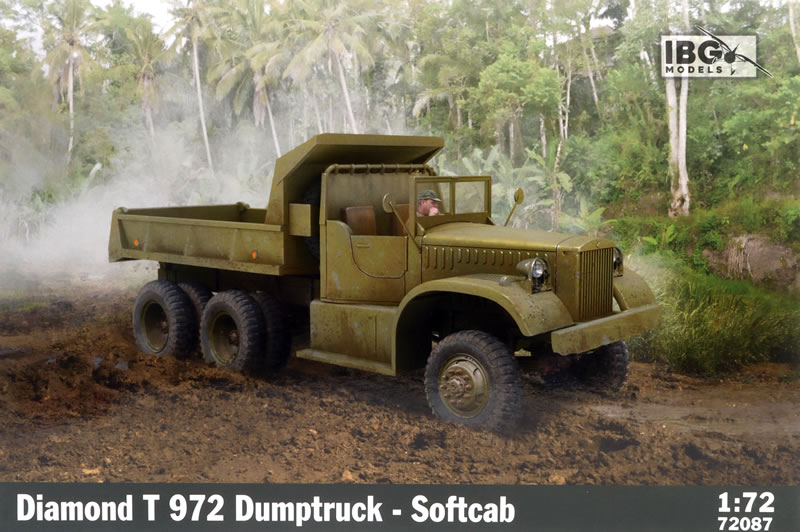 Background
The Diamond T series of trucks were produced in considerable numbers and according to Bart Vanderveen's book "The Observer's Fighting Vehicles Directory of WWII" which I have had since 1969 (!), are used as the basis for a range of heavy trucks of 2&1/2 ton and upwards.
This kit is of the 9 series 4-ton 6x6 which was used as the basis for numerous bodies such as cargo and prime mover, crane, dumper, flat bed, pontoon, tank, air compressor, water carrier, wrecker and so.

Matchbox released a delightful tank transporter kit several decades ago In 1/76 scale and I hope that IBG get around to many variants, as they have done with their Ford/Chevrolet series of trucks.
Many of the larger variants used the 8- and 10-ton later 9 series chassis that are not covered by these parts. A vast number were used by the US military and were available to allied forces throughout the war zones in most campaign areas.
After the war many were used by armed forces around the world and hundreds moved into civilian hands.
The kit will lend itself to many conversion possibilities, although IBG will probably work their way through some of them, but if you can't wait then just get out the plasticard!!
---
FirstLook
This Polish company has established itself as a producer of high quality kits, firstly of military vehicles and lately aircraft. The detailing and moulding are usually exemplary and this kit is no exception.
It arrives in the familiar sturdy top-opening box with a fine CAD rendition of the vehicle on top. Inside are two resealable plastic sleeves containing five grey plastic sprues, a PE fret, clear sheet for the windscreens, a nice decal sheet for three examples, and a stapled A4 8-page instruction booklet.
The kit is designated to allow the modeller to produce the soft cab version using sprue F, but includes the standard narrower hard-top parts as well on sprue A1. Don't get them confused as the differences are not clearly stated in the instructions. However the inclusion of the hard-top parts allows both variants to be produced in the future.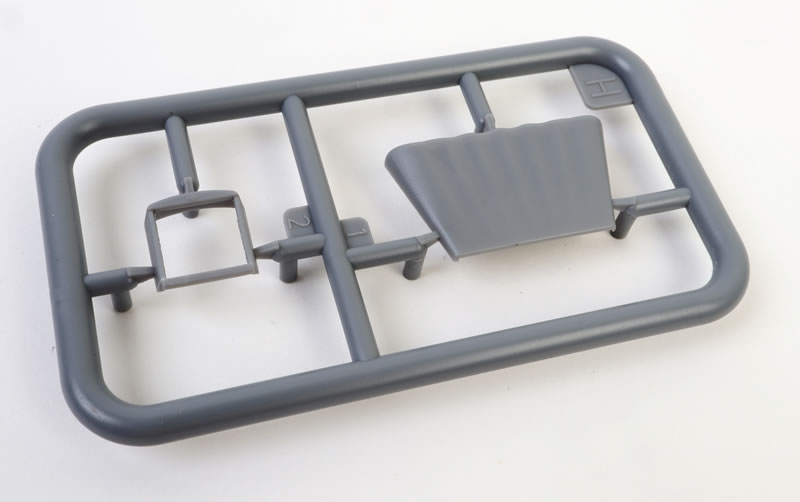 The parts are perfectly moulded with no sign of flash and minimal seams. Raised and recessed details are nicely represented - the wheel hubs in particular look perfect with hollow castings that are sharp and clean.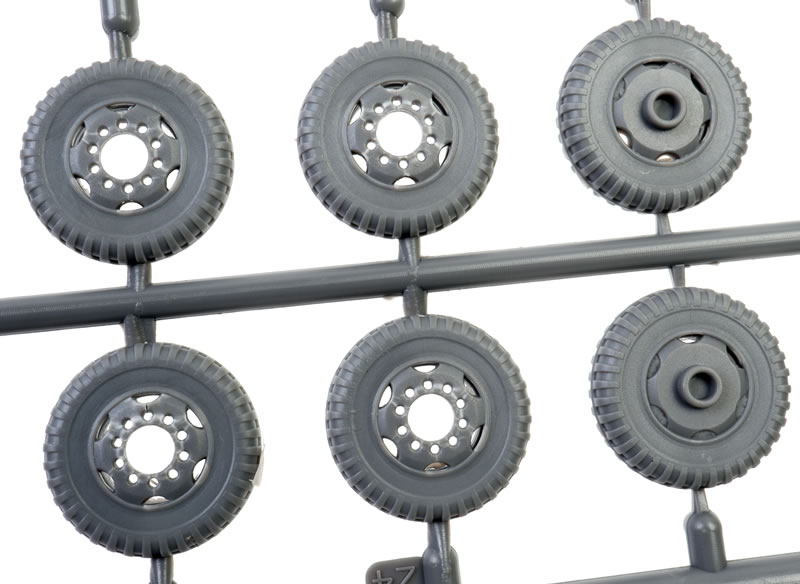 Chassis detail is great and I am pleased to see that IBG are not over-engineering the spring mounts as per their Chevrolet/Ford range where each spring had separate mounting brackets - these are now moulded integrally with the chassis rails which makes construction much simpler.
A nice eight-part engine is included which will encourage an open-bonnet model. Each of the 22 construction steps is clearly shown in B&W isometric drawings.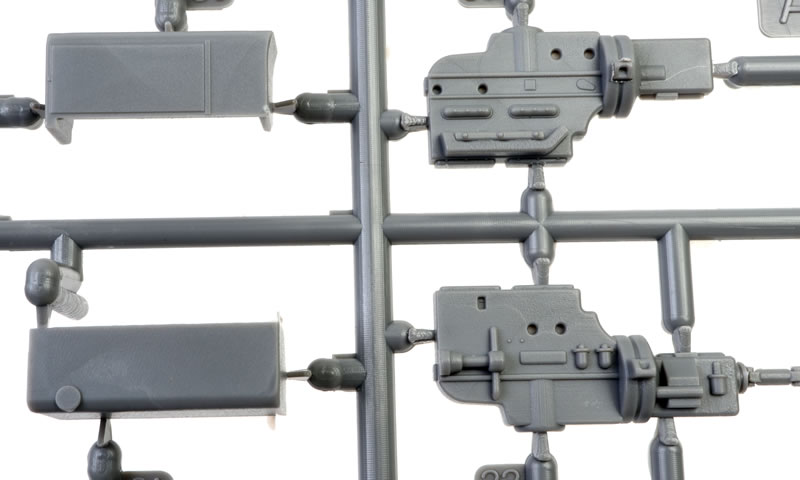 The cab interior is adequately detailed with levers, seat and steering wheel although the two-part PE mirrors will test your gluing skills! A lovely PE radiator front requires you to sand off the plastic moulded detail. PE is used to represent foot plates and the intricate wire headlight protectors. All transmission parts are nicely represented as well.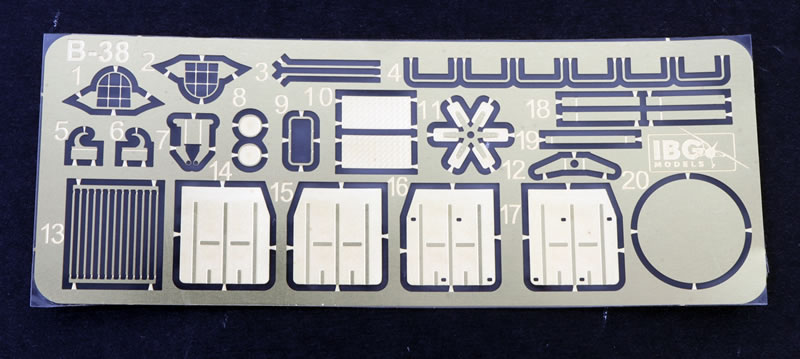 The dumper can be posed in situ or raised, and appropriate parts are provided for these possibilities, while the body section is in five parts and allows the tail-gate to be open if in the raised position.
A colour paint guide is given on the last page along with the locations of decals for two US Army examples and one from the Royal Netherlands Army in the late 1950s. Decals are clear and well printed on a mid-blue sheet that makes finding the white serials and stars easy to find - thank you IBG!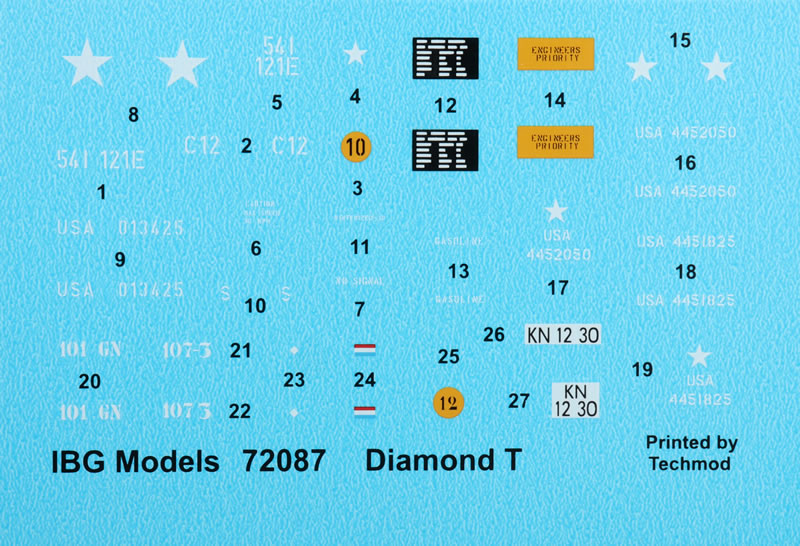 Colours are not called out in the construction stages but the whole vehicle is US Olive Drab with a canvas tilt - simple! A small colour table lists paints for Vallejo Model Air, Hataka, Life Colour, Mr Hobby and AK Interactive numbers. No enamels there.
---
Conclusion
In summary then, this is a great little kit that will be a welcome addition to the range of 'soft-top' military vehicles that were so important in supporting troop movements. This particular kit will be just great in a diorama setting of road or airfield construction and I look forward to seeing more variants from IBG.
Thanks to IBG Models for the sample
Text by Graham Carter
Images by Brett Green
Page Created 22 April, 2023
Page Last Updated 25 April, 2023